The passion for a motorbike jacket is worldwide. It is an ideal example of flair and an enduring motorcycle symbol. A riding jacket allows you to play with risk while keeping you safe if things take an unexpected turn.
There are many types of riding jackets, so choosing the right one will require you to consider various variables. Weather resistance, safety standards, and material quality will influence your final decision.
The most effective way to protect your upper body is with a motorbike jacket. We'll go over all you need to know when buying your first jacket, but if you also want to keep your lower half safe.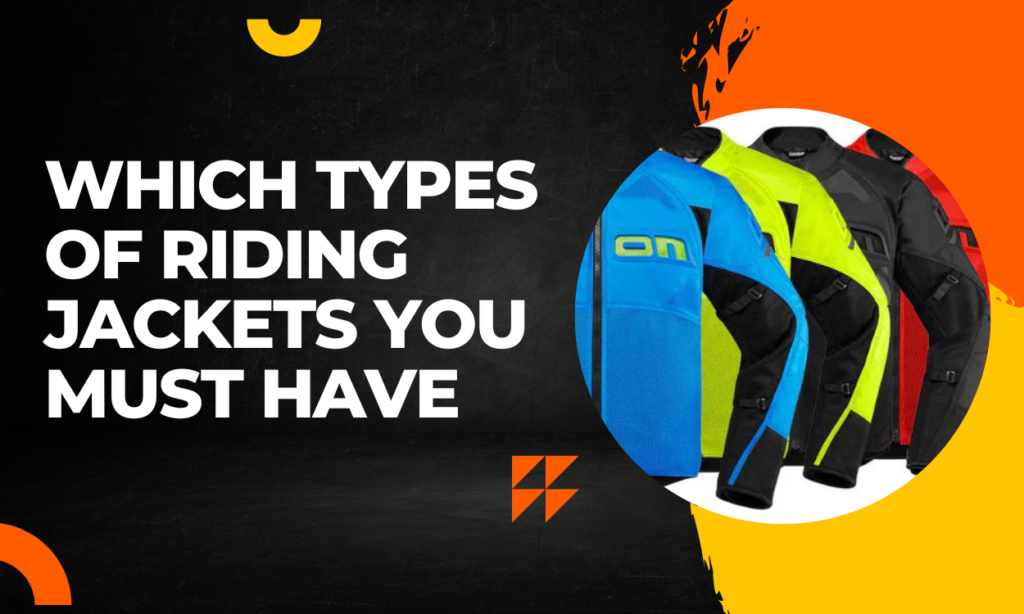 Look Also: Best 509 Riding Jackets Review for Motorcyclists
What Are The Main Styles Of Motorcycle Jackets?
Over the years, safety gear for motorcycle riders has significantly advanced. A wide variety of jackets are available, so you may find one that complements your style and necessities. Your riding style and the weather will significantly influence your clothing type.
Motorcycle jackets are fantastic for practical reasons, but you should still display your personality and spirit when wearing them. When riders wear their gear, they should feel a surge of energy flowing through them. Everybody has a distinctive identity, so search for the jacket style that most represent you.
1. Adventure Jackets
It is for you if you enjoy riding off-road and adventure motorcycles. Whether venturing into the wilderness or hitting the local dirt track, an adventure jacket covers you.
A quality adventure jacket is made to handle any challenging weather and terrain you may come across. They typically have hard interior shells that protect you from harm and protect you from the cold's sting. Additionally, these jackets have valuable pockets to keep your belongings secure while you pull them apart.
Adventure jackets are shorter than most riding jackets because you will be standing up most of the time you wear them. You can also get summer jackets with zipped vents for additional airflow.
2. Cruiser Jackets
As the name implies, a cruiser jacket features a relaxed look focusing on comfort. They are constructed of leather, usually always black, and are a favorite among V-twin motorcycle riders.
For maximum comfort, cruisers often have a relaxed fit. The elegant simplicity of this design, which avoids flare and high performance in favor of a cruiser attitude, attracts a lot of riders. This look is perfect for casual riders who want a rugged appearance and don't mind a little bit of the vintage.
Cruisers have the major flaw of being all show and no go. Most lack protection, have minimal padding at the elbows and shoulders and are frequently constructed of substandard leather. It's an invitation for disaster without natural defense or abrasion resistance.
3. Cafe Jackets
This famous jacket combines vintage charm and sleek style and is a nostalgic favorite for many riders. Modern cafe racers provide the most stylish access to the rock 'n' roll, thrill-seeking lifestyle of the 1950s.
The most recent cafe jackets feature improved comfort and maximum protection while combining vintage design with contemporary materials. Genuine leather is still the safest material to use and the most abrasion-resistant material for motorcycle riders.
Cafe racers run in close proximity. Although they start stiff and take some time to mold to your body, many riders love the customized fit. You either love or dislike leather, making it a somewhat polarizing material.
4. Sports And Street Jackets
Sports jackets, commonly called street jackets, are the pinnacle of contemporary fashion and style. These coats have been increasing in popularity recently and are incredibly flexible. They offer excellent protection while still fitting comfortably and naturally.
There are two primary styles available to you. Street-style jackets are constructed of textiles and fit loosely enough to be easily put on and removed. If you intend to use your gear on and off the bike, these look like regular jackets and are the ideal choice. Additionally, practical elements like pockets and water resistance are present.
Leather sports-type jackets with a grand prix look are available. They are nearly often made of leather and loaded with accessories like metal plates and pre-curved arms. They are recommended only if you intend to hit the track because they are uncomfortable standing in.
5. Race Jackets
The highest level of rider safety and extra features can be found in racing jackets. They frequently include extra padding and are extremely abrasion resistant to allow for racing speeds. These jackets fit extremely tightly, making them both safe and aerodynamic.
Only purchase a racing jacket if you intend to go to the tracks because they are not user-friendly. The lack of pockets and additional safety equipment make the jacket extremely uncomfortable after you get off the bike.
6. Textile Jackets
Because of their adaptability and simple design, textiles are extremely popular. Riders enjoy having a riding jacket that can be worn year-round, doubles as casual clothing, and has a sleek, contemporary appearance.
Textile clothing frequently incorporates a variety of qualities, such as a detachable lining or mesh panels that improve breathability. If a reputable manufacturer produces them, textiles can be lightweight and flexible without sacrificing abrasion resistance.
The ability of textiles to withstand weather is their most significant advantage over leather. There is a wide variety of waterproof clothing for the winter and ventilation features for the summer.
7. Leather Motorcycle Jackets
For several reasons, leather jackets are frequently the ideal option for motorcycle riders. First, leather provides better protection in the event of a fall because it is more abrasion resistant than most other materials.
Second, leather is somewhat waterproof, so it can keep you dry when it rains or gets sprayed by a vehicle. Lastly, leather jackets are frequently incredibly cozy and thick, offering riders a superb fit on the road, particularly in the cold.
Conclusion
Finding the ideal types of riding jackets is a choice that requires careful thought. In addition to keeping them safe, riders need gear that displays their brave, unbreakable character and makes them feel comfortable on those long journeys. Finding a balance between chaos and control is key to riding a motorcycle.
FAQ's
Why is wearing a riding jacket important?
Wearing a riding jacket is crucial because it offers protection against potential injuries and weather elements while riding. It serves as a barrier between the rider's body and external factors.
What are the different types of riding jackets?
There are several types of riding jackets, including leather jackets, textile jackets, mesh jackets, adventure jackets, and racing jackets.
What are adventure riding jackets?
Adventure riding jackets are specifically designed for off-road or adventure riding. They usually feature extra pockets, abrasion-resistant materials, ventilation, and compatibility with additional armor.