Revit's adventure riding line is receiving a fresh makeover thanks to the Sand 4 H2O Jacket. The previous Sand 3 was a fantastic debut into the dual sport market because of its features and great pricing, which Revit has maintained since the price has stayed around the 400 Euro mark. It will make this a much stronger 4-season adventure riding outfit since you receive a much more refined sense of style, a redesigned waterproof lining, and some beefed-up safety. So, let's get into the Revit Sand 4 H2O Jacket and Pants review.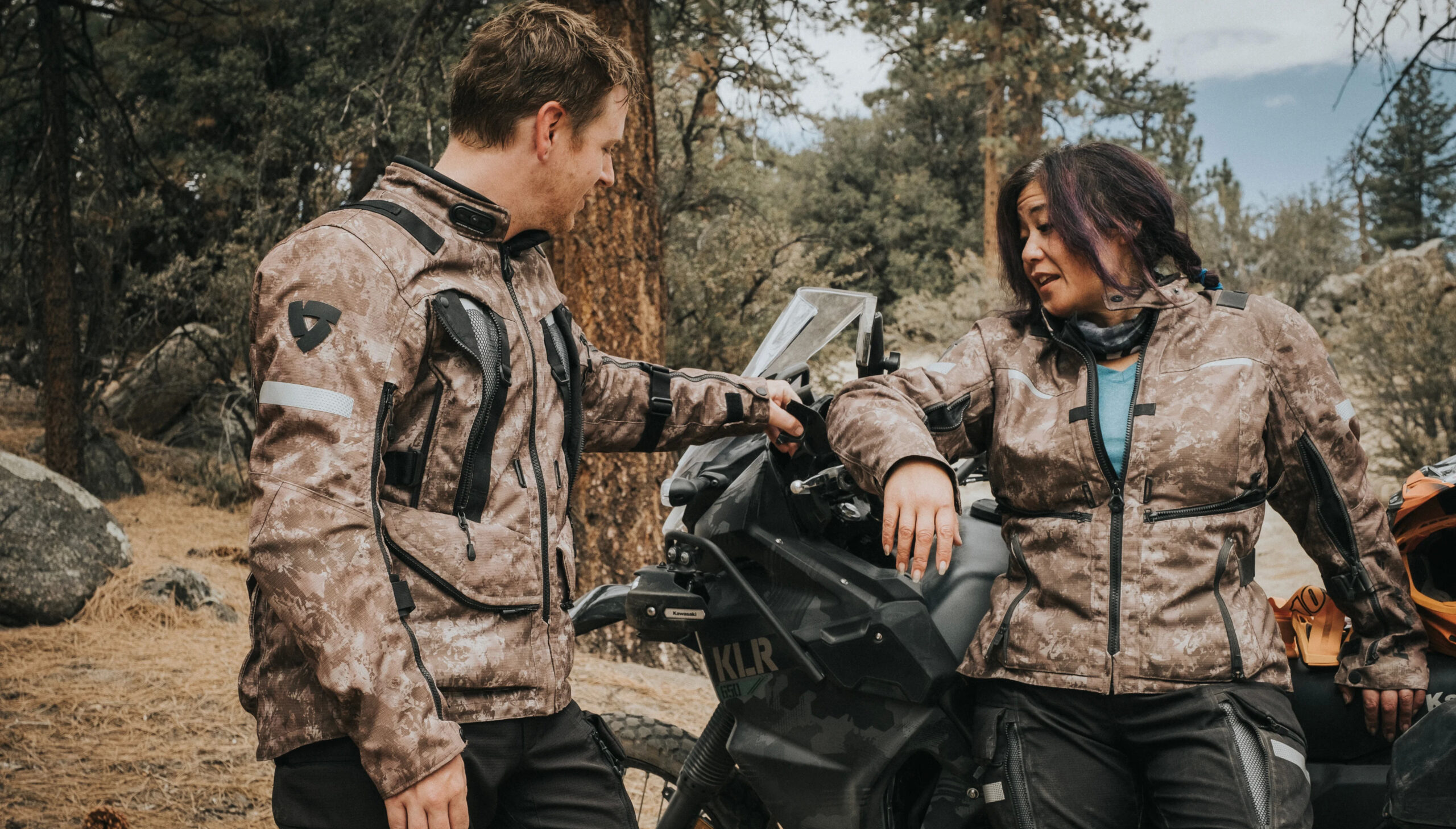 Revit Sand 4 H2O Jacket Review
Material Used in This jacket
Ripstop polyester, a reinforced fabric developed for abrasion resistance, will be used across the whole motorbike jacket. This design will be more durable than its predecessor, which includes 600D polyester beneath the arms and 500D PWR shell reinforcing in the shoulders and elbows. With inserts in the back, front, and on each arm on the outside, you still get a lot of reflection.
The Sand 4 improved over the Sand 3 because it is prEN 17092:2017 certified. The Revit jacket has been certified to Class AA, which is excellent for a textile jacket since it signifies that essential high abrasion zones sustained at least 70 km/h throughout testing. It is a new level for motorcycle gear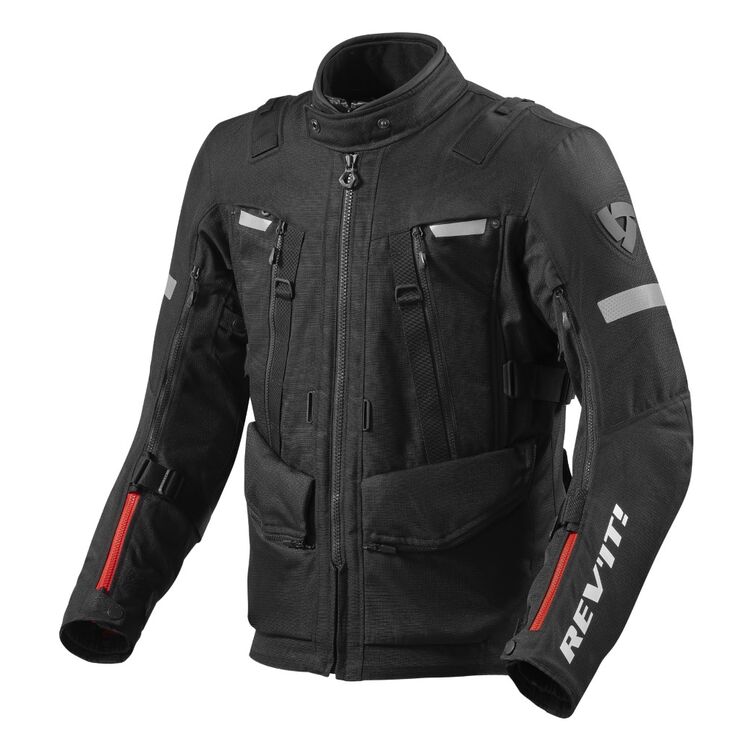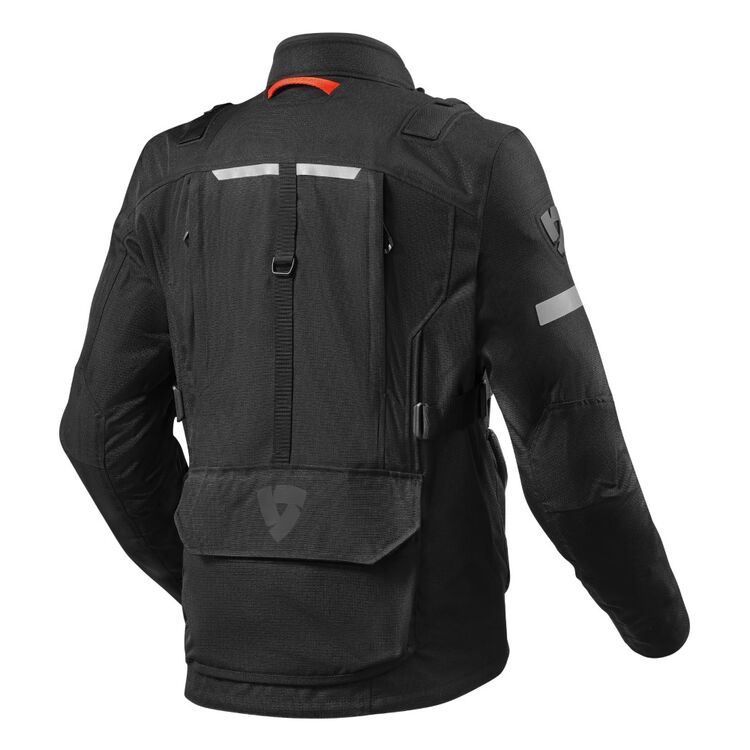 Safety Features
The Revit Sand 4 Adventure Jacket has undergone various changes to improve its durability and receive a new safety grade. Therefore, in addition to the superb CE Level 2 SEEFLEX protection on the shoulders and elbows and preparation for a SEESOFT back protector that you already receive, you now receive a pair of separated chest protector pockets that can accommodate a set of Seesoft CE Level 1 protections from Revit.
It's excellent to see Revit include that additional safety choice into the jacket. These two accessories are usually strongly advised to ride with as they help protect essential body parts. Lastly, the jacket has a jacket-to-pants zip, so you can pair it with items like the Revit Sand 4 pants.
Read Also: Top 12 Klim Motorcycle Riding Jacket Review
Comfort Level
Revit has improved the Sand 4's features and comfort levels to increase riding comfort while maintaining dual-sport functionality. As a result, the chest vents have been updated, and complete folding panels have replaced the original venting zippers. You fold it back and into the button on the exterior to free up the chest region for airflow after zipping them up with these vertical zippers, making them more comfortable to open.
Revit has included a second layer below this to keep larger water droplets out while allowing air to get through. You even get a new ventilation strip, which is quite helpful. These are followed by a set of dual air outlet zippers in the back that are placed closer together than on the Sand 3 and enable air to exit on each side, allowing for much more air to flow through and cool you.
Lastly, the arms include a set of highly sizable zippered vents that you can open from the top. As far as airflow is concerned, we are experiencing a lot of improvements, especially in the chest.
Regarding adjustability, while this is an adventure jacket, you will still receive enough as Revit consistently provides you with many adjusters. Along with that zipper and a set of snaps and velcro in the cuffs that make entrance simpler, there is another quick-adjust strap higher up.
Finally, if necessary, you may use another snap adjuster in the bicep to pull the sleeve in. One can see the toggles that will ready the jacket for Revit's numerous extra vests and an adjustable belt in the chest.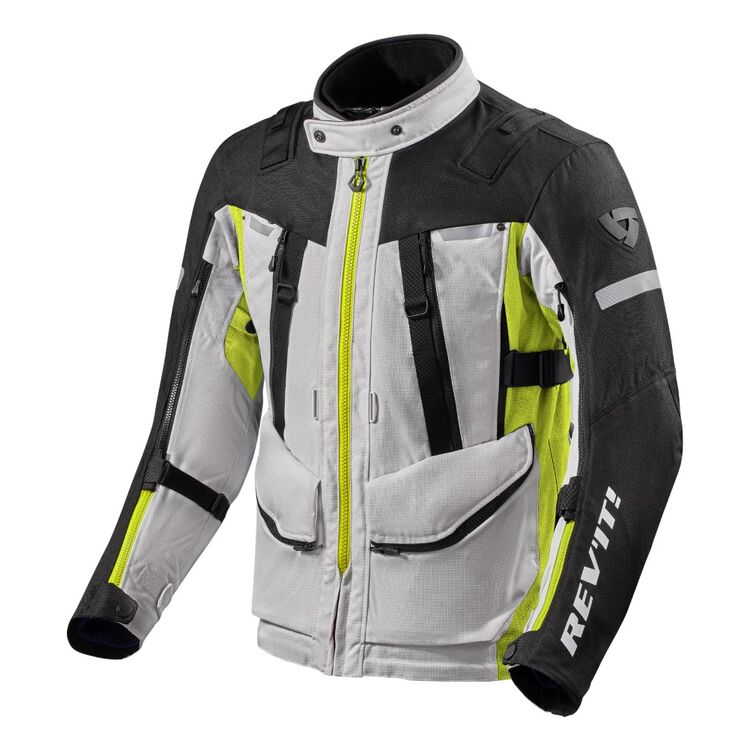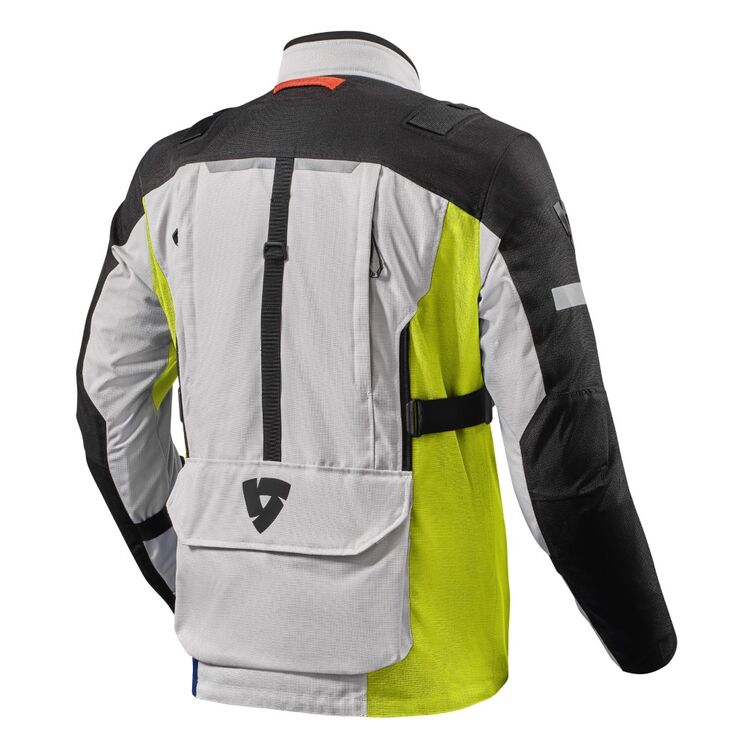 Other Features:
To access the inner of the Adventure Jacket, you must first unzip the main zipper. You can see how Revit packed so much variety into a single package. To keep the jacket closed and expose more 3D air mesh throughout the chest length to let in even more air, there is a secondary zipper beneath the primary
Then there is the Hydratex Lite waterproof lining from Revit, which is windproof and will keep you dry. It is also secured with a single snap-up top to simplify installation and removal. The removable thermal long-sleeve liner that comes next will help keep you warm.
The liner has two mounting choices since it can be mounted either directly into the jacket or, if it's dry and you want to add additional insulation, it can be mounted straight into the interior of the Hydratex liner. Therefore, much like the Sand 3, you have a lot of alternatives here for mixing and combining to suit your riding circumstances and the weather.
You receive two interior pockets for additional storage, and because the new chest protector pockets are positioned directly above them, you can also see them. Last but not least, Revit updated the waterproof liner so that you can wear it independently from the jacket and that it will fit over the top of the Sand 4 if it unexpectedly starts to rain while riding with it in your pocket.
Check the Latest Price of this Jacket Here
Read Also: 15 Best Motorcycle Knee Guards Reviews
Revit Sand 4 H20 Pants Review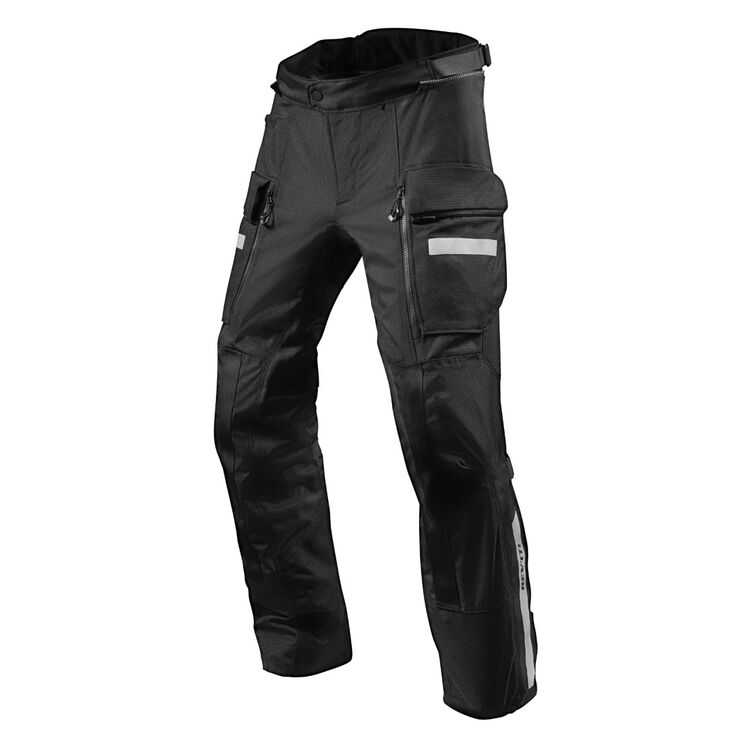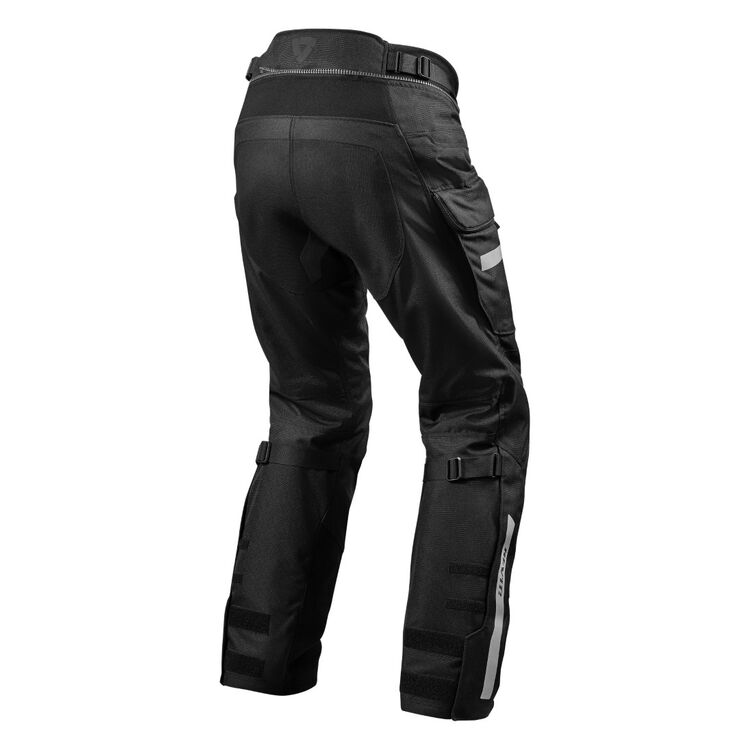 We now go on to the Sand 4 Pants, created to complement the jacket in terms of its dual-sport design and significantly more aggressive appearance. Updates to the pants' ergonomics and safety are also being made to make them more comfortable for a full day of riding.
The Dainese Carve Master 2 GTX and Klim Traverse pants will be in direct competition with the pants, which have a suggested retail price of roughly 340 Euros, or $400.
Material Used in Revit Sand 4 H20 Pant
The Revit pants' material is predominantly made of ripstop polyester for increased strength, and the construction has also been simplified as the 600D polyester. PWR knee shells are no longer present. The PWR shell, however, has undergone mobility and additional reinforcement in the seat and inside of the cuffs, making it 1000D currently.
With reflectors in the cuffs and a new strip on the side of the leg on the pocket, the pants will be more robust and provide more visibility. Finally, the pants have been tested to a higher level and are prEN 17092 certified to class AA, much as the jacket.
Safety Features
The ergonomics of these pants have undergone the most improvements in terms of safety. Therefore, you will continue to receive CE Level 2 SEESMART and CE Level 1 SEEFLEX protection for your knees and hips, respectively.
The knee protection is now adjustable, ensuring the pants are more comfortable and protective. It is the main change. Additionally, they include a jacket-to-pants zipper in the back that allows you to attach them to the Sand 4 jacket.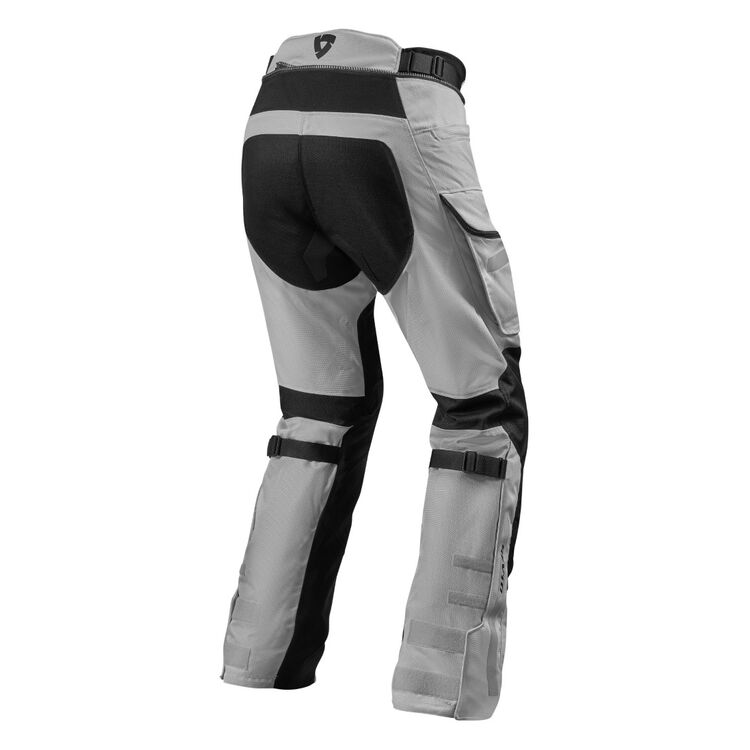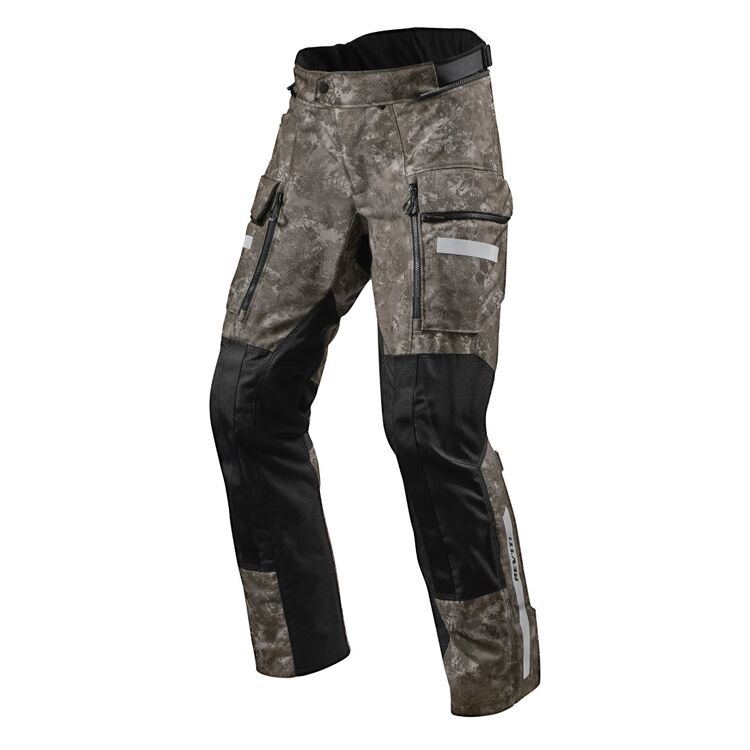 Comfort Level
Finally, we reach comfort, which is the area where Revit has undergone the most changes. The pants also come with a lot more flexibility in addition to the overall more polished and suited design and fit. The massive Velcro closures at the bottom of the leg to suit a pair of boots below are also included, in addition to the new adjustable knee protection we already described. To adjust the pants when you swap out those liners, the hips also have quick-adjust straps on either side.
A removable Hydratex Lite waterproof and windproof lining with a thermal layer hidden below is included, exactly like with the jacket, to ensure that you stay warm in the cold weather. In addition to removing the liners, if you're using this set in the summer, the thighs include two massive direct-to-body vents that will let a lot of air in.
Then, right after this, are a series of cargo pockets. New snap closure with a specific structure to prevent it from coming out and zipper closure with a gusset to keep water out are the final two comfort elements you will find up top. Additionally, the back has sure grip panels in the seat and a stretch design at the waist to prevent you from moving too much.
Check the Latest Price of these Pant Here
Conclusion – Revit Sand 4 H2O Jacket and Pants Review
Overall, the Sand 4 set has seen an incredible amount of change. Revit has made little adjustments and improvements here and there to make this a safer and more comfortable riding set that will maintain it a highly competitive choice at the 400 Euro mark. We hope you like our complete Revit Sand 4 H2O Jacket and Pants Review.
FAQs
What Protection Used in this Revit Sand 4 H2O Jacket and Pants?
It has CE Level 2 SEEFLEX protection on the shoulders and elbows and preparation for a SEESOFT and CE Level 2 SEESMART, and CE Level 1 SEEFLEX protection for your knees and hips.

What is Revit Sand 4 H2O?
The Sand 4 H2O jacket can take motorcyclists anywhere in style and total comfort. The rugged yet lightweight abrasion-resistant outer shell is engineered to last many around-the-world trips. It provides excellent freedom of movement for the most demanding and technical situations.
Who is the founder of Revit Sports
Ivan Vos – It was in 1995 when Ivan Vos decided it was time to create his own brand of motorcycle clothing.