Motorcycle pants are used to provide security from injuries during accidents. These riders can not deny motorcycle pants just like helmets, jackets, gloves, and insurance.
These motorcycle-riding pants are made from a special fabric. This helps to provide safety and comfort with the best riding experience during multiple temperatures. There are several key features to look out for in finding the perfect riding pants.
Here, we will discuss all the important benefits of wearing perfect motorcycle pants. Also, what are the types of pants, and how much they can protect you from scratch?
Types of Motorcycle Riding Pants
Motorcycle pants are made from special materials to make sure optimal protection, comfort, and functionality for riders. These pants provide impact protection in every weather condition. There are a few types of riding pants to look for
Textile Motorcycle Pants: These riding pants are crafted from advanced synthetic materials like high-denier nylon or polyester. These pants provide come with features like breathability, waterproofing, and impact protection. Textile pants are versatile, lightweight, cost-effective, and suitable for various riding conditions.
Leather Motorcycle Pants: Leather pants are popular due to their higher impact protection and timeless style. These leather pants are durable and comfortable for riders.
Motorcycle Jeans: Riding jeans are a good combination of perfect style and safety. They provide a casual look to riders with impact protection, durability, and abrasive resistance.
Adventure Pants: These types of pants are specially designed for long-distance. They provide features like comfort, weatherproofing, impact protection, temperature, ventilation option, breathable, and adjustable.
5 Benefits of wearing motorcycle pants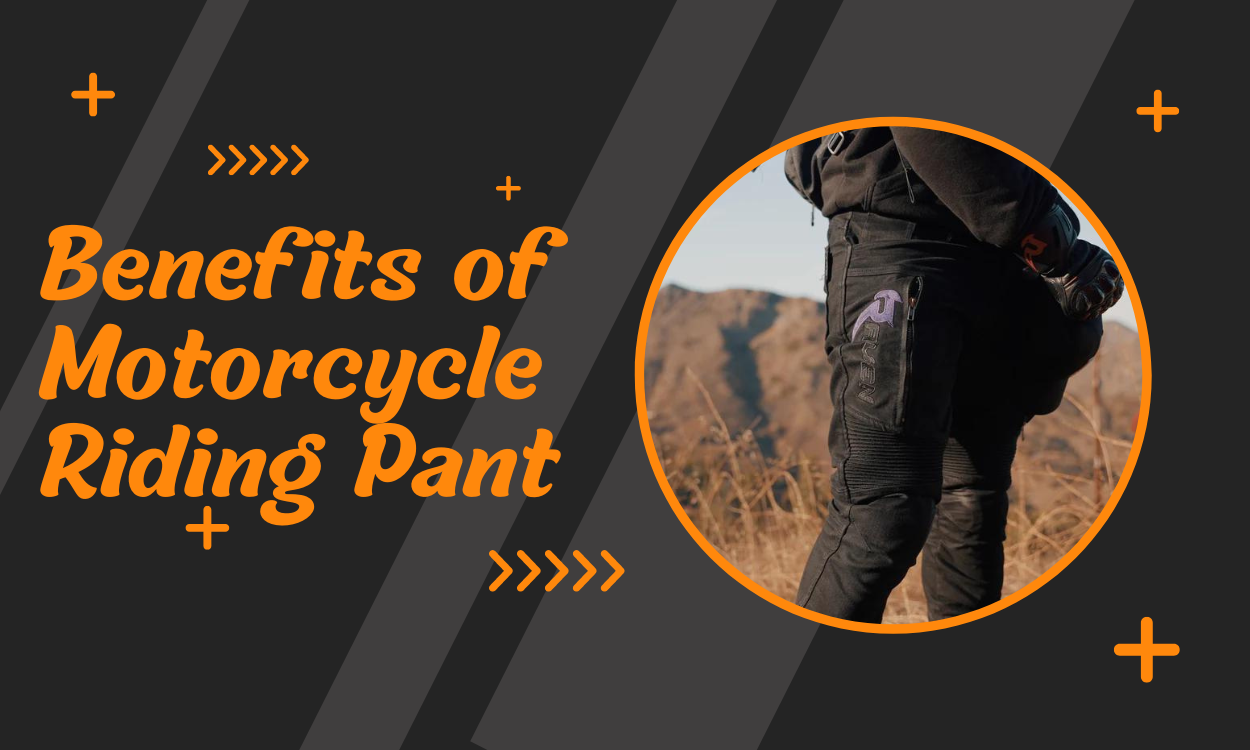 Look Also: Top 8 Best Motorcycle Riding Pants in 2023
The main benefit of wearing riding pants is just providing protection from accidents. But there are other various benefits offered by riding pants to riders.
Safety and Protection: Motorcycle pants work as a shield to provide protection from injuries. They absorb the impact of accidents and are not torn to scratch. You make sure to choose a higher material and a minimum of CE or UKCA level 1 impact protection pants to suffer injuries during accidents.
Comfort and Mobility: Motorcycle pants are specially designed to provide a high level of comfort and mobility to riders. You must choose a high-quality material..
Weather Adaptability: These pants are fully capable to survive in different weather conditions. From scorching summers to unexpected rain, riding pants make sure of complete comfort with waterproofing, hygiene, and ventilation.
Confidence Boost: These riding pants are important for wearing protective gear to provide security from accidents. This helps to improve your confidence by providing enough security.
Reduced Distraction: You don't have enough options to choose new paints daily. Also, they are hygienic and waterproof pants that help to focus solely on the road without being concerned about your clothing's safety.
How to choose the best Motorcycle pants?
You must need to look for safety while choosing motorcycle pants. Here, we discuss some factors to choose the best motorcycle pants.
Protection Priorities: Determine your bike, riding style, and priority to choose the type of material you required. You must look out for CE/UKCA Level 1 and Level 2 safety certifications to choose the material pants. The pants must be durable, breathable, and adaptable for riding.
Fit and Comfort: Riders should choose pants that fit well in your body and allow free movement. The pants should neither be too loose nor too tight. Opt for a fit that offers ample coverage without restriction.
Safety Certification: You should opt for pants rated A to AAA that indicate their suitability for various riding scenarios. AA and AAA ratings show higher toughness levels and comprehensive impact protection.v
Conclusion
So, motorcycle-riding pants are very crucial riding gear to provide protection during accidents. There are many types of pants including textile, leather, and denim to choose a perfect one. These pants are so good for various types of riding. These types of pants provide comfort, safety, and confidence to ride a bike at full capacity. Your riding pants should be comfortable, durable, and adjustable as per the riders
FAQs
Are motorcycle pants necessary, or can I ride in regular jeans?
Safety is a most important priority while riding. Regular jeans are not enough durable and are safe to protect you from impacts during accidents. Whereas, these pants are made with good quality material to reduce the risk of injuries in case of a fall.
How do I know if motorcycle pants fit properly?
Properly fitting motorcycle pants should not be too loose or too tight. It must be comfortable in every position to sit. When you choose textile pants, it should not be too slippy. You should check for freedom of movement in riding positions. 
Do I need to wear motorcycle pants even for short rides?
Yes, it is crucial to wear motorcycle pants for all rides. Accidents can happen unexpectedly, even on short trips. These pants provide protection from potential injuries, abrasions, and impacts during any ride.
How much protection do motorcycle pants provide?
These pants offer substantial protection against abrasions, impacts, and road rash. You should go with materials like leather and textiles that are designed to minimize injuries during accidents. Removable impact protectors add an extra layer of safety. But they are not the only option to safeguard your riding.