Adventure motorbike gear needs to be very versatile. You might require additional storage, the weather might change, and your excursions might involve both on- and off-road sections. Mother Nature is unbeatable, but you can arm yourself with quality ADV equipment.
The Klim Artemis jacket and pants are the company's signature women's adventure gear, and both are carefully made and deal with the range of circumstances one would encounter on a two-wheeled journey.
It is high-end equipment that is comfortable right off the shelf and packed with functions. The suit's functional design is aesthetically beautiful and prepared for all-day riding. Keep reading this blog.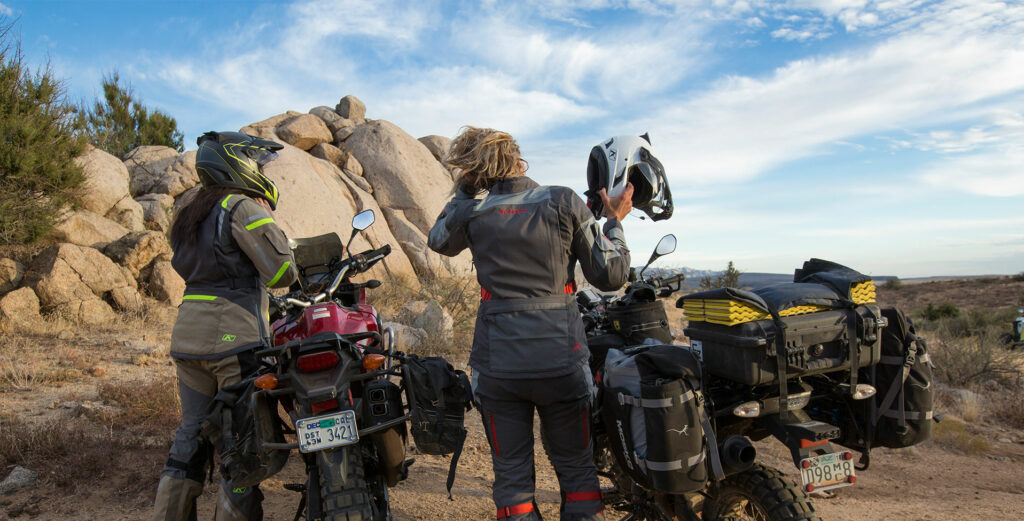 Read Also: Dainese Racing 3 D-Air Perforated Jacket Review
Klim Artemis Jacket and Pants Details
Comfort levels
Excellent comfort levels are reached in the outfit. Especially in hot weather with every vent wide open. The Artemis is a delight to wear for long miles on the road because of the articulated elbows and adjustments at the biceps, forearms, and waist, together with KLIM's female-centric tailoring.
Venting
The Artemis's use of the best ventilation positioning is one of the features we loved right away. The jacket includes two zippered pleats at each hip's side and ten ventilation vents. A great outcome that is also supported by the waist adjustment sliders. The vent panels at the top of the chest have the two most noticeable outlets, supported below by two special cross-core ones that further improve airflow.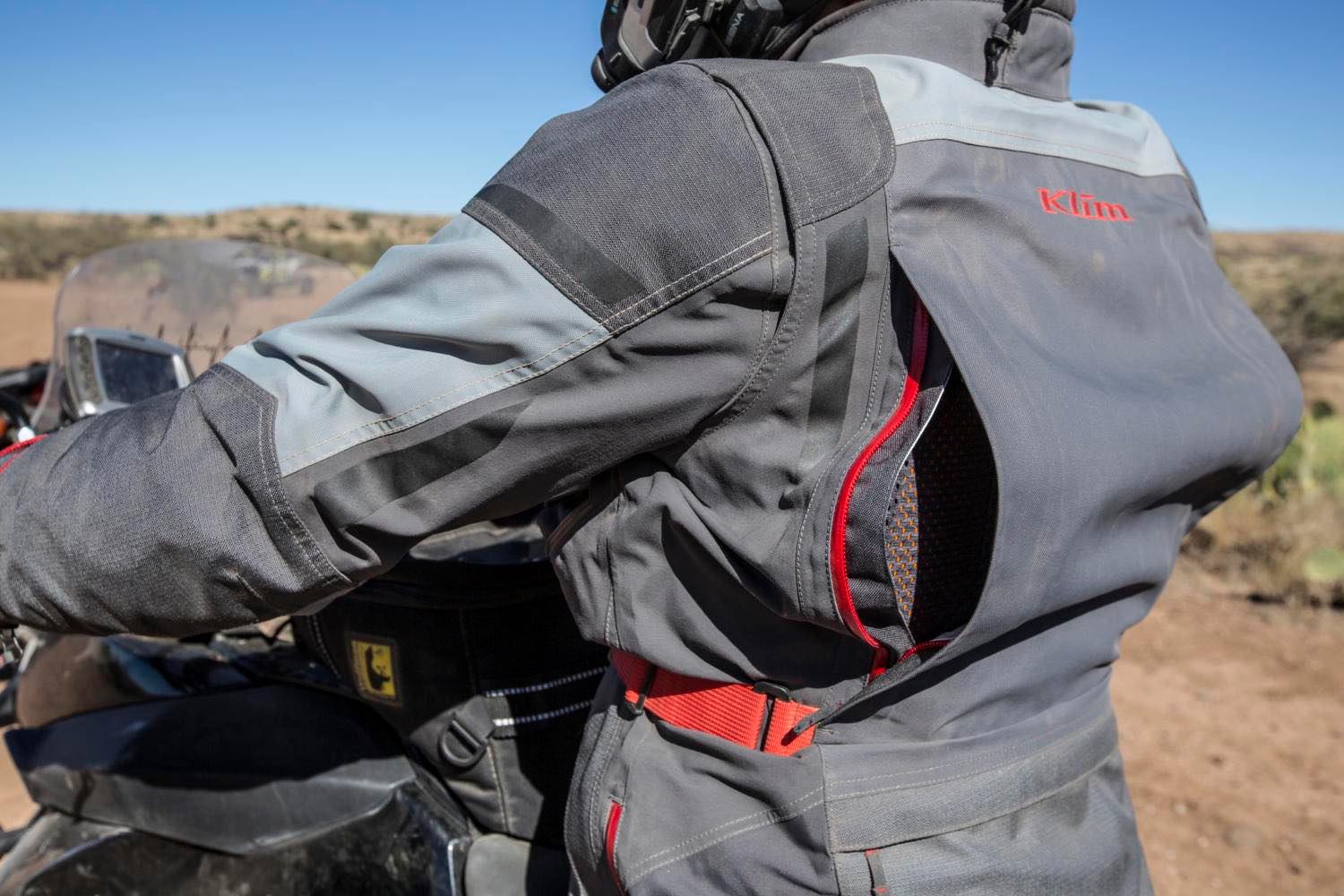 The pant has two vertical back exhaust vents and two front thigh intake vents, which create excellent front-to-back airflow. Both are equally well-ventilated. The lower leg can be molded into an aerated, bootleg offering whenever needed because it can also be unzipped and made more comprehensive.
Fabric
The numerous adjustability and decent fit caused very little flapping. The Klim Artemis Jacket and Pants don't bulk up or ride up much. The suit seems cool on cold mornings but loosens once it touches body heat. The prototype still feels as comfy as it did when you initially put a few thousand miles on it. There is enough stretch to easily get in and out of the suit when sitting in the tent or standing by the roadside.
Water resistance
We were well-prepared for the colder months, like many year-round riders, due to the GORE-TEX shell that is "Guaranteed to keep you dry." The two-layer performance shell keeps even the smallest raindrop from entering after too many days in the pouring rain during winter.
Pockets
An ideal number of pockets are provided, including two hand pockets with zippers and Velcro, two chest pockets with zippers, a huge pocket on the back, a useful upper arm pocket, three stash compartments inside, and a hidden document pocket behind the back. On the pants, there are two handy zippered cargo pockets.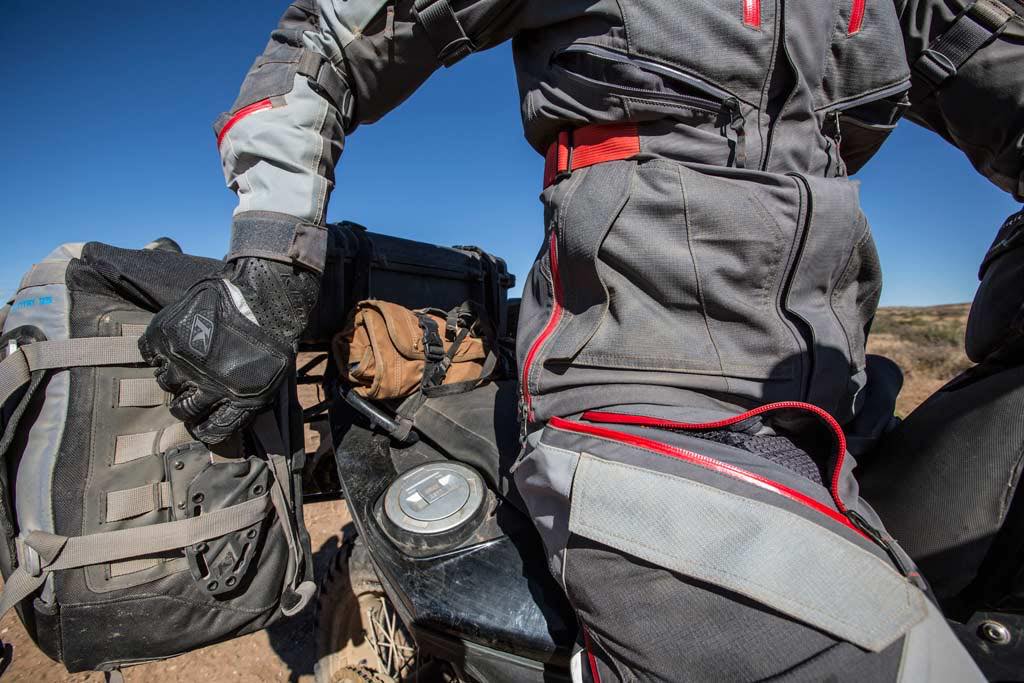 Quality
There are distinct layers in the Klim Artemis Jacket and Pants. The main body is made of breathable Gore-Tex material. In the high abrasion zones, there is an abrasion-resistant overlay of Karbonite ripstop over the shoulders and outer arms.
The high-impact areas on the pants' lower thigh, knees, and back are more or less similar. To prevent long-term wear against the motorcycle, the inside leg is lined with durable but supple goat leather.
Protection
The Klim Artemis Jacket and Pants clothing will protect you from abrasion and impact from a safety standpoint. The Artemis clothing is mainly made of Gore-Tex, with high abrasion-resistant SuperFabric and 630D Cordura fabric strategically placed at stress spots and dangerous sliding zones.
A lighter cloth is used in less sensitive locations to keep the equipment more flexible. Inner knee leather patches offer grip on the motorcycle and heat protection.
Impact protection is provided by installing D3O CE Level 1 armor at the shoulders, elbows, and back. As soon as you slide into the jacket, the D3O armor gives off a protective sense, is flexible, and doesn't restrict movement. The armor also has vents, so air may flow even when the zipper vents are open. The CE Level 2 armor is easily upgradeable and is what we recommend.
Klim Artemis Jacket Features:
Performance shell made of gore-tex
Superfabric is used in the shoulders and elbows
Overlays of 630D Cordura twisted yarn on the chest and back pockets
Reflective 3M Scotchlite material
Shoulder and elbow armor with vents from D3O CE Level 1 are incorporated
Viper back pad with D3O CE Level 1 included
Total of 8 vents
Back collar tab to improve airflow
10 pockets in total
CE AA-rated clothing with EN 17092-3 certification
Klim Artemis Pant Features:
Performance shell made of gore-tex
The knee, boot panel, seat, and pocket overlays are made of 630D Cordura twisted yarn
Superfabric in the knees
Inside of the knees have goat leather for protection and grip
Reflective 3M Scotchlite material
Ventilated hip and knee armor by D3O CE Level 1
4 total vents
CE AA-rated clothing with EN 17092-3 certification
Some Pros & Cons
PROs
Unparalleled ventilation design specifically for the female body.
A gender-specific customizable fit that functions effectively in almost every circumstance.
Numerous compartments throughout the jacket and better storage on the pants.
Since the GORE-TEX suit is always waterproof, no liners are required.
A very fashionable product.
Cons
The purchase is being considered for a fully loaded flagship suit that is intended to be purchased just once.
Conclusion
It is the most excellent three-season suit in terms of the overall response. The defensive elements are superior to the average; they are unmatched. The Klim Artemis Jacket and Pants are designed by women for women riders and are built of various cutting-edge materials in a two-piece with three-season functionality.
The result provides not only excellent protection but also fantastic ventilation. Additionally, it is flexible rather than hefty, which prevents energy loss during the day.
FAQs
What is the Klim Artemis Women's Jacket?
The most comprehensive women's adventure riding jacket on the market is the Artemis Jacket. This adaptable jacket offers exceptional mobility, practical storage, abrasion resistance, and ideal ventilation.
Why Should Buy Klim Artemis Women's Jacket?
The Klim Artemis Women's Jacket is made of high-quality materials, including a GORE-TEX 3-layer Pro Shell, which is known for its durability and ability to withstand harsh weather conditions.
Is the Klim Artemis Women's Jacket suitable for cold weather?
The Klim Artemis Women's Jacket has a lining that is designed to keep you warm in cold weather, but it's always best to layer up if you expect to be in extremely cold temperatures.
Can the Klim Artemis Women's Jacket be used for off-road riding?
Yes, the Klim Artemis Women's Jacket is designed for off-road riding and features protective features such as reinforced elbows and shoulders.