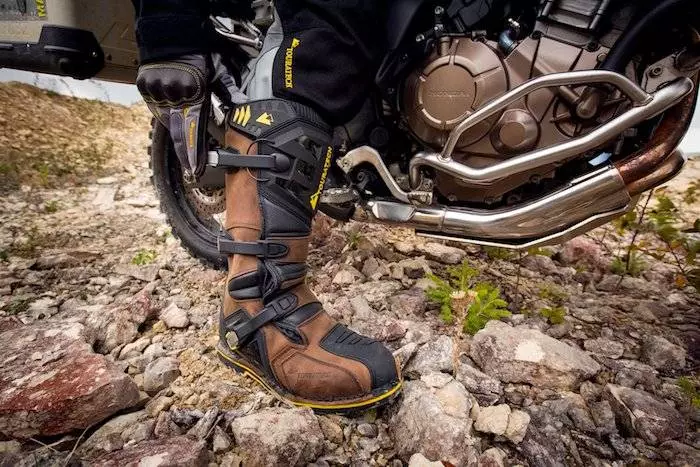 Bikers sometimes overlook the value of a decent pair of riding boots, which are the one piece of riding gear that experiences the most wear and tear. The most frequently asked question is, "Why do I need riding boots when I can just use ordinary shoes?" Ordinary shoes, on the other hand, are built of delicate materials or light leather that splits apart as soon as it touches the road. Riding boots, on the other hand, are built for long-lasting comfort, durability, and, of course, style. In addition, they can withstand the weather and protect your feet, ankles, and shins while providing optimal comfort and flexibility when riding. So, here are some Motorcycle Boots Buying Tips.
1. Street Riding Shoes
These boots are short in length, yet they provide strong toe, heel, and ankle protection. They are lightweight and frequently the most convenient for short rides and city riding since they do not limit foot movement. Most models have laces and a holding strap, with a few exceptions where zips substitute laces for ease of entry and exit. They are also available in waterproof variants; however, waterproof pants find it challenging to cover them and entirely block out water due to their short length.
2. Touring Boots
Touring boots are made for extended rides, so they're built to be as comfortable as possible without sacrificing safety. Most models are waterproof, mid-height, and have either zippers or Velcro for easy entry and exit. The TCX Airtech Evo WP boots are an excellent example of Gore-Tex touring footwear. These are waterproof on the outside and breathable on the inside. They also feature a larger sole area than street shoes and are suited for all types of road trips.
3. Sports riding shoes
The Sports variation is the go-to choice for any superbike enthusiast. One of the most robustly designed riding boots with an emphasis on protection all the way, the Sports variant is the go-to choice for any sports/superbike enthusiast. There are no restrictions on the sort of bike they may use on. Their Torsion Control System allows for ankle movement up to a point before stopping it, reducing pressure on the ankle joints. In addition, the sliders protect the shoe from damage caused by footpeg scratching for energetic riders who enjoy riding.
4. Adventure riding boots
Suppose you like adventure riding, these motorcycle boots buying tips for adventure riding suit you. The boots' specially designed sole ensures that they stay securely planted on gravel, rough areas, and loose dirt. They are the tallest of all sorts of boots, providing exceptional leg protection and the highest amount of waterproofing and durability. They usually come with closure buckles to ensure a secure fit and prevent the boots from slipping off on difficult terrain. In addition, your feet will be ready to handle head-on hits from stones, flying debris, and more because of their strong leather structure.
5. Racing Boots
The only objective of these boots is to serve one and only one purpose. When riding quickly or racing, it's essential to be safe. They provide the highest level of security, but they are not exceptionally comfortable for long periods. Race/track-focused riding boots offer the most protection and stiffness among all riding boots. These boots are for you if you ride hard, and safety is a top priority.
The most prevalent issue among riders is whether or not these high ankle shoes are comfortable after they are off the bike. But, again, it's just a matter of growing used to them. Although a high-ankle boot is stiffer than a short-height boot, if your foot becomes trapped beneath the bike's weight, you will be grateful for the boots' length and structure!
Conclusion
A nice pair of riding boots is an essential part of your overall outfit. Make sure you buy motorcycle riding boots from a reputable brand that will provide years of quality and longevity.
FAQs
How do I choose a motorcycle boot?
For any boot to give you adequate protection, it should come at least up over the ankle and have stable construction at the top of the boot to provide you with the right amount of support.
What kind of boots should you wear on a motorcycle?
Performance boots are those boots specifically designed for motorcycle riding.
Do I need full-length motorcycle boots?
A full-length motorcycle boot gives more protection around the shins with hardened areas.