As a rider, we always try to run our bikes as fast as possible, but the resistance from the air tries to reduce our bike's speed. The best solution to mitigate air resistance is "Motorcycle Windshields ". A windshield reduces the air pressure and increases speed while maintaining fuel requirements. 
There are many common types of windshields available to use for different purposes. A standard windshield can be too small, or too awkward for taller riders. Also in other situations, a windshield can be taller for short people or lower sheet bikes.
So, read this article, if you want to choose the perfect windshield for your bike as per style, material, and size.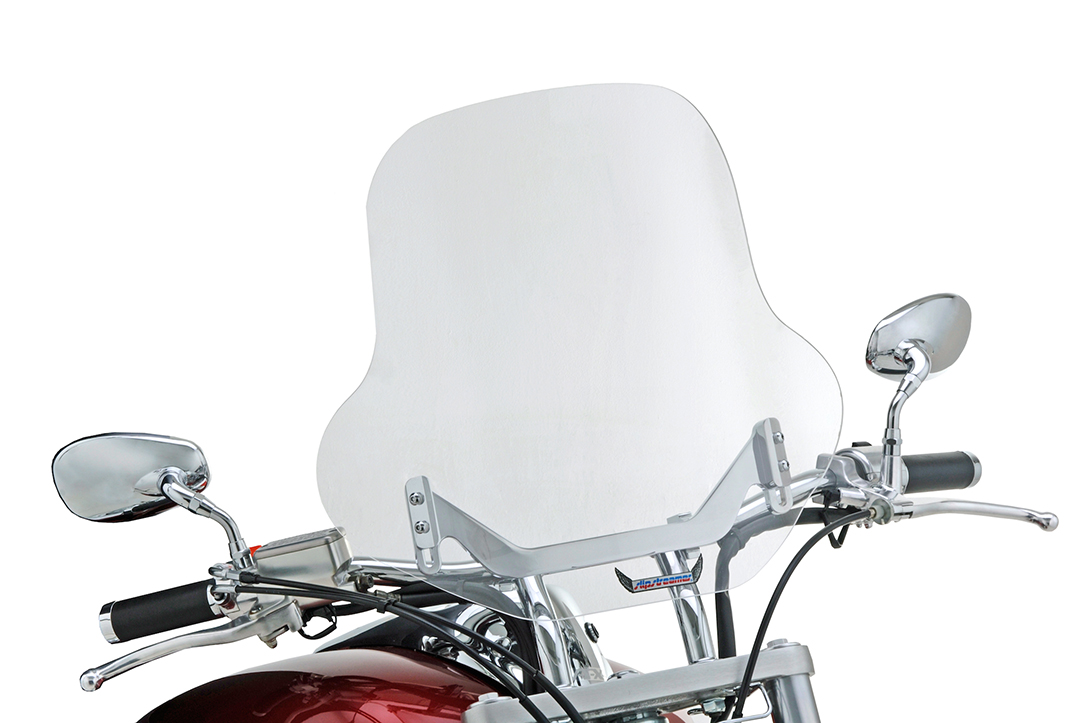 Read Also: Best Motorcycle Panniers Reviews
Overview of Motorcycle windshields
Motorcycle windshields are also known as windscreens. It is a wide transparent glass that works as a protective shield on the bike to reduce wind resistance during the bike. They provide complete protection to the riders from wind, debris, and insects while riding.
These glasses are made from either acrylic or polycarbonate. Acrylic is the most common choice because it is the least expensive and offers more shine without getting yellow over time. Whereas, polycarbonate is more durable, reliable, and offers twenty times more impact-resistant than acrylic
Types of motorcycle windshields
There are four main types of motorcycle windscreens available for different purposes.
Touring Windshield:
These glasses are larger and taller than normal ones. They are designed to provide complete protection from wind and small elements in different types of conditions. This big screen is quite popular among riders who travel extensively.
Standard Windshield:
These are the medium size windshield that provides protection from the wind while maintaining style. From cruisers to standard motorcycle riders, these glasses can be a good choice.
Sport Windshield:
These are better options for sports riders due to their small and compact size. Their primary focus is on aesthetics and aerodynamics which helps in maintaining the bike's stability and speed.
Universal Windshield:
They are universal glasses that can easily fit with any motorcycle model. They are a versatile option for riders who want to switch windshields between different bikes or prefer a customized fit.
Choosing the perfect motorcycle windshield:
When you are going to choose a motorcycle windshield, you need to consider your riding style including long riders, shorter trips, adventure rides, dirt rides, and street riding.
If you love long rides and want to stay comfortable, opt for a wide-tall windshield for better protection from wind and rain. If you prefer shorter trips and admire the views, you can go with a smaller windshield.
Height Matters:
You need to set the height of your windshield as per your height. The windshield's height should be around the below of your nose for clear visibility and direct airflow over your helmet. 
To determine the right height, you can follow the 50-foot object rule. For that, you need to place an object 50 meters away from the bike on the ground. Now sit comfortably on your bike and see the object, if the object is clearly visible without enhancing your height that means the height of the screen is right.
Also, the angle of the windshield should be titled to effortlessly reduce the airflow in different weather conditions.
Material:
Motorcycle windshields are available in various materials including Acrylic, Polycarbonate, and Polycarbonate with Quantum Hard Coating.
Acrylic is a highly used material at a cheaper price but can scratch easily. Whereas, polycarbonate windshields are more expensive, durable, resistant to abrasion, and hard to shatter. 
Also, there are better quality windshields available than acrylic and polycarbonate. It has a Quantum Hard Coating on a polycarbonate windshield that offers scratch resistance while maintaining clarity over time.
Conclusion
Choosing the right windshield height as per your riding style is most important to maintain a great look with enough speed. The windshield helps to reduce the air resistance during rides. For different purposes, you need to choose your windscreen. The height of your windscreen will depend on the type of riding you are doing. Choose a high-quality material like polycarbonate to avoid scratches for a long time.
FAQs
Fixed vs. Quick-Release, Which is better?
The choice between fixed and quick-release motorcycle windshields depends on the personal preference of the riders. A fixed windshield offers stability during riding but it is permanent, whereas quick-release versions provide versatility but may have a less streamlined appearance.
What is "Buffeting" and how to avoid it?
Buffeting is the turbulence or vibration experienced by riders due to wind hitting the windshield. To reduce buffeting, choose a windshield with the right height, and angle to ensure airflow over your helmet. You can also use wind deflectors as an additional accessory to reduce buffeting.
Can a motorcycle windshield be tinted?
Yes, motorcycle windshields can be tinted for glare reduction and style. Tinting should be done professionally to ensure visibility is not compromised. 
How to trim a motorcycle windshield? 
To trim an oversized motorcycle windshield, you need to determine the appropriate height.  Measure and mark the cut line with masking tape, then use a fine-tooth saw to make the cut. Smooth the edges with sandpaper to secure the windshield. This is a cost-effective solution to ensure a better fit without buying a new windshield.