The Dainese Laguna Seca 5 Perforated racing suit is one of the better choices from this motorcycling-specific brand. It has all of the features expert bikers look including comfort, freedom of movement, optimal durability, protectors on exposed areas, breathability, and compatibility with an internal hydration system.
Tutu cowhide and full-grain cowhide, two of the top textiles for quality, abrasion resistance, longevity, and softness, are used to create this motorbike suit. Excellent mobility is ensured by the S1 bi-elastic fabric and the Tri-Axial system on the back.
Furthermore, the Nanofeel lining, 3D Bubble inserts, and targeted holes provide optimal comfort, ventilation, and breathability. In this Dainese Laguna Seca 5 Perforated Race review, we will give you more details about this suite.
Read Also: Best Dainese Riding Jackets for All Types of Riders
Product Details and Qualities
The Arrow XF material improves the fabric's elasticity and resistance, while the Micro-elastic 2.0 technology allows complete movement. The detachable and washable D-Tec Racing Core liner provides airflow in the most important places of this Dainese Laguna Racing suit. It may use with a hydration system placed in the aerodynamic spoiler.
This motorcycle biker suit has KGI technology, which features knee sliders with maximum grip to ride confidently. The RSS 3.0 system allows you to change the elbow, knee, and shoulder sliders. It also includes flexible hip protection and an aluminum plate on the shoulders.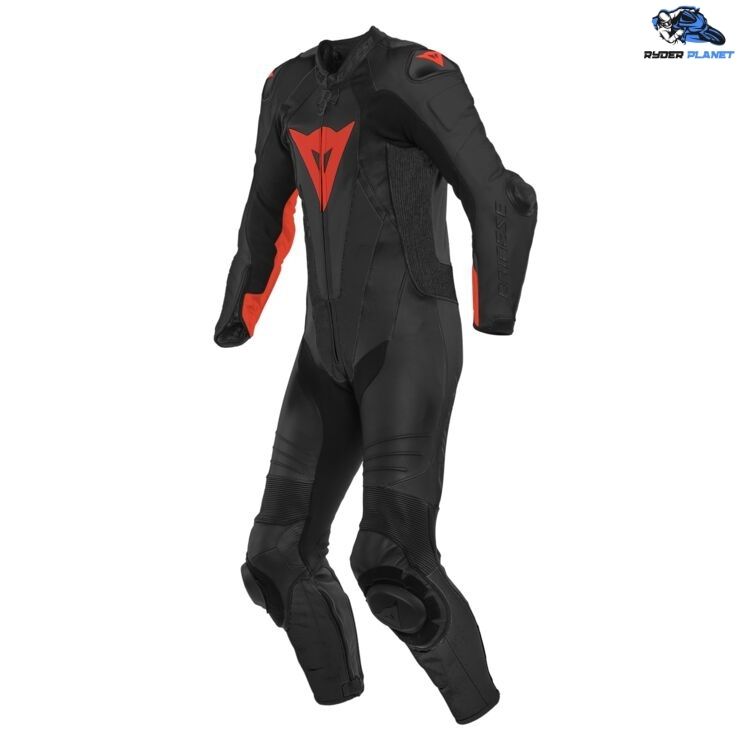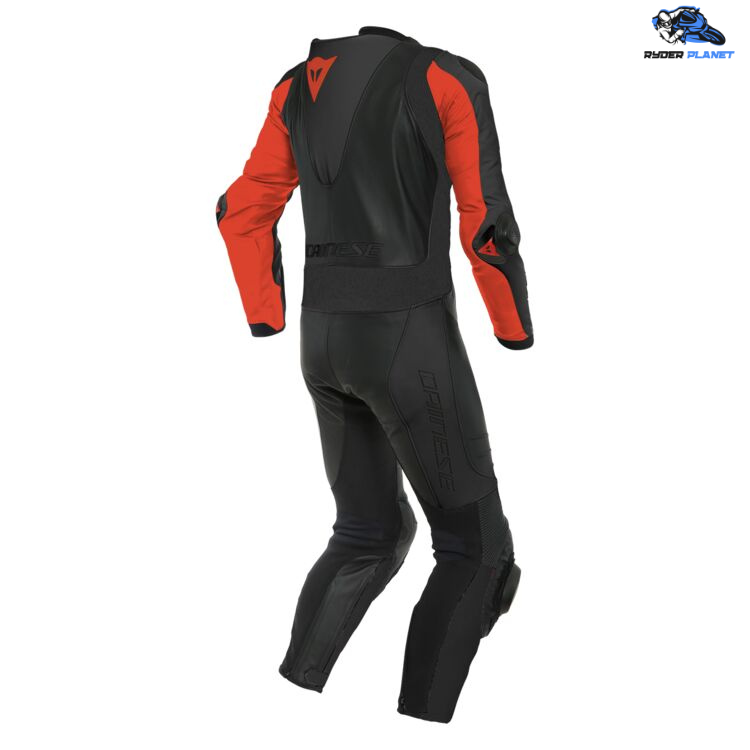 The Dainese essence is the legendary racing leather outfit. Laguna Seca 5 is the latest development of the renowned Dainese one-piece suit, crafted entirely of premium whole grain cowhide leather and ready to tackle any obstacle on the track with great confidence.
Its design was created to provide the saddle's most flexibility of movement possible. Its exceptional ergonomics assure the greatest safety: the Dainese Tri-Axial system on the back and three-way stretch leather inserts provide optimum movement while maintaining the same strength and durability as the other leather layers.
Inserts in Dainese's advanced XF Arrow material, which combines high elasticity and wearability with the durability of leather for increased mobility.
Protectors made of composite material on the elbows and knees, soft Pro-Shape 2.0 protection on the hips, and a distinctive floating shoulder design with removable and adaptable composite protectors and aluminum plates provide safety.
The metal shoulder plates, a Dainese trademark, and proprietary patent assist the rider in sliding and reducing the possibility of severe rolling in the case of a fall. It is significantly different from plastic materials, which wear down more quickly due to abrasion since they have a better hold on the asphalt.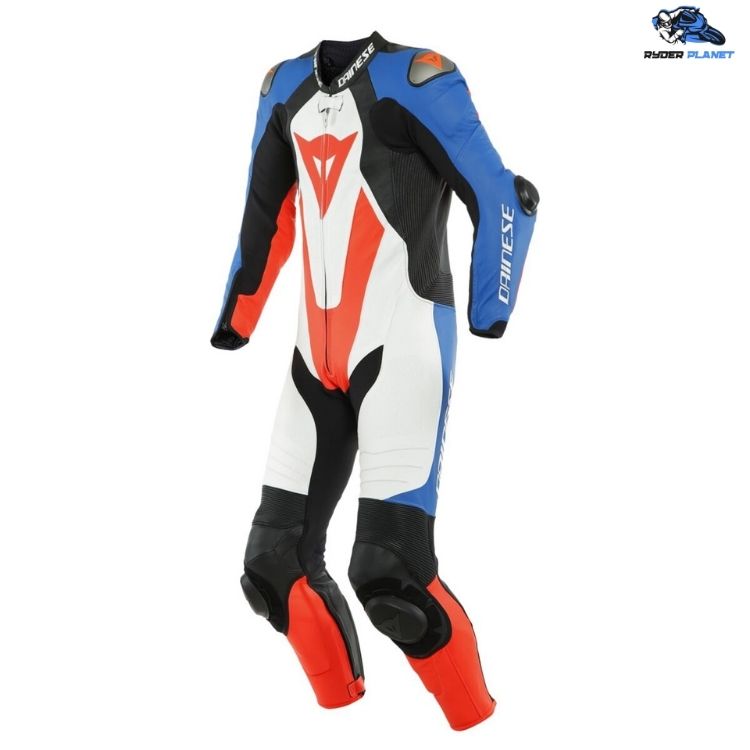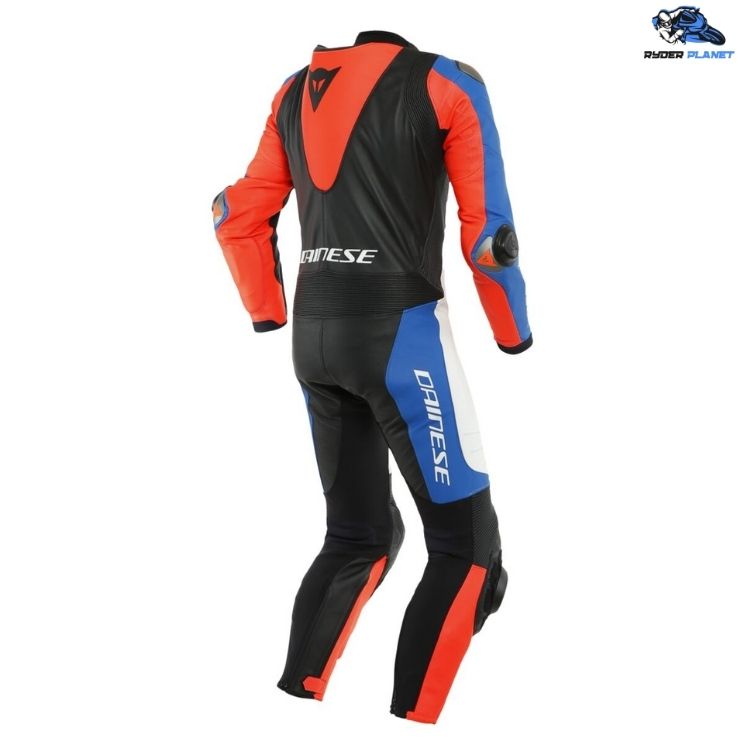 This suit is ready to take on the competition. The RSS 3.0 system has large dual compound sliders securely attached to the suit yet easily replaced. The aerodynamic hump is designed to carry a water bag kit, allowing for installing the integrated water system created for all motorcycle GP suits. When combined with a suitable helmet, this technology enables professional riders to drink with ease at any point, ensuring ideal hydration throughout the race.
In the unique KGI system, special inserts assuring the most secure grip to face even the most severe bends in utmost safety are mounted to the inside sides of the knees for even more precise motorcycle handling.
Read Also: Revit Quantum Racing Suit Review
Features:
1 inner pocket
2 Zips calf construction with Boots-in system
D-Tec Racing Core: fully removable and washable inner suit
Interchangeable knee sliders
KGI: Knee Grip Insert technology
prEN 17092 certified motorbike protective professional Suit
Protection & Cleaning Kit
RSS 3.0: Replaceable Slider System
Seamless thermoformed soft inserts
Suit bag provided – Waterbag kit ready
Ergonomics:
Aerodynamic spoiler
Arrow XF knee ergonomic construction
Elasticated inserts
Elasticated performance wrists construction
Leather zip-hook for frontal closure
Micro elastic 2.0
Neck comfort construction
Suit to the boot fastening system
Tri-axial elasticated system on the back
Performance Shock:
Composite protectors certified to EN 1621.1 Standard on elbows, knees, shoulders
Floating racing shoulder construction with replaceable aluminum plate
Pro-Shape 2.0: soft protectors certified to EN 1621.1 Standard on hips
Seamless aluminum plates on elbows
Specifications:
3D-Bubble fabric inserts
Localized perforation, Aluminum
Nanofeel® liner with Silver ion treatment
Premium full-grain cowhide leather
Tutu cowhide leather, S1 bielastic fabric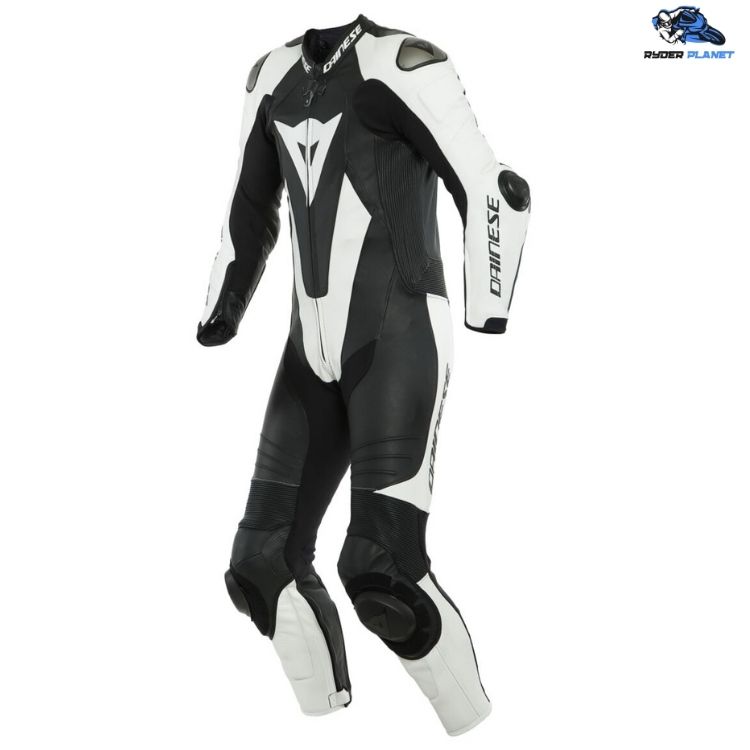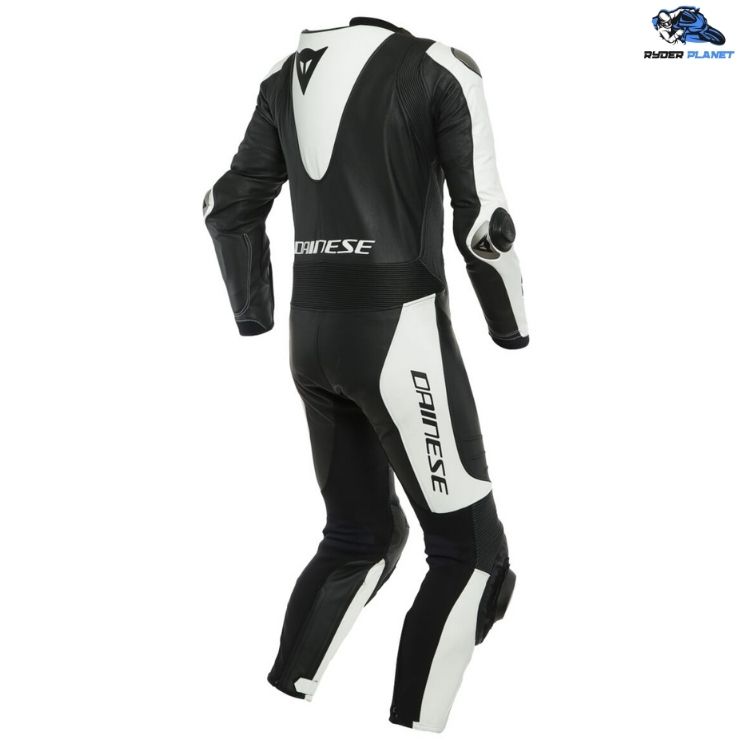 Our Opinion
The famous Dainese racing classic is getting a new upgrade with the launching of the Dainese Laguna Seca 5. It has perforated cooling zones in tough Tutu cowhide. An aerodynamic hump with a pocket for a hydration bladder if desired (sold separately). Micro elastic 2.0 and Triaxial Technology for quick response and comfort. MotoGP's latest generation of protection has seamless aluminum shoulders and RSS 2.0 elbow sliders. Plus, there's always Level 1 protection. MotoGP-evolved for a fast-paced lifestyle. In our opinion, it is an excellent purchase for motorcycle professionals.
Pros and Cons
Interchangeable elbow sliders
Interchangeable knee sliders
Over suit provided
Protection & Cleaning Kit
Replaceable Slider System 2.0: quickly releasable elbow sliders
Conclusion
The Dainese Laguna Seca 5 Perforated Races suit is a significant improvement in this legendary racing series. The safety gets improved in terms of user-friendliness, but the ergonomics have also improved dramatically while maintaining the price near to the original.
Check the Latest Price & Features on
FAQs
What Has Protection been Used in Dainese Laguna Seca 5?
Composite protectors certified to EN 1621.1 Level 1 standard on elbows and EN 1621.1 Level 1 standard on knees.
What is Dainese Laguna Se5 Perforated Race Suit?
The Laguna Seca 5 is the newest generation of Dainese's iconic one-piece suit, entirely crafted of quality full-grain cowhide leather.
Why did you choose this suit?
Comfy tracksuit and Better colors, design, and excellent protection.