The Revit Quantum 2 One-Piece Racing Suit strikes the right blend of functionality and aesthetics. The Quantum 2 is equipped with Betac shoulder, arm, and knee protection worn by most professional racers. In addition, a full complement of strong TPU sliders at the shoulders, elbows, and knees take style cues straight from the track on the outside.
The Quantum 2 comes with Seesmart hip guards and a double-layered seat with coccyx protection. Split chest and back protector inserts are accommodated in pockets. Stretch and airflow mesh panels are carefully placed to aid mobility, cooling, and rider focus. An aerodynamic speed hump accepts hydration systems.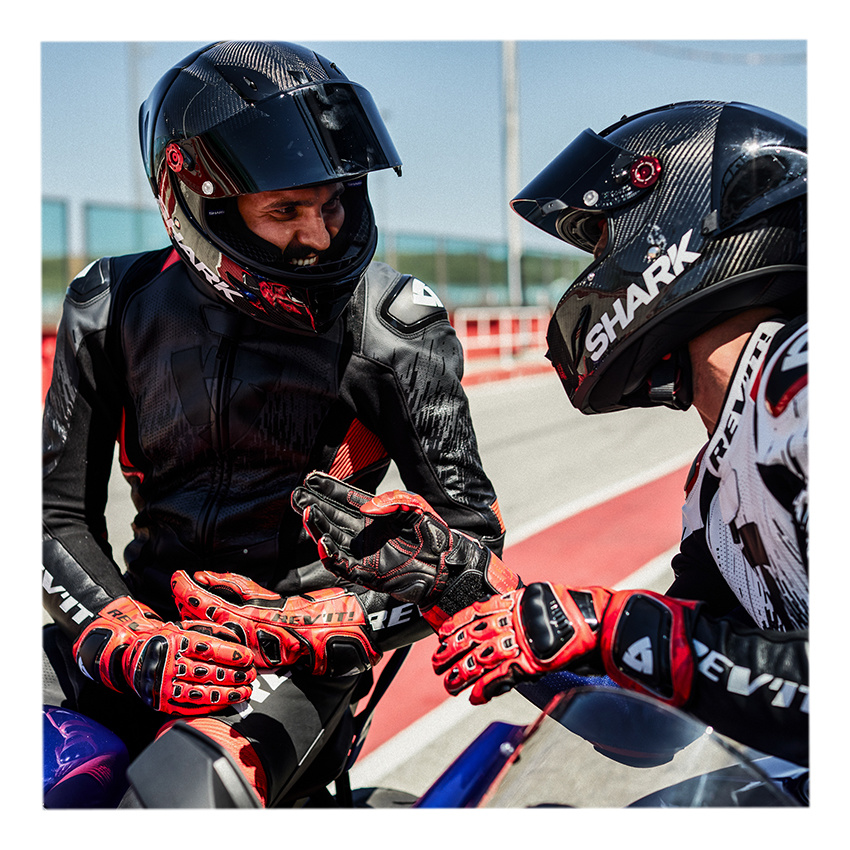 Read Also: Motorcycle Touring Guide for Everyone
Revit Quantum 2 One Piece Racing Suit Details
Material
REV'IT Race Suits is made entirely of CE-certified high-performance Monaco cowhide leather. In addition, it indicates the jacket has been certified to prEN 17092 AAA, the highest certification currently available, and can survive abrasion test speeds of at least 120 km/h in class 1 abrasion zones. The jacket also has PWR shell stretch material beneath the arms and 3D air mesh for breathability around the shoulders.
Safety
The Revit Jacket has many protectors throughout to provide that racing-level protection. The same CE Level 2 SEEFLEX protectors using in the elbows and shoulders and a pair of dual-comp shoulder protectors and TPU elbow sliders. These elbow sliders are also removable, making the jacket more user-friendly because you can always put on a new pair of protection when you need them. Revit's top-level protection will be SEEFLEX, which absorbs impact forces while staying lightweight and flexible; a similar setting would be Dainese Pro Armor.
Comfort
Revit Jackets' comfort is essential since pinching when tucked is the last thing you want. Revit has included stretchy ribbing at the rear of the shoulders, right above the elbow, and stretch fabric under the arms. You get zip in addition to the beautiful, soft neoprene in the neck and cuffs to make putting the jacket on easier. You may always tighten the jacket's waist using a set of snaps on either side if you think it is coming in too broad. A series of zipped handwarmer pockets are located right above them.
Revit Quantum 2 One Piece Racing Suit Features
Protection Features:
Outer Shell: Monaco performance cowhide | artificial leather | PWR|shell stretch | neoprene | perforated leather
Protection:

Betac® CE impact protection

SEESMART™ CE-level 1 hip protector

Prepared for SEESOFT™ CE-level 2 back protector insert – Type RV (sold separately)

Prepared for divided chest protector SEESOFT™ CE-level 1 (sold separately)

TPU protection at knees. TPU elbow sliders

Dual-comp knee slider – type A. Dual-comp protective parts at shoulders

Double leather seat. Safety seams. Coccyx protection

Composition: 79% Leather,18% Polyamide, 3% Polyurethane
Ergonomic Features:
Fit: race fit, tight
Ventilation: ventilation panels | partly perforated outer shell
Features: stretch fabric | stretch lips | speed hump | soft edge at collar | hydra bag prepared | cuff zipper | comfort cuffs | calf zippers
Pockets: inner pocket
Our Opinion
Our opinion about REVIT Quantum 2 Race Suit review is the company's newest top best REV'IT Race Suits. One item that sticks out straight away is the jacket's considerably more aggressive style, as well as the perforated version's revised mesh materials for ventilation, improved safety precautions, and overall user-friendliness. These modifications will also push the Quantum to the next level, bringing it closer to the Revit Hyperspeed Pro and Air, while there will be some distinctions.
Revit Quantum 2 One Piece Racing Suit Pros and Cons
They are designed specifically for racers looking for high-performance sliders.
Dual comp shoulder protectors
TPU protection at knees
A synthetic version of leather with a similar look.
Conclusion
The Revit Quantum 2 Race Suit brings some new features to the table, demonstrating Revit's continued commitment to racing. It is a decent mid to upper segment sports jacket with a beautiful set of modifications here and there, not to mention the quality features that help you keep your options more open.
Check the Latest Price & Features on