The Revit Nova Racing Suit combines legendary style with modern functionality. Monaco Performance cowhide and PWR. Kevlar stretch gives the Nova Race Suit protection and comfort. At the knees, dual-comp protectors limit the amount of energy transferred by collisions and aid in sliding across the surface. The impact protection is enhanced with Betac CE protection at the knees and shoulders. The speed hump is designed to improve airflow and thus is equipped with a hydration pouch.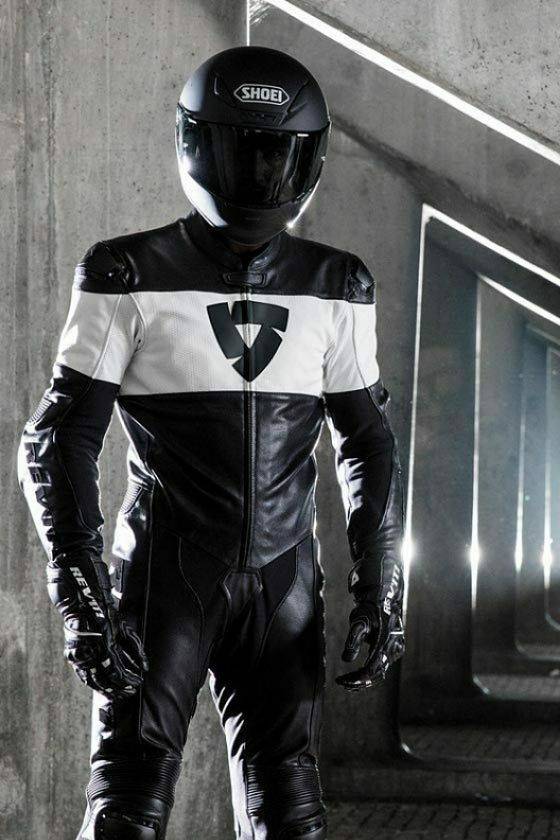 REVIT Nova Race Suit Details
It's challenging to make a one-piece leather suit appear stylish, but Rev'It did it. The all-new Revit Nova One Piece Leather Racing Suit is unlike anything we've ever seen in a contemporary outfit. Its design is based on traditional flat tracksuits but with a higher level of Protection. The garment is "stealthy," with all branding and logos entirely blacked out. This suit has an unusual and attractive style thanks to the snake-like pattern across the chest. Nova is armored at the shoulders, elbows, and hips, with CE Level 2 chest and back inserts as an option.
The REV'IT! Nova Racing Suit is open, allowing you plenty of ventilation while moving. If you want to hydrate on the move, it also contains a space for a hydration bladder. One of the most beautiful and comfortable one-piece suits we've ever seen.
Read Also: Dainese Super Rider D-Dry Jacket Review
Revit Nova Racing Suit Features
Protection Features:
Outer Shell: Monaco Performance cowhide, PWR | Kevlar stretch, nubuck leather, 3D air mesh, augustini full-grain cowhide
Protection: dual-comp protector, dual-comp knee sliders type A, Betac CE protection, adjustable Betac CE protection at knees and shoulders, See smart CE level 1 type B hip protector insert RV30, safety seams
pocket for optional Seesoft CE level 2 back protector Type RV
Ergonomic Features:
Fit: race fit, tight
Ventilation: fully perforated outer shell, pocket for optional VCS | speed hump hydration bladder (sold separately)
Features: comfort cuffs, stretch lips, stretch panels, removable lining, aero cool 3D mesh
Pockets: inner pocket
Revit Nova Racing Suit Pros and Cons
TPU aluminum protector at shoulders, elbows, and knuckles.
It has built-in lines that draw moisture away from the body, keeping riders cool and comfortable even in the most intense conditions.
This garment's stretch sections help with flexibility.
They help the rider's safety by allowing for a lot of mobility.
Read Also: Top 8 Best Motorcycle Riding Pants
Our Opinion
Various things might determine a product's review score, ranging from the brand's or product's impression to its actual usage, quality, and pricing. When buying Best Revit racing suit or any Clothing product for that matter, one of our most significant pieces of advice is to read as many thorough user reviews as possible before making a purchase. The review score may often allow you to decide how excellent a product is quick. Still, to honestly know if it's appropriate for you, you'll need to read many reviews to see what consumers have to say about it, both positive and negative.
Aside from reviews, pricing is another essential factor to think about while purchasing Rev'it 1 Piece Leather Suits and other motorcycle gear. So click the next tab to see the pricing that we could locate for the Rev'it Nova 1 Piece Leather Suit.
Conclusion
So, whether it's REVIT Nova Race Suit or another Rev'it 1 Piece Leather Suit, our goal here at Ryderplanet is to offer you as many reviews as possible on the most things you love. Apart from the reviews, one of our primary goals is to get you the most excellent offer available
Check Latest Price & Features