Do you remember a dream you had as a teenager? How many years do you have in plan for your first bike purchase? You make for perfect adventure and freedom. Now you just have to get on the bike. Preparing well is a recipe for success, but remember that it often takes many years of experimentation and overcoming mistakes to discover all the tricks. With our Motorcycle Touring Guide, you can learn new tips & Tricks for your long rides.
Useful Tips & Tricks
Use earplugs to protect your ears from road noise and avoid fatigue. Helmets can be quite noisy, so if you are going on a long trip, be sure to carry 2 packs of earplugs.
Choose a helmet with colored armor; These are more effective than sunglasses.
Wrap a light balaclava and a neck roll. This allows the helmet to feel more comfortable and provides extra insulation in cold weather. You can also use a neck roll to protect your mouth and lips from drying out.
Carry a lip balm with you.
Hide the spare key somewhere on your bike with tape, or you can get another travel companion to keep it safe. You can do the same for them.
Make sure you are well watered. It makes you aware and has a big impact on your comfort.
Check your motorcycle each morning before taking off.
The motorcycle bag keeps the bike clean and dry at night and will cause thieves trouble.
Breakfast. Choose healthy foods throughout the day. Avoid chain restaurants and try local spots, meet the locals, and learn about the culture of the places you visit.
Pack a first aid kit and make sure you know how to use it.
Take something to read for rainy days.
Make sure your family and friends know where you are. Connect with them and share your photos and stories. This will help you remember your adventures.
Last but not least, remember to give yourself a break. When traveling for extended periods of time, take at least one day off a week and do nothing. This is the ultimate luxury you can give yourself.
---
Recommended Reading:
---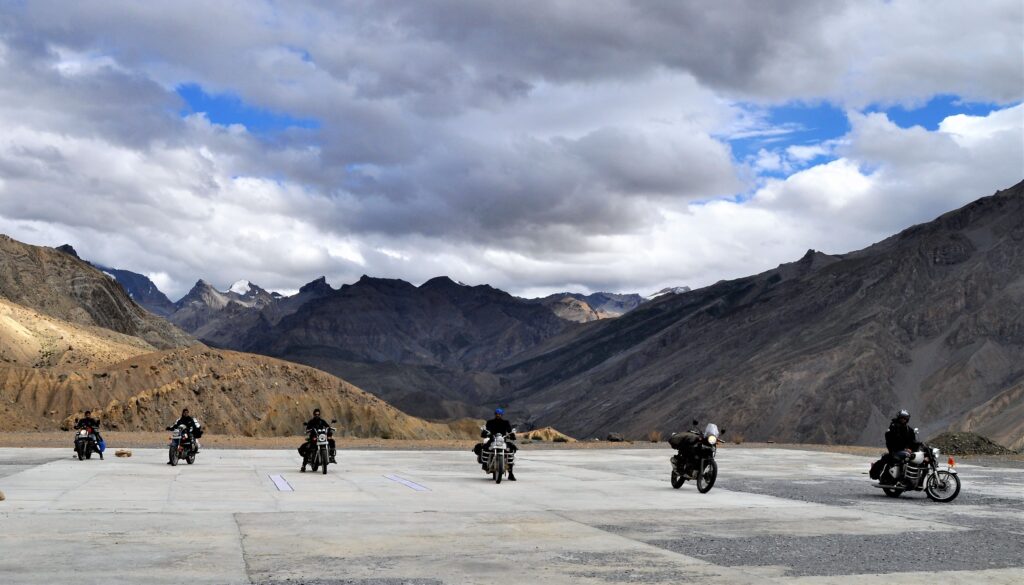 If you're a new rider or considering becoming one, here are some tips for you.
Buy the Proper Motorcycle Gear-
As with new sports or activities, you may be safe from having basic gear. As a new rider, he has accidents and crashes. Riding in shorts and sneakers is not the best option. Here is a list of equipment to consider.
Good Quality Helmet
Eye Protection
Riding Boots
Full-Gauntlet Gloves
Riding Jacket
Riding Pant
These Are Some Examples of Riding Gears.
Bags and luggages-
If you plan to go ride on a motorcycle tour, the saddlebag will easily fit in a sleeping bag and tent. Some have decided to carry a backpack, but most bikers are uncomfortable, especially on long trips. Here is a list of bags to consider.
Tank Bag
Tail Bag
Backpack
Saddle Bag
Hydration Bag
These Are Some Examples of Riding Bags.
Cloths For daily wear-
Safety is more important than comfort. On sunny summer days, it can be hot. This tour is one of the downsides of motorcycles, but in no case should you remove protective equipment. It helps you survive! Instead, wear a ventilated jacket. If you wear leather, you can consider underwear for comfort, especially on long journeys. The most important is to pack waterproof clothes. Two-part waterproofing is practical, as you can only wear a coat. But if there is a lot of rain, the cuts will dry them out.
Compleate Route planning
Especially when you go abroad, it can be difficult to find food, sleep, and fuel in remote areas, so be prepared. Motorcycle riders are an extraordinary adventure, and roadside camping and sleeping under the stars add to the excitement. Sitting in the saddle a few times, you are sure to enjoy the warm bed and hot shower to get rid of dirt and sweat. This is the main point in our Motorcycle Touring Guide.
Check Your Motorcycle Before Every Ride
Throttle grip. This is similar to the accelerator pedal in your car. It is on the right side of the steering wheel and is controlled by dipping it with your right hand.
Front brake. This is also on the right side of the handlebar and should be squeezed gently with your right hand to apply pressure to your brake.
Rear brake. This is located on the lower right side of the motorcycle. Use your right foot to press down gently to apply brake pressure.
Gearshift lever. This pedal is on the lower left side of the motorcycle. It's used to change the gears as you drive. The gear pattern is usually first gear down with the remaining gears up.
Clutch lever. This is usually found on the left side of the handlebar. It's used when changing gears.
What to Pack for a Long Ride – Checklist, Tips & Suggestions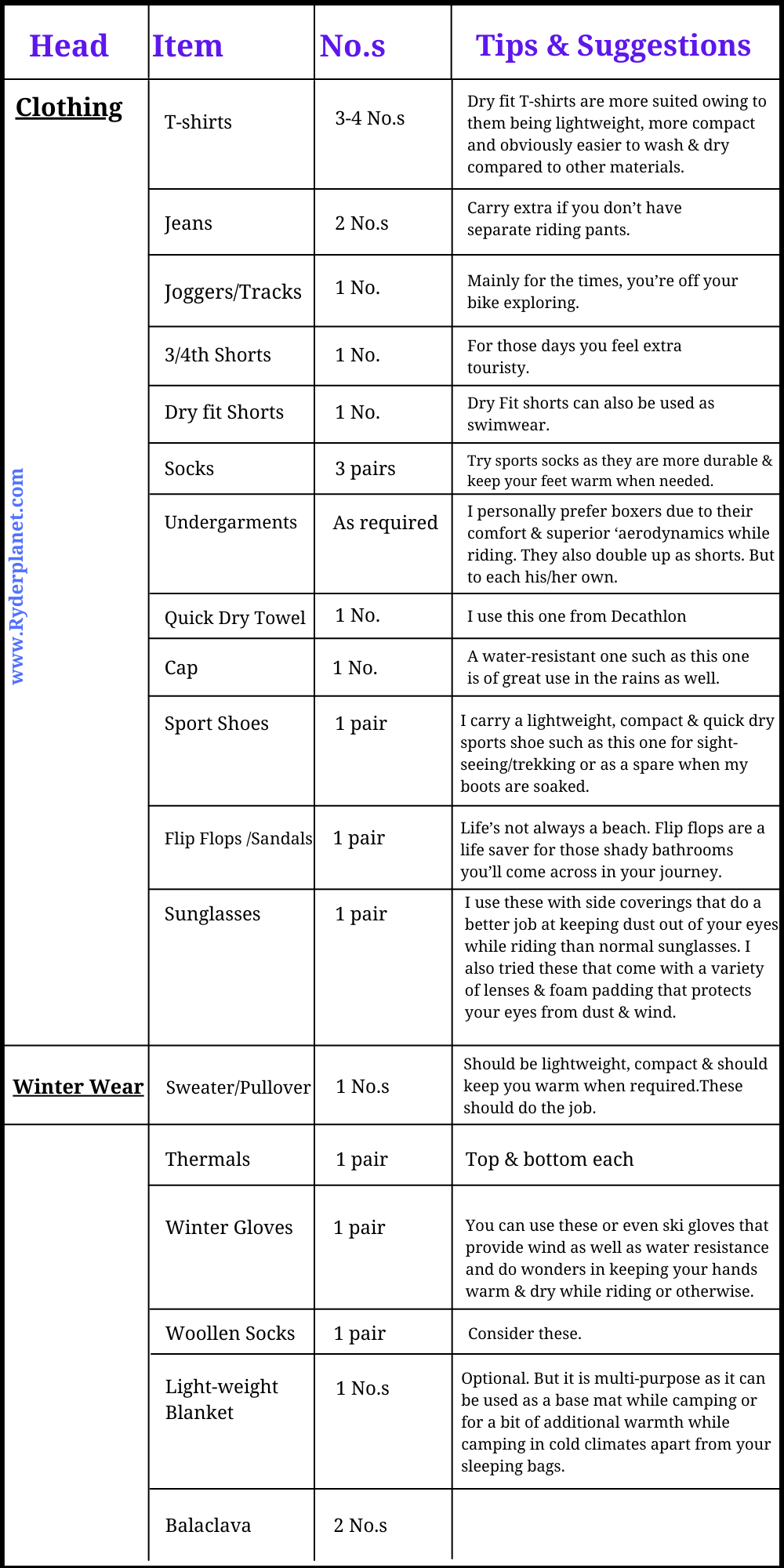 These things is very important when you are on the long tour.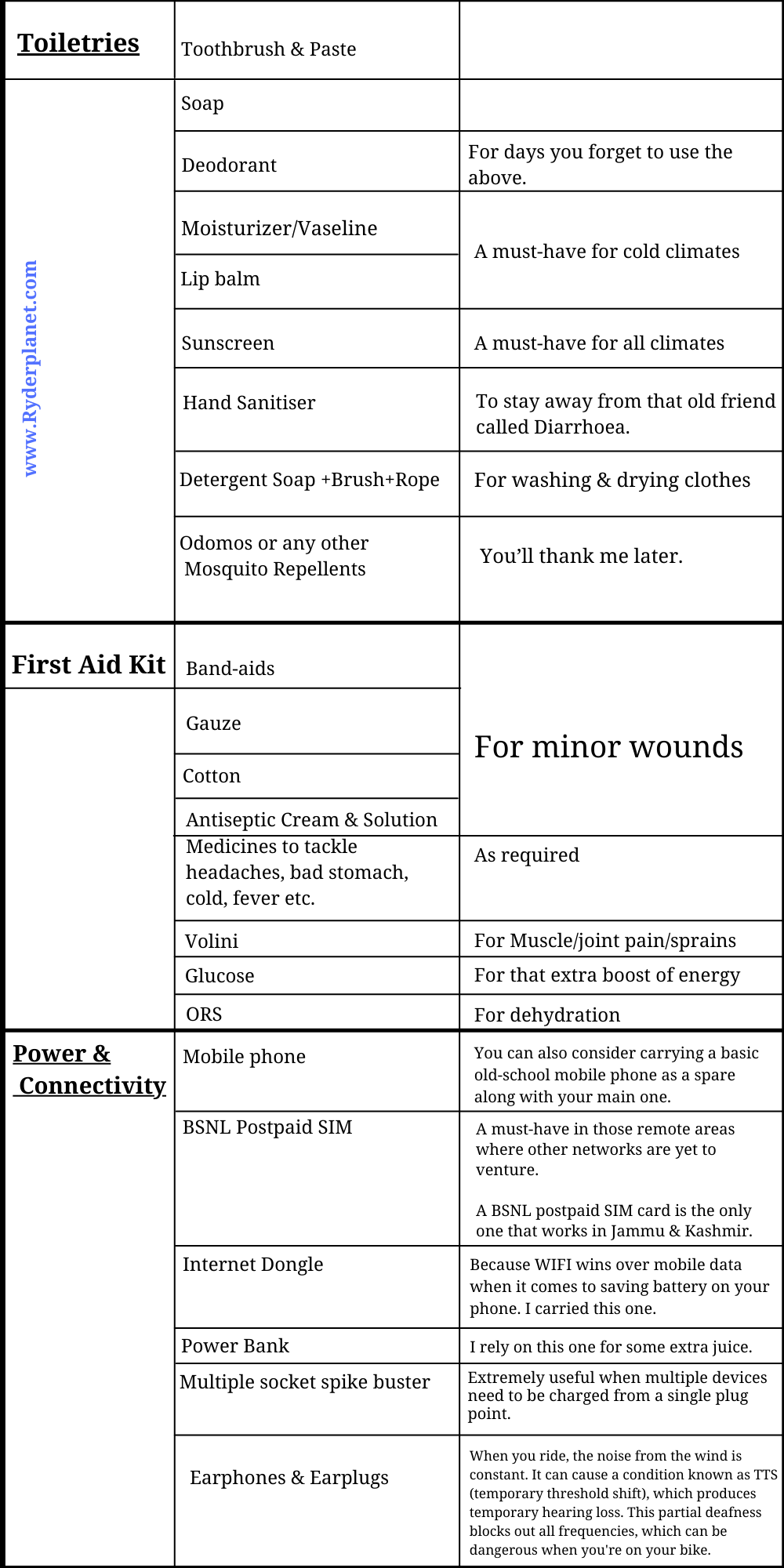 Some general daily useable item for your safe ride.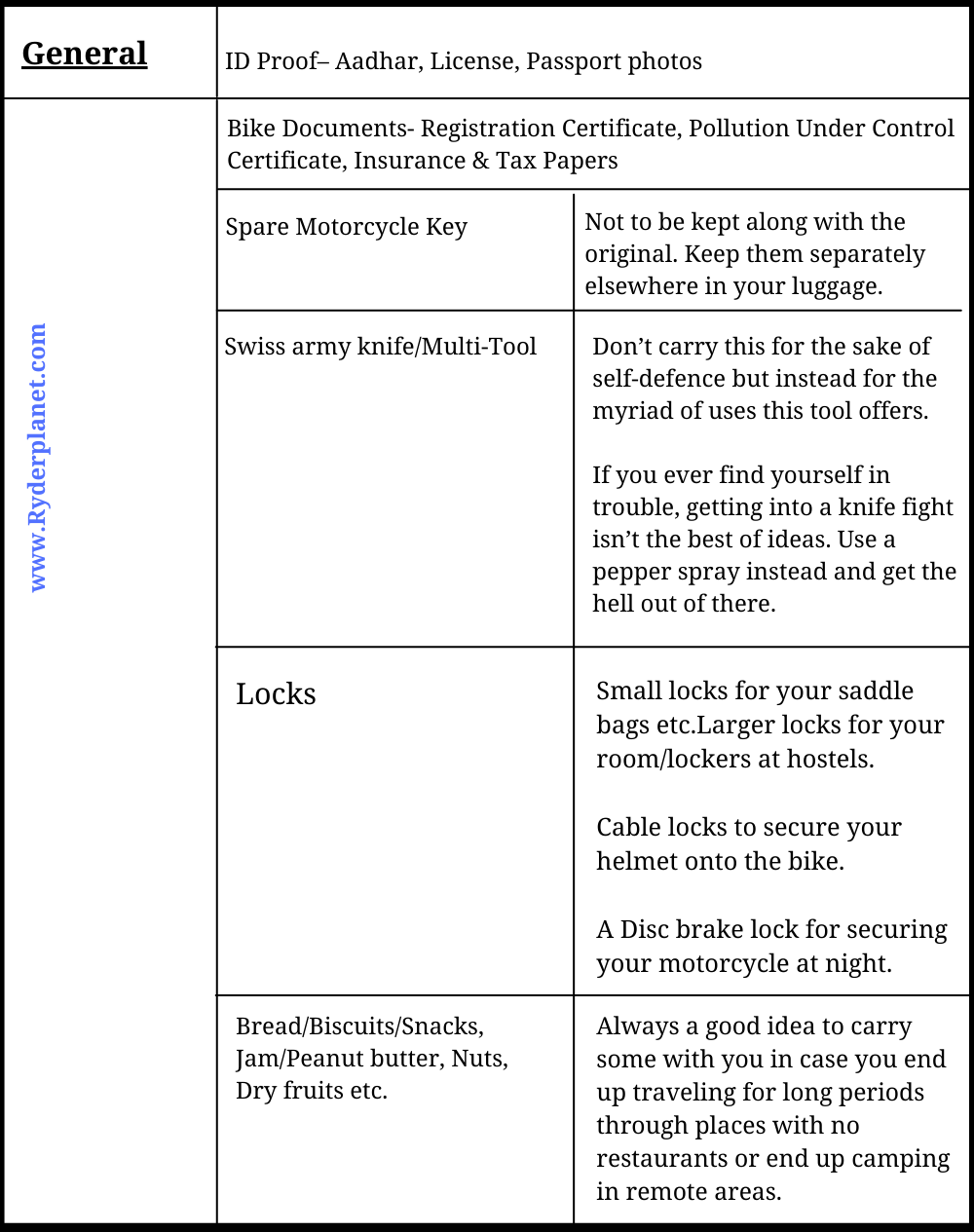 Be sure to label everything with your name, address & phone number so that if you ever lose them, good-hearted humans will be able to get in touch with you.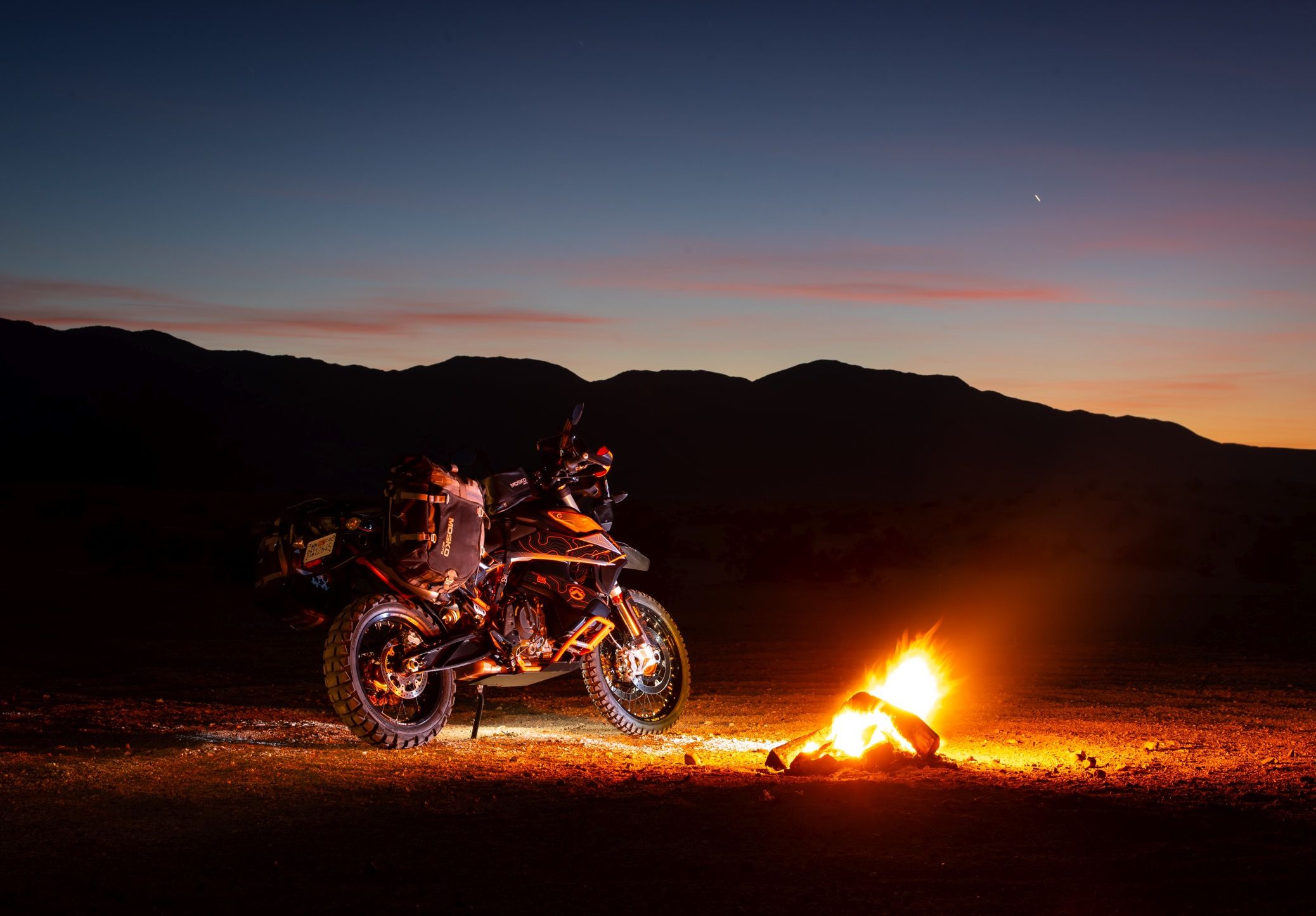 Bro-Tip: It's also a handy way to share your number with that cute girl at that random café. You're welcome. ?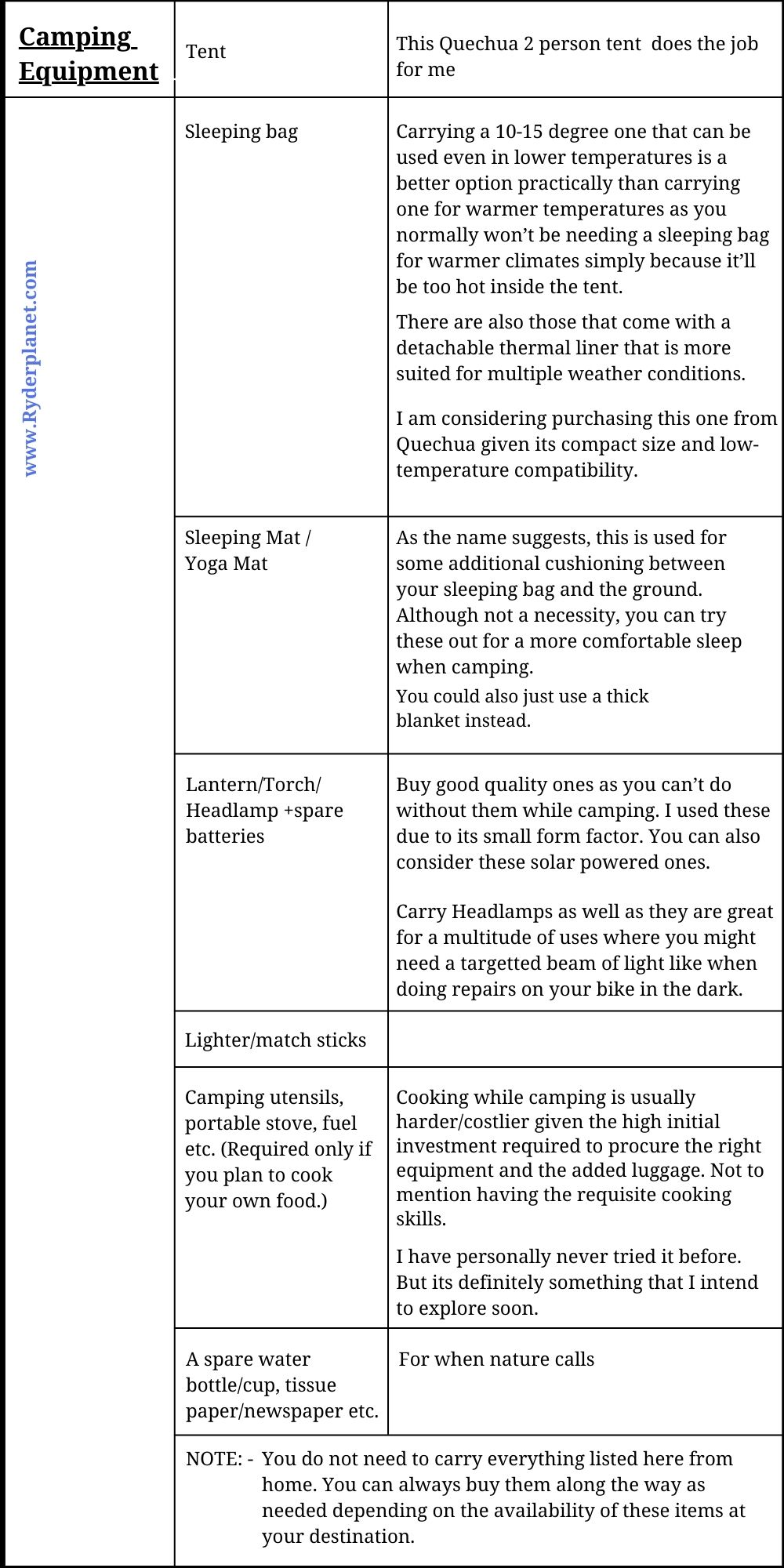 The following are what you carry as photography forms a major part of your travels. You may or may not carry them depending on your preference.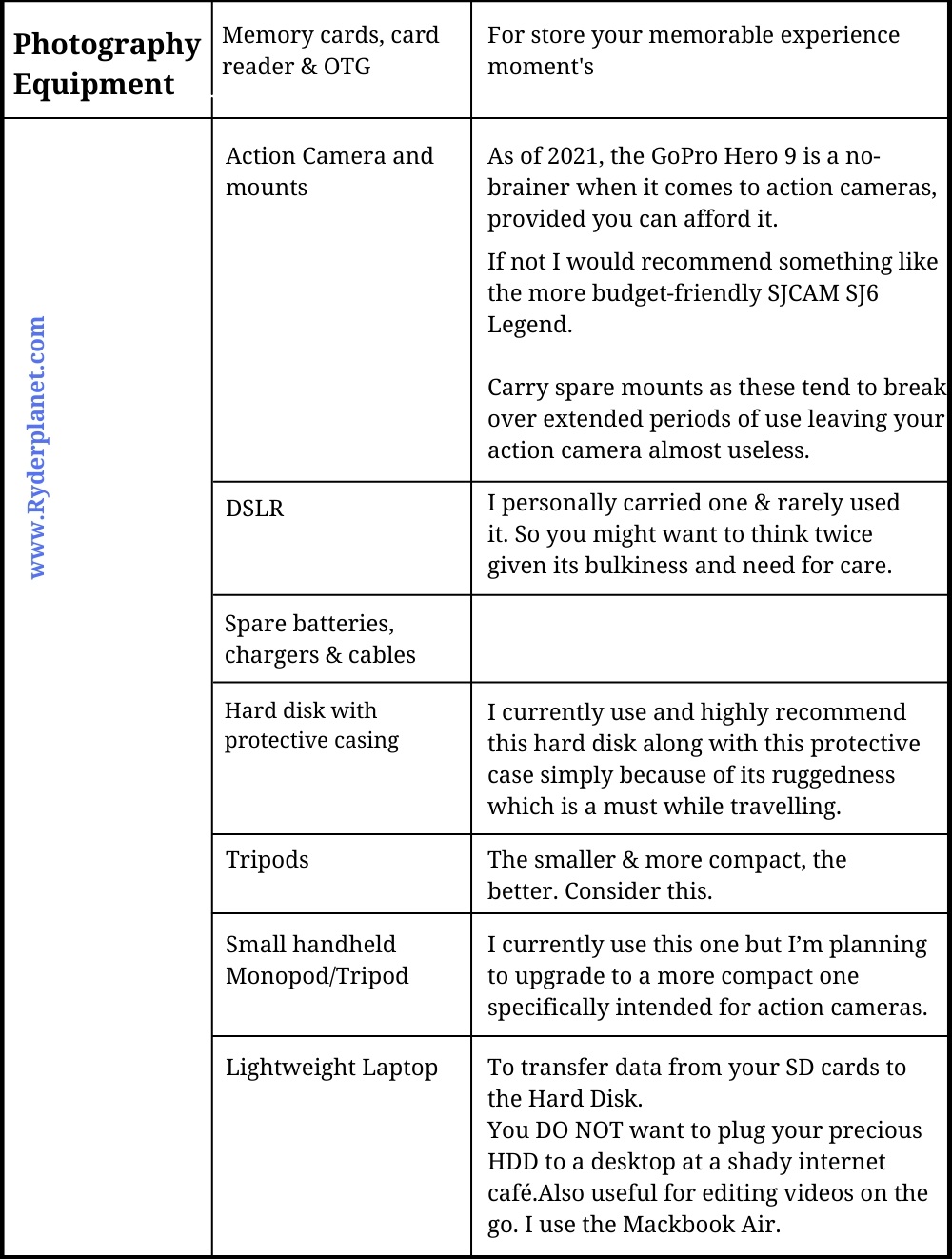 ---
Recommended Reading:
---
Now that we've covered almost all the things you need to carry for your long-distance motorcycle journey, something that holds equal relevance is what you carry them all in. Listed below is the luggage system that I followed for my cross-country ride. In our "Motorcycle Touring Guide" below list is very important for you.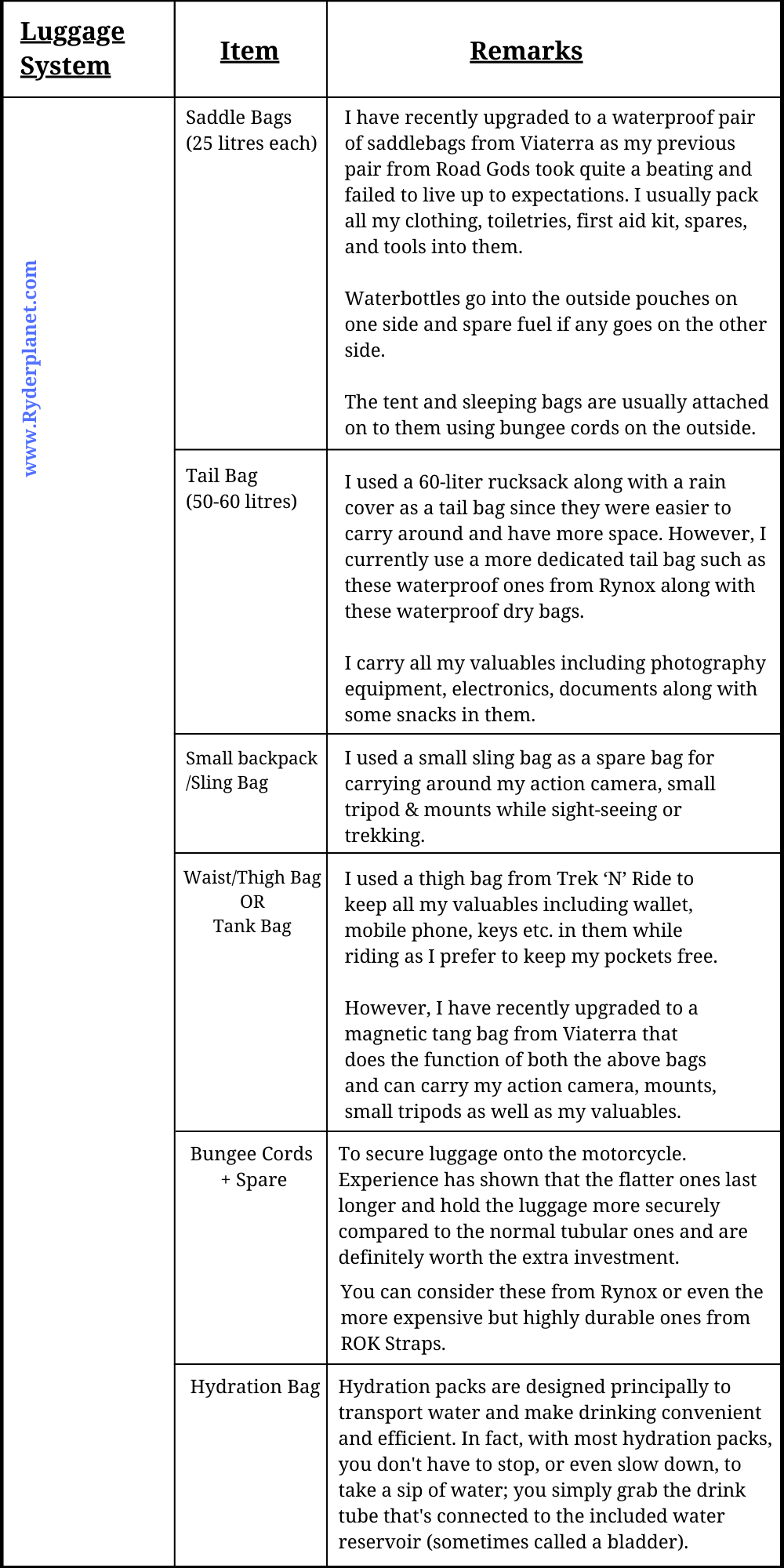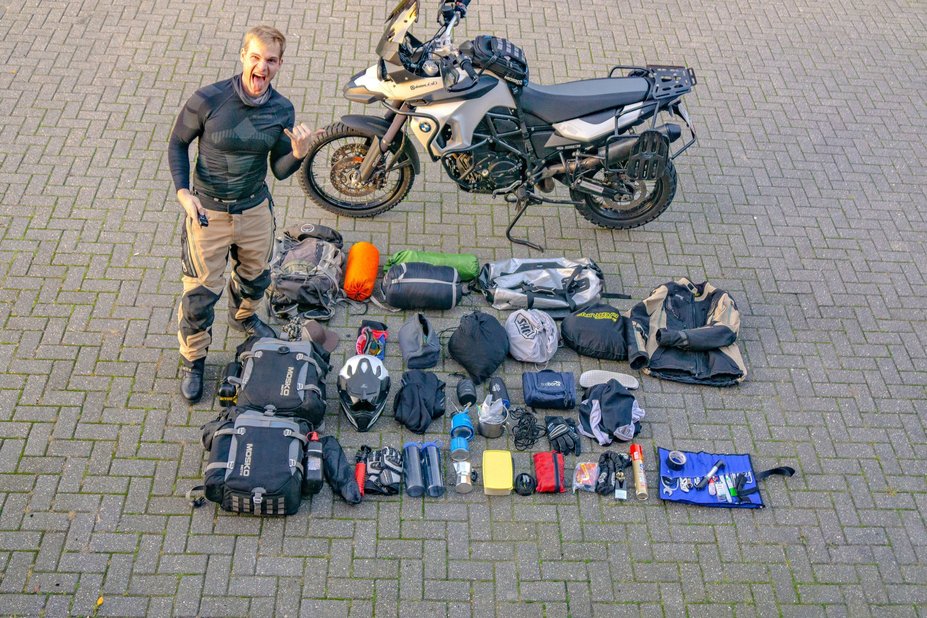 Tools and Spares to Carry for Motorcycle Touring
Below you will find a list of all recommended minimum tools and spare parts for your motorcycles.
Tools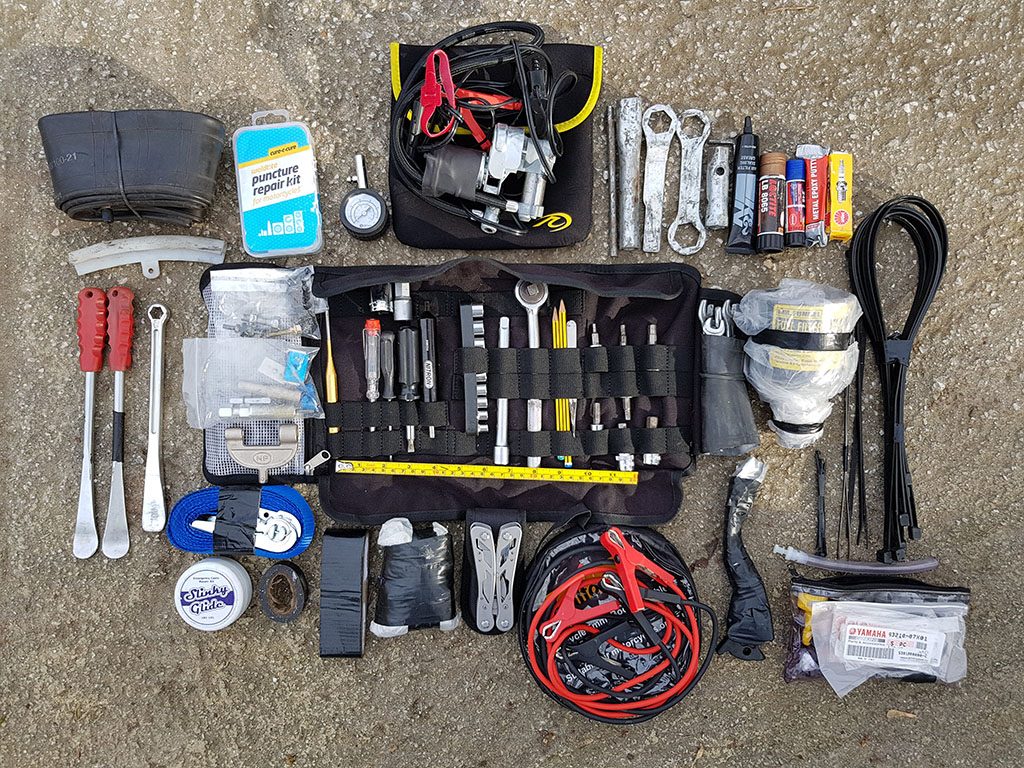 Below is an overview of some of the basic tools you should have during a long trip. Even if I do not have it at all, I suggest you do.
Spare Parts
After all our travel experience we can say a lot. We made a list of what we transported or learned to transport.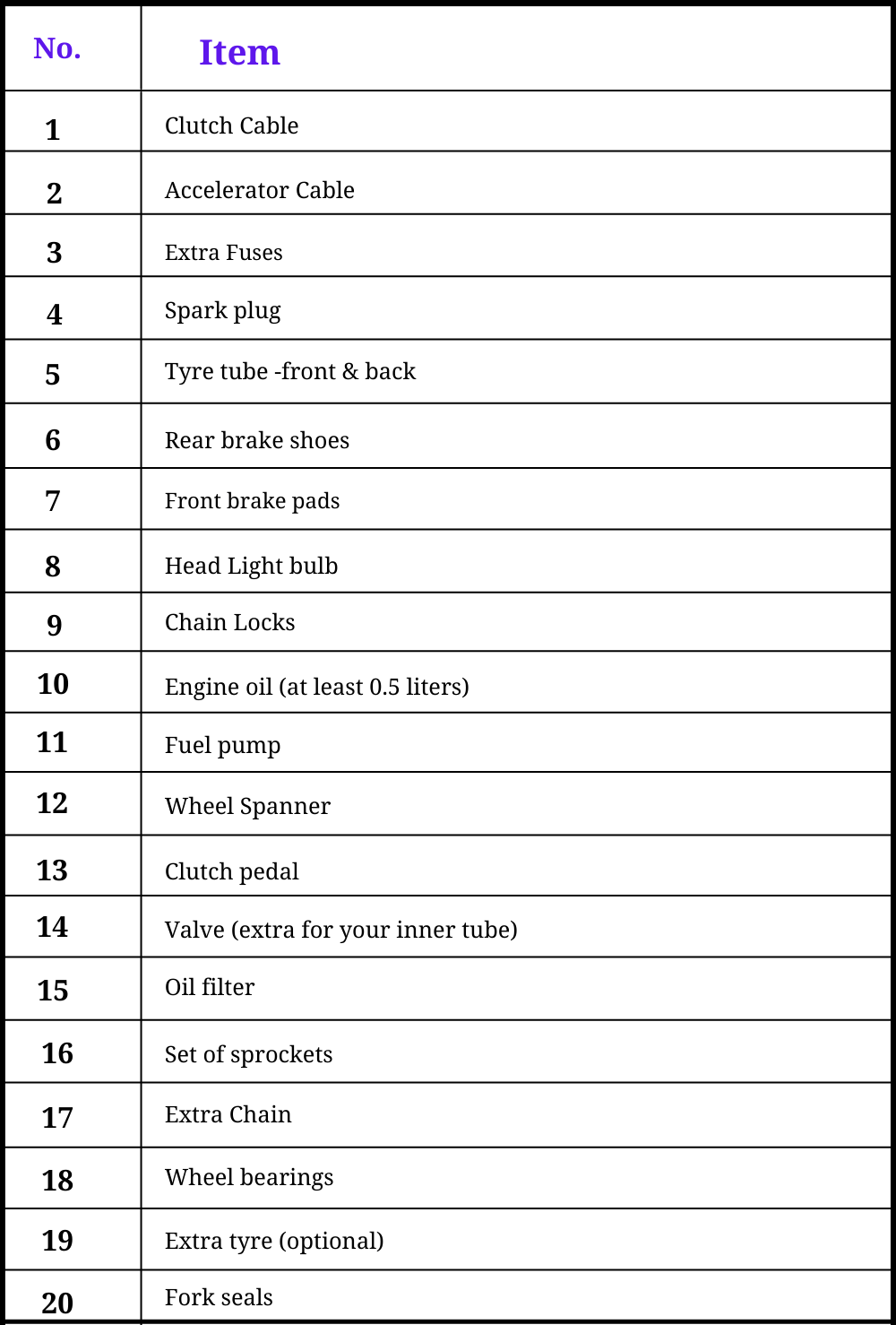 Safe and happy riding to all!
---