Riding a Motorcycle is a different thrill than others. Even though the car is more fun, safe and reliable, this bike feels like a breeze on your face, a breath of fresh air as it moves through the streets and cities. However, the bike is left behind when you carry your luggage. Of course, you can install a saddlebag or a soft luggage bag. But nothing can match motorcycle backpacks if you want to travel light and still have everything you need.
Whether you're riding your motorcycle to work or across the country, you'll need a nice backpack to carry all of your personal belongings safely and comfortably. Motorcycle backpacks are intended to keep minor personal things accessible while protecting necessary riding devices.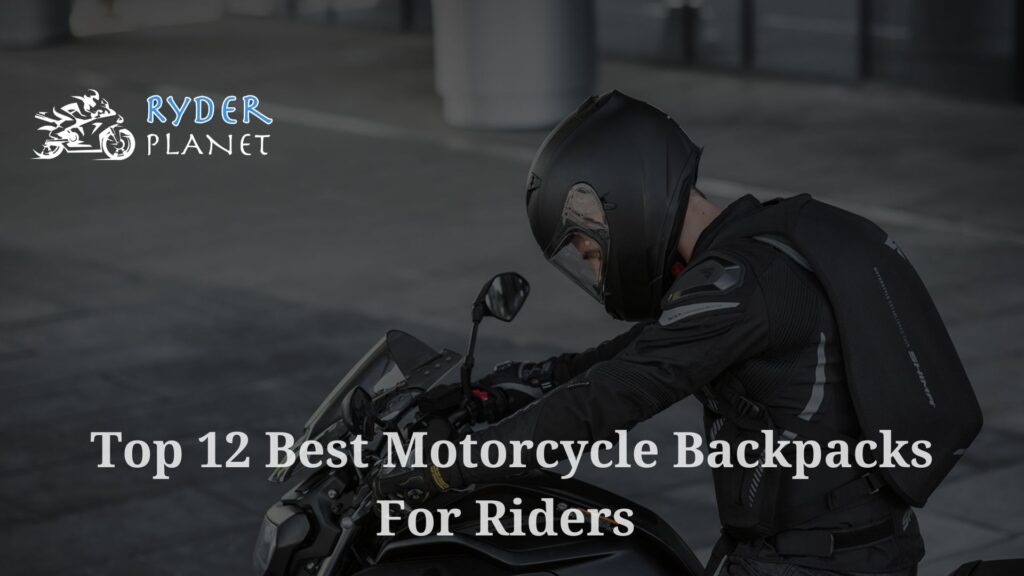 Apart from the color and size of the bag, there are many more factors to be considered for motorcycle backpacks if you wish to rope in the best motorcycle backpacks. If you are wondering what these factors are, this guide will give you a clear idea of ​​the same.
Also Read: Best Motorcycle Knee Guards For Riders in India
Top 8 Best Motorcycle Riding Pants in 2021
Why We Need A Motorcycle Backpack?
Backpacks for motorcycles are quite expensive compared to other backpacks. This is due to the features it includes. You may be wondering why you should tie an expensive motorcycle backpack when you can get a regular backpack that costs half the same as a motorcycle backpack and is still useful.
motocross backpacks are designed to meet the rider's needs and perform jobs effectively. The backpack offers the most comfort when riding a motorcycle and is engineered to withstand extreme conditions. This does not apply to a regular bag. Conventional backpacks may not be water-resistant. So you will have to constantly change the bag if you use it every day.
Apart from the comfort factor, the shape and size also depend on the big problem. You don't need a shabby bag, just lie on your back. If you are often a motorcyclist, you should carry a backpack of a high-end brand known for this high-quality backpack.
Choosing the best motorbike backpack, on the other hand, is a difficult task. So, when selecting the best motorbike backpack, there are several things to consider. Then, we'll show you how to pick the best motorcycle backpack for you, one that complements your riding style and satisfies your needs. So, please continue to read our blog about the 15 best motorcycle backpacks.
List of 12 Best Motorcycle Backpacks (2021)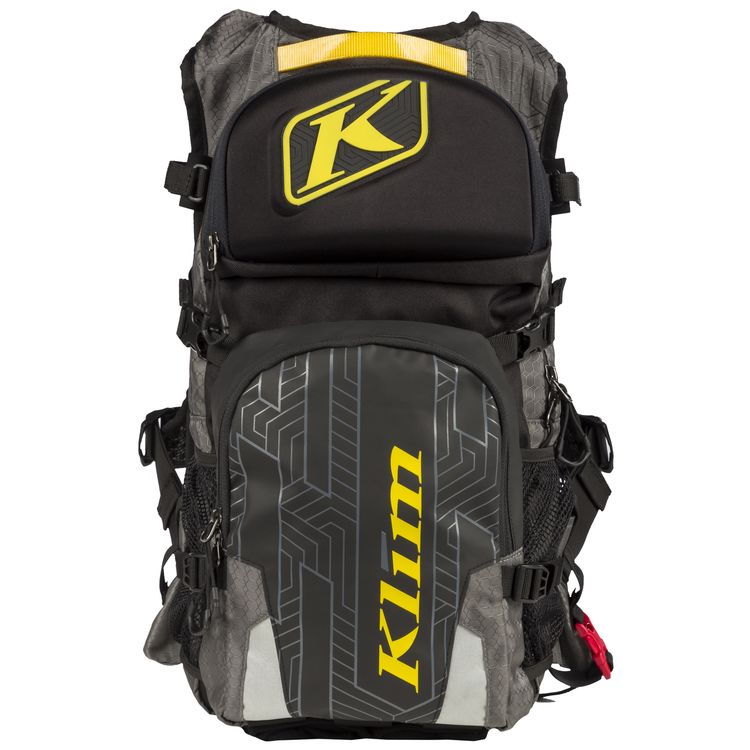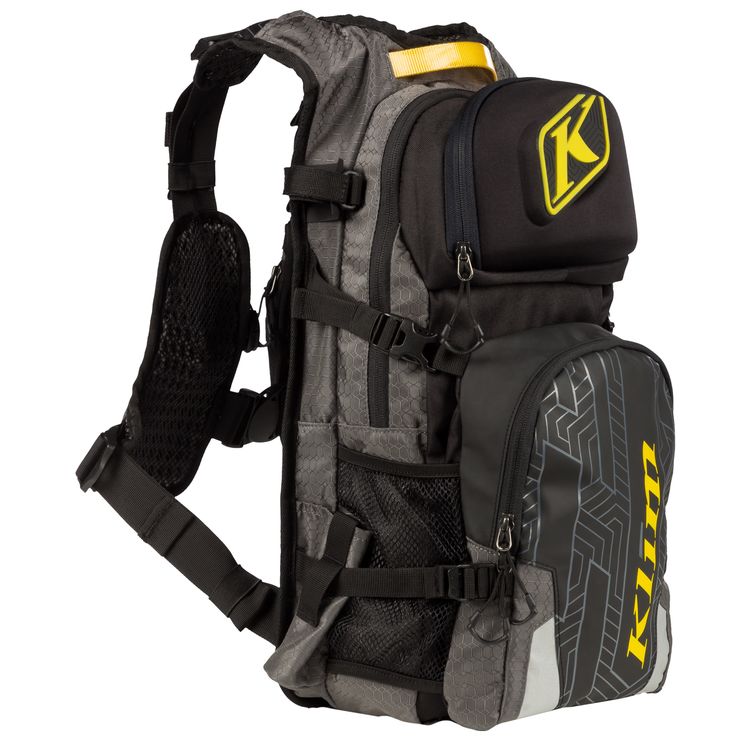 Colour: Black | Capacity: 25L
The Klim Nac Pak Hydrapak Shape-Shift Bag is a medium-sized bag that is perfect for day trips that can be done at night. Many Nac backpacks bring your small laptop to the medium and the widgets. In addition, a 3-liter Hydrapak Shape-Shift Bladder keeps you hydrated. The bladder is reversible so you do not have to worry about gun and gun development in Hydrapak.
The Shape-Shift top opens wide, making it easy to print. Then slip your lips down on it and slide the clip over it to prevent water from getting out. The Klim Hydrapak Shape-Shift can also be frozen, so you can get a cool drink at hot temperatures. Do you need something warmer on these cold days? Shape-Shift can withstand liquids up to 140 ° F.
Features of Klim Krew Pak:-
A waterproof tool kit that can be removed
Exterior shovel and research storage
Pretty big for small/medium-sized laptops
3M Scotchlite reflective material
Bracelets inspired by competition fit into the sternum and side straps (without hip belt)
The back is molded and ventilated
Unique glove-friendly zippers
Glass mass molded into glasses
Compression belts
Emergency whistle
Heavy-duty nylon construction
Internal control panel with keyring
Horizontal attachment for tool bag
Hydrapak 3 liter bladder included
YKK heavy zippers
Check the Latest Price on Revzilla | Cyclegear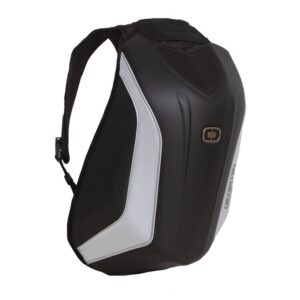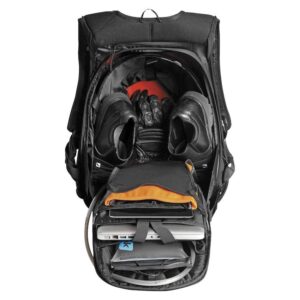 Color: Stealth Black, Reflective Silver, Night Camo, Special Ops
Capacity: 22L
Ogio Mach 5 motorcycle backpacks – the most modern aerodynamic backpack from Ogio. This backpack has features such as a shoebox, helmet strap, and an electronic case covered with fleece, which is in good shape to withstand bearing down. The Ogio no-drag Mach 5 backpack can be easily extended with a U-shaped zipper. This motocross backpack features an Aerodynamic molded exterior design for unmatched "airflow" to reduce driving drag. This backpack comes in the "hardshell motorcycle backpack" list.
Features of OGIO No Drag Mach 5 Backpack:-
Weather-resistant molded exterior shell with molded graphic design
iPad tablet protective compartment
Fleece-lined smartphone and personal electronics protective pockets
Helmet visor padded protective compartment
Shoe storage dedicated compartment
Expansion zippered gusset to increase main compartment capacity
Ergonomic and deluxe padded back panel for ultimate comfort
Body-conforming shoulder gasket for increased comfort and fit
Reflective safety piping and logo for 360-degree visibility
Concealed aerodynamic carry handle
Check the Latest Price on Revzilla | Cyclegear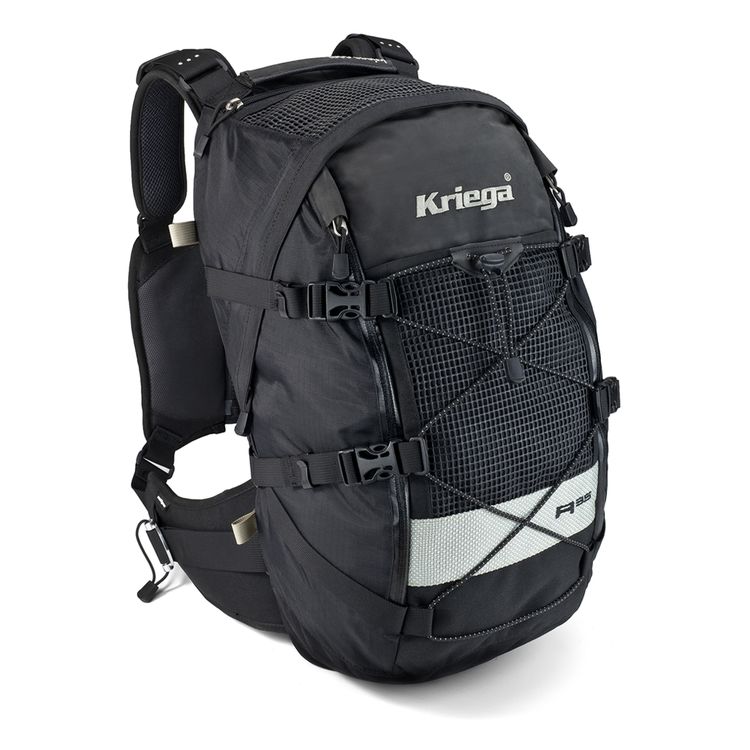 Color: Black
Capacity: 35L
The Kriega R35 has a capacity of 35 liters and 6-point compression. Organized pockets: Front pocket with drawstring, top zip pocket, 2 side zip pockets, A4 inner sleeve, and key clip.
Thanks to the innovative Quadloc strap system – snap together – just zip and unzip. The straps do not touch the hands, which provides complete freedom of movement and no burden on the shoulders. The chest pocket includes 2 zipper pockets and a reflective 3M Scotchlite zipper cover.
Features of Kriega R35 Backpack:-
Schoeller Dynatech with 3M Scotchlite
1000D Cordura on base and strap
420D nylon ripstop: lightweight yet very durable
Special fasteners QUADLOC
Updated so more players can better fit Krieg.
The hydration system fits perfectly – the reservoir has been moved from the outer pocket to the main compartment.
The inlet pipe exits over the shoulder through a covered channel at the top center of the main body.
Tape seals on the sides of the box make it easy to install the US-10 Expansion Box.
2 x outer zip pockets. Front mesh pocket with shock-cord
Top zip-mesh pocket, Inner A4 sleeve pocket. Reinforced carry handle
10-year warranty. 35L capacity
Check the Latest Price on Revzilla | Cyclegear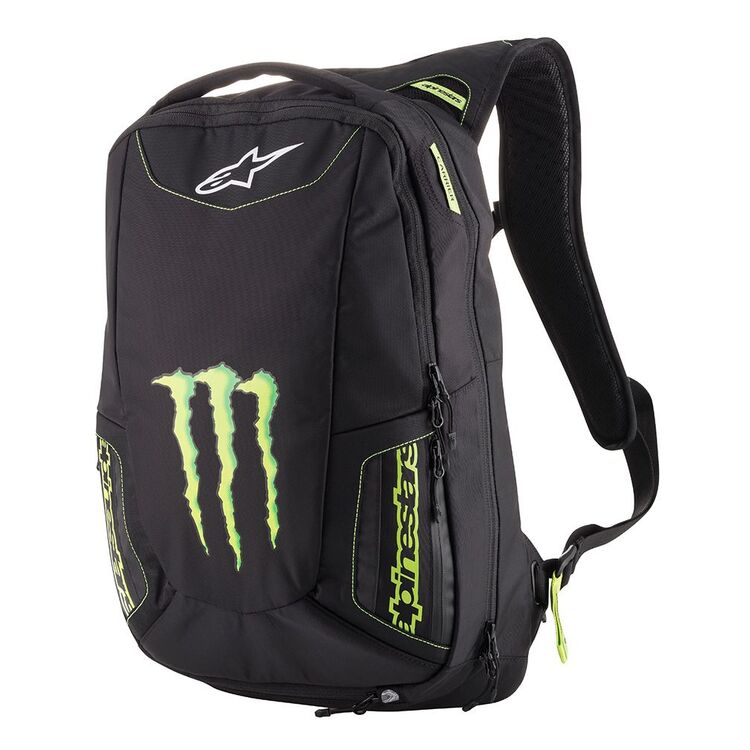 Color: Black/Green | Capacity: 25L
The Alpinestars marauder backpack is perfect for holding your prey from recent muggings and robberies. The 25-liter capacity with many outer pockets makes it easy to store sheepskin, spices, and various gemstones. Its full space houses a 15-inch laptop with fleece protection, so it's easy to sell pirated prey on eBay when you return to port.
The integrated helmet carrying case and rain protection are motorcycle-specific features that pirates may not use, but the ergonomic back cover with ventilation provides comfort for everyone. Multi-material outer shell for lightweight 420d nylon / 420d ripstop nylon to reinforce the bottom part.
Features of Alpinestars Marauder Backpack:-
Computer compartment with full-length

zip featuring 15″ laptop protective fleece sleeve
A rain cover is stored in its pocket in the main compartment
YKK semi-auto-locking zippers for a secure closure
Helmet carrying system: built-in helmet carrier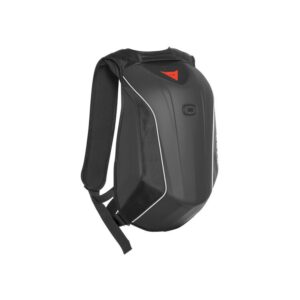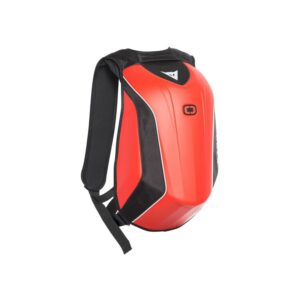 Colour: Black | Capacity: 39L
The Dainese d-mach compact backpack is the best choice for road trips or for outdoor activities where you need the comfort of carrying things safely. These Dainese top motorcycle backpacks are designed with a pure body and polyester fabric for outstanding durability and water resistance. The shoulder and chest straps are fully adjustable and the back is made of soft breathable panels.
This includes a long main compartment and a compartment with special pads for a 13-inch laptop. You can easily get items thanks to the zipper. These motorcycle backpacks have a 360-degree reflection for greater road safety. This is a hardshell motorcycle backpack.
Features of Dainese D-Mach Compact Backpack:-
360-degree retro-reflective safety piping and logo
EVA molded front panels for a more aerodynamic profile
Fully adjustable shoulder harness and sternum strap for a great fit
Large main compartment
Padded airflow back panel
The padded laptop compartment fits most 13" laptops
Zipper fasteners eliminate chatter and provide added security
Check the Latest Price on Revzilla | Cyclegear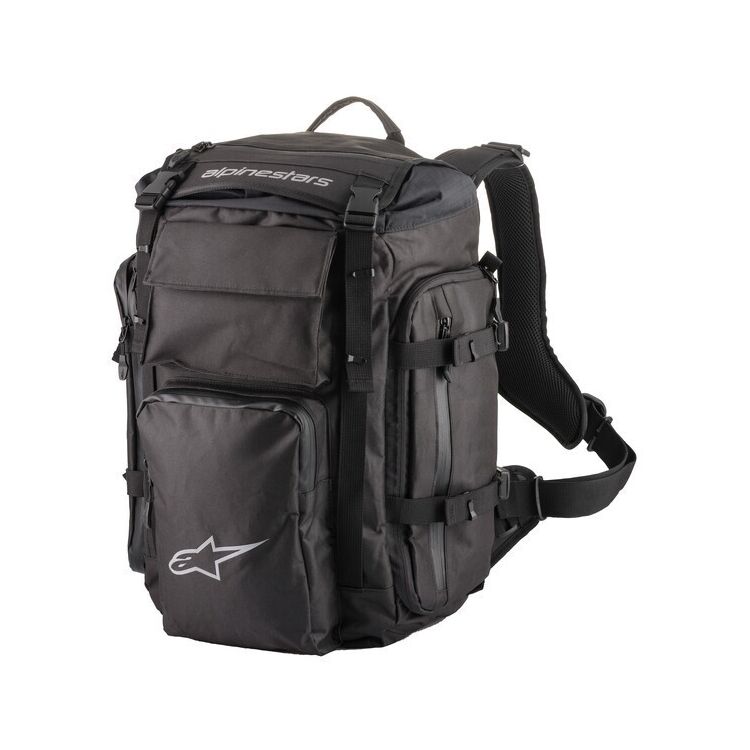 Color: Black, Red | Capacity: 39L
With a total capacity of 39 liters, the Alpinestars rover overland backpack is completely ready for all adventures. The rover overland has a 25-liter main compartment with a removable waterproof lining and roll cover. The rest of the storage bag is waterproof with a closed zipper for a perfect match. The hydraulic system can be installed in two different places – or used both for maximum water resistance.
A powerful restraint system keeps large loads safe and comfortable for riders. Fasteners and mounting points are plentiful so you can pack or add accessories to the exterior of the overland rover. 25 liters of the waterproof lining can even be attached on the outside which gives an extra 25 liters for extra gear.
Features of Alpinestars Rover Overland Backpack:-
Waterproofing: roll top 25-liter main compartment with a removable waterproof liner
Adjustable harness system for improved fit and load stability
2 hydration bladder pockets, intern and external via mesh pocket, both with hose routing options
14-liter compressible front compartment
Compact profile when empty
Laptop pocket and organizer in the front compartment
Straps finished with easy pull ends and tie-down loops
Check the Latest Price on Revzilla | Cyclegear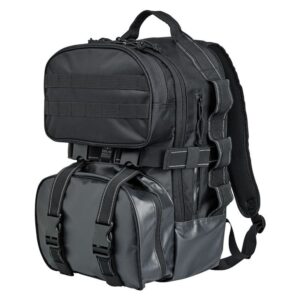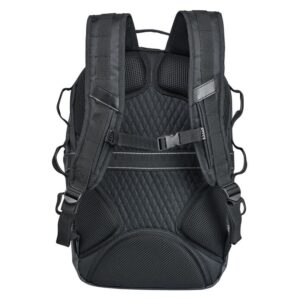 Colour: Black | Capacity: 34L
This backpack is designed by the riders for the riders, this bag is packed with a range of movements including 2 large external pockets with special tools, hardware, and extra storage space. It also has two deep pockets that are perfect for storing items such as fuel or water bottles, With two outer zippers, these are accessed separately, while the main compartment is a full zippered one.
At the back of the main compartment is a soft movable box with elastic brackets. The middle compression strap is pressed down and the strap can rotate and climb together around the back of the bag to attach it to the sissy bar. Additional outer straps help secure the bag to your machine and can be used to add a bedroll or riding jacket to the back of the bag.
Features of Biltwell EXFIL 48 Backpack:-
UV Treated 1680 ballistic polyester
PVC backed for increased water resistance
Hi-Viz orange interior liner
Rows of MOLLE webbing for modular customization
SBS zippers
Holds up to forty-eight 12oz cans
Check the Latest Price on Revzilla|Cyclegear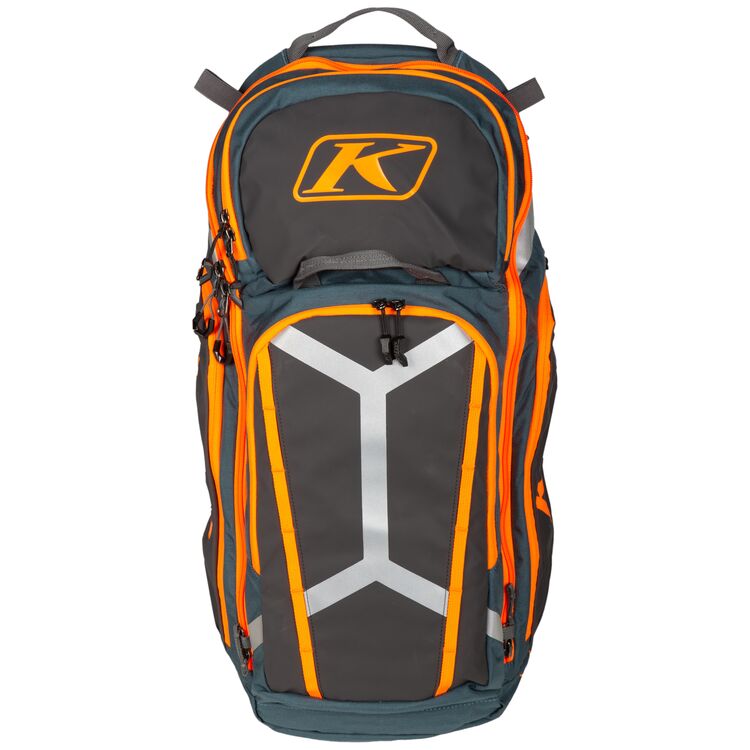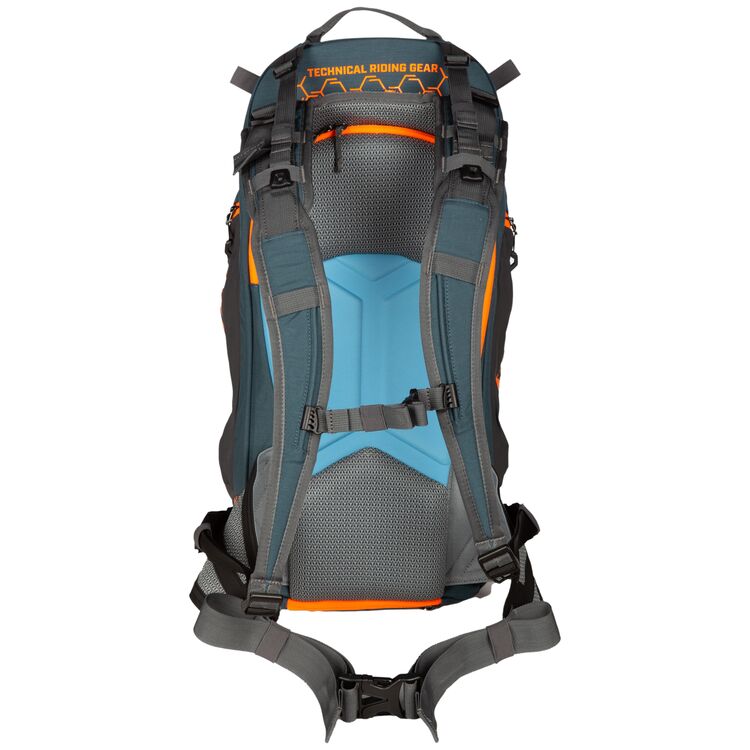 Color: Petrol/Strike Orange, Asphalt, Peyote/Potter's Clay | Capacity: 30L
The Klim Arsenal 30 backpack is a spacious backpack that's perfect for outdoor hiking, backpacking, and hiking. Load-bearing capacity and ride stability were key factors in the construction, along with special comfort for hot weather conditions, all of which contributed to increased comfort and improved driving performance. The Arsenal 15 backpack is made of durable materials and includes useful features such as a removable rain cover, tool and storage pockets, fuel bottle pocket, cooler and more.
Features of Klim Arsenal 30 Backpack:-
Ballistic nylon reinforced back and base panels

Padded back section with cross-stitch detailing
Padded shoulder straps offer excellent comfort and fit
Drawcord main pocket fastening. Three webbed grab/clip-on handles
Adjustable/removable sternum strap
Antique brass closure buckles, Cushioned base
Marton Mills tartan lining to the underside of the pocket flap
Marton Mills tartan lining panels
Laptop sleeve, slip pocket, and mesh pockets
Check the Latest Price on Revzilla|Cyclegear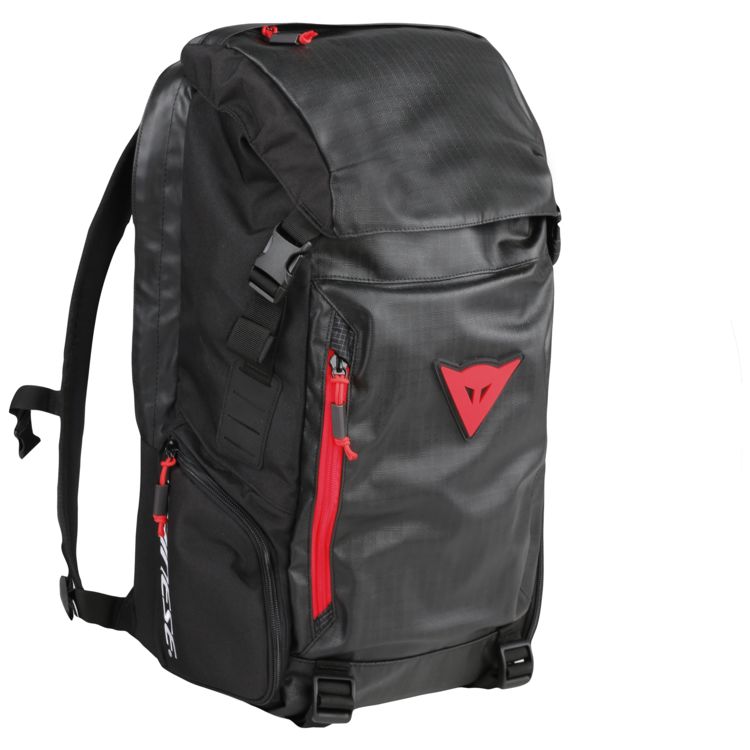 Color: Stealth Black | Capacity: 28L
With just 28 liters, the Dainese D-Throttle backpack is the ideal size for most travelers and trainers who are looking for essential everyday items with a vengeance. Necessities such as access to the outside of the padded laptop case, waterproof umbrella, and bags in different sizes provide quality and protection for electronic and practical use. The sternum strap has two ways that make the Dainese D-Throttle backpack comfortable to ride in an upright or upright position.
A reliable bag for everyday use, the Dainese D-Throttle has many pockets for small items and electronics. The design provides access to the exterior and upholstery, which is suspended above. The bed has been made waterproof.
Features of Dainese D-Throttle Backpack:–
External access hanging padded computer sleeve with water-resistant rain hood
2 external side pockets for a beverage or small items
2-way adjustable sternum strap
1 large front pocket
1 fleece-lined electronic pocket
2 internal organization pockets
Check the Latest Price Revzilla|Cyclegear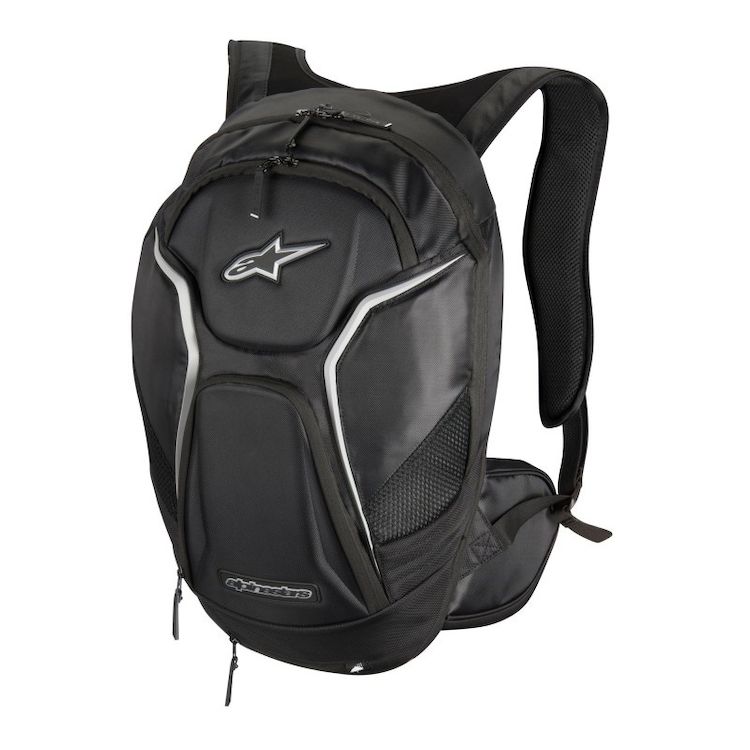 Colour: Black | Capacity: 26L
The Alpinestars Tech Aero backpack is designed from the ground up and meets the specific needs of motorcyclists and features a Bio Armor back pocket, a hidden helmet compartment, a short sternum storage compartment, an integrated blanket, and has Expandable if you need a little more space. The Tech Aero bag, perfect for weekend trips and warriors, offers wearers simple, convenient, and comfortable everyday wear. Fully expanded from 16 liters to 26 liters.
Features of Alpinestars Tech Aero Backpack:-
Waterproofing: includes rain cover
Fully expandable from 16L to 26L
Water-resistant fleece-lined audio pocket with headphone exit port
Heavy-duty reinforcements. Internal organizer pockets
Sternum Map panel holder. Built-in rain cover
Internal laptop sleeve which fits most 15" laptop computers
Internal sleeve for Bio Armor Back Insert application
Helmet carrying system: hidden helmet carrier
Check the Latest Price on Revzilla|Cyclegear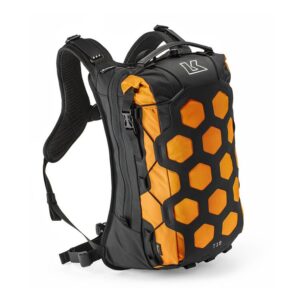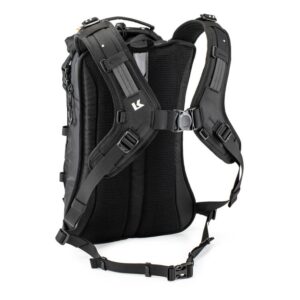 Color: Black/Orange/Lime| Capacity: 18L
The Kriega Trail18 Adventure backpack is designed for ADV riders who need equipment and maintenance. Plenty of storage space allows you to use your tools, dry, and balance so you can keep drilling from track to track.
The main unit uses the ventilator space to ensure that the contents remain intact no matter what the wind passes through. The 7-liter rear compartment has a long handle for easy access to what you need. Use this section to take a 3.75L water bottle to quench your thirst on the go. There's also a small pocket inside with no water for your wallet or cell phone zipper section, you don't have to worry about the top of the roll to get that. needs. With a 12-liter waterproof container, your precious box remains. The outer mesh of the Hypalon carries moisture so you can dry it quickly.
Features of Kriega Trail18 Adventure Backpack:-
Ultra-durable 420D Cordura Lite Plus and Hypalon construction

Air-mesh back panel for rider comfort
YKK heavy-duty zippers throughout
100% waterproof 11-liter main pack body
7-liter heavy-duty zip access compartment
100% waterproof 1-liter internal pocket
Internal zip pocket with key clip
External Hypalon net with elastic cord adds useful extra storage
Removable waist strap for extra pack stability when riding
Reflective panels on the harness give added visibility
Harness pocket compatible
Semi-rigid carry handle
Check the Latest Price on Revzilla|Cyclegear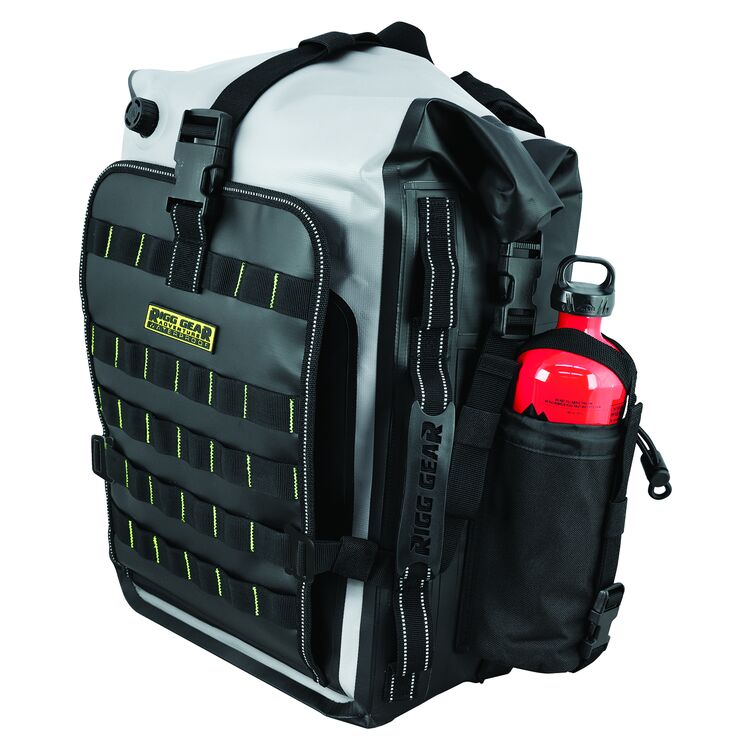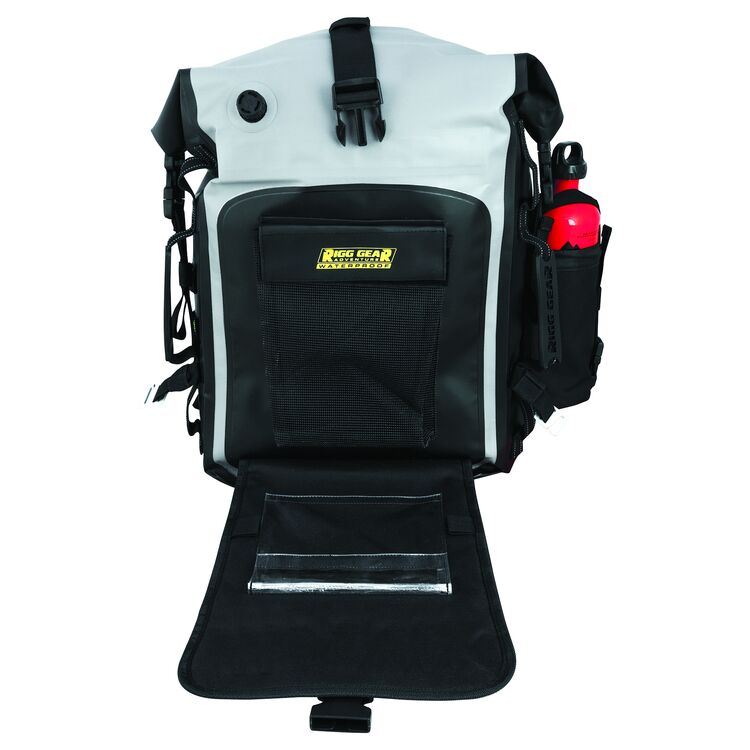 Color: Black/Grey | Capacity: 40L
The only thing worse than wet luggage is forgetting your rain gear. Nelson Rigg has got you covered no matter the story. Their Storm suitcases are 100% waterproof thanks to heavy-duty PVC Tarpaulin construction and electronically controlled stitching! The Rigg Strap mounting system provides quick and secure connection options if you want to use this bag as a tail bag.
Features of Nelson Rigg Hurricane 2.0 Backpack:-
100% waterproof backpack
All stitches are electronically controlled
Fastening lids with quick-release buttons
The UV-coated outer material is easy to clean and prevents slipping or marks
RIGG STRAP can also be used as a separate mounting system
The rear panel is fitted with paneled panels to allow for improved ventilation.
The back panel opens to hide the backpack straps when used as a tailgate.
Double quick-release closures, either at the top or down the sides
Internal storage for small items for quick access
Integrate outer pocket to stop water leakage
MOLLE side table for adding accessories
Mirror tape for increased visibility
Check the Latest Price on Revzilla|Cyclegear
A decent motorcycle backpack provides ventilation and weather protection while riding, making it a pleasurable experience. They have the same hefty appearance as ordinary backpacks, but they include an organized panel that makes packing a breeze. You can wear it on your shoulders and ride at high speeds since it has no drag, unlike everyday backpacks. Because motorcycle backpacks are made to distribute weight evenly across your shoulders, back, and hips, you won't feel the strain in one place.
---