Since its founding in the early 1950s, when founder Hirotake Arai created his first shell mold, the business has promoted a safety-first approach. For the past 70 years, Arai Helmet has operated under this concept. Over the years, that ongoing dedication helped to develop Arai's brand identity. Arai innovates for protection, from its R75 (continuous curve radius of 75mm) shell to its "glancing off" approach.
The newest helmet to enter the Japanese manufacturer's lineup, the Arai Contour-X, plays a crucial position in its current lineup as a sporty full-face helmet made for the daily grind. The Contour-X, positioned next to the race-ready flagship Corsair-X, casts a wide net by adding additional aerodynamic elements and a variety of luxury features, making it a sensible choice for people on the road. Without wasting time, let's discuss Arai Contour-X Full-Face Helmet Review.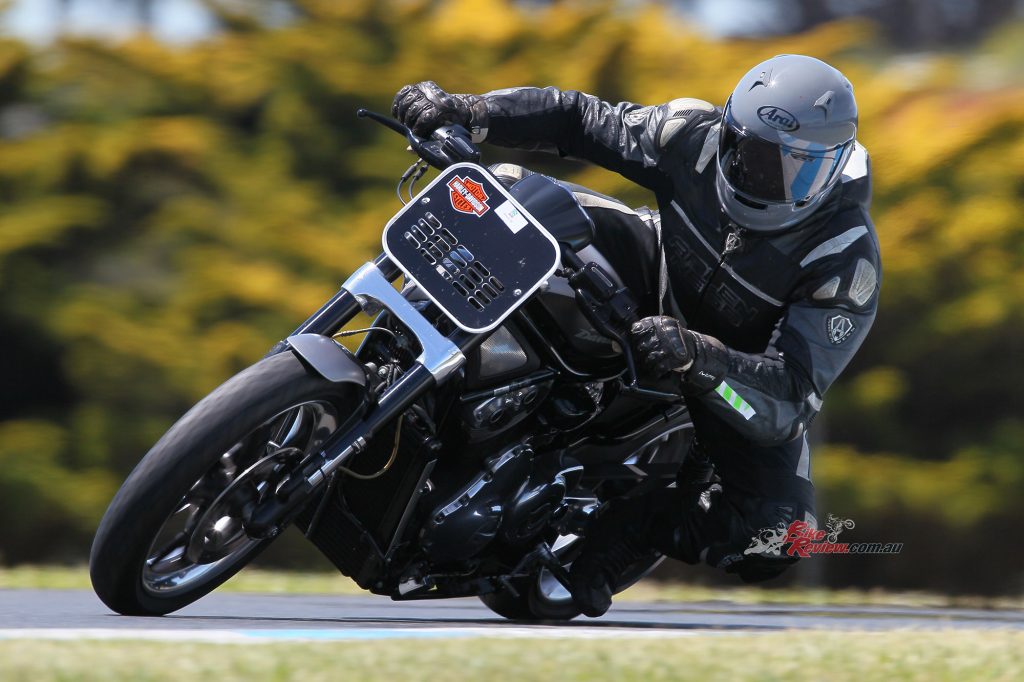 Read Also: Motorcycle Helmet Size Guide
Arai Contour-X Full-Face Helmet Review – Details
The Contour-X was designed with protection as its primary focus, much like every other Arai. The outer shell is made by hand and has a significantly reduced weight while maintaining core strength. The slick, rounded form is a distinctive feature of Arai products and was primarily created to distribute impact forces and 'glance-off.' You can be sure you're getting the most excellent Arai helmets since they go through five different quality-control departments after the shell is created, after painting and graphic completion, after assembly, and after two in-process inspections.
The Contour-X provides a new option for riders who need a helmet's absolute best performance in terms of safety, comfort, and convenience of use, day in and day out. The VAS MAX Vision visor comes with a Pinlock insert that is ready to use, whereas the Contour-X has a 5mm flare around the base for easier access on and off. The brushed nylon lining is detachable and has a neck roll wire pocket and Facial Contour System (FCS). Additionally, it has an emergency release system (ERS).
The new Contour-X slides through the air neatly and effectively, surrounding its wearer in a cocoon of luxury, utilizing the aerodynamic and protective capabilities of Arai's full-race helmets and all the experience and knowledge gained over millions of road miles.
PB e-cLc Outer Shell:
The Peripherally Belted e-Complex Laminate Construction used in the PB e-cLc outer shell design has a beautiful, organic shape and is intended to distribute and deflect impact forces. In order to replace the AR-mat as the middle layer, new materials have been utilized, resulting in a significant weight reduction while maintaining the same level of strength as the PB-cLc design.
Ventilation:
13 ventilation ports, seven for intake and six for exhaust, are the foundation of efficient and regulated ventilation. Along with dual F1-derived tear duct top intakes, twin brow vents, and a 2-position sliding air-scoop, filtered chin vent, the 3D Arai logo works effectively at low speeds and feeds cooling air into two central intake locations. The neck exhaust, twin flush-fit side exhausts (with foam dams to decrease noise), three-way one-piece rear exhaust/spoiler, and side exhausts effectively remove hot air.
Arai's Proprietary Liner:
The completely removable inside liner system is constructed of an odor-resistant substance that aids in maintaining neutral pH levels close to human skin. It also has a softer liner material and adjustable temple padding for a unique fit.
With tepid water and mild soap, any parts, replaceable or not, can be cleaned. Rinse thoroughly after cleaning, and never let anything dry in the sun or close to a heat source. Interior components in various sizes and thicknesses are available for a personalized fit for each rider.
VAS V MV Shield: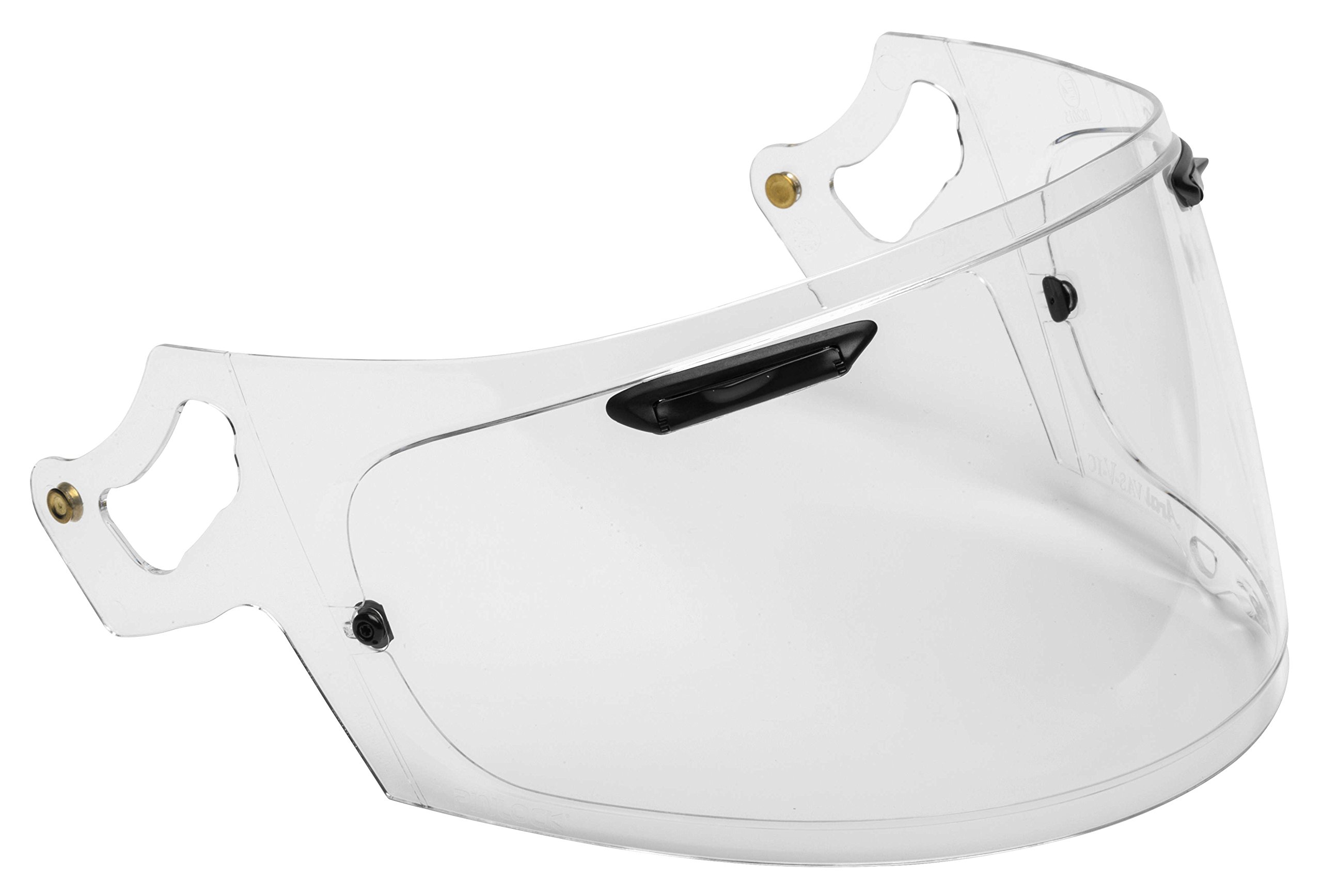 The VAS MAX Vision shield is pre-installed with a clear anti-fog Pinlock insert to improve vision in all riding conditions and seasons.
VAS Shield System:
A lower shield pivot prevents the shield from opening or closing. Hence the mounting point must often stay relatively high. A variable axis is present in the VAS (Variable Axis System) (moving pivot point). Despite the lower shield position, this enables shield opening and closing.
VAS Shield Latch System:
To help avoid accidental opening, the VAS shield latch system more securely grabs and holds the shield closed. The more comprehensive latch design enables an intuitive and seamless operation of the shield in addition to a de-mist position.
Additional Features:
P.B. e-cLc outstanding tensile strength in the shell
A chin vent with a 3-position movable air-scoop circulates more air and features a replaceable filter.
With gloves on, adjusting the chin vent is simple.
An airflow smoothed by a single-piece rear exhaust/spoiler draws air and increases stability.
13 ventilation ports in total
The face shield is secured and held closed by the VAS (Variable Axis System) shield latch system, which also offers a de-mist position to slightly crack the shield open.
In all seasons, the VAS MAX Vision face shield offers exceptional visibility.
Includes a clear Pinlock insert
Removable/washable cheek pads, as well as the interior
Neckroll has a wire pocket and is detachable.
Emergency Release System (ERS)
Snell 2020 and DOT approved
Conclusion
The Contour-X is marketed as a sport-touring helmet with one foot on the track and the other on the streets. The flattened sides and speaker pockets enable Bluetooth communicator devices, while the rear spoiler and XGF crown vents are from Arai's racing activities. The model appeals to commuters and offers five solid colors and two graphics. Arai may have successfully shaped a beautiful helmet but never compromised safety.
Arai balanced its high-end and user-friendly models by establishing a middle ground between form and function. The Contour-X strikes the ideal balance between the two, providing the best of both worlds for road use. We hope you like our Arai Contour-X Full-Face Helmet Review.
Here You Can Check The Latest Price Of This Arai Contour-X Full-Face Helmet
FAQs
How long can you use an Arai helmet?
Arai follows the Snell Memorial Foundation benchmark of five years as the recommended usable lifespan of a motorcycle helmet, just like most significant helmet manufacturers.
What is the Arai Contour-X Full-Face Helmet?
The Arai Contour-X Full-Face Helmet is a premium motorcycle helmet that offers excellent protection, comfort, and aerodynamics. It features Arai's proprietary PB-CLC (Peripherally Belted Complex Laminate Construction) shell technology and a multi-density EPS liner for impact absorption. The helmet also has an advanced ventilation system and a customizable interior fit for optimal comfort.
Is the Arai Contour-X Full-Face Helmet DOT certified?
Yes, the Arai Contour-X Full-Face Helmet is DOT certified, which means it meets the safety standards set by the Department of Transportation in the United States. It also meets the ECE 22.05 standard, which is a European safety standard.