Motorcycle racing is a thrilling and difficult sport that requires courage, talent, and precision. However, wearing the right motorcycle gear is essential to ensure both protection and performance due to high speeds and the possibility of crashes.
In this post, we'll look more closely at the fundamental motorcycle gear for racing and why any rider who wants to compete successfully and safely on the racetrack must invest in high-quality equipment.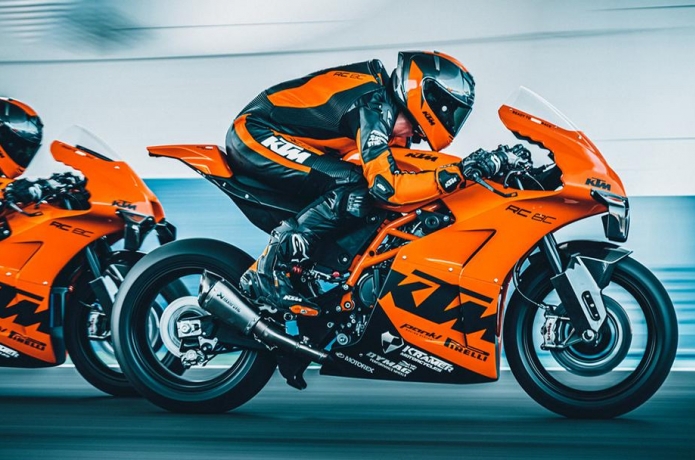 Look Also: Motorcycle Touring Guide for Everyone | Best Tips & Tricks
What Motorcycle Gear Do You Need for Racetrack
1. Motorcycle Helmet
A helmet is the most important safety gear for any motorcycle rider, and racers need it even more. A high-quality helmet not only safeguards the rider's head and brain in a collision but also significantly improves their performance.
The greatest safety criteria should be satisfied by a racing helmet, and it should be built to minimize drag and wind resistance. To guarantee that the riders can see well in all directions, it should fit snugly and provide optimum vision.
 2. Leathers
Leathers are like a second skin for motorbike racers on the track. A high-quality leather suit improves the rider's performance and provides impact protection in the event of a crash. High-quality, abrasion-resistant, and durable leather should be used to create a racing leather outfit in order to withstand the demanding racing environment.
It is advised to wear a one-piece suit since it prevents any potential gaps or openings between the jacket and pants, better protecting the rider. The suit should also provide sufficient ventilation to keep the rider cool and comfortable throughout the race.
3. Motorcycle Gloves
Gloves are necessary motorcycle gear for racing. A decent set of gloves not only helps riders perform better on the racetrack by preventing injuries to their hands. High-quality leather or other abrasion-resistant materials should be used for racing gloves, and the knuckles and palms should have additional armor protection.
They must be custom-fitted to the rider's hands for maximum grip and control on the motorbike's controls, enabling the rider to manage the motorcycle accurately and precisely.
4. Motorcycle Boots
Another essential piece of motorcycle gear for racing is a pair of boots. In addition to preventing injuries to the rider's feet and ankles, high-quality racing boots also help the rider perform better on the track. High-quality materials, such as leather or Kevlar, should be used to make racing boots, and the shins, ankles, and heels should all have additional armor protection.
They should give the user exceptional grip on the footpegs and a snug fit on their feet so they can control the motorcycle even at high speeds.
5. Back protector
For motorcycle racers, a back protector is essential since it adds additional protection for the rider's spine in the event of an accident. A high-quality back protector should be ergonomically built to fit tightly on the rider's back and composed of high-impact materials, such as strong plastics or Kevlar.
In order to protect the rider's spine, it should provide adequate coverage from the neck to the lower back. For racers that compete in high-speed contests, certain back covers have additional chest and rib protection.
Any motorcycle racer who wishes to reduce the chance of suffering a catastrophic injury in the event of a crash and continue to compete at their peak on the racetrack must invest in high-quality back protection.
6. Knee sliders
As they offer additional knee protection and improve the rider's performance on the racetrack, knee sliders are a common piece of equipment among motorcycle racers. High-density plastic or other strong materials that can survive the demands of racing should be used to create a pair of knee sliders of high caliber.
To enable them to move easily on the track when the rider leans into turns, they should be firmly fastened to the rider's racing leathers. Knee sliders help riders achieve greater cornering performance by reducing friction, enabling smoother turns, and shielding their knees from abrasion.
Any motorcycle racer who wants to improve their on-track performance while lowering their risk of injury must spend money on high-quality knee sliders.
7. Neck brace
For motorcycle racers, a neck brace is crucial since it offers extra support and safeguards the rider's neck in the event of a collision. A high-quality neck brace should be built of lightweight and strong materials and should tightly fit the rider's neck. It should be made to restrict the rider's neck's range of motion, lowering the possibility of severe neck injuries in the event of a crash.
For racers who compete in high-speed events, neck braces are especially helpful since they lower the risk of whiplash and other neck injuries. Any motorcycle racer who wants to be safe and perform at their best on the racetrack must invest in a high-quality neck brace.
Conclusion
The right motorcycle gear for racing is crucial for both protection and performance. For any rider who wants to stay safe and perform at their best on the racetrack, Investing in high-quality gear is essential for any motorcycle racer who wants to minimize the risk of injury and achieve their best performance on the racetrack.
By prioritizing protection and performance through their gear choices, racers can enjoy the thrill of high-speed competition while staying safe and comfortable.
FAQs
Why is it important to invest in high-quality gear for motorcycle racing?
Investing in high-quality gear for motorcycle racing is important because it protects from impact and abrasion, enhances the rider's performance, and minimizes the risk of injury.
What should I look for in a racing helmet?
When choosing a racing helmet, look for a helmet that meets safety standards, such as DOT or Snell certification. It should fit snugly on your head and offer good ventilation to keep you cool and comfortable during the race.
What is the importance of back protectors and neck braces in motorcycle racing?
Back protectors and neck braces are critical gear for motorcycle racing, as they provide additional support and protection to the rider's spine and neck in case of a crash.