It is crucial for the rider to be properly dressed when riding a motorcycle in order to keep themselves safe. Due to the price and shortage of easily available motorcycle gear designed exclusively for women, it can be challenging for many women to buy motorcycle gear.
In order to protect their safety, female motorcycle riders should make sure they are wearing the appropriate clothing. Injury prevention is yet another vital factor to take into account.
 Motorcycle Gear For Women
 You will be searching for proper motorcycle gear for women to wear when riding if you are a female motorcyclist. Finding something that can protect you from harm while preserving your sense of fashion and still allowing you to express yourself may be one of the toughest challenges you face.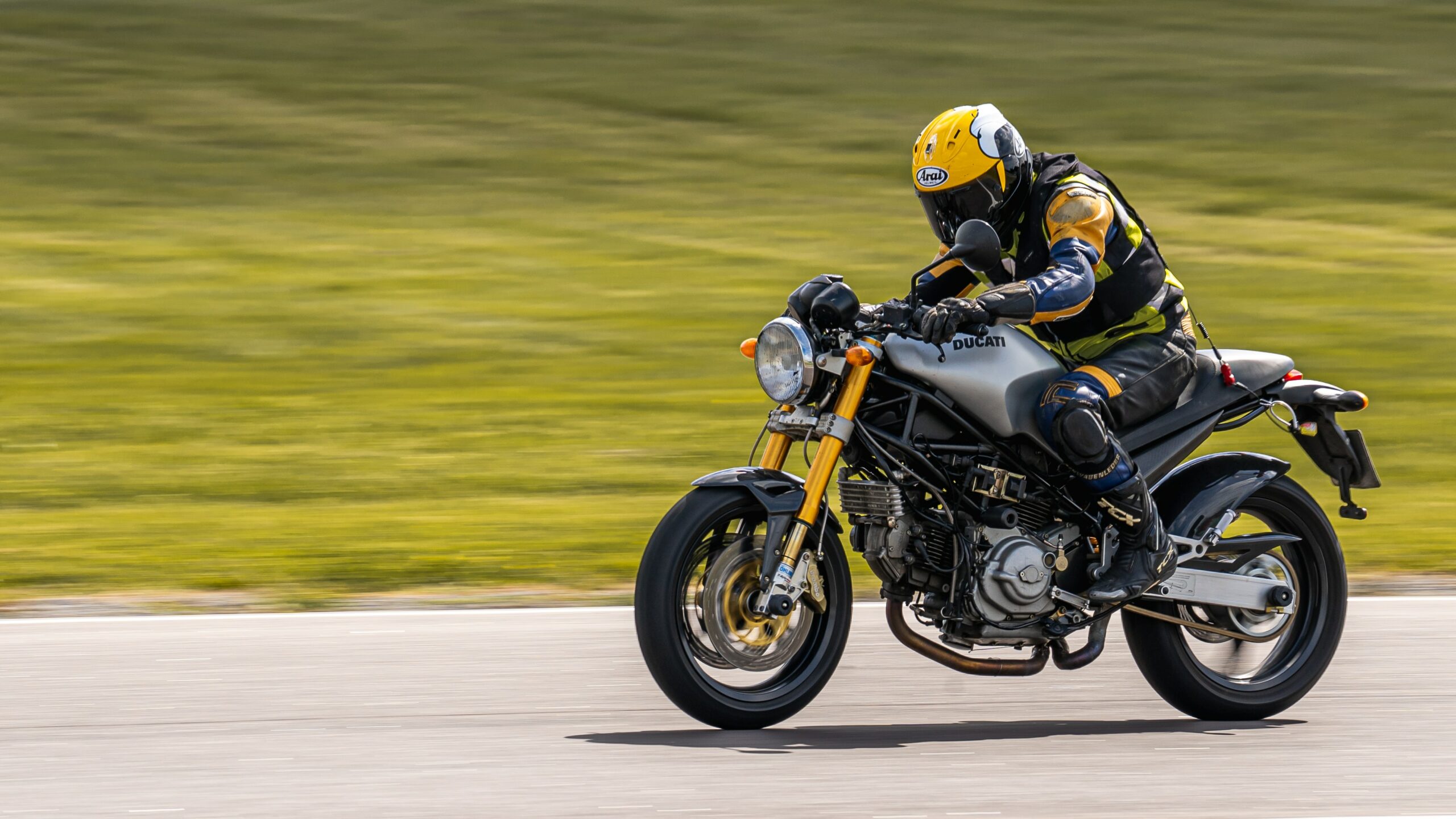 Look Also: Motorcycle Helmet Size Guide
1. Motorcycle Helmets
A helmet is undoubtedly the essential motorcycle gear for women to wear while riding. A DOT-rated helmet that fits you tightly and helps you feel pleasant is the ideal helmet. It's advisable to try on helmets before buying them in person compared to doing it online.
You can make sure it precisely suits you in this way. The good news is that you can use a few online resources. For instance, helmet measuring charts can assist you in choosing the appropriate head size and shape for your purchase of a helmet.
In order to further ensure your safety, it is advised that helmets be replaced at least every five years or after an impact incident, even if it is only a small accident. On the surface, a used helmet could appear in good condition, but a little fracture might make the difference between sufficient protection and a deadly fault that could result in serious harm.
Throughout your search for the ideal helmet, remember that you have various options, including Modular Helmets, Full Face Helmets, Dirt Bike Helmets, Open Face Helmets, Dual Sports Helmets, and Half Shell Helmets.
 2. Long-Sleeved Jackets
When riding a motorcycle, it would be wise for women to choose long-sleeved jackets. Leather or any other synthetic material might be used to create this. If you don't want to wear them, try to wear something that covers your arms. These long-sleeved jackets can shield you from accidents and any roadside debris, such as stones or glass.
The resistance to abrasion of motorcycle jackets made of premium textile materials is on a level with leather jackets. Numerous also come with water-resistant membranes that can keep you dry, particularly in inclement weather. Textile jackets are less expensive in terms of price. Although leather jackets are more robust, they might not be as comfortable depending on the conditions.
3. Motorcycle Vests
Motorcycle vests are a crucial component of riding equipment, whether you want to represent your organization, keep cool, or just want protection. Any type of female rider can probably find a practical vest that suits their riding style.
You should put on motorcycle vests when the temperature rises to be properly protected from the heat. Most people associate motorcycle vests with hardcore bikers, leather vests, or bright orange construction vests. Yet, vests come in various designs and materials to meet your demands. These are ideal for riders who find the sleeves uncomfortable in the summer heat.
4. Gloves
The riders might be quite well protected if they wear gloves. Although gloves are a crucial component of a motorcycle outfit, riders sometimes neglect to wear them. If you want to buy motorcycle gloves, pick a good set that will keep you safe from disasters. Protecting your hands when riding is important if you appreciate them. You will require a durable pair of gloves to protect your hands in the event that you have an accident and fall off your bike.
You may be searching for something stable and comfy regarding gloves. The fit of your gloves should be fit but not uncomfortable. This gear can shield you from any unforeseen accidents by maintaining movement without being overly flexible. Also, well-made gloves might aid in preventing wrist fatigue. Motorcycle riding can be physically demanding. Therefore, it's crucial to get a good pair of gloves.
 5. Bodysuits
Bodysuits might be appealing to female motorcyclists. They are one-piece suits with an extended zipper. You may wear your regular clothes beneath while being covered by branded motorcycle clothing with these suits. Because of their many different uses, bodysuits make riding a motorcycle more convenient.
You won't have to stress about packing special clothing for various occasions or locations. Just ride up and enter the party, that's all. Although bodysuits are not strictly necessary, having one is useful for several reasons.
6. Motorcycle Shirts
There are three elements to consider when selecting the ideal women's motorcycle shirts. It should, first and foremost, reflect your individuality. Then it ought to be cozy, and finally, it ought to look nice on you. That doesn't appear to be too difficult at first. Why, then, are the majority of women's motorcycle t-shirts so plain and ineffective in capturing the tastes of most women?
It might be challenging for women to discover the ideal motorcycle t-shirt because many of them fall short of accurately expressing the consumer's likes. Choosing the proper motorcycle t-shirt might be challenging because many feature brands and patterns that don't appeal to many women.
Also, many motorcycle t-shirts might feel uncomfortable, which is troubling for a lengthy bike trip. While others are too tight, some shirts are too wide. Finding the ideal shirt that expresses your preferences, captures your sense of style, and fits you comfortably is essential.
Conclusion
You should cover your entire body while riding a motorcycle for the best protection. Any exposed skin could suffer injury if your motorcycle falls over or crashes. Both males and females must comply with this guideline.
Two of a woman's nicest experiences are riding and buying motorcycle gear. There are a few things to keep in mind, though. What gear to buy first should be the main priority. Protective gear should be your top priority, including bodysuits, gloves, helmets, boots, and boots.
FAQ's
Why is it important to choose proper motorcycle gear?
Choosing proper motorcycle gear is important for both safety and comfort while riding. It can protect you from serious injuries in case of an accident, and also make your ride more enjoyable and comfortable.
How do I choose the right size for my gear?
The right size for your gear can vary between brands and models, so it is important to try on the gear before purchasing it. Make sure to follow the manufacturer's size chart and consider factors such as the layering you may need for different weather conditions.
Can I wear regular clothing while riding a motorcycle?
Regular clothing does not provide the same level of protection as motorcycle gear and can lead to serious injuries in case of an accident. It is important to wear proper motorcycle gear, even for short rides.