The Dainese Super Speed Textile Jacket combines the technical and ergonomic features of Dainese's pro-level race suits with textile and mesh to create a summer riding jacket that provides CE-level protection, a dynamic fit, and athletic looks. Aluminum shoulder sliders, elastic inserts, large mesh panels, a zipper connecting the trousers, CE-rated shoulder and elbow armor, and pockets for Dainese's back and chest protectors provide complete protection in a comfortable but snug fit.
In addition, the Super Speed Textile Jacket keeps you cool while giving comfort and safety when the temperature rises. Follow the Dainese super speed textile jacket review for more details.
Read Also Our Complete Review on Best Riding Jackets
About Dainese

Dainese is a renowned Italian company founded by current President Lino Dainese in 1972. It specializes in protection gear for motorcyclists, mountain bikers, and downhill skiers. Its earliest items were motocross leather pants, followed by leathers for road riding. As a result, Dainese is regarded as one of the most technically advanced and protective brands in the world of racing and riding.
Dainese Super Speed Textile Jacket Details and Quality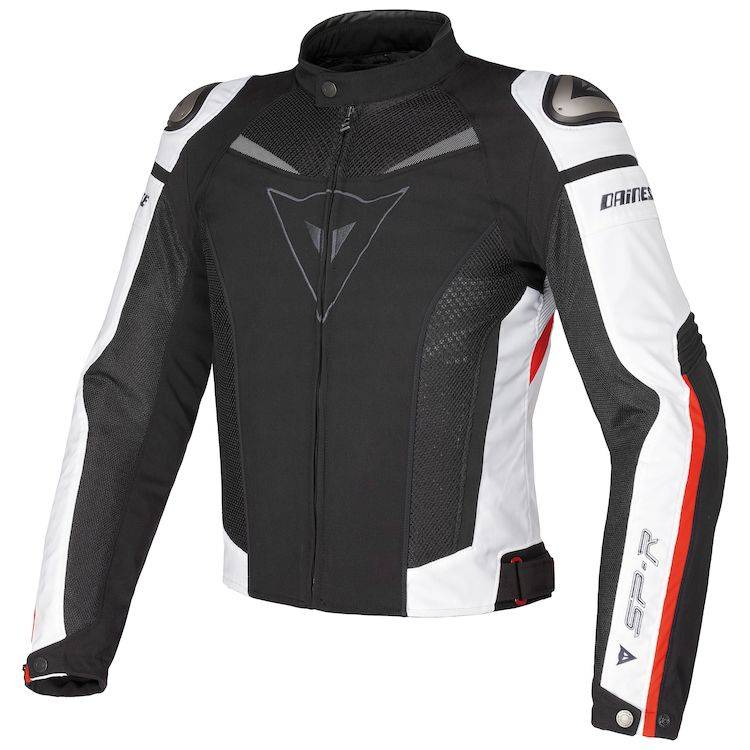 Quality:
The SuperSpeed is one of the most popular hot-weather Dainese leather jackets, and it was created with sporty riding in mind. Aside from the mesh panels and Duratex structure, the SuperSpeed has Dainese's distinctive metal shoulder guards, which also help to promote a slide in the event of a fall. Without it, the material would be more likely to catch on the tarmac, increasing the risk of a tumble.
Composite armor homologated to EN 1621.1 standards is found beneath the shoulder sliders and elbow locations. This "rigid external plastic shell absorbs and distributes impact energy across the whole surface of the protector thanks to a patented reticulate design that also delivers lesser thickness and weight," according to Dainese. The protector's inside structure is made of polyethylene foam. This material molds and adjusts to the wearer's body for better comfort, similar to memory foam mattresses. Its vent allows for the most airflow.
Shoulder protectors:
The Dainese jacket then features snap adjusters in the wrist and collar sections for a more personalized fit. A full-circumference zipper pair well with a range of Dainese pant options, and hook-and-loop waist straps enable the wearer to tailor the jacket to their figure. Optional Dainese back and chest protection can be stored in the pockets. The SuperSpeed includes two external pockets, one internal pocket, and reflective piping above the breast area.
Read Also: 5 Best Motorcycle Racing Suits
On a hot day, the amount of airflow through the breast, torso, arm, and back vents is significant and appreciated. The SuperSpeed, on the other hand, lacks a full mesh panel across the entire chest, which prevents many riders from getting a breath of fresh air. Dainese's decision to skip mesh in this location in favor of more abrasion-resistant material makes it reasonable, given that it's possible to slide on your chest in a fall. That is until you flip the jacket around and notice the complete mesh paneling running the back length.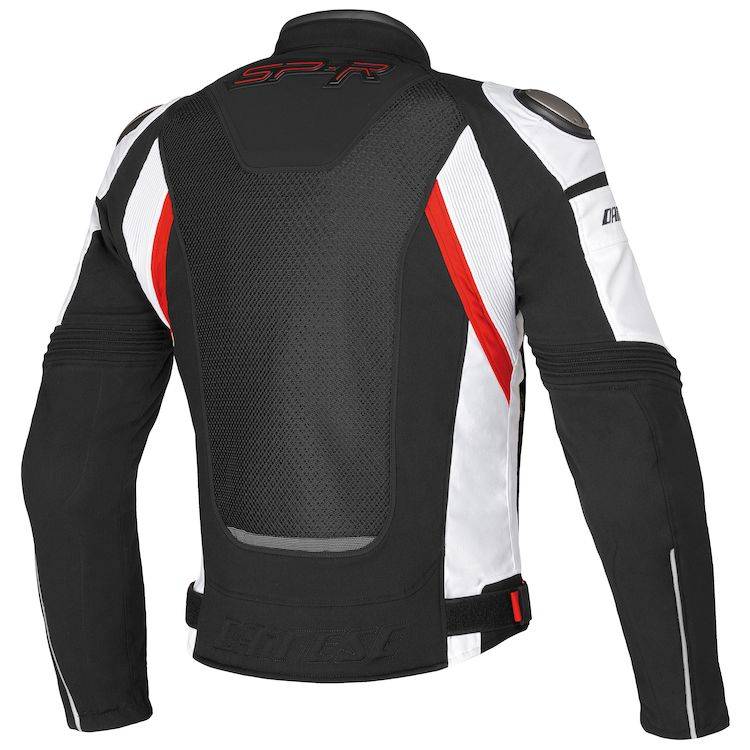 Features of Dainese Super Speed Textile Jacket
Protection:
Composite protectors that comply with EN 1621.1/97.
Shoulder extensions made of aluminum
Ergonomics and Comfort:
Fabric made of Duratex
Fabric with a boomerang shape
Elasticated fabric inserts
Neck repositioning
Adjustment of the wrist
Adjusting the waist
System of jacket-trousers fastening
Fabric with perforations
Windproof insert that can remove
The lining is sanitizing.
Other:
Every piece of equipment has flaws, and the Dainese super speed tex jacket is no exception. First, instead of the two-position snap currently available, I'd prefer a hook-and-loop wrist closing. It would allow for further customization for a broader range of body types. Second, the Dainese super speed textile jacket has a full-length liner that initially impressed me. It's even windproof, according to Dainese.
Back protector pockets for G1 and G2
Protective chest pocket (Dainese L2 Chest Protector)
Two outside pockets with reflective inlays
Pocket on the inside
| | |
| --- | --- |
| Colors – Black/Dark Grey, Black/White/Red | Price – $369 |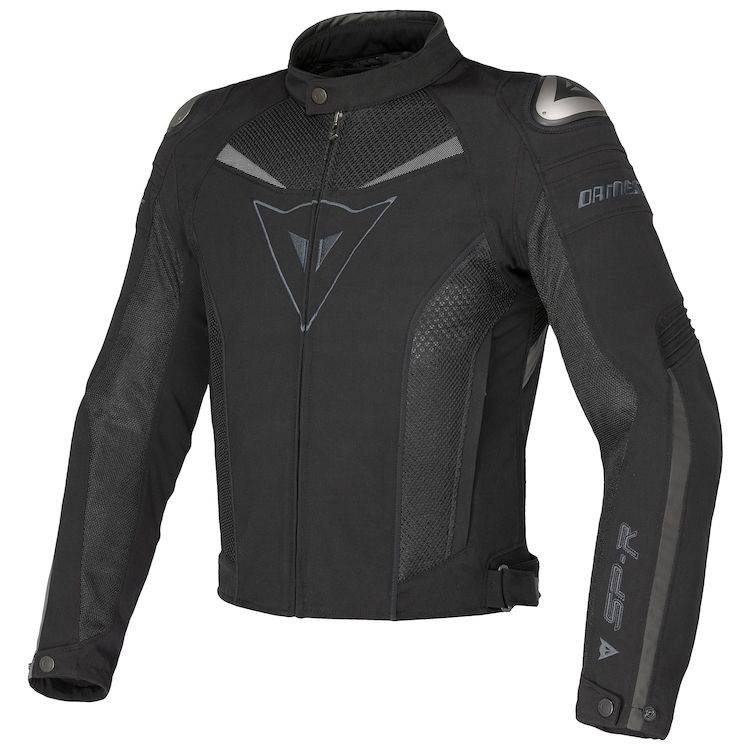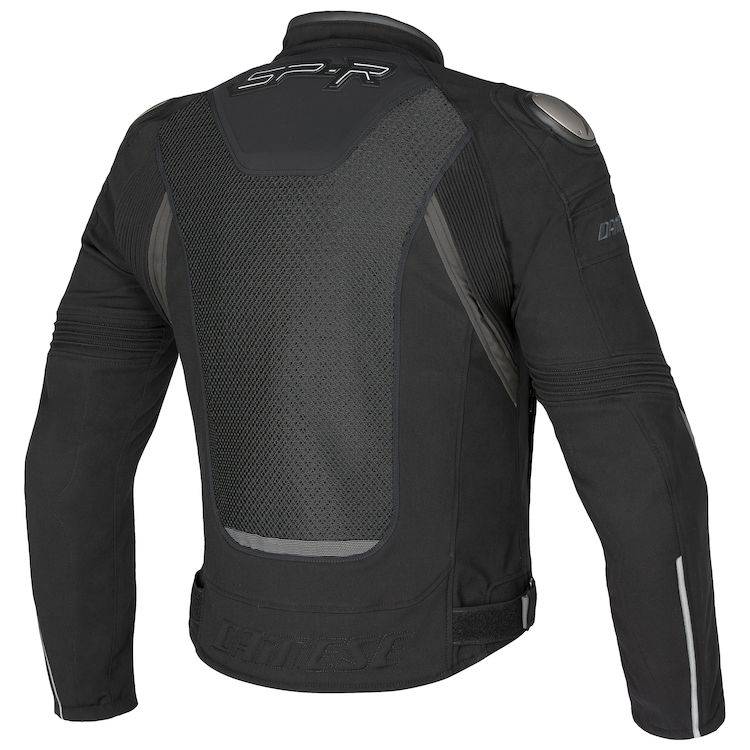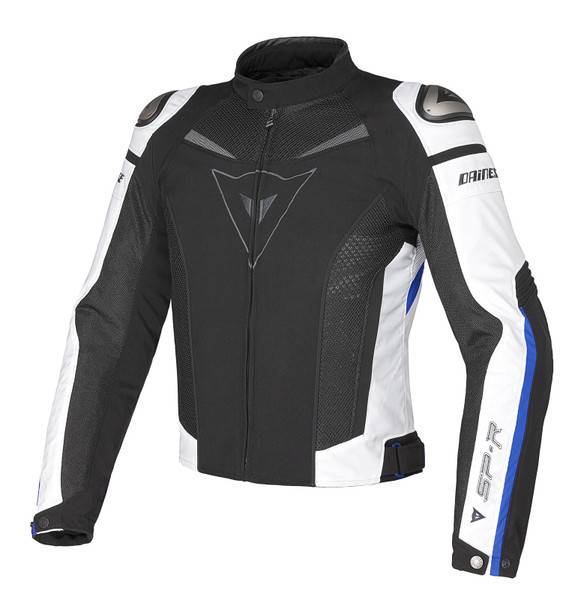 Our Opinion for Dainese Super Speed Textile Jacket
The Dainese Super Speed Tex Jacket create for summer sport riding because of its superior ventilation, comfort, and protection to the most demanding riders, an This dainese leather jacket is composed of Cordura fabric, which is resistant to abrasions and wears, and Boomerang fabric, which allows for easy air circulation, thanks to the perforations in the Sanitized lining. In addition, the removable windproof lining using when the weather calls for it.
In the case of a fall, the replaceable elbow and shoulder guards, as well as metal inserts on the shoulders, provide strong support. Pockets for chest and back protectors include on this light jacket. The luminous inlays make you visible at night, while the adjustable neck, waist, and cuffs add protection and comfort. Dainese has always prioritized combining great ergonomics with unrivaled technical content.
Pros and Cons of Dainese Super Speed Textile Jacket
Pros
Dainese Super Speed Textile Jacket is a leather sportbike jacket. Two mesh panels provide excellent airflow: outstanding craftsmanship and attention to detail. In comparison to the Aspide, this is a somewhat hefty solid textile. However, it fits perfectly, like if made to order.
Cons
The solid black textile attracts hair and dust. The price is a little on the high side. They're so popular that they're hard to come by!
Conclusion
The Dainese super speed textile jacket is a version of the more expensive Dainese leather jacket. However, the vast mesh panels allow the Super Speed Tex way more airflow than cowhide, where the textile version differs dramatically from leather. Dainese has done an excellent job with the SuperSpeed jacket in creating the most fantastic summer jacket possible while not sacrificing rider protection. It also has a great appearance.
FAQ'S
Which back protector fits the Dainese Super Speed Jacket.
Dainese has a wide range of back protectors available, ranging from CE level 1 to CE level 2.
How to remove pads from the Dainese Super Speed Jacket?
The shoulder, elbow, and back protector pockets are Velcro-fastened and accessible from the inside.
Is Dainese Super Speed Jacket Aluminium Made?
Yes, Dainese Super Speed Jacket is Aluminium Made.
What Colors Are Available for Super Speed Jacket?
Its avilable on diffrent colors. You can check on their websites.
Is Dainese Super Speed Jacket Fabric Made?
Yes, Dainese Super Speed Jacket is Fabric Made.