For many riders, intercom systems are quickly becoming a must-have equipment. You may use one to communicate with other riders, add some music to your adventure, or just get some navigational help when you're out of fuel and a little confused in the country. In this blog, we will tell you about Cardo Packtalk Edge Review.
The latest version of the Cardo Packtalk line, which has long been a foundation of the intercom market, introduces the Edge. The Edge is a high-end alternative that includes almost all of the features an intercom can provide.
The Edge offers Bluetooth 5.2 connectivity, second-generation Dynamic Mesh Communication intercom technology, premium 40mm JBL speakers, USB-C quick charge, and a stylish design with a magnetic air mount to lock the device to the surface.
Cardo Packtalk Edge – Features
The Cardo Packtalk Edge comes with an extensive list of features.
A flagship Bluetooth communicator with a feature set to match is the Cardo Packtalk Edge.
Fundamentally, you receive a mesh intercom system with a range of up to 1.6 kilometers that can accommodate up to 15 riders, and speech is caught quite well and clearly with the mic.
The typical intercom range is about a mile, but it can go up to five miles with mesh technology. You might want to stop and wait for your riding partner if they are 5 miles distant from you now. However, once back in range, a disconnected rider will automatically reconnect.
Read Also: Motorcycle Helmet Size Guide
The Edge's battery life is exceptional; Cardo estimates 13 hours of typical use. Additionally, new fast-charging technology is beneficial if you fail to charge your device.
Additional convenience-enhancing features include rapid charging, which provides 2 hours of use from a 20-minute top-up, adaptive volume control (which adapts to changes in surrounding sound), and OTA updates. The magnetic "air mount" may be my favorite feature. It allows the main unit to quickly snap into place and boosts the device's "cool" factor in just a fraction of a second.
The JBL speakers have 40mm left and right speakers of the highest caliber. Even with earplugs, the audio quality is excellent when using a 3.5mm connector, and the microphone offers increased noise-canceling capabilities. High-fidelity audio is not only made possible by JBL speakers and tuned audio; Bluetooth 5.2 also improves the amount of data that can be delivered across limited bandwidth, which results in a better audio signal being sent to your speakers.
Call volume, music volume, FM radio volume, intercom volume, and announcements from the Cardo system can all be adjusted independently. The user can also change the voice recognition sensitivity, turn off voice control entirely, or configure automatic volume adjustment based on background noise picked up by the microphone. To get the most out of the Edge device, you must use the Cardo Connect app for all audio tuning and tweaking.
Edge devices have second-generation Dynamic Mesh technology, which streamlines pairing and enhances intercom sound quality. When these units communicate with one another, the Edge will only be as capable as the Packtalk Bold unit because it still has first-generation DMC.
The Packtalk also integrates with your phone's voice assistant, so you can use Google Assistant to complete many tasks.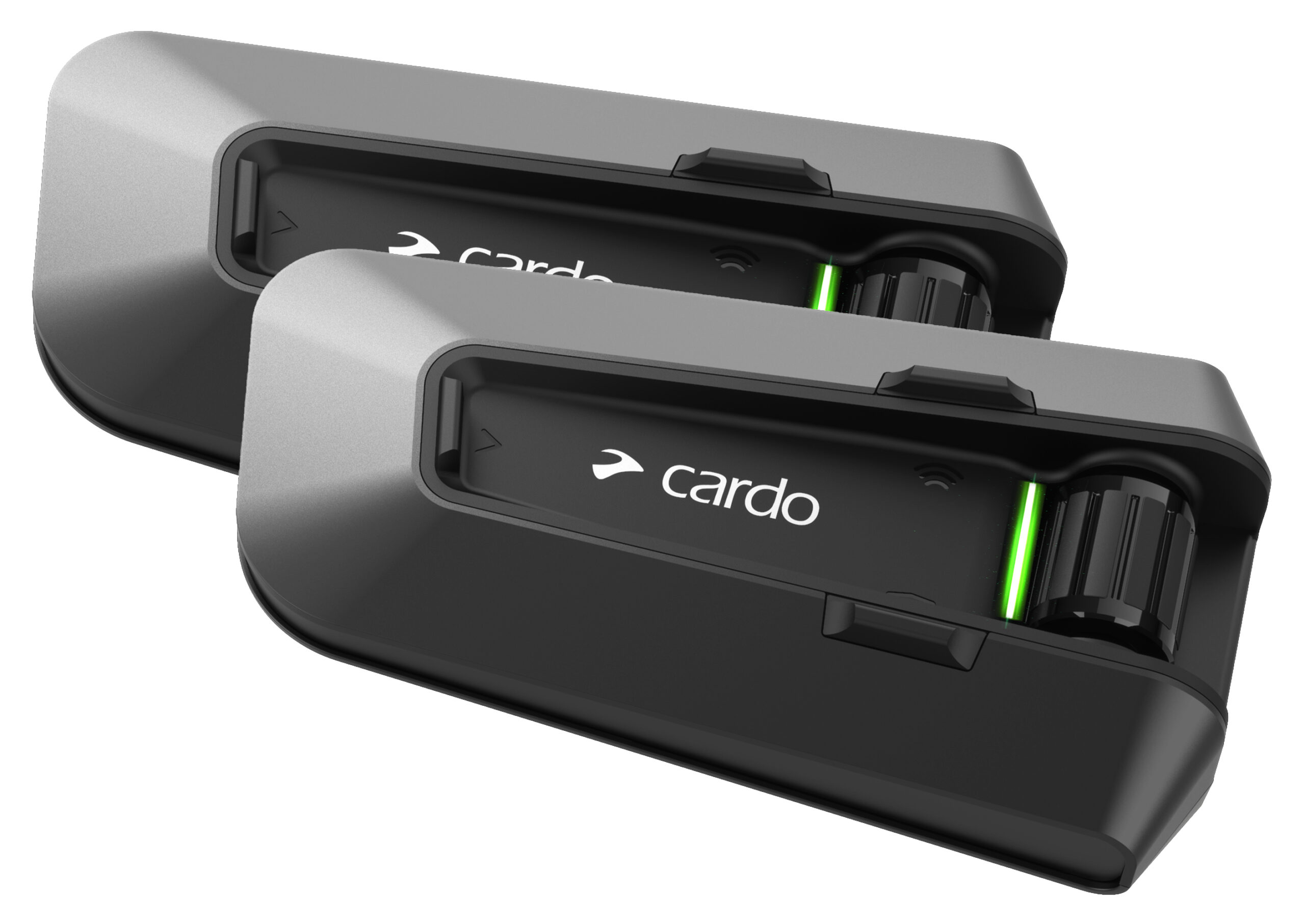 Cardo Packtalk Edge price
But all that power comes at a price: €409.94. While this is a hefty sum, it is acceptable if you demand the best or routinely ride in large groups and need the stability and range of solid mesh connectivity.
Cardo Packtalk Edge Review – Pros and Cons
Pros
Easy to use overall, voice integration & clarity is superb
The magnetic snap-on feature is an excellent way to ensure quick, secure mounting onto the mount.
Top-quality 40mm JBL speakers
Fully waterproof
Cons
Noticeably longer battery life
At greater speeds, there will be some turbulence and wind noise.
Cardo Packtalk Edge Review – Verdict
This Cardo Packtalk Edge should unquestionably be on your purchasing list if you're looking for a new intercom with excellent audio quality, simple operation, and some of the best communications features for up to 15 riders with Mesh.
Whether or not you are a fan of Cardo, this gadget is a seriously well-made and stylish way to spice up your rides. The magnetic connection technology and the JBL speakers' audio and microphone quality are excellent. They also have a long battery life that allows them to go with you for 13 hours. Although it may be more expensive, you get what you pay for. We hope you like our Cardo Packtalk Edge Review blog.
Here you can check the latest price of this Bluetooth intercom
FAQs
Will it pair with any other Bluetooth intercom?
Intercom systems from Cardo do feature global connectivity. It can connect to any other Bluetooth communication device by Cardo or any reputable company.
Can I use the cardo bluetooth intercom
in the rain?
Every Cardo device is waterproof. It enables you to enjoy excellent communication while riding in the rain.