The Dainese Tonale D-Dry riding suit is a great option in the touring category. They provide an outfit with an excellent quality-price ratio that is ideal for lengthy motorcycle rides.
Finding a touring motorbike jacket that is waterproof, breathable, comfortable, and durable is not tricky. Finding the right one for you, though, might be challenging. Dainese offers the Dainese Tonale D-Dry jacket and matching pants for the most demanding biker. Why? In this review, we'll go into detail.
Dainese Tonale D-Dry Riding Suit Details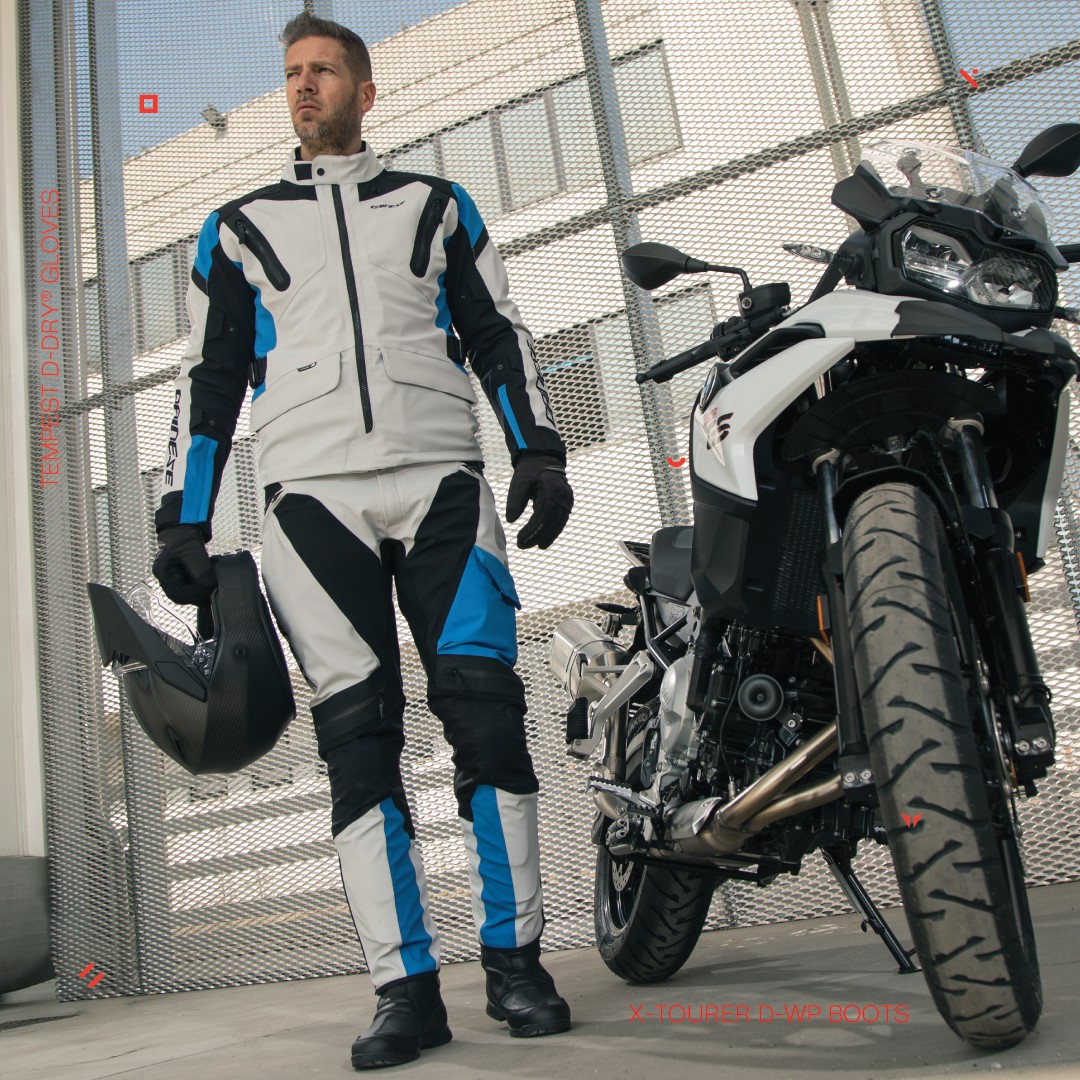 The Dainese Tonale D-Dry Suit is an incredibly adaptable, cozy, and, most importantly, resilient touring suit. One of the qualities a motorbike jacket like this should have.
The D-Dry XT membrane is a waterproof touring motorbike jacket, which is the first thing you need to know. This stretch membrane is combined with the outer fabric, giving us excellent water resistance while also making it breathable and comfortable. Its resistance is 20000mm, which is a significant amount.
The outside fabric of the jacket and pants is nylon, which is very durable and resistant. The inserts are made of D-Stone fabric, which is also very resilient and ideal for motorcycle rides.
In addition to impermeability, we want versatility in an outfit like this to adjust to any weather condition.
In this instance, both the jacket and the Dainese Tonale D-Dry pants have a detachable thermal lining, which can double as a street jacket.
Both include movable air inlets and outputs with Thermo-sealed zips to keep the water out on hotter days. They are situated on the jacket's chest, with two outlets on the back and on the knees of the pants, with two inlets.
The jacket and pants both feature removable, certified protections on the shoulders, elbows, and knees (for the pants), and if we want to enhance protection, we can also add a type G back protector to the jacket.
Everything in a touring gear worth its salt is geared toward comfort. These motorcycle jackets and pants need many details to be comfortable because we'll be riding for a long time.
Read Also: REV'IT! Quantum Race Suit Review
Features:
D-Dry XT Extend Fabric
Elasticated fabric
Neck, Waist, and Wrists adjustments
1 cargo pocket on the back
2 in 1 – Removable inner thermal jacket
3 front outer pockets (2 waterproofs)
Laminated D-Dry XT Extend Technology
Pocket for G1 and G2 back protector
Pocket for Pro-armor chest 2 pcs
D-Stone™ fabric on high-impact areas
2 direct-to-the-body vent zip on chest
Extraction direct-to-the-body vents zip on the back
aminated D-Dry XT Membrane Waterproof 20.000mm
Removable thermal liner
Conclusion
The Dainese Tonale D-Dry Suit is an excellent option in the touring category. We provide an outfit with a high-quality ratio ideal for lengthy motorcycle rides. We hope you like our article today.
FAQs
How Good is This Dainese Tonale D-Dry Suit?
To keep you dry and safe, the Dainese Tonale D-Dry Jacket employs a unique waterproof membrane laminated to durable material.
What Protection Used In This Suit?
This suit uses CE-rated elbow and shoulder armor with the option to add chest and back armor, and D-Stone fabric reinforces the high-impact areas at the elbows and shoulders for extra protection.