The REV'IT! Quantum Race Suit is unquestionably stylish. Your ability to endure the crimson designs and snakeskin-like texturing is entirely up to you, but if you can, you'll be rewarded with a suit that works just as well as it looks, and everyone will notice. Now let's explore the mechanics of quantum.
REV'IT! Quantum Race Suit Details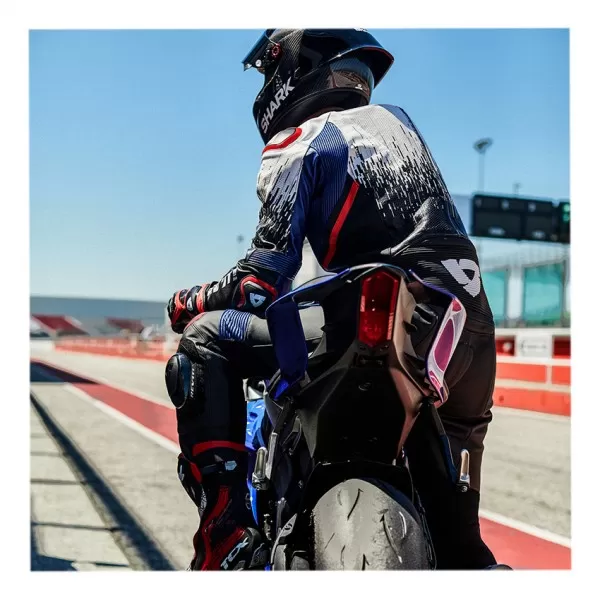 The Monaco cowhide from the brand, designed to provide excellent abrasion resistance while having a natural sheen, makes up most of the REV'IT Quantum Race Suit. PWR|shell stretch fabric and leather accordion stretch panels are used throughout to ensure flexibility.
The 3D air mesh panels on the upper shoulder area of the suit are one of its aspects that appeals to me; before the Quantum, we had never seen such panels on a one-piece suit. Having the additional breathability and airflow is a desirable aspect of this REV'IT! Suit.
Internally, the suit is equipped with SEESMART hip protectors and the full complement of Betac armor for the knees, shoulders, and elbows. In addition, the Quantum incorporates inside pockets for the SEESOFT CE-level 2 back protector, and the SEESOFT divided chest protector from REV'IT!, which is unusual for race suits.
Aluminum sliders with a plastic backing are located at the shoulders and knees to maximize the likelihood of sliding during a get-off rather than catching and tumbling. The interchangeable dual-comp elbow sliders will also come in handy if you drag your elbows like Marquez.
The REV'IT Quantum Race Suit fits like a tracksuit but not as tightly as other suits we've worn. First, if you stand around at the track as much as your bike, the torso length makes it possible without increasing your voice an octave. The thighs are a bit snug on me, but that's to be expected.
The suit's fit around my forearms was somewhat snug, which was a little unexpected. Although they aren't huge and haven't yet resulted in an arm pump, my arms are tighter than we would like.
Read Also: Icon Hypersport Race Suit Review
Features:
Outer Shell: Monaco performance cowhide | artificial leather | PWR|shell stretch | neoprene | perforated leather
Betac® CE impact protection
SEESMART™ CE-level 1 hip protector
Prepared for SEESOFT™ CE-level 2 back protector insert – Type RV (sold separately)
Prepared for divided chest protector SEESOFT™ CE-level 1 (sold separately)
TPU protection on knees
TPU elbow sliders
Dual-comp knee slider – type A
Dual-comp protective parts at shoulders
Safety seams
Double leather seat
Coccyx protection
Composition: 79% Leather,18% Polyamide, 3% Polyurethane
Ergonomic Features:
Fit: race fit, tight
Ventilation: ventilation panels | partly perforated outer shell
Features: stretch fabric | stretch lips | speed hump | soft edge at collar | hydra bag prepared | cuff zipper | comfort cuffs | calf zippers
Pockets: inner pocket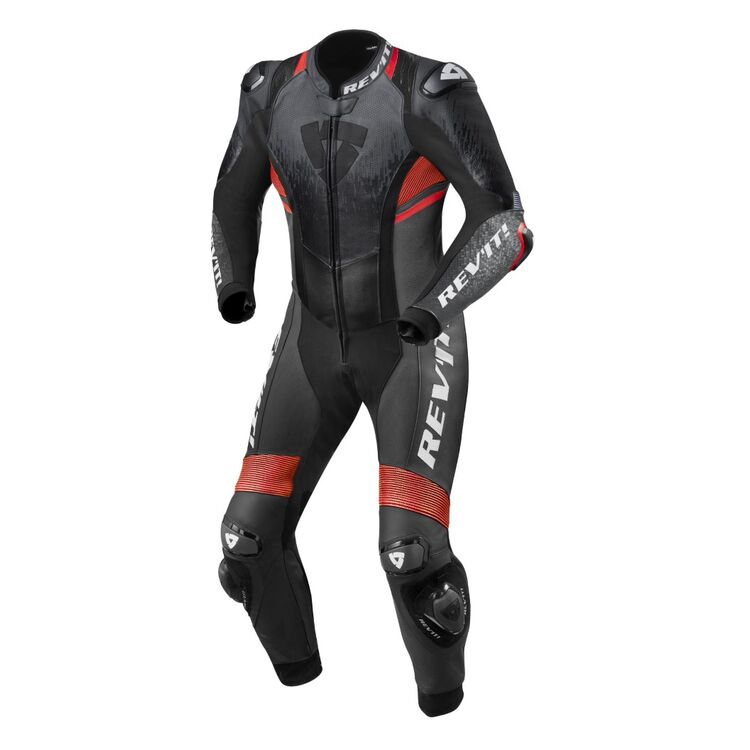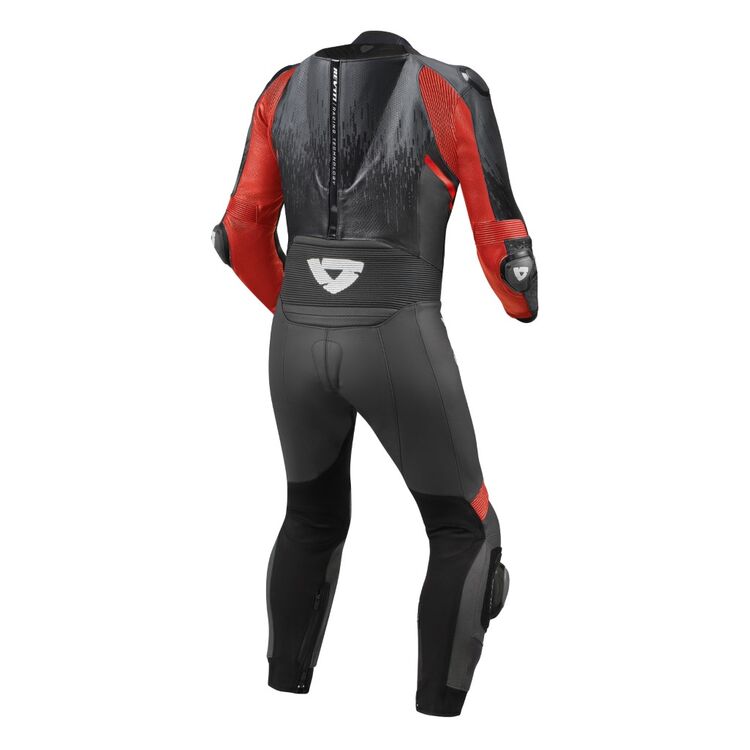 Conclusion
Don't settle with doubles if you want to steal the show on the starting grid and make a statement on the track. Slide into a one-piece coverall with a fashionable modern look that will set you apart from your paddock buddies and stand out from the crowd with its uniform lines and curves.
However, the BETAC shoulder, arm, and knee protectors frequently utilized in professional racing are included with this REV'IT Quantum Race Suit. TPU and dual-comp sliders and protection in impact and slide-sensitive regions are also included in the complete kit.
FAQs
How Good Was the REV'IT Quantum Race Suit?
The REV'IT Quantum Race Suit from REV'IT! Offers the ideal balance between functionality and fashion. The Quantum Race Suit is equipped with the same Betac shoulder, arm, and knee armor parts that are common in the world of professional racing.
What Protection Used In This Suit?
This suit is equipped with SEESMART hip protectors and the full complement of Betac armor for the knees, shoulders, and elbows.