We present the Icon Hypersport Race Suit in this review. We will review many aspects of the Icon Hypersport Leather Suit review, including the pricing, quality, and features. We'll offer you a quick overview after we've given you a solid idea of how good this product is so you can decide whether you've discovered the ideal Icon Clothing for your needs.
Icon Hypersport Race Suit Details
The men's Icon Hypersport race suit is made of 1.1-1.3mm TrackSpec leather and has all the features a tracksuit should have. With pre-curved arms and legs, a TPU speed hump, and TPU on the elbows, shoulders, and knees, the Attack Fit design is also included. A wide selection of D3O impact protectors are available for the shoulders, elbows, back, hips, and knees.
Like most other contemporary designs, this suit's underarm, crotch, and back leg regions feature a substantial amount of flexible fabric. Additionally, it contains accordion-style materials on the sides of the chest, above the knee, and the waist in the back. The stretchy regions aid in comfort and flexibility while ensuring a tight fit.
The suit's slim pant legs are tucked into athletic or racing boots. Short inseams are intended only to cover the top of your foot (or even a bit shorter). To fit over your knee, the armor is placed in the pants. The armor is supple and has some positional flexibility. A race suit like this might not fit you if you are taller or shorter than typical for your jacket/pant size. Instead, you might want a race/sport jacket and pants set available in tall/short sizes.
Four-way stretch fabric and accordion panels are provided in crucial locations to help with movement and comfort. There are reinforced perforations throughout to let air enter and exit. The cuffs on the arms and legs are lined with neoprene, and the liner is detachable and washable. Of course, there are also interchangeable knee pucks.
We believe this new suit from Icon might be an excellent option for the money and specific purposes. Considering the entire armor package, the price is affordable and merely crosses into the "entry-level" bracket for most other brands. If your requirement or use is a good match, We believe it delivers excellent value because you might easily spend twice this on a suit.
Read Also: Alpinestars Atem v4 Race Suit Review
Features:
Icon Attack Fit
1.1mm-1.3mm TrackSpec leather chassis
Removable D3O shoulder, elbow, back, knee, and hip armor
Integrated flex zones
Neoprene wrist and ankle cuffs
Removable, washable liner
TPR chest logo
TPU shoulder, elbow, and kneecaps
TPU speed hump
Replaceable nylon knee sliders
prEN 17092-2:2017 with class AAA rating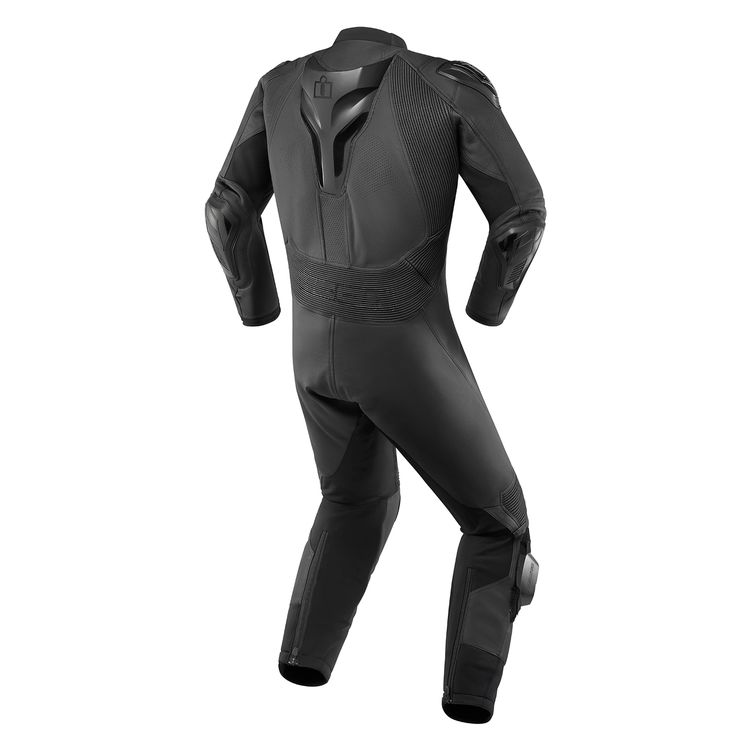 Conclusion
The Icon Hypersport Race Suit comprises 1.1mm-1.3mm TrackSpec leather and has D3O impact protection in the essential areas. It is reasonably priced to get you off your bum and onto the track. The icon didn't end there. You may tuck in more profoundly and drag a knee thanks to the flex zones at your shoulders and groin. Every time you complete a lap, you stay cool and fresh as a daisy thanks to the detachable and washable liner. So are you ready for the ride?
FAQs
How Good Was the Icon Hypersport Race Suit?
The Hypersport suit is made of 1.1mm-1.3mm TrackSpec leather with D3O impact protection in the proper places and is reasonably priced to get you off your seat and onto the track. 
What Protection Used In This Suit?
It Includes D3O impact shoulder, elbow, back, hip, and knee protectors that are certified according to C.E. EN 1621-:2014/EN 1621-1:2012 standards and tested and certified according to C.E. EN 17092-2:2017 Class AAA standards.