Best Motorcycle Leather Jackets
While a good helmet is usually the first consideration for new riders or those looking to upgrade their gear, we must not overlook the value of a good jacket when it comes to rider safety. Your helmet protects your brain, which is perhaps an essential part of your body, but your jacket must be entirely up to date to protect the other vital organs that keep your body running.
There's one significant difficulty in finding one appropriate for you with so many leather jackets to choose from: they all seem too identical. So how can we tell which leather jackets are better than others when they're all made of leather and appear similar?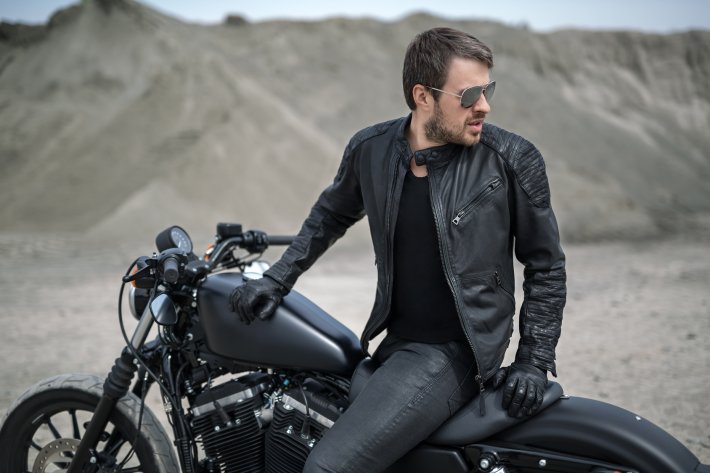 A nice leather jacket is usually a worthwhile investment because it is meant to endure the wear and tear of a biker's everyday life. In addition, these leather motorcycle jackets provide the rider with several other advantages.
Today, we will show you a list of the most outstanding leather jackets we've found. We've also included alternatives for various pricing ranges, so motorcyclists on all budgets can make informed decisions when shopping for best leather motorcycle jackets in 2022.
List of "Best Motorcycle Leather Jackets"
Dainese Sport Pro Perforated Leather Jacket
First Manufacturing Top Performer Jacket
Street & Steel Blade Jacket
First Manufacturing Indy Jacket
Helite Leather Airbag Jacket
Schott 118 Perfecto Jacket
Joe Rocket Dakota Jacket
Highway 21 Gasser Jacket
BILT Alder 2 Leather Jacket
Merlin Stockton Jacket
Spidi Clubber Jacket
Alpinestars Hoxton v2 Jacket
Roland Sands Clash RS Signature Jacket
Speed and Strength Straight Savage 2.0 Jacket
Icon Motorhead3 Jacket
Today, you will see the most outstanding best motorcycle leather jackets we've found. We've also included alternatives for various pricing ranges, so motorcyclists on all budgets can make informed decisions when shopping for new leather motorcycle jackets in 2022.
Read Also: Best Dainese Riding Jackets for All Type of Riders
1. Dainese Sport Pro Perforated Leather Jacket
The Dainese Sport Pro has a perforated leather jacket and a tp cowhide jacket with the right fit. Essential fit on the chest, shoulders and neck that creates ergonomics, comfort and lightness in selected clothing. The protection found on the shoulders of the Pro Armor ensures flexibility and light weight.
The Pro Armor works in conjunction with the replacement aluminum shoulder pads, which provide the most protection from scratches and slippery supports on asphalt. With plastic, steel has excellent abrasion resistance, does not deteriorate during slipping and does not cause dangerous twisting or twisting of joints.
Only certified composite protects your elbow. A protective cover added to the bag can hold the G-type back and poison protection. The air-conditioning and suction fluids open and close with a zip that promises great performance even on hot days.
Features:
2. First Manufacturing Top Performer Jacket
The style of the First Manufacturing Top Performer jacket will draw you in and the features such as mandarin style collar, padded shoulder detailing and removable liner will keep you riding.
Features:
3. Street & Steel Blade Jacket
Featuring the classic mandarin collar motorcycle jacket, the Street & Steel Blade Leather Jacket is crafted from colorful genuine leather with extra perforations on the sides for added breathability. CE certified shoulder straps and elbows are shipped from the factory and the back pockets can be stored in the back pocket. The waist adjustment helps ensure a comfortable fit and the inside pocket also has extra CCW and ammo.
Features:
4. First Manufacturing Indy Jacket
The First Manufacturing Indy jacket is made of bare calfskin, painted in a bucket and has enough space to store your essentials. Indy includes shoulder, elbow and back pockets and Dupont ™ Kevlar® shoulder and elbow support. The chest and back vents work in conjunction with the Indy mesh lining to keep you cool at room temperature. Finally, the strap buckle offers some adjustments to match the actual fit.
Features:
5. Helite Leather Airbag Jacket
Helite leather airbag Jacket is designed for street bikers who want the best protection. The built-in Helite airbag, which can be attached to the igniter, is completely covered by Knox elbow and shoulder pads, as well as a SAS-TEC CE Level 2 back protector. The Helite leather airbag jacket, which can be used in just 0.1 second, protects both no other jacket.
Designed to support the neck and spine, it provides vital protection to vital organs and balances the body in the event of an accident. The smooth 1.3 mm cowhide leather has a classic coffee-style cut with FreeAir mesh sleeves and a removable thermal lining.
Features:
6. Schott 118 Perfecto Jacket
The Schott Classic Perfecto Jacket is just that, the ideal motorcycle leather jacket.
The Perfecto jacket has a 26-inch-long strap at the front, two straps at the back, many pockets with a zipper, adjustable sleeves with a zipper and insulated, indelible, nylon-padded lining. The Perfecto jacket is made from the finest bare cowhide and adds style and protection to life, adds the desired image, removes yours and matches the CBGB OMFUG (RIP) product.
Features:
7. Joe Rocket Dakota Jacket
The Joe Rocket Dakota jacket offers casual wear in a classic design. The Dakota jacket is made of natural cowhide and has a removable thermal lining with full sleeves, a mandarin-style collar and another steel pocket. The reflective parts on the sleeves are made in black for an additional hidden layer.
Features:
8. Highway 21 Gasser Jacket
The Highway 21 Gasser jacket is inspired by the pure adrenaline that stays in the sun while the riders ride on the weekends. Whether it's a race track, a dusty walk or a ring road, they all have one common goal: to strive for excellence while accepting their destiny. The culture of the world today has changed, and so has technology. If you're looking for a vintage jacket that flies back to the past while protecting your future, look no further.
Features:
9. BILT Alder 2 Leather Jacket
The BILT Alder 2 leather jacket is a modern style vintage biker jacket. The matte buffalo leather and YKK zippers get a light texture, so you can look old-fashioned with the new jacket. CE level 1 armor on the shoulders and elbows offers total protection. Remote thermal coating provides warmth on colder roads. Inserted reflectors ensure that everyone on the road can see you, even if you don't see them.
Features:
10. Merlin Stockton Jacket
The Merlin Stockton jacket combines modern riding with a classic coffee jacket. The striped collar and the padded details on the shoulders and wrists are reminiscent of the riding jackets of the past. the best leather jacket for motorcycles.
However, Stockton keeps up with the best of modern equipment, with chest vents, vertical vents under the back and good protective clothing for the shoulders and elbows. Removable thermal vest lining. Next to it is the embossed Merlin logo and the zippered hat.
Features:
11. Spidi Clubber Jacket
Spidi Jacket Clubber is a line of classic Spidi leather jackets. On motorcycles, buffaloes are known for their strong abrasion resistance and flexible hands. Inside the shirt, the Clubber is cotton and has an "Italian" tartan pattern.
The Warrior Lite jacket on the knees and shoulders provides emergency CE protection, as does the Warrior back jacket. With a mix of Spidi styles, different fabrics and sleeves and leather straps, "cool" is simply the Clubber jacket type.
Features:
12. Alpinestars Hoxton v2 Jacket
The Alpinestars Hoxton V2 jackets have beautiful leather uppers, making it ideal for modern motorcycle jackets. The four toes make the lines around the shoulders and palms softer. The music box stretches the waist and arms to aid in adjustment and maximum range of motion. Extra long sleeves are placed under the sleeves so that modern material does not detract from the cool look of the old school jacket.
Alpinestars emphasizes images with embossed logos and clear branding that perfectly complements the understated style. Chest and back protection accessories include elbow and shoulder armor.
Features:
13. Roland Sands Clash RS Signature Jacket
RSD Clash The RS Signature jacket may look like a copy of the popular Clash jacket, but this design provides extra protection. The style is still a punk rock band, but the GT Racer Premium is now made from the finest cowhide. It also breaks the law for her zipper to close and sew on shoulder and elbow joints. Currently, the Clash RS Signature Jacket features CE Grade 1 Knox Micro Lock protection at the elbows and shoulders. Add Knox to the back of the guard to completely prevent collision. All of these are the reasons why this jacket is classified as the "best motorcycle leather jacket.
Features:
14. Speed and Strength Straight Savage 2.0 Jacket
The speed and vertical strength of the Savage 2.0 Jacket . Removable CE Level 2 shoulder pads with CE Level knee pads and pouch for maximum safety. Hidden selection allows you to record during any trip. Removing the screen allows you to get a special temperature in relation to the outside temperature. Along the way, everyone can see you, even if you can't. it became the best motorcycle leather jacket.
Features:
15. Icon Motorhead3 Jacket
If this is your first best motorcycle leather jacket, this will be your last; The Motörhead3 Icon jacket is here to stand the test of time. True to the heritage of Icon Motörhead, they created a flexible and durable leather jacket.
The Icon Motorhead3 jacket is made of 1.2-1.4 mm chassis for a Brazilian cow for comfort during aggressive travel. Elastic panels and adjusting blades allow a unique fit. The jacket can be equipped with all D3O impact protection equipment (shoulder, elbow, back). Laser perforated areas and zippered openings provide increased airflow on hot days. In contrast, the removable insulating lining and the long-lasting waterproof lining provide comfort during the cold and humid seasons.
Features: