The Dainese Super Race Perforated Jacket is made with the best materials and a MotoGP design, giving it better protection and flexibility of movement. Superior abrasion resistance is provided by D-Skin 2.0 leather without the stiff feeling of other leather jackets. Let's review this Dainese Super Race Perforated Jacket.
Dainese Super Race Perforated Jacket Details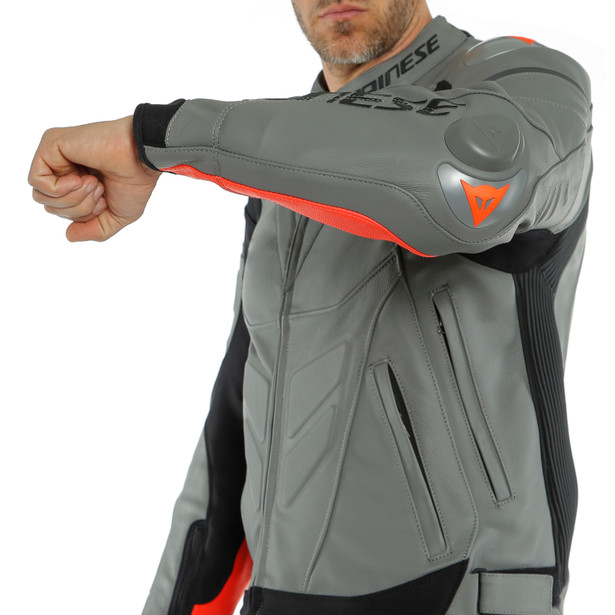 Dainese's materials to make the Dainese Super Race Perforated Jacket are the best place to start when discussing it. The Super Race is mainly built of D-Skin 2.0 full-grain leather, as the name would imply.
Dainese has, however, taken particular covert measures to make their leather flexible and abrasion resistant. So, while being a racing jacket, it is incredibly comfortable to wear. To strengthen the leather, additional resin and silicon treatments have been added.
In regions that require stretching, we also use S1 bi-elastic fabric, which is durable yet malleable enough to allow for movement.
It is a racing jacket. Thus, many safety features were created using the knowledge learned from MotoGP. Elbows are protected with Level 2 specialized protectors that shield arms from blows and abrasion. On the shoulders of the jacket are CE Level 2 protectors as well.
These are effective at reducing impact force. Additionally, to add high abrasion protection in these crucial regions, they have enlarged aluminum racing plates next to the interchangeable sliders on the shoulders and elbows. Additionally, they have pockets for a G1 or G2 back protector and double Chest protection.
Two inner and exterior pockets are on either side of the Dainese SuperRace jacket. Then, to let people know what you're wearing when you blast past them, we have an embossed Dainese demon on the chest and all over the jacket. It boasts side air vents to keep you cool and an interior nano feel lining made of 3D bubble fabric for comfort. But you can always choose the Dainese Super Race perforated leather jacket if it is too warm.
Your aerodynamics benefit from it, and it truly completes the racing aesthetic. In addition to micro elastic and bi-elastic fabric technology for an enhanced range of movement, the wrist cuffs have elastic in them to provide a closer fit. It will improve our safety if you can connect your jacket to your pants to create an outfit resembling a racing suit if your pants also support this.
With its embossed speed demon and distinctive matt colors on the thermoformed chest pads, the jacket has a racing-inspired appearance.
Read Also: Dainese Estrema Air Jacket Review
Features:
Ergonomics and Comfort:
Large aerodynamic spoiler
Elasticated performance wrists construction
High-performance bottom construction
Jacket-pants fastening system
Lengthened back
Micro elastic 2.0
Neck comfort construction
Tri-axial elasticated system (optimized for jackets)
Waist adjustment
Air vents on the sides
Localized perforation
NanoFeel® liner with inserts in 3D Bubble air spaces fabric
Protection:
Composite CE level 2 armor on elbows
Pocket for Double Chest protector
Pocket for G1 & G2 back protector
Pro-Armor CE level 2 armor on shoulders
Seamless aluminum plates on elbows
Seamless Racing aluminum plates on shoulders
Other Features:
D-skin 2.0 full-grain cowhide leather
S1 bi-elastic fabric
2 inner pockets
2 outer pockets on the front
Embossed Speed Demon on chest
Integrated reflective inserts
prEN 17092 certified motorbike protective jacket
Replaceable Slider System 2.0: quickly releasable elbow slider
Seamless thermoformed soft inserts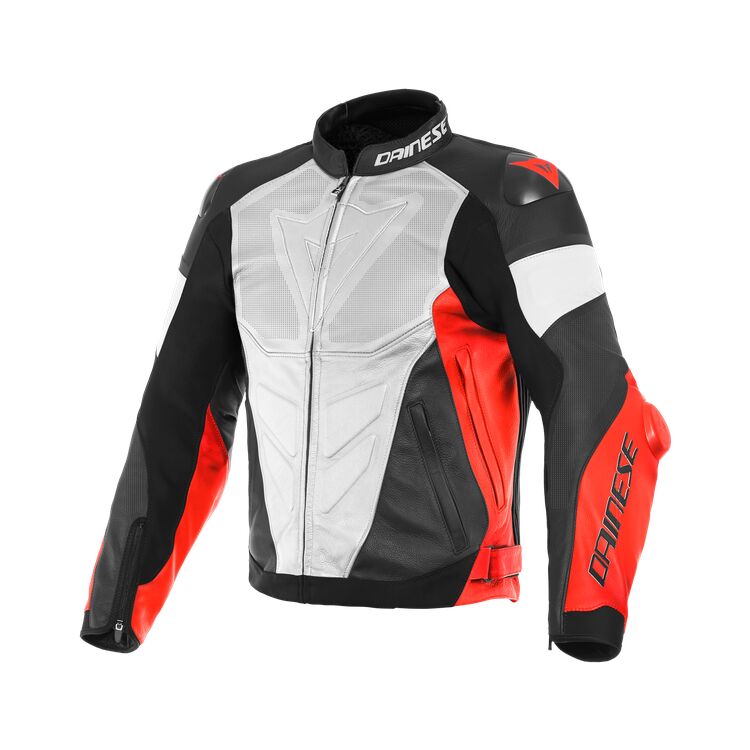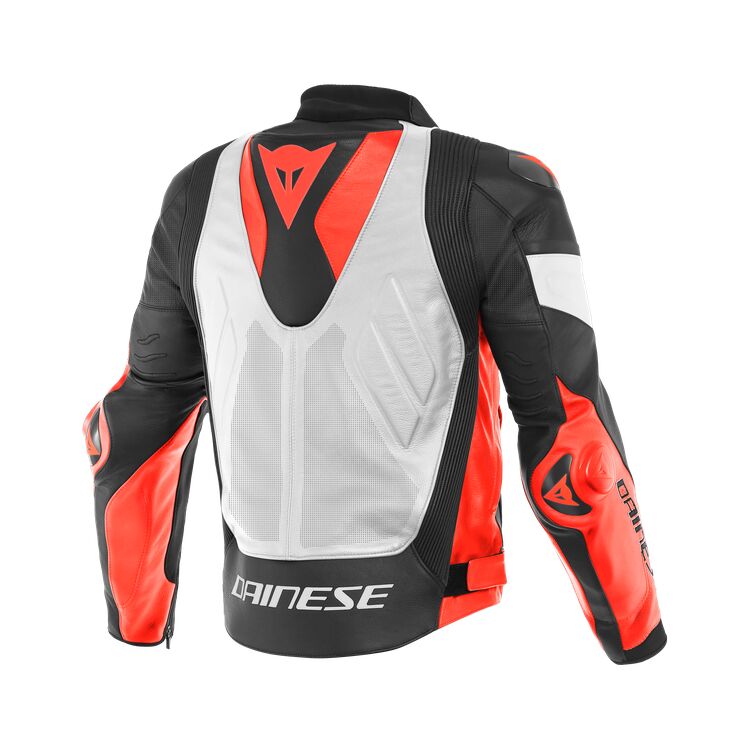 Conclusion
The Dainese Super Race Perforated Jacket again demonstrates Dainese's ability to be at the forefront of racing technology. Track days will be a pleasure because of the jacket's design, which combines the finest of everything, including comfort, aerodynamics, and safety. We hope you like our review of the Dainese Super Race jacket.
FAQs
How Good is This
Dainese Super Race Perforated Jacket?
The most advanced product from Dainese for racers both on and off the racetrack is the Dainese Super Race Jacket. Such impressive-sounding features as D-Skin 2.0 and Tri-Axial technology are present throughout this jacket.
What Protection is Used in This Jacket?
This jacket has CE-rated armor at the elbows and shoulders, adding impact protection. Pockets for chest and back protection allow you to upgrade by adding armor inserts.