The Jane Motorcycles 2.0 jacket, created by Jane Motorcycles in New York City, builds on the 1.0 model's success by adding a protective waxed canvas jacket that is suitable for use almost daily.
Jane Motorcycles is a Brooklyn-based custom motorcycle store. The brand's street style, safety equipment, and motorcycles have a fast-paced, tough, and heavily style-driven urban vibe.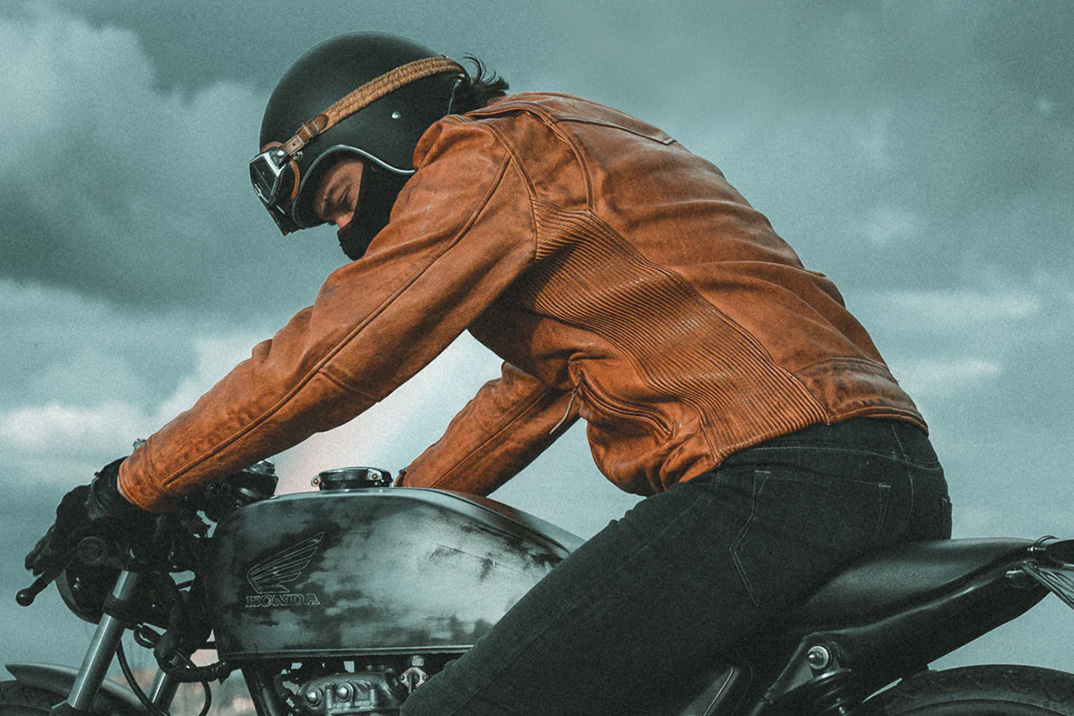 Look Also: Rynox jacket | motorcycle jackets in India
Jane Motorcycles Jacket Review
1. Jane Motorcycles 2.0 Jacket Design and Protection
A casual, three-season motorcycle jacket is the Driggs 2.0. Waterproof 8.5-ounce waxed cotton makes up the outer shell; olive green lightweight satin is the lining. Bedford cord provides a softer and more comfortable touch point than the semi-rigid outer shell along the collar, cuffs, and inside of the pockets. On the chest, there are two exterior snap pockets, two D-shaped hand pockets with concealed snap closures, and one interior pocket without a closure.
A zipped back protector pocket and a pocket for shoulder padding are both accessible from the inside of the jacket and can both hold padded armor. A zipper on the outside of the sleeve, close to the cuff, allows for the fast removal or replacement of elbow protectors.
The Driggs' pattern appears to be influenced by historical American workwear. It hints at Wrangler's iconic 124MJ denim jacket, but it has a more militaristic look thanks to elements like squared-off pocket flaps and the camouflage pattern.
Its motorcycle-specific aims are demonstrated by the snaps on all exterior pockets, the armor adaptation, and the collar closure. However, the caliber of the materials chosen and the general fit distinguish it as a stylish and dependable everyday item.
2. Fit
We discovered the Jane Motorcycles jacket fit to be almost perfect when it arrived. The shoulders are comfortable and don't limit my movement. A thermal layer can be worn underneath through the sleeves and body. Just a few inches below my belt in the front, the bottom hem of the jacket is longer in the back to fit a riding posture and prevent displaying underwear when leaning forward.
You can select where the jacket breaks while seated thanks to the two-way zipper, which prevents you from getting that weird stomach appearance from your thighs, forcing your jacket's midsection up and out.
3. Construction
After wearing this jacket frequently for the past five months, we can confidently declare that the construction is high caliber right off the rack. High-stress regions are strengthened with more stitching, but additional design elements like back gussets or an extra piece of cloth under the armpit serve to reduce any pulling or squeezing when wearing the jacket.
The waxed canvas has taken on my shape as it has broken in, becoming more comfortable and better fitting and looking. One of my favorite materials is waxed canvas because, with continued usage, it only becomes better.
4. Style
The Jane Motorcycles Driggs 2.0 looks good and fits well when just standing about. It fits well and protects my wrists on bikes like large touring models with an upright seating posture and bars that aren't too far away.
The sleeves' elbow-level padding still feels like it would provide adequate protection in a crash. For short people, having a "long" variety would be good. However, it would inevitably raise the price of production. It should fit you comfortably with proportionate arms and a more average body size.
Conclusion
Jane Motorcycles 2.0 Jacket offers a winning style, comfort, and safety combination. Its premium leather construction, tailored fit, and strategic ventilation ensure that riders stay protected and comfortable on their journeys.
With its practical features and timeless design, this jacket is a faithful companion for the modern motorcyclist. Whether you're a seasoned rider or just starting your motorcycle adventure, the Jane Motorcycles 2.0 Jacket is a top choice to enhance your riding experience.
FAQs
Is the Jane Motorcycles 2.0 Jacket suitable for all weather conditions?
The Jane Motorcycles 2.0 Jackets is designed to provide comfort in various weather conditions. It features strategic ventilation panels that promote airflow, keeping riders cool during warm weather. However, additional layers or waterproofing may be necessary for extreme cold or wet conditions.
Does the Jane Motorcycles 2.0 Jacket offer adequate protection?
Yes, the Jane Motorcycles 2.0 Jacket is designed with safety in mind. It comes equipped with CE-approved shoulder and elbow armor, providing impact protection in case of a fall or accident. The jacket also features a back protector pocket, allowing riders to insert additional armor for added protection.
Can I wear the Jane Motorcycles 2.0 Jacket off the bike?
Absolutely! The Jane Motorcycles 2.0 Jacket is not only functional but also stylish. Its timeless design and attention to detail make it a versatile option that can be worn on and off the bike. Whether you're riding or simply going about your daily activities, this jacket will make a fashion statement.
Are there enough storage options in the Jane Motorcycles 2.0 Jacket?
Yes, the Jane Motorcycles 2.0 Jacket offers ample storage space. It comes with multiple pockets, both inside and outside, allowing you to conveniently carry essentials such as keys, wallets, and smartphones. The pockets are strategically placed and designed for easy accessibility without compromising safety.
How does the Jane Motorcycles 2.0 Jacket fit?
The Jane Motorcycles 2.0 Jacket features a tailored fit that hugs the body without feeling restrictive. It is designed to allow for freedom of movement, ensuring that riders can easily maneuver their bikes without any hindrance. It is recommended to refer to the size chart provided by the manufacturer to choose the correct size for the best fit.