Motorcycle gear for adventure riding is a huge industry. It can be difficult to choose what you need and don't need because many different brands and types of adventure bike riding equipment are available. What do you need, then? This guide will assist you in making a choice, provide options, and offer excellent tips and advice for selecting the appropriate gear for your trip.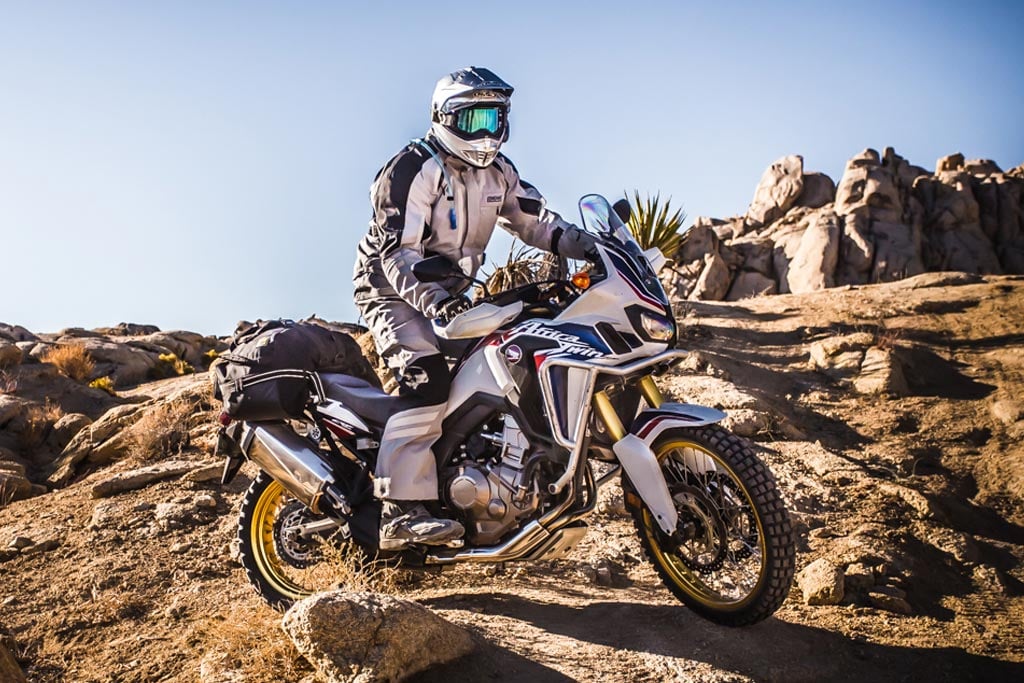 Read Also: All Season Tires vs Winter Tires
Adventure Motorcycle Riding Gear Guide
1. Helmet
No matter what kind of motorbike you ride, it goes without saying that you should always wear a high-quality helmet. When it comes to what you can wear on an adventure bike or even a dual-sport, the options are endless. It is one of the best gear for adventure riding.
Because they are lightweight, some people choose motocross helmets. Others choose more specialized adventure-focused helmets. Others still choose a hybrid street/ADV helmet.
Regardless matter whatever option you choose, there are key differences among all good adventure helmets:
Peaks: Visor peaks on ADV helmets are crucial for preventing eye strain and distraction from the sun's glare when it rises or falls. Also, they help prevent some debris and the roost of bikes in front from coming in your face.
Venting: ADV bike riding is challenging and stressful on the body. If you're biking through a hot climate, multiply the physicality. Seek helmets with the most ventilation possible. When the head and the mind get too hot, unpleasant things can happen. Therefore, you want as much ventilation as you can get. The vents might close in colder climates.
Goggle compatibility: Goggles are a better option than a visor for protecting your eyes from dirt and debris while allowing for plenty of airflows. Because of this, hybrid helmets often contain a visor that can be removed to make room for goggles.
Above all, select a comfortable helmet by trying on as many as you can. But even if a helmet has all the features in the world, it will be completely useless if your head doesn't fit it.
2. Boots
Boots are the next item on this list, moving from the top of your body down the bottom because foot and ankle protection is underestimated despite the wide range of possibilities. As a result, think about the type of riding you'll be performing.
Maximum covering and protection are required for hard-core riding, but more comfortable boots you can wear off the bike are better suited for tours with light off-road stretches. Eventually, there are a few important factors to consider, much like with helmets. It is among the best gear for adventure riding.
Ankle support: The ankles must be protected because they are one of the human body's most intricate joints. A high-quality boot will have internal and external ankle support; some might even include ankle bracing.
Waterproofness: Adventure rides are designed to take you through various terrain and weather conditions. It becomes highly likely that you will get your feet wet. Remember that your feet can also sweat from the inside. Hence, it's essential to wear waterproof boots with ventilation to keep your feet comfortable and dry. Although Gore-Tex membranes are the most popular option, there are other choices.
Comfort: A comfy boot offers the best protection, like helmets. But, you must balance comfort with the level of protection necessary for your journey.
3. Jacket & Pant
Your top and lower body can be covered in a variety of ways. Although a dedicated suit has its place for overall covering, a different jacket and pant set are good for versatility. They both have benefits and drawbacks.
As you've probably already realized, your choice depends on the riding you're doing and the weather you'll encounter. You would choose something lighter and more breathable if you knew it would be hot and dry.
Waterproofness: You can never predict what the weather will bring. Having a waterproof layer inside your jacket or pants, a membrane built into them, or even a rain poncho to wear over your gear will be quite useful. Yet, non-waterproof gear will be lighter and more breathable if you're confident water won't be an issue.
Ventilation: The ability of a garment to restrict the amount of air entering goes hand in hand with that of the garment to absorb water. Depending on the riding conditions, adding layers may or may not have the desired effect because it reduces the garment's airflow. Select carefully.
Pockets: Having a lot of things is necessary for an adventure. The better, the more pockets you can have. It is particularly true if your gear will be exposed to both weather extremes. Several jackets feature specific pockets that are perfect for storing layers when not in use when you need to lie down for hot weather.
4. Gloves
It's essential that you cover your hands. Purchasing many pairs of gloves is a wise move because of the weather conditions you can encounter.
It is sufficient to have one pair of summer gloves and one pair of winter gloves, and the great part is that summer gloves are usually inexpensive. What to look for includes the following:
Knuckle protection: Gloves must feature some sort of knuckle protection, at the very least. Adding more armor to the palm and scaphoid is great but not necessary.
Touchscreen compatible: If you have many devices, you will inevitably touch displays while riding. Gloves operating on touchscreens are a practical substitute for removing your gloves whenever you need to access your GPS. It won't be as essential if you travel lightly and have maps.
Material and weather compatibility: Keep your hands dry if you've chosen to go completely waterproof with your jacket, pants, and boots. If you ride in cool and damp circumstances, waterproof gloves could save your life. On the other hand, transparent summer gloves will allow the most airflow.
Conclusion
It should go without saying that having the appropriate gear is essential for your safety on an adventure ride. This list is a wonderful place to start when selecting motorcycle gear for adventure riding, but consider the riding environment and any special needs you may have.
FAQ's
What is adventure riding?
Adventure riding refers to the practice of riding motorcycles on long, off-road journeys that typically involve exploring new and remote areas. It is often characterized by rugged terrain, variable weather conditions, and extended periods of time on the bike.
Why is it important to wear protective gear when adventure riding?
Adventure riding can be dangerous, as riders are often exposed to a variety of hazards including rough terrain, extreme weather conditions, and other environmental factors. Wearing appropriate protective gear is essential to help reduce the risk of injury or harm.
What features should I look for in adventure riding gear?
Adventure riding gear should be designed with durability, protection, and functionality in mind. Look for gear that is made from high-quality materials, provides adequate ventilation and moisture-wicking properties, and is designed to withstand the rigors of off-road riding.
Is it necessary to wear body armor when adventure riding?
While it is not strictly necessary to wear body armor when adventure riding, it is highly recommended. Body armor can provide added protection for your chest, back, shoulders, and elbows in the event of a fall or crash. Look for armor that is CE certified and designed to provide maximum protection without impeding your mobility.