It's crucial to prepare all the necessary motorcycle gear for touring and accessories to keep you safe and assist you in case of crises while planning a long trip riding. It is almost impossible to predict which area of your body might be hurt in an accident, making it necessary to equip yourself with all the necessary riding gear.
You must be prepared for unpredictable situations, such as harsh climate conditions, tire punctures, difficult terrain sections, etc., to fully take delight in making such a trip.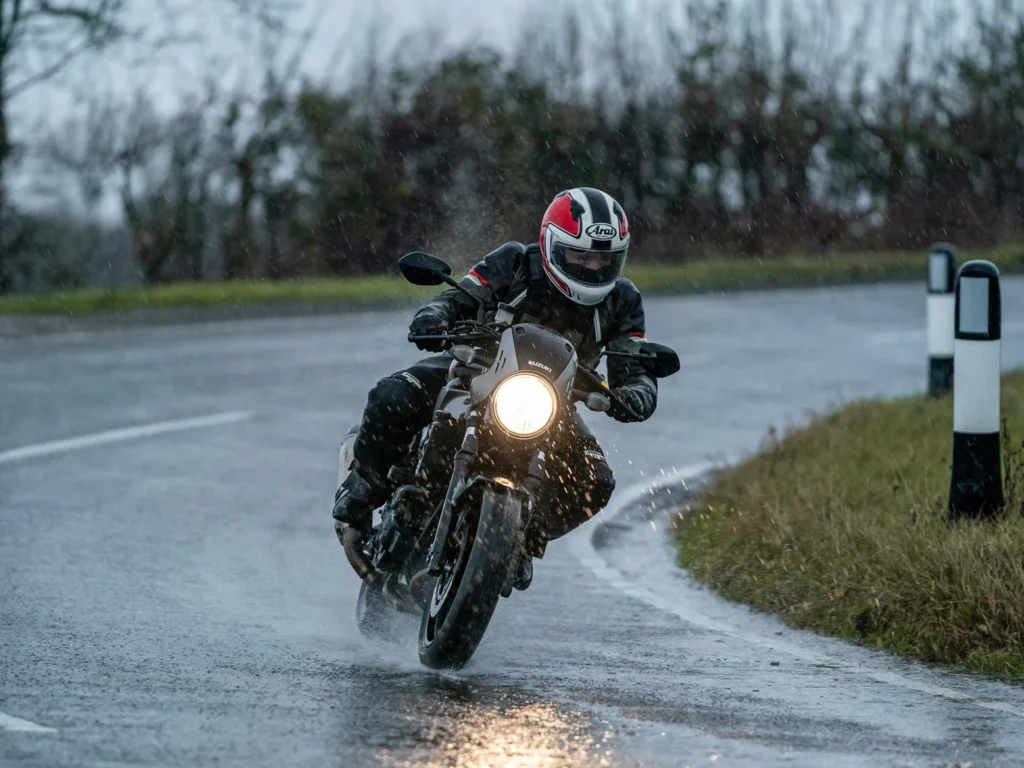 Look Also: Royal Enfield Himalayan Features
Most Important Riding Gear for Long Distance Trips
1. Helmet
It cannot be emphasized enough that wearing a helmet is necessary motorcycle gear for touring. Make sure you have a comfortable helmet, especially for a long journey. It could be a dual sport, full-face, modular, open-face, or another type of helmet. Because these helmets are ECE, DOT, or SNELL certified, the best possible protection is always provided.
It is advised to wear a balaclava because you will be wearing the helmet for a prolonged period, protecting your hair from harm. Have a visor cleaning solution on hand as a backup to ensure excellent visibility.
2. Riding Jacket
This list's riding jacket is a crucial component. Your upper body is protected, particularly your chest, back, shoulders, and elbows. A good bike jacket will go a long way toward making your ride comfortable in poor weather. When it rains, a waterproof riding jacket will serve as an overcoat and keep you dry.
Some even have thermal liners that aid in heat retention in cold weather. The majority of jackets come with shoulder and elbow guards to prevent injuries in the event of a crash. You can use the back and chest protectors on the jacket to increase protection.
3. Riding Pants
Riding pants are crucial when deciding to go on a ride for days at a time. Normal denim jeans are not practical for longer rides and won't shield you from injury. The most susceptible areas, such as the knee and hip, are protected in riding pants like jackets.
Several of these pants feature a removable thermal lining that can be used in cold weather. Also, they include additional waterproof characteristics that keep you dry and cozy throughout rainy seasons.
4. Riding Gloves
The palms, fingers, and knuckles of the hands, the most delicate and lightweight part of the body, are typically the parts that sustain significant injuries during an impact. Riding gloves are necessary motorcycle gear for long trips since they completely enclose the hand. To provide the best protection, bike gloves contain palm sliders and knuckle protectors. An excellent riding glove is robust and built of materials that resist abrasion for a firm grip.
Some of them assist you in inclement weather conditions by having waterproof qualities. Half-gauntlet or full-gauntlet versions of these gloves are available in both leather and textile. You can use your smartphone for GPS with some gloves because they are touch-compatible.
5. Riding Boots
It is not practical to ride a bike for long distances in your regular shoes or sneakers, and if you do, you risk exposing your feet and ankles to serious injury. It is why wearing riding boots on extended rides is crucial. They shield you from dirt and debris while offering excellent protection to your ankles, feet, and toes during impacts.
You can improve your efficiency by maintaining your bike balance for a longer time with a robust riding boot. Also, they offer adequate ankle support to stop your feet from slipping.
6. Riding Bags
A riding bag can be useful in these situations because you can't bring your suitcase when you go on a long journey to a distant location. You can use a saddle bag, tail bag, tank bag, or side bag, depending on how comfortable, practical, and complete your requirements are.
It's usually a good idea to travel light. Invest in a reliable, waterproof riding bag that can withstand extreme weather. A bag cover will also work. Ensure you have a hydration pack with you because you must stay hydrated on a long journey to avoid exhaustion.
7. Bluetooth System
Consider adding a Bluetooth communication device to your helmet as an add-on to improve your driving experience. A helmet with Bluetooth integration has its own benefits. Without having to stop, the travel will be more enjoyable, and the entertainment system will make the trip more engaging.
Finally, and maybe most crucially, maintaining motivation is essential. Although the journey you have chosen may be long and exhausting, you must persevere to get there. You should prioritize experiencing the ride above the final destination because that is what riding is all about.
Conclusion
Motorcycle gear for touring is required to enhance the rider's comfort and safety on longer rides. The correct equipment will shield the biker from potential dangers, including bad weather, debris on the road, and collisions while ensuring their comfort and support over long hours of riding. Riders should consider several elements while choosing their touring gear, including the weather, durability, and visibility.
FAQs
What kind of gear should I wear for motorcycle touring?
Regarding touring, riders should consider wearing a full-face helmet, riding jacket, riding pants, gloves, and riding boots. It's also important to have additional layers for varying weather conditions.
What are the benefits of wearing gear specifically designed for touring?
Touring gear is designed to provide additional comfort and support for the rider during long-distance rides. The gear is often made with durable materials to withstand prolonged use and protects against wind, rain, and other weather conditions.
What should I look for when selecting touring gear?
Riders should look for gear that is comfortable, durable, and designed for the specific needs of touring. Consider weather conditions, visibility, and protection against potential hazards.
How do I ensure a proper fit for my touring gear?
It's important to try on gear before purchasing to ensure a proper fit. When trying on gear, sit on a motorcycle and assume a riding position to ensure the gear fits properly and allows for a full range of motion.