If you're a true motorcycle fan and want to document your riding experience, you'll need high-quality motorcycle helmet cameras. Clamps or sticky mounts can connect action cameras to various objects and places. For example, you can mount the camera on your helmet but use sticky pads to mount it directly to your motorcycle.

In this blog, I'll show you some of the 10 best motorcycle helmet cameras, that are small and simple to operate.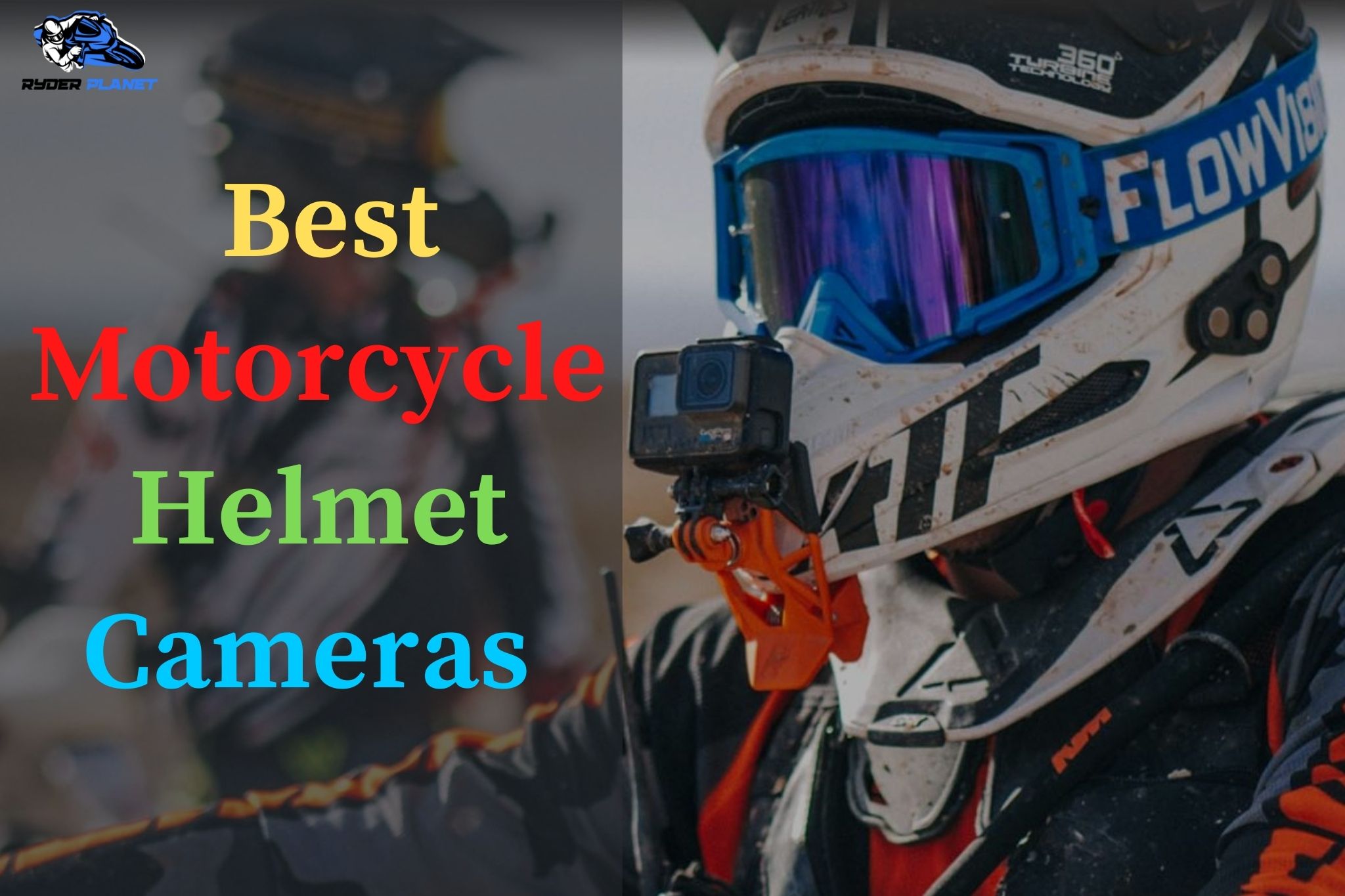 Besides that, you may use the camera for various sports or entertainment activities such as hiking, cycling, surfing, skiing, or snowboarding. They may also be placed inside waterproof covers to protect them from rain and stones, and they can even be submerged in water.

Even with your motorbike gloves on, you can effortlessly use the cameras, thanks to their unusually big buttons. It combines to make them the ideal companion for your motorbike journeys. So, whether you want high-quality video of your riding experience or if you want to establish a motorcycle vlogging channel, you should certainly look into these cameras!
1. GOPRO HERO 10 – Best Motorcycle Helmet Camera Ever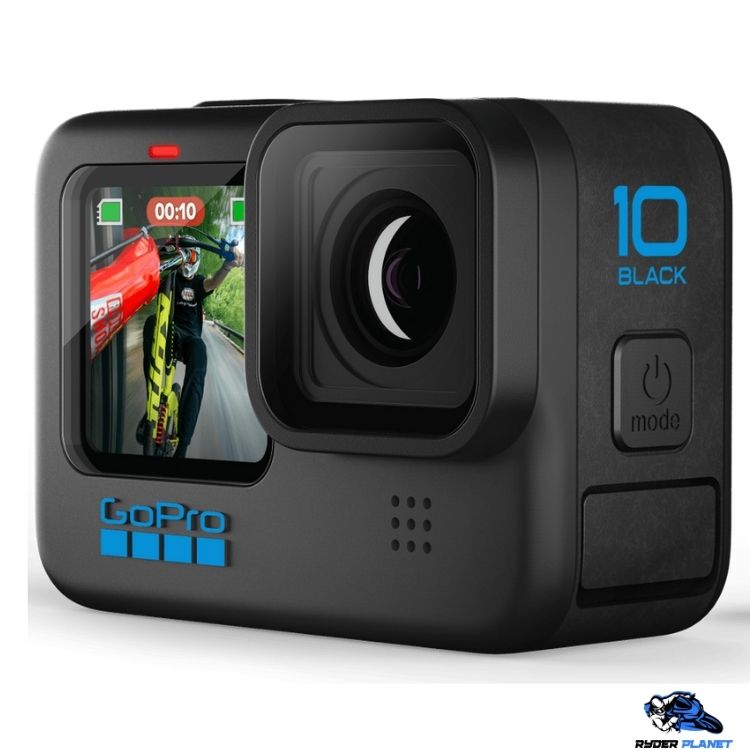 SPECIFICATIONS:
Video: 5.3K/60FPS, 4K/120FPS, 2.7K/240p
Stills: 23MP
Screen: 2.27″ LCD rear + 1.4″ front Color LCD
Waterproof: 10m
Voice control: Yes
Image stabilization: HyperSmooth 4.0
GPS: Yes
REASONS TO BUY:
Speedy and slick thanks to a new processor
Higher resolution and framerate than H9
Water-repelling lens cover
Horizon leveling up to 45-degree tilt
REASONS TO AVOID:
A most expensive option
The battery can struggle to keep up
While it doesn't make much of a difference from its predecessor, the GoPro Hero 10 Black runs fast, friendly and sophisticated. This is the most used camera in the world today that's why we put this camera in the best motorcycle helmet cameras article. Significant improvements come in the form of new GP2 tile configurations that enable new frame rates, slower speeds, higher image quality, and better image quality. However, battery life is an area that has not yet been fully improved.
Check the Latest Price on GoPro | Amazon
2. SJCAM SJ10 Pro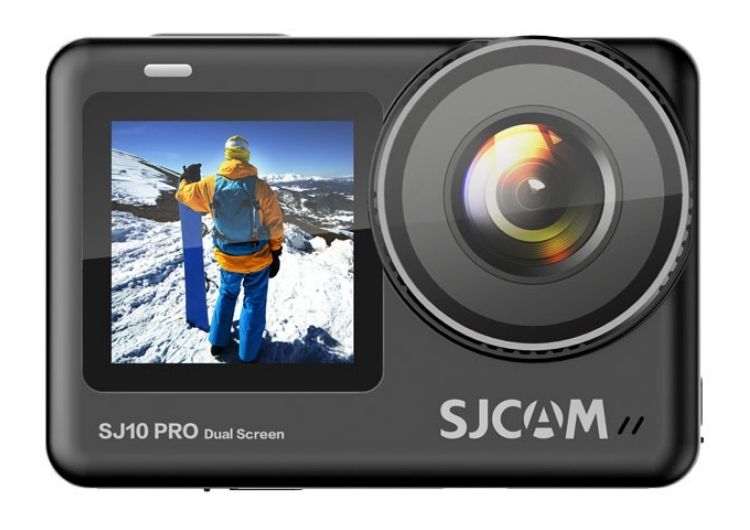 SPECIFICATIONS:
Video Resolution: 1080P ( 1920 x 1080 )
Chipset: Ambarella H22
Screen: Dual Screen, Screen size: 2.33 inch
Waterproof: 5m
Battery Capacity (mAh): 1200
Sony IMX377
Photos:

12 MP

Battery Capacity: 1300 mAh
Memory: Micro SD card (up to 128 GB)
Dual Stereo Microphones
UHD IPS 2.33" Touchscreen
SuperSmooth Image Stabilization
7-Layer Glass with 2 aspherical glass lenses
WiFi 2.4 GHz / 5 GHz
If you are someone who enjoys capturing every moment of your motorcycle ride, including underwater sports, then this is for you. special SJCam SJ 10 pro is the best budget 4K camera action that ensures good camera quality. If you're passionate about photography and video, it's time to get your hands on these tools. With great photos, you can repeat them every time you take a picture.
Check the Latest Price on Sjcam| Amazon
3. DJI Action 2
SPECIFICATIONS:
1/1.7″ CMOS sensor
F2.8 lens with a 155º FOV
Video: 4K/120p (16:9, 3840×2160), 4K/60p (4:3, 4096×3072), 2.7K/120p (16:9, 2688×1512), 2.7K/60p (4:3, 2688×2016), 1080/240p
12MP photo (Raw or JPEG, but not at the same time)
4x digital zoom with HorizonSteady off, 2x digital zoom with HorizonSteady on
32 GB of internal memory
micro SD card slot on the front-facing camera and battery pack modules
1.76″ OLED touchscreen
One built-in microphone (increases to three when paired with the front-facing camera module)
Electronic image stabilization up to 60fps
Waterproof down to 10m (33 ft.) without a case, down to 60m with a case
Built-in Wi-Fi and Bluetooth
REASONS TO BUY:
Tiny, go-anywhere form factor
Magnetic mount and snap-on accessories
Effective digital stabilization
Up to 4K120 video
12MP photos
Waterproof to 33 feet
Works as a webcam
REASONS TO AVOID:
The front screen option pushes price high
Overheating is a concern
No card slot or charging port on the main camera module
The front screen and battery aren't waterproof
DJI is taking another swing in the camera market with the Action 2 ($399 and up), since the Osmo is as beautiful as a GoPro clone, The Action 2 checks out its shape. The camera itself is square, with the lens on the front and the screen on the back, and uses strong magnets to attach accessories and devices. It's a cute camera that accentuates the cover design, but it's not without its flaws, as it emits enough heat to limit use to long-term use and it's easy to think it's missing one of the little things. We continue to praise the GoPro Hero10 Black as the developer's pick winner, but the Action 2 is unique, capable of change.
Check the Latest Price on Dji| Amazon
4. Insta360 One RS
SPECIFICATIONS:
4K boost lens
5.7K 360 lens
48MP sensor
Upgraded core and processor
FlowState stabilization
Crisp audio with three microphones, an updated algorithm, and a windproof mic cover
Battery with 21% more capacity
Waterproof to 16 feet
Mobile editing suite
New accessories include a quick reader and mounting bracket
REASONS TO BUY:
Compact design
Swappable lens modules
Waterproof to 16 feet
Stabilized 4K60 and 5.7K 360 video
HDR available at 4K30
2:35 wide-screen mode
Mobile and desktop app support
REASONS TO AVOID:
In-camera mics disappoint outdoors
Modular design can get in the way
Small touch LCD
The battery only good for 75 minutes of 4K
Heat can limit long-form recordings
The Insta360 One RS looks like a GoPro-like working camera, but with multiple cameras. For those unfamiliar with the Insta360, the company specializes in out-of-the-box cameras. As the name suggests, the Insta360 looks like a One X2 with a 360-degree camera. He also has a small camera, Go 2. And then there is the RS.
Like its predecessor, the One R, it has a removable battery underneath and then divides the housing into two parts: the camera unit and the main unit. The camera units can be changed quickly, the values ​​change to other functions and capabilities.
In addition to the One RS, the Insta360 also introduces an updated wide-angle 4K Boost lens and a new Core unit. There is also a new, larger package and an improved mounting bracket. Owners can take out their old camera with a new Core and charge it with a new battery and stand up. However, because the One R battery pack is smaller, it is not compatible with the One RS Bracket. Motorcycle Helmet Cameras
Check the Latest Price on Insta360 | Amazon
5. Sena 50C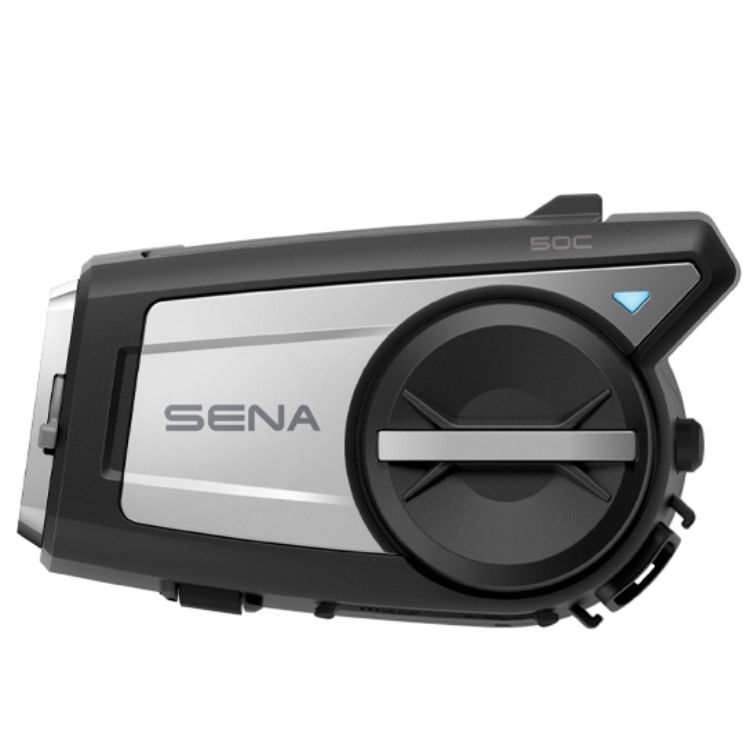 SPECIFICATIONS:
Working distance: within 15 meters
Mesh Intercom Technology

Bluetooth Intercom: up to 1.6 kilometers (1.0 mile) in open terrain

Mesh Intercom: up to 2 km (1.2 miles)* in open terrain

Advanced Audio Distribution Profile (A2DP)

Noise Cancellation: Advanced Noise Control™

Field of view: 120 degrees

HD Voice-enabled for high-quality phone call audio
Premium Speakers & Microphone with SOUND BY Harman Kardon
The long-awaited data communication camera, Sena 50C, has arrived. It is in the top 50 series of Sena. Sena's latest mesh in Bluetooth connectivity technology, as well as a 4K camera, comes in 50C. From the new sound of Harman Kardon speakers and 50C speakers. You can expect to have a good voice and a second-hand experience.
Check the Latest Price on Sena| Revzilla
6. AKASO Brave 8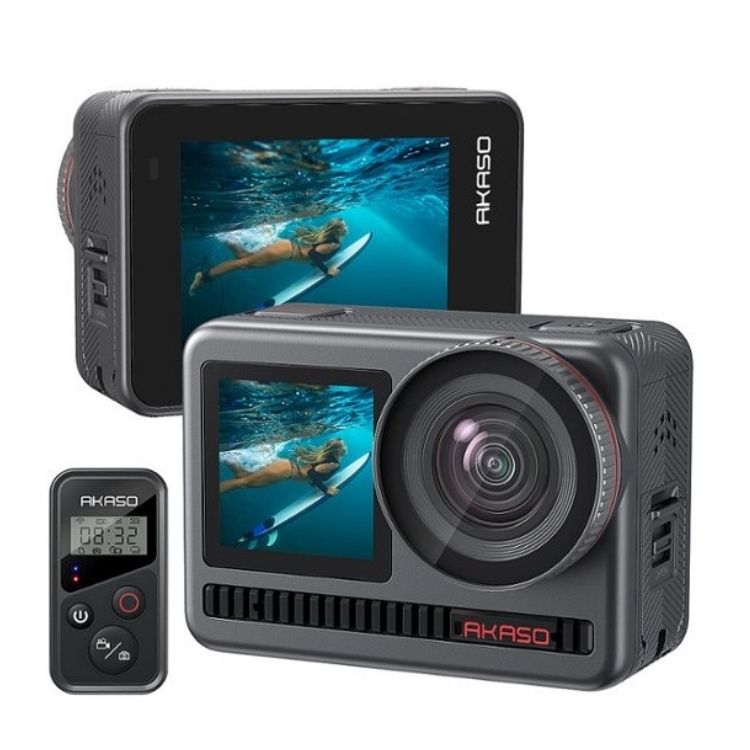 SPECIFICATIONS:
Camera Sensor – 48MP, 1/2" CMOS
Camera Lens – Equiv. 16mm f / 2.5
Video Formats – H.264 / H.265
Battery – 1550 mAh
Photo Formats – JPEG, JPEG+RAW
Waterproof – Yes, Up to 33ft
Storage – microSD up to 512GB
REASONS TO BUY:
Build quality is awesome
Looks quite classy
The voice control feature is good
Video modes are exceptional
Certain features like the slow-mo are pretty much more stable than the previous versions
Includes every bit of accessories an adventure traveler needs
REASONS TO AVOID:
Unusually buggy software
Not really suitable for the pros
No Pro mode.
Lack of 24FPS.
occasional the device gets unresponsive due to the outdated software
This Brave 8 motorcycle helmet cameras are affordable and great for riders. Very good in terms of price and good design. But there are small flaws that can affect your beauty.
Here they claim that the software is corrupt and the app has closed the user interface. The software is so bright that sometimes the screen crashes. Compared to the older software running on the Brave 8, my impression is that your data is lower, the HP Brave 7 is a better alternative, about $100 less, but not quite as good.
Check the Latest Price on Akasotech
7. Xiaomi Mijia 4K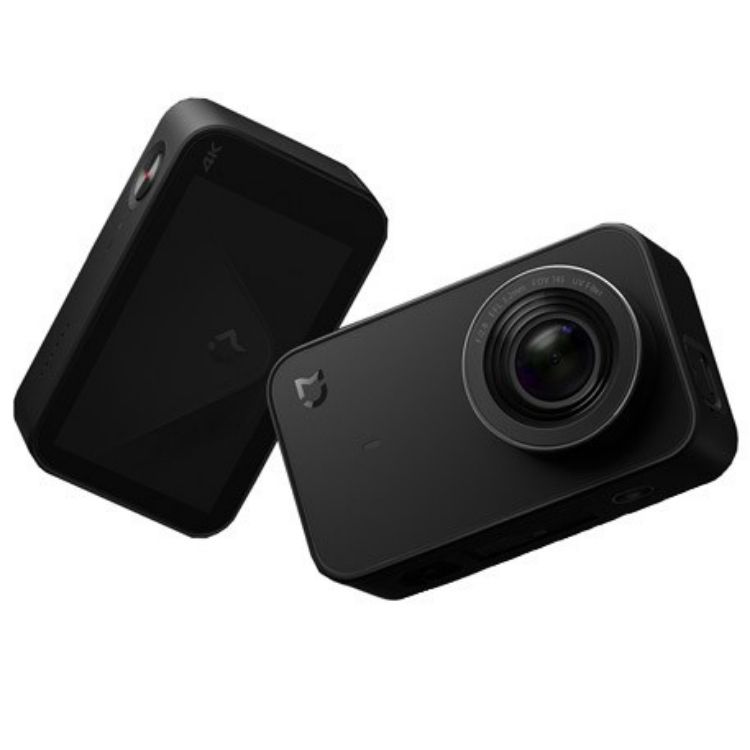 SPECIFICATIONS:
Screen Size – 2.4 Inches
Dimensions – 2.81 (L) x 1.68 (W) x 1.16 (L)
Weight – 99g
Video Resolution – 1080p (60fps), 4K (3840 X 2160)
Still Image Resolution – 3840 x 2160 (8.3MP)
Lens Angle – 145 degrees (fisheye) f/8.2 aperture
Waterproofing – NO
Features – 6 Axis Stabilization, Slow Motion, Burst, Timer, Loop Record, Time Lapse,
Colors Available – Black
Battery Capacity – 1450mAh (Removable)
Working Time – Around 2 hours
Processor? – Ambarella A12S75
Materials – Plastic
REASONS TO BUY:
Native video at 4K at 30fps
Lightweight camera
2.4 "touch screen
Decent low light recording
Pretty good battery life
Good Value for Money
REASONS TO AVOID:
Does not include case
Needs a case for underwater
Does not allow external micro
Low-quality stabilization
Xiaomi Mijia 4K motorcycle helmet cameras is a medium-sized cameras with high-quality photos and videos. It can record up to 4K resolution and up to 200 fps for slower performance, with many advantages.
The price of the Xiaomi Mijia 4K is the best factor, but it has some drawbacks, the stability could also be better, but if you are willing to leave a little more and buy a Cardan shaft, that should not be a problem. It also does not have a waterproof material, which means that it is not water-repellent, so if you want to go underwater with it, you need to buy a holster.