Cortech's Apex V1 Race Suit continues the company's tradition of providing high-quality performance at a reasonable price. Abrasion-resistant stretch zones are added to the inner arm, upper body, and abdomen, complementing the tough cowhide structure. The suit's chest, arms, and legs have a lot of perforation. Read here to know more about Cortech Apex V1 Race Suit.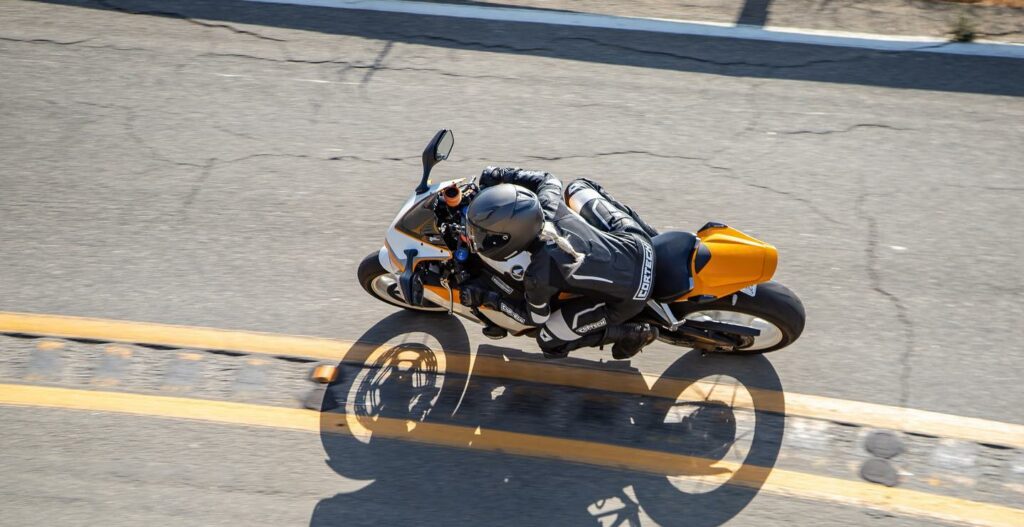 Cortech Apex V1 Race Suit Review: Product Details and Quality
The suit's 3D mesh lining is supplemented with opposing perforated panels in the back, which help to exhaust body heat and sweat. At this pricing point, hard sliders at the shoulders and elbows are exceptionally unusual, replicating the design and utility of top-tier race suits. Shoulders, elbows, and knees all provide impact protection.
Exterior knee sliders are featured, and they work in conjunction with a huge hook and loop connection panel to provide optimal flexibility. The best Apex V1 Race Suit contains a pocket for an optional back protector insert or may be worn alone with a harness type back protective system.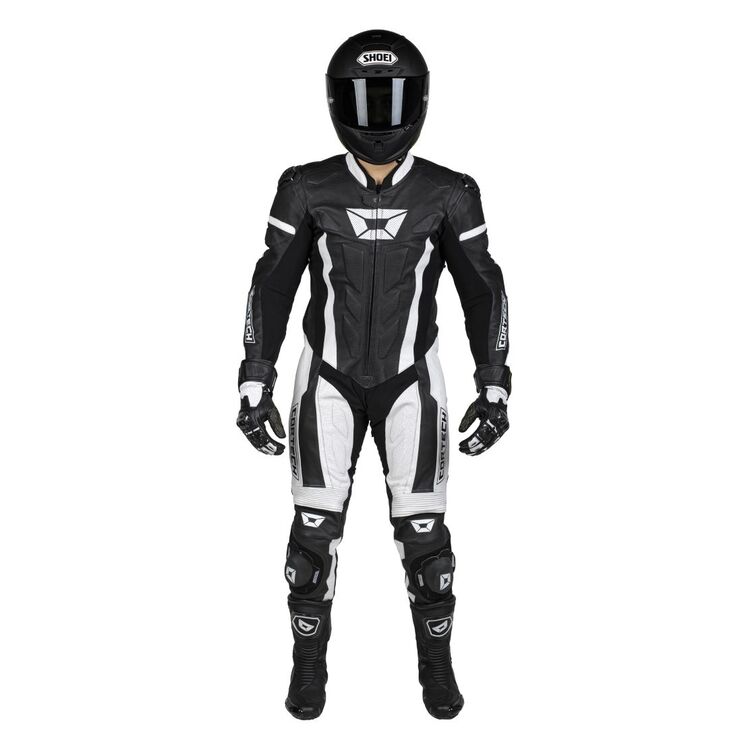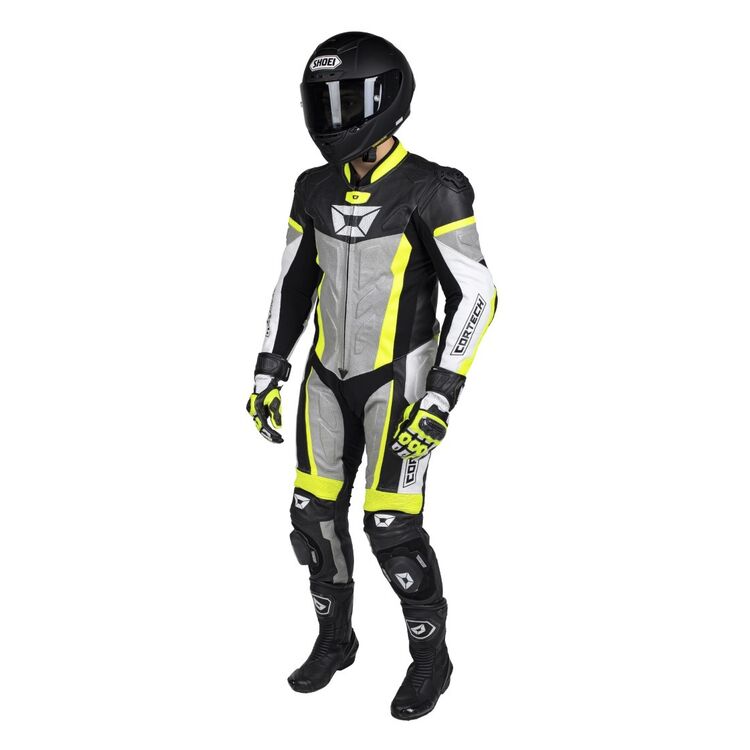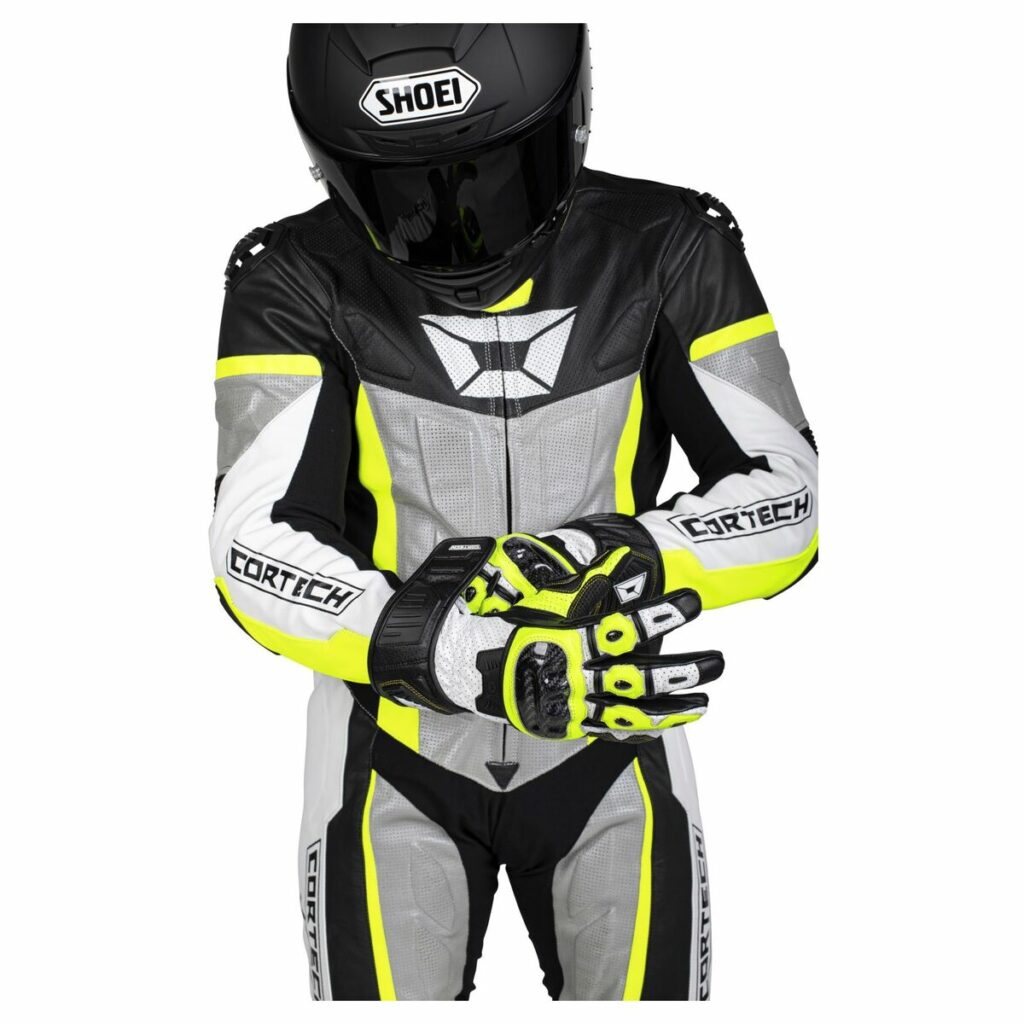 Read Also: Dainese Misano 2 D-Air Perforated Race Suit Review
Features:-
Cowhide leather construction
Sport fit with pre-curved arms and legs
Perforated leather zones at the chest, arms and legs
Neoprene rolled collar
Auto-locking zippered cuffs
Hard TPU sliders at shoulders and elbows
Reflective inserts on the front, back and arms
CE approved shoulder and elbow armour
YKK zippers
Fixed mesh liner with stretch Lycra gussets
Reflective detailing
Height adjustable CE approved impact armour at knees
Pockets for optional hip armour (sold separately)
Included removable knee sliders
Zippered leg openings
Expansion panels at calves
Our Opinion On Cortech Apex V1 Race Suit
When it comes to sport/track leathers under $400, this may be the only track-specific leather jacket (with matching pant option) for both men and women at this budget. Track-ready leather at $300 is practically unheard of, and it instantly adds to the Cortech Apex V1 jacket's remarkable value.
In the shoulders and elbows, CE Level 1 impact protection is adequate. However, the back protector is omitted and must be purchased individually. In impact zones, hard TPU on shoulders and elbows encourages a slide rather than a tumble or ripping of materials.
In the event of a slide, a comprehensive zipper attaching to pants provides 360-degree torso protection and is even mandated at most tracks. The Cortech Apex V1 is the most excellent bargain for a track-level leather jacket at $299 (before the optional back protection).
Read Also: Revit Spitfire Race Suit Review
Conclusion – Cortech Apex V1 Racing Suit
Cortech is putting its impact on the Apex V1 event again, with fantastic success. The inner arms, upper body, and abdomen have a persistent elastic region thanks to a robust cowhide structure.
Perforation in the chest, arms, and legs is standard in suits. Perforated panels in the rear are contrasted, and the Cortech Apex V1 Racing Suit has a 3D mesh lining that can drain heat and exhaust body moisture.
Check Latest Price & Features:
FAQs
Is Cortech Good Brand?
Cortech is a good brand allowing you to relax and enjoy the trip whether you're on track, on the trail, or on your way to work.
What protection is used in this suit?
Height adjustable CE approved impact armour at knees and CE approved shoulder and elbow armour.
How good is Cortech Apex V1 Racing Suit?
This suit has Sport-fit with rotated sleeves, pre-curved arms and legs, and Perforated front, back, legs, and arms.