The Rukka Roughroad Adventure Riding Suit is an adventure jacket designed for on- and off-road usage. It combines the weather adaptability of Gore-Tex and Outlasts with the durability of Cordura.
Long 2-way zips at the chest, shoulders, and sides of the 500D Cordura outer shell provide excellent ventilation even at slow trail speeds, and this is especially true when the Gore-Tex drop liner is not present. The Outlast temperature regulation material keeps you pleasant at various temperatures when the detachable waterproof layer is inserted. Let's start today's post.
Rukka Roughroad Adventure Riding Suit Details 
This suit has a removable Gore-Tex stretch storm collar that fully encloses your neck and a snap-in Gore-Tex inner lining with Outlast technology. This material regulates body temperature by absorbing and releasing heat through thermocules.
Other high-end features include a tough 500D Cordura shell with double safety stitched lining, an AirCushion in the seating area that is said to reduce moisture buildup and help regulate temperature, CE Level-1 D3O armor in the shoulders, knees, elbows, and hips, a CE Level-2 D3O back protector, leather along the inner legs, so your pants don't melt on hot exhaust, and a total of 13 pockets, including a few waterproof pockets.
Various changes are available to enhance fit, including suspenders for the pants, a Velcro/elastic jacket waistline, and tension snaps to keep elbow pads in place. To further improve flexibility without adding bulk, the suit has numerous stretch panels throughout the inner thighs, back of the knee, lower back, shoulders, and arms. The Roughroad features vents on the shoulders, chest, thighs, and along the jacket's sides.
Read Also: Top 10 Best Motorcycle Racing Suits Review
How This Rukka Roughroad Adventure Riding Suit is Performed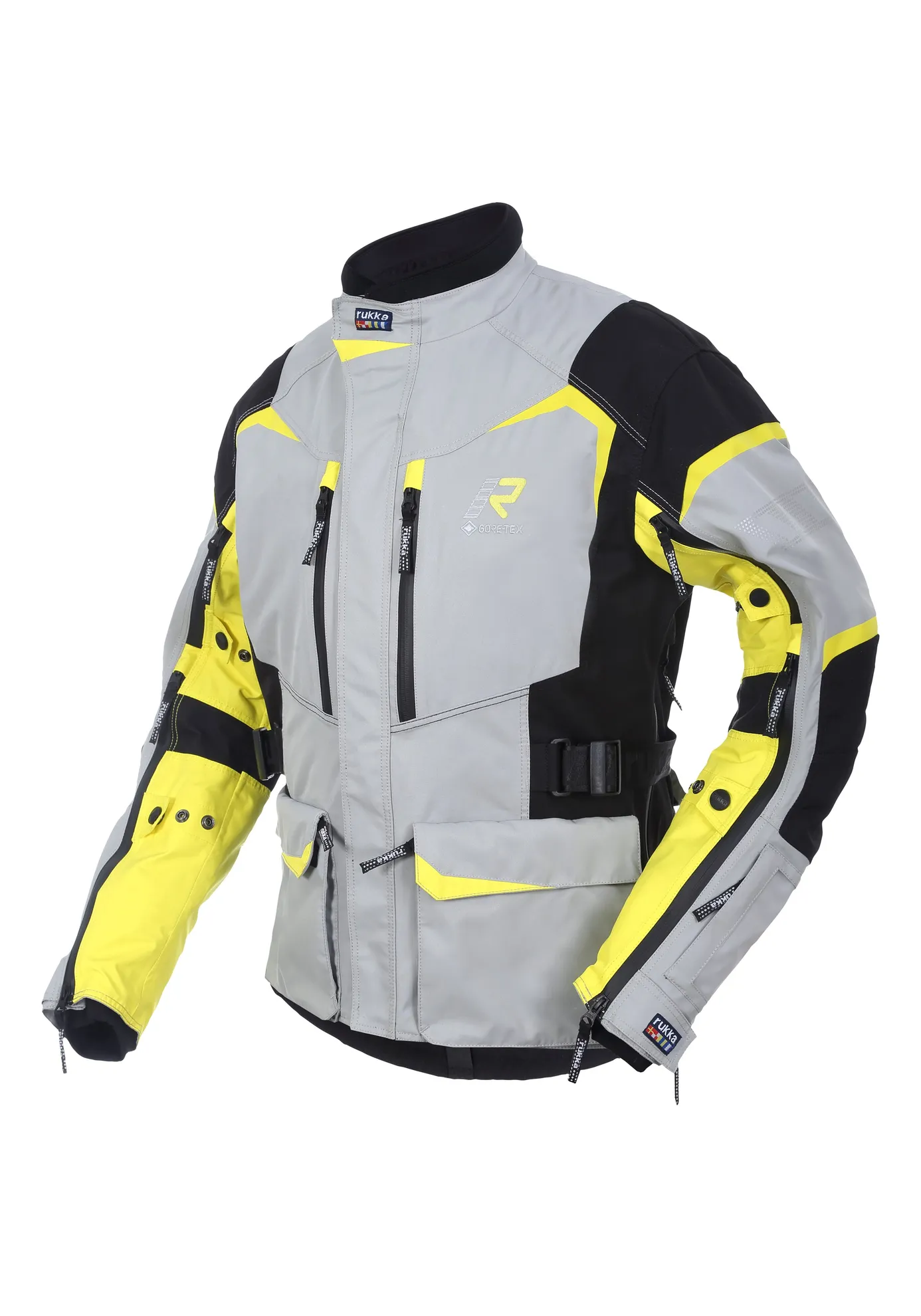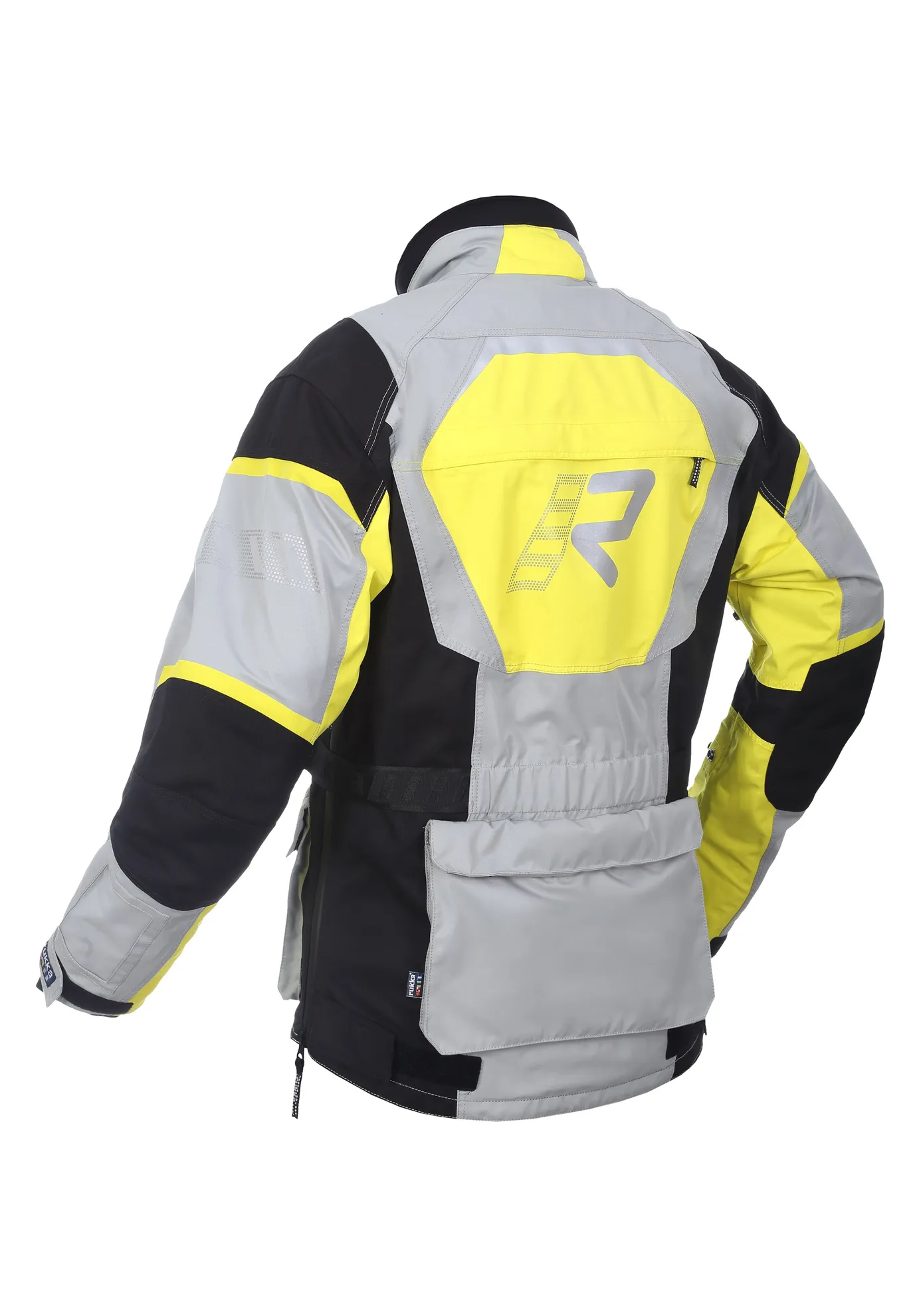 The Rukka Rough road felt large without being baggy as we went into it for the first time. It was nonintrusive to move around, thanks to stretch panels around the joints. However, even with the Velcro belt modifications at their maximum, the pants sagged more than we'd like without the suspenders. The regular-length pants fit well with my 33.5-inch inseam and were comfortable at the waist when suspenders were used.
One more thing we noticed right away was the collar, which was among the most comfortable we've ever worn. With the Storm Collar connected, you can prevent having wet or wind chafing on your neck because the Neoprene material delivers an airtight fit that doesn't catch on a scruffy neck. Additionally simple to shut or open with gloved hands is a Velcro collar strap.
However, riding in warmer weather revealed some restrictions. Limited airflow is provided by the modest vents on the shoulders and thighs. Additionally, there are pockets on the chest that function primarily as pockets despite offering a little bit of ventilation. The jacket lacks either thigh exhaust vents or back vents, which would aid the suit's air circulation.
Even so, we liked the gaiter-free pant legs' long boot zippers, which you can unzip to knee height for increased airflow while keeping the bottoms fastened with a Velcro strap. Tall off-road boots fit without difficulty in the leg holes as well.
Although this suit wasn't intended for hot desert riding, it was reasonably comfortable with the liners out. The fabric is breathable and, as a bonus, features a velvet-like lining in the joint places to prevent chafing. For such extended rides, Rukka's AirCushion technology additionally provided plushness in the seating area.
Despite the Outlast thermo-regulating material, the suit is too warm to wear on a hot day with liners. When putting on and taking off the clothing, the liners also tend to grab and tug on the snaps holding them in place. For a secure fit, we would have liked circumferential zippers for the hand and leg openings.
The Velcro clasp on the jacket neck was a bit of an additional annoyance. It's pretty comfy when closed, but when you open it up, the way the extra strap material is constrained wasn't properly thought out, so it keeps flying around in the wind.
The Rukka Roughroad fits perfectly for winter circumstances and, when the suspenders are placed, even somewhat like ski gear. Thanks to the Outlast, it proved to be reasonably warm and waterproof even without a thermal base layer.
The Gore-Tex/Outlast liner kept me warm and dry when we rode around in a chilly downpour for about an hour or so. Better yet, the water-repellent Cordura shell resisted filling up with moisture. Yes, the Storm Collar came in handy as it started to rain.
The huge D3O pads that are supplied offer a lot of elbow, forearm, knee, and shin protection. We valued the CE Level-2 back protector that was provided. Additionally, because D3O is a molecular armor, its protection rises when it hits. The knee armor sat a little low on the knees since we could not adjust the knee pads' height using either of the two accessible adjustment options.
We had the mistake of hitting my partially covered knee in one large get-off, where the padding was missing, which caused me to become swollen and bruised for a few weeks.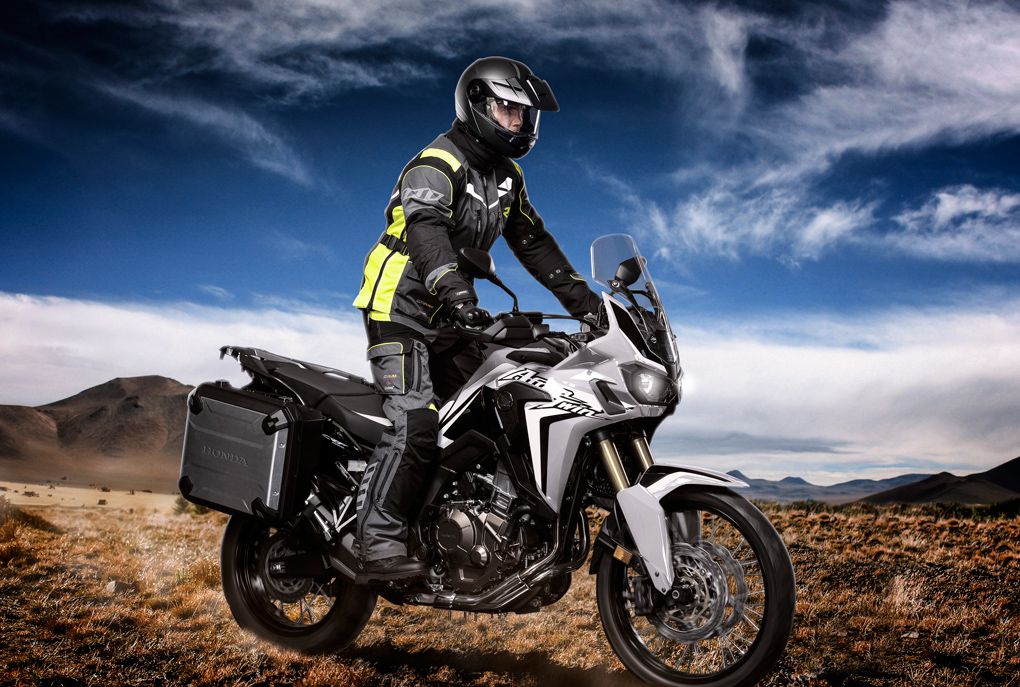 Rukka Roughroad Jacket Features:-
Removable waterproof Gore-Tex inner lining with Outlast temperature regulation
Zip closure for trousers
Soft neoprene in the collar
Removable collar in stretchable Gore-Tex material
Upper and lower arm width adjustment
Adjustable waist belt
Front ventilation openings on both shoulders, chest, and hips with long double-face zips
Elastic panels on the elbow, back of the sleeves, and back
Reflective print on sleeves, chest, and back
Five external pockets: four front pockets (waterproof pocket at bottom right) and a large back pocket for cards, two inside pockets.
The inner jacket has 2 waterproof pockets including a cell phone holder
The warranty is valid for 5 (five) years from the date of purchase against material or manufacturing defects
Rukka Roughroad Pant Features:-
The Gore-Tex interior is removable, waterproof, and Outlast temperature control
Zip up jacket
Fasteners at knees, feet, back, and inner thighs
Cuff can be adjusted
Waist closure with 2 adjustable straps
Reflective print on leg ends
Wind of the front thigh
Rukka AirCushion and leather upholstery on the seat
Heat and abrasion-resistant leather on the inner knee and calf
Four outer pockets: two zipped side pockets and two thigh pockets (non-wetting) with flaps
Who's This Suit It For?
The Roughroad's ability to withstand bad weather will be appreciated by adventure riders who log many street miles while traveling. Additionally, it makes an excellent off-road suit for riders who live in chilly, rainy locations.
Riders may extend their riding season or travel more confidently to colder climates with the addition of a thermal base liner thanks to the Outlast technology's assistance in controlling temperatures.
But in warmer seasons in hotter areas, especially on intense rides in slow-moving terrain, its lack of airflow significantly limits it.
Read Also: Best Alpinestars Racing Suits | Top Motorcycle Riding Suits
Conclusion
Check the knee pad positioning before purchasing the Roughroad suit to ensure your knees are completely covered. The Roughroad is a rugged suit with solid armor and weather protection, provided you can acquire a proper fit for your body type. It's designed primarily for colder climates or for usage as a winter weather suit.
However, if you ask it to occasionally, it can still handle milder conditions. The fit is sculpted and comfy for an ADV suit, and it has one of the best-feeling necks available. We hope you like our Rukka Roughroad Adventure Riding Suit review.
Visit For More Features and Price:-