The motorcycle's Intercom communication system is often mounted on the driver's helmet, making communication more efficient and less distracting. The prices and types of these devices vary greatly and so you can find the one that is best for you without finishing your wallet. There are many options for Choose Best Intercom for motorcycles.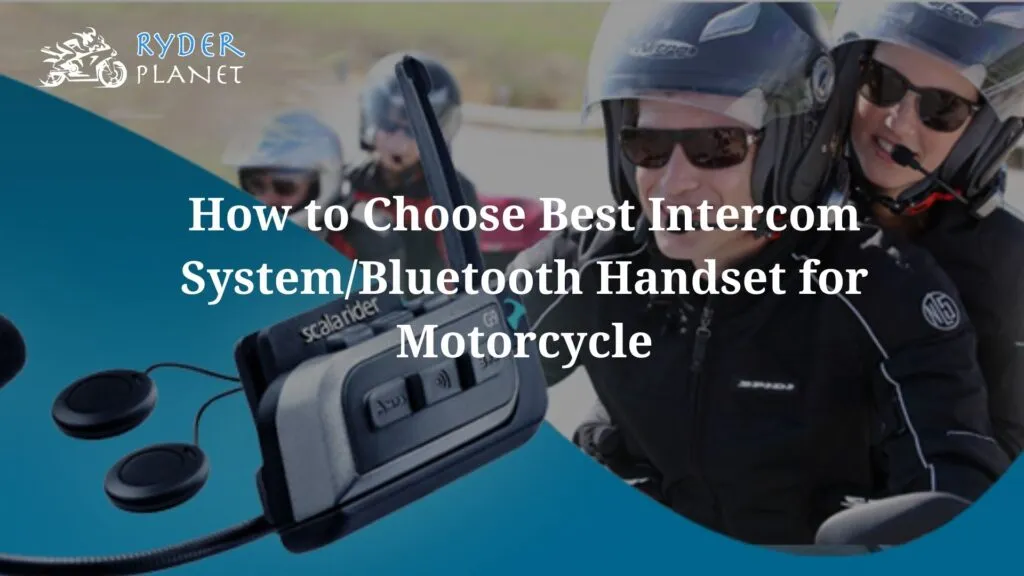 Read Also: Things to Keep in Mind During a Group Ride | 100% Useable Tips
Considerable Things Before Buying a Motorcycle Intercom.
1. Noise Cancellation
You can make the full benefit of your intercom communication system if you can communicate effectively with riders without taking your eyes off the road. Even with high-quality headsets, this can be a problem if you're in the center of noisy traffic.
But there are many products that offer noise reduction, making your communication more efficient and hassle-free. So you should probably keep this in mind when Choose the Best Intercom motorcycles, but they will also have a higher price. So you want to choose best Intercom then go for a noise-free system.
2. Multiple Connection Capabilities
This is also an important factor. This is because you want to connect with as many of your riders as possible. It makes your team safer and keeps you all together, even as you move through unspecified areas.
Most intercom systems simultaneously provide 2 to 4 main connections, but some are designed for 15 connections. So if you have a large group, select the Multiple Connection intercom.
But with the increase in connection costs also increases significantly. So you need to look at your budget and look for the maximum number of available connections in your price range.
3. GPS Capabilities
This is one of the most important factors to consider when buying a motorcycle intercom as it helps in navigating places you do not already know. It also helps you gather in a group and you can even see if a member is lost or not. This will help you track them down or even lead them back to you.
Some of these GPS systems even offer voice navigation, making it easier to drive without taking your eyes off the road. It also makes the trip much safer as you don't need to look at the screen all the time. So make sure Choose Best Intercom then you are looking for has GPS navigation functionalities.
4. Earplugs For Both Your Ears
This factor is similar to more personal preference and has less to do with necessity. If you are comfortable with both earplugs while driving, you can choose the dual earplugs. But in any case, there are pros and cons.
Headphones on the ride will help avoid constant noise. So you may not hear the sounds and whistles of approaching vehicles from behind or just try to overtake you. This is great for those who want to communicate better with those who are with them.
The ultimate goal is to make you comfortable, so choose the option that best suits you, but be careful at all times while on the go.
5. Ease to Use
We recommend Choose Best Intercom simple intercom if you have no previous experience with it. This is because you are using the device while driving and this may be a distraction, to begin with. A more complicated intercom defeats the main goal of making the trip safe. So keep this in mind when using an intercom.
Don't get caught up in the complexity of the system as it keeps you from taking your eyes off the road, which can be very dangerous. Therefore, you should always be looking for an internal communication system that is easy to use and that makes things easy.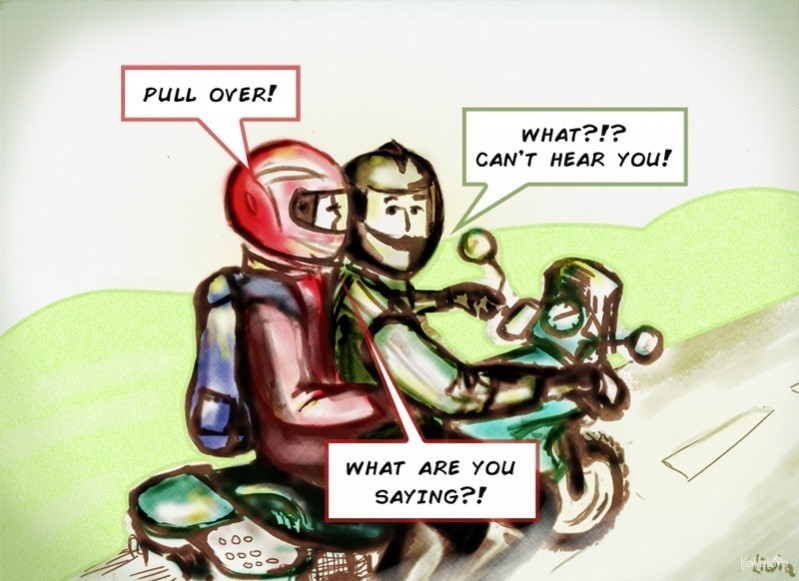 6. Weatherproof Capabilities
You have no control over the weather during a long trip and do not want it to ruin the communication between you and your friends. So make sure that the internal communication system you are using is not closed. If a sudden heavy rain falls, you can be sure that your communication system is intact.
But keep in mind that waterproof and water-resistant are two different types of protection that come with any communication device. Water-resistant intercom comes at a lower price and can give you limited protection. On the other hand, a waterproof intercom offers better protection.
It can take heavy rain without being damaged. You can never guess the weather, so you should take better protection. We recommend Choose Best Intercom waterproof intercom as they are the best solution when it comes to motorcycles.
Read Also: Bike Saddle Bag For Those Who Love Long Rides
7. Fix Your Budget
This is one of the most important things to keep in mind when considering this type of product. This is because if you pay more, you get more opportunities, and vice versa. So if you want more functionality, the price tag will also get bigger and over the overall score you'll just need to get one of them.
The best way to handle this is to set your budget and have a communication system in a limited range. And to get the best products in this price range, it is good to review many reviews before you say one.
Now, with all these points in mind, let's take a look at the best intercom systems available on the market.
Some Best Motorcycle Intercom Systems
---
Types of Motorcycle Intercom Systems
There are 3 types of Motorcycle Bluetooth Intercom System available in the market.
1. Bluetooth Wireless Intercom
This is the first type of communication system that has its advantages and disadvantages. But it is by far the most popular and most widely used communication system for motorcycle intercom. The reason is that it is easy to pair the device with a bike.
The Bluetooth communication system also allows you to communicate privately. The disadvantage of this system is that it can be used effectively only over short distances, and the quality drops significantly over long distances. In addition, it is a very convenient system for listening to music and joining voice calls with one touch. You can even use the system to share music with other riders.
2. Wireless Intercom
In this motorcycle, the most perfect form of communication between motorcycles and any intercom system. This is the best option as it uses a combination of different radio technologies such as GMRS, FM, and of course Bluetooth, along with many others.
The most common form of communication in the wireless part is frequency modulation or FM service. The work is like the radio we listen to, except it has different frequency bands. It has a narrower frequency which helps to produce a clearer sound.
The wireless technology also uses FRS (Family Radio Service), which works like GMRS, except that FRS works only for short distances and GMRS works effectively over long distances.
3. Wired Intercom
In this modern period, this form of communication is the most primitive form of communication. To give you an idea of ​​how it works when used on a motorcycle. There must be a hub with all electronics and batteries. From this box, all cable connections are supplied to each driver. As you can imagine, this is not at all practical for racers.
Thus, these communications should never be used in such cases. But the advantage of having these systems is that it is completely immune to outside interference and is much cheaper than wireless systems. Some of these wired systems can also be converted to an FRS or GMRS radio signal.
Wired communication offers cost-effectiveness and efficiency, but they lag behind in comfort and convenience. They are best suited for single drivers rather than groups of drivers who need to communicate with each other while driving. Due to these shortcomings, they cannot be used for motorcycle internal communications.
So now that you know a little more about the different types of intercom, let's look at the different factors to keep in mind when choosing the best internal communication system for a motorcycle.
---
---