Triumph Thruxton is no more that is said by James Wood, Triumph's global marketing manager. The beloved Triumph Thruxton café racer has been a symbol of style and speed since the 1960s, but now it will end with its final edition in 2025. In the farewell to this legendary motorcycle, Triumph has introduced the 2025 Thruxton Final Edition.
This Thruxton Final Edition has a unique model that boasts exceptional specifications, performance, capabilities, and a timeless style. As a Triumph bike lover, today we are going to discuss its performance, capabilities, design, and specifications. Triumph didn't tell us exactly how many of these bikes they will make. They basically said that once they sell out, there won't be anymore.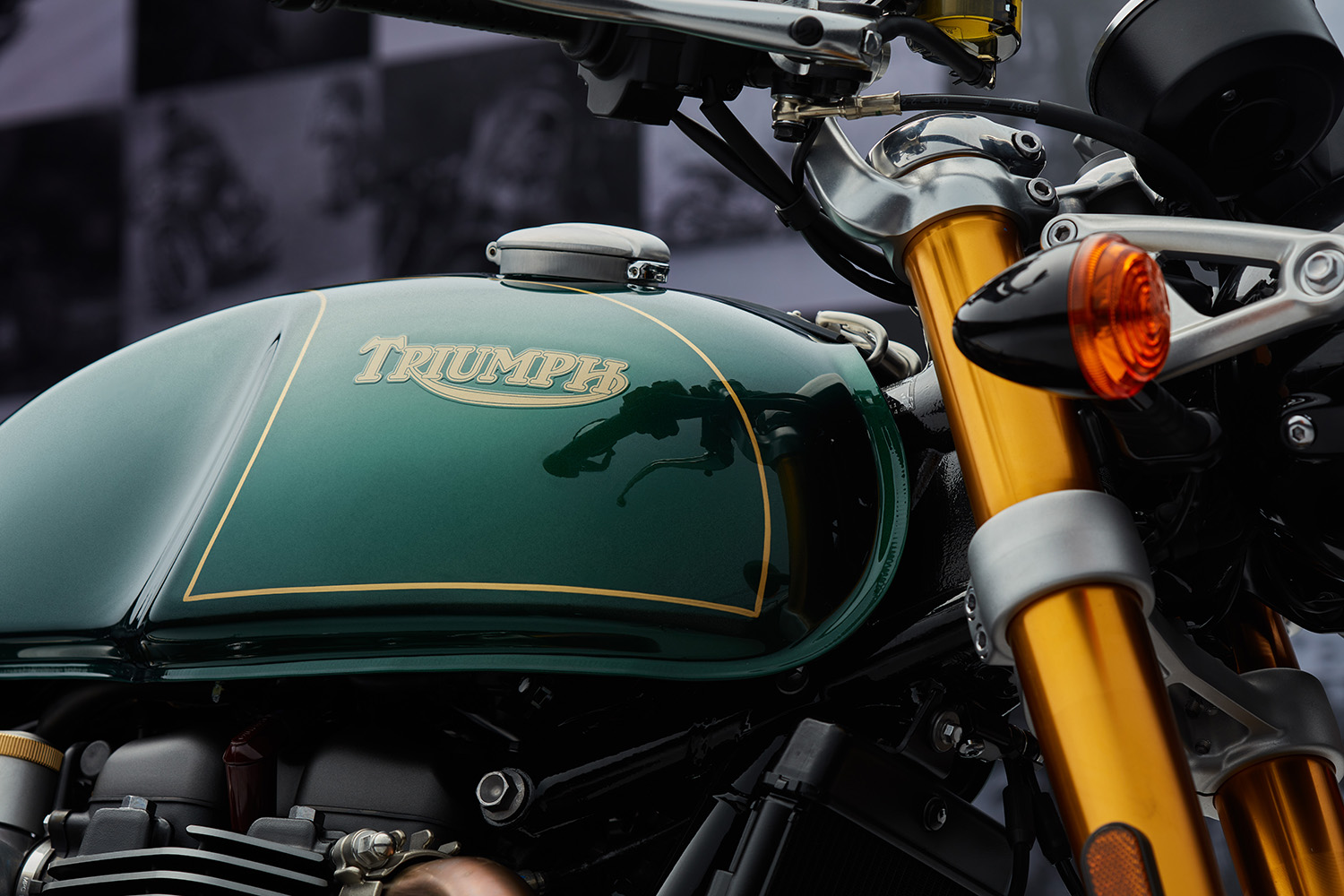 Look Also: Motorcycle Gear for Summer Riding: Cooling and Comfort Features
The Engine
The heart of the 2025 Triumph Thruxton Final Edition is derived from the Thruxton RS, featuring the robust 1,200cc Bonneville parallel twin engine. This engine generates an impressive 104 horsepower at 7,500 rpm and a substantial 82.6 pound-feet of torque at 4,250 rpm.
With a bore and stroke measuring 97.6mm by 80mm, this engine pairs seamlessly with a six-speed gearbox to deliver a thrilling riding experience.
There are top-tier components like adjustable Showa forks, Öhlins rear suspension, and Brembo brakes that offer exceptional agility, control, and rider feedback.
Frame, Suspension, Brakes, Wheels, and Tires
For the suspension, the front has special Showa forks that can be adjusted to your liking. At the back, there are two Öhlins shocks with extra reservoirs, which is a part of the Thruxton style. Both the front and back suspension can move about 4.7 inches to absorb bumps.
In the front brakes, you can see a pair of Brembo M50 four-piston radially mounted monobloc calipers. These brakes are attached in a way that helps with their performance, and they grab onto 310mm brake discs that can move a bit. The rear brake is a bit smaller but still does the job. Plus, there is another safety feature called ABS for both wheels to stop your bike safely.
The wheels are 17 inches long with 32 spokes each and are made of lightweight aluminum for better performance and safety. These wheels are covered with Metzeler Racetec RR tires to make a better grip on the road while maintaining stability.
Modern, & Agile
From the start, the Triumph Thruxton is known for its easy, agile, safe, and high-performance handling. The bike offers you a sporty riding position with low handlebars that make it stylish and faster. Every part is carefully chosen and adjusted to make the Thruxton Final Edition handle exceptionally well on the road.
Classic cafe racer look
The bike gives a stylish classic cafe racer look with its contemporary blacked-out style. This final addition has a black appearance on engine covers, cam covers, and special black wheel rims. Even the Öhlins suspension springs at the back have a nice finish.
The bike's final edition color is a deep green called "Competition Green," which celebrates its British racing history. You can also see a Triumph logo and hand-painted gold lines on the fuel tank and seat cover.
Pricing
As per the Triumph conference, they have not provided an exact number about "how many Thruxton Final Editions they will produce?". But they have disclosed the price – $17,995. This is just a $500 increase compared to the Thruxton RS.
Anyone who is interested in owning a piece of motorcycle history can book their bike. However, you need to wait until their availability.
Conclusion
Triumph has been a well-established, reliable, and trustable company for more than 5 decades. They are known for quality, speed, their look, style, and safety. They create the best racking bikes and engines while maintaining quality. If we talk about the Triumph final edition, it 1,200cc Bonneville parallel twin engine with a six-speed gearbox. The bike will launched in a green edition and black appearance that make it more stylish. You can book it now at $17,995.
FAQs
Where is the Triumph Thruxton manufactured?
The Triumph Thruxton is manufactured at John Bloor's Chonburi plant, where the production of both Thruxton 900 and 1200 models takes place. This plant is responsible for crafting these iconic motorcycles. Triumph later created 52 tuned Thruxton Bonnies in May 1965 to homologate the type for production racing.
Is Triumph ending production of the Thruxton?
Yes, Triumph is set to discontinue the legendary Thruxton after 2024. However, there will be one final production run to celebrate this iconic café racer.
What's the typical lifespan of a Triumph Thruxton?
Most Triumph motorcycles manufactured after the 2016 model year onwards, can potentially last beyond 100,000 miles with proper maintenance. Newer models have a better chance of achieving this milestone compared to older ones.
.