As motorbike riders, we always looking for a jacket that is comfortable, durable, reliable, cost-effective, and versatile. But we can't get a perfect jacket that fulfills all of our needs. These riding jackets have been made from high-quality material for the last few years to protect your body. Manufacturers always try to improve their style, comfort, breathness, and quality. Today we are going to discuss a new jacket that is casual, safer, and best fit as per today's riding style.
Segura's gear is made with contemporary materials for better safety and more focused heritage-style designs. This Segura petrol navy blue jacket is a great example of casual style that you can wear on any occasion and any bike.
Read Also: Dainese Tonale D-Dry Riding Suit Review
The Segura Patrol Jacket is unbelievable 
This jacket is the best fit for any type of weather condition. I live in a hot country and I always go for a ride after wearing a mesh jacket. This jacket is breathable, comfortable, and the best fit for the summer session.
Of course, this jacket is made from eco-friendly fibers and fixed mesh lining for a comfortable and durable solution. This jacket is costing you around $310.49 USD.
This jacket comes with armor for your elbows and shoulders, and an addon protection feature for your back to provide protection from accidents.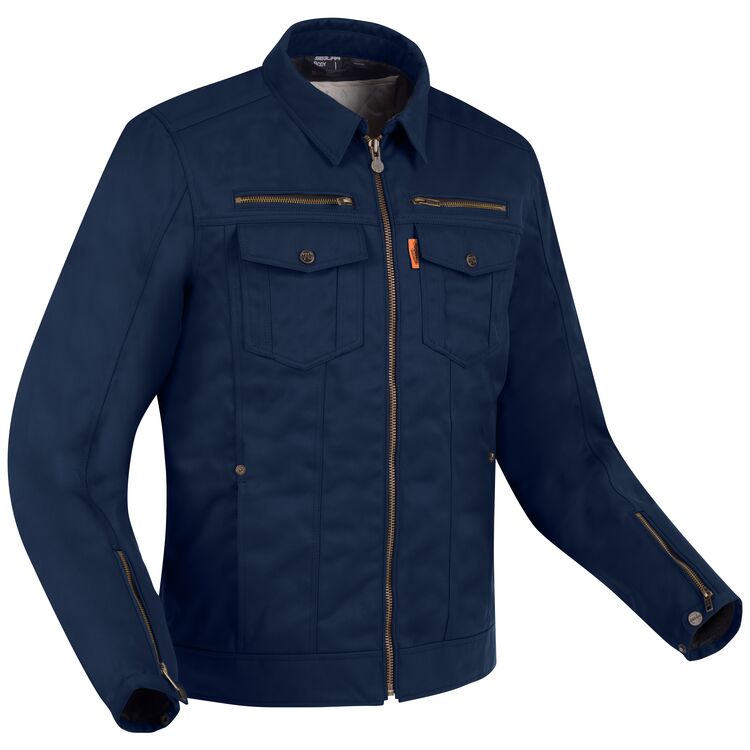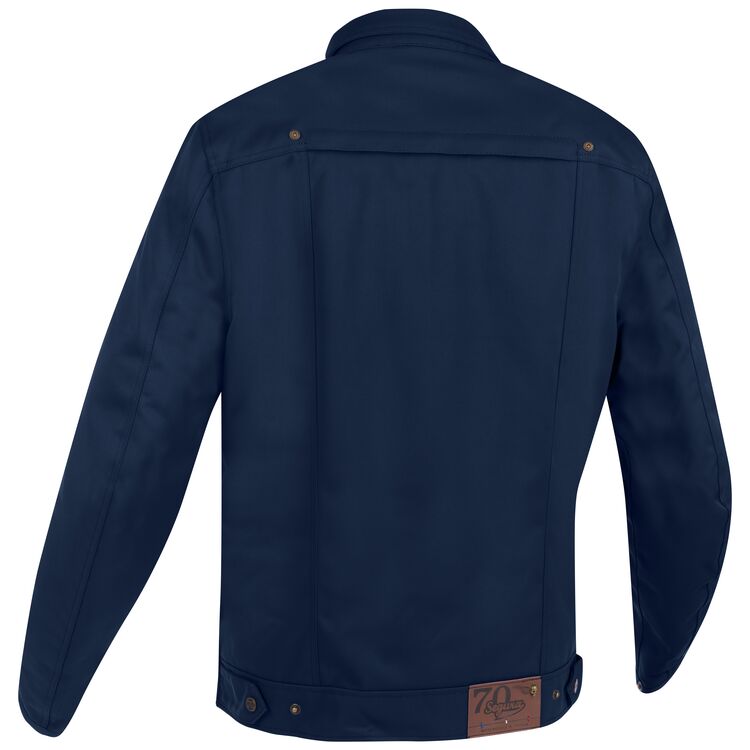 Perfect Fit for Motorcycle
This blue navy jacket is a perfect fit for all types of motorcycles. This motorcycle jacket has armor on its elbow and shoulder. The outer shell of the jacket is made from an abrasion-resistant and recycled fiber called Serica. This material "Serica" is eco-friendly and great at protecting your skin.
The armor of the jacket is made from a material called Protect Flex Alpha that meets all the safety standards called CE Level 1. These protectors are comfortable to wear while on ride or off ride. You can better safety by adding Protect Flex Omega protectors to the Alpha ones that have a higher safety level called CE Level 2. This also has an add-on safety feature for the chest and back that you can add yourself.
More fashionable
The Segura Patrol jacket looks more fashionable than others because the company added small touches that give it a unique, designer, and rider's feel. This does not look like a moto jacket when you see it the first time.
This jacket has little details like bronze zippers, snaps, and rivets as well as bike patches, stitching, and subtle skull designs that give it a biker style. These small designs, patches, and high-quality materials give a feel premium feel to this jacket rather than just a functional one. These all small addons are high quality and give it the perfect look to the jacket.
Look Really Hot
This jacket looks really hot but it is more hotter from the inside. So it is best to wear it in cooler weather and on chilly days during the fall. This jacket has solid fabric with less ventilation quality. It can get really warm if the weather turns hot.
You can partially unzip the jacket and open the cuffs to pass out the air in your body. This jacket provides more protection than my mesh jackets in wet weather. If you live in a cooler area of the United States then this jacket is a perfect fit for you.
Tailored Fit
The patrol jacket is available in a European fit that is slimmer around the torso compared to American-fit jackets. If you are a fit, tall, and lean person, not muscular then it jacket fits you well. A person with a bigger belly should need to try it first before buying online.
The sleeves are quite roomy with a small zipper and there are no straps to adjust them. You can see snaps at the waist and cuffs in the jacket but they are best fit only for skinny people.
Conclusion
Spending 310$ is not worthwhile when you are only buying a jacket for your riding. This Segura Patrol not only gives you a premium look but also provides protection and confidence during riding. You can wear this jacket on and off the bike. The material looks is a solid fiber jacket with armor protection that provides complete safety in the slide. You can avoid this patrol jacket in the hot session. The price is actually reasonable when you compare it to similar jackets from other brands like Merlin, Roland Sands, or Belstaff. The combination of color, look, small patches, design, material, zips, and protection made it a worthwhile option for riders.
FAQ's
Is the jacket available in different color options besides navy blue?
Yes, this Segura Patrol Jacket is available in different color options. You can easily find out different color jackets by visiting the official Segura website or checking other authorized dealers online.
How easy is it to clean and maintain the jacket? Does it require special care or cleaning products?
These motorcycle petrol jackets are made from solid materials that require spot cleaning with mild detergent and gentle brushing. You need to avoid using of harsh chemicals that could damage the fabric and protective features. Also, you need to always dry in shades to get protection from the sun. 
What is the warranty or guarantee provided by the manufacturer for this jacket?
Warranty information can vary between manufacturers and may depend on the place of purchase. To obtain accurate warranty details, it is best to check the information from their official website. Generally, there is no information available on the jacket's warranty. 
Does the jacket come with any specific care instructions or recommendations to prolong its lifespan?
It is common practice for manufacturers to include care instructions with their products. Proper care involves cleaning, protecting from extreme temperatures, and avoiding exposure to harsh elements.