You need specific gears to ride a two-wheeled vehicle, especially a bike. It is for your own protection against the effects of the environment outdoors and the typical threats on the road. A riding jacket is one of the key pieces of equipment you require. The jacket has uses other than just being fashionable.
You are shielded against minor mishaps and unwanted substances that may normally impact your body, in addition to purchasing a jacket to protect you physically. These features are a need in your winter jackets 2023, whether you're looking for one for your upcoming vacation, to wear on the racetrack, or to go with a dirt bike.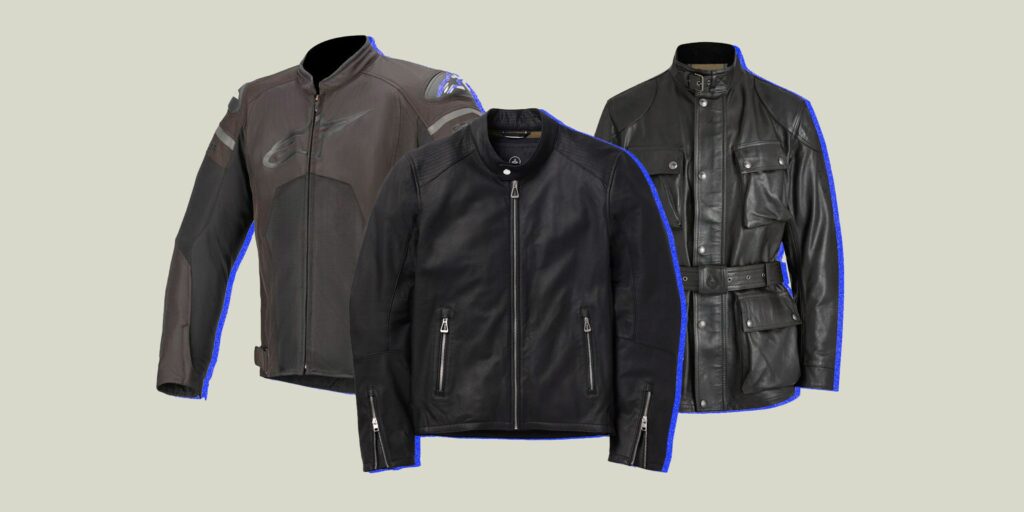 Read Also: Dainese Super Speed Textile Jacket Review
How To Choose The Perfect Riding Jacket?
1. Jacket Material
The material is crucial depending on the jacket you select because it will shield you from abrasions, weather, wind, and water. Although the most recent textile jackets are also excellent at this, most people prefer leather jackets since they are superior at abrasion resistance.
Compared to leather, textile coats are more breathable and water resistant. Numerous fall 2022 leather jackets trend have qualities including good armored protection, water resistance, and abrasion resistance.
2. Thickness and durability
Choose thicker jackets since they will be more durable over time. Check the stitch, finishing, weight, etc. as well. Durability is crucial since it can better protect you if you slide, brush against something, or fall.
The ideal option is a double seam or multiple layers of stitching. No holes or damaged threads should be present. Check the zippers and screws, especially around the pockets and cuffs.
3. Protection and Safety
Armor that has obtained CE certification greatly enhances a rider's safety and protection. Usually, armor is only worn in delicate places like the back, shoulders, and elbows. Even wearing armor and protection, you could still sustain minor injuries.
They keep you alive and prevent serious damage. Make sure your motorbike jacket has CE-approved armor when choosing one. These days, it can be found in both leather and textile jackets.
4. Ventilation
If your jacket doesn't have ventilation, it will work well in the cold, but you will be soaked in sweat in the summer. You'll be sweating under that robust, substantial, windproof, and waterproof jacket. An easy fix for this is a jacket with ventilation.
Winter jacket trends 2023 featuring ventilation zippers and perforated leather and mesh material offer effective ventilation. It maintains airflow throughout the jacket to prevent sweat and lower body temperature.
5. Armour
In a riding jacket, armor adds an extra layer of defense where it is most vulnerable after a fall or accident, such as the elbow, shoulder, and back. The armor, composed of leather, mesh, or other materials, cushions the wearer in certain areas.
The armors are classified into several levels depending on how much protection they can offer. When purchasing a jacket, ensure the armor holds up as you slip or move. The jacket's quality will be apparent if they start to migrate away. In a jacket, you should constantly search for integrated armor.
6. Liners
Liners are optional, replaceable parts of a riding jacket. Depending on the weather you will be riding in, you may leave them out or add them. For instance, leather clothing can't completely resist water.
Use thermal and rain liners in this situation. There are numerous kinds available for wind protection. There are high-end jackets with an incorporated windproofing feature.
7. Waterproofing
It is crucial to have high water resistance, or waterproofing, especially during the rainy season. The key component in this is the outer material. A good waterproof jacket is preferable to rain gear if you can find one.
Be cautious because these fall 2022 leather jacket trends can be pricey, and not all are waterproof. Leather that has a specific membrane adds water resistance. Things will quickly become uncomfortable if it absorbs water.
8. Construction
The jacket's construction includes all of its components, including its material, appearance, durability, level of quality, and many other factors. Make sure the jacket you choose combines comfort with dependability and durability. The jacket's lining, closure, finishing, stitching, and other elements like color and appearance are excellent.
9. Convenience
Look for winter jacket trends in 2023 that will suit your requirements and budget. It should contain useful safety features besides having a fashionable look. But more than looks, check whether it is convenient while riding and can provide protection.
If you are buying online, check for the return policy. Reflective or fluorescent shades help you to become visible to others at night or during fog.
Conclusion
Investing in riding winter jackets 2023 with proper safety features is critical for any motorcycle rider. These jackets provide essential protection against abrasion, impacts, and other potential injuries during accidents. When selecting a riding jacket, prioritize abrasion resistance, impact protection, visibility enhancements, ventilation, weather resistance, fit adjustability, and any additional safety features that suit your riding need.
FAQs
Why are safety features important in riding jackets?
Safety features in riding jackets are crucial because they provide protection and minimize the risk of injuries during motorcycle accidents. These features, such as armor inserts and abrasion-resistant materials, help to absorb impact, reduce the severity of injuries, and enhance overall rider safety. 
What specific safety features should I look for in a riding jacket?
When selecting a riding jacket, it's important to consider features such as CE-approved shoulder, elbows, and back armor and high-quality abrasion-resistant materials like leather or reinforced textiles. Additionally, reflective panels or strips increase visibility, and ventilation systems aid in comfort during rides.