Want to purchase a motorcycle backpack? You likely use a motorcycle backpack to carry your things if you commute daily on a motorbike. A durable and water-resistant motorcycle backpack is also a fantastic option for your motorbike Alpinestars Rover Overland Backpack.
A big Adventure Touring backpack with a 39-liter capacity has wide pockets to carry heavy or bulky items. This backpack features an ergonomic design for the rider's comfort and durable material composition.
So, in today's blog, we'll talk about Alpinestars Rover Overland Backpack and its details and features.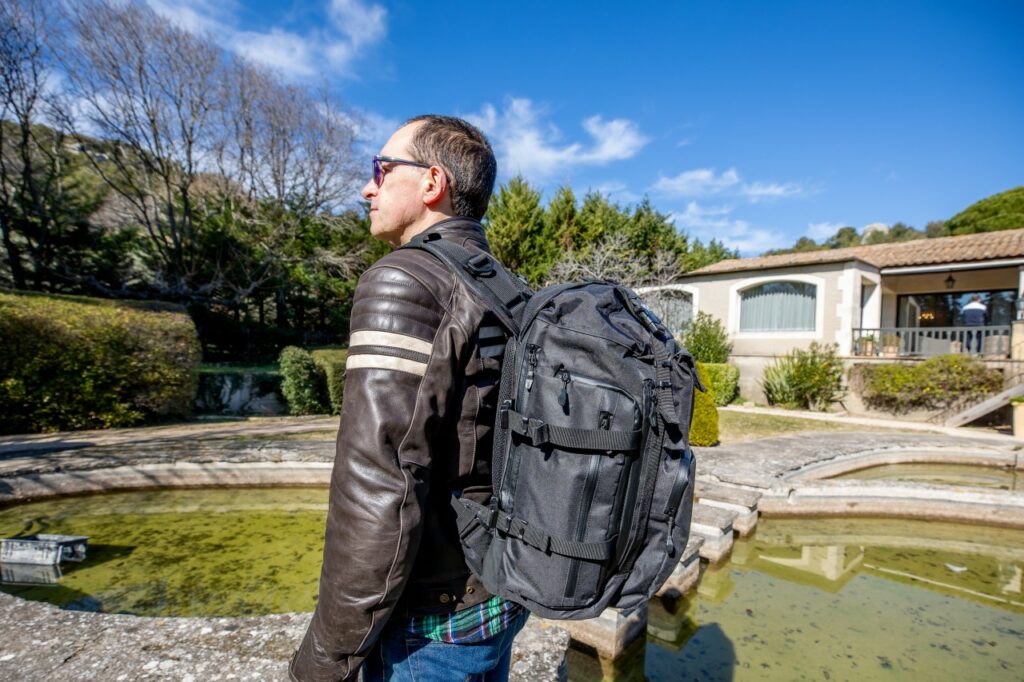 Read Also: Alpinestars City Hunter Backpack Review
Alpinestars Rover Overland Backpack Details
The durable Alpinestars Rover Overland Backpack, with a capacity of 39 liters, is equipped for any journey. The main compartment of the Rover Overland is 25 liters in capacity and has a roll-top cover and a detachable waterproof cover. The remaining storage compartments have matching sealed zippers and are water resistant. Hydration systems can be equipped in two distinct places or used to convey the most water possible.
Heavy weights are kept safe and comfortable on the rider thanks to the sturdy harness. Several tie downs and connection points let you carry or tie extra items outside the Rover Overland backpack. The external attachment of the 25-liter waterproof liner adds 25 more liters for other stuff.
Alpinestars allows us to use these backpacks daily, even if we have these exciting features. The Alpinestars Rover Overland has a huge zip pocket, side pockets, and a tiny pocket on top to hold various products.
The adjustable strap system has been well-resolved, making it exceptionally comfortable and enabling us to carry the weight securely, which is another advantage of these backpacks.
Finally, several high-quality details are typical of Alpinestars and designed for the adventure user, such as carrying handles, seams, pockets, durable fabrics, loops, and compression straps to increase or decrease the capacity of the Alpinestars rover backpacks.
Features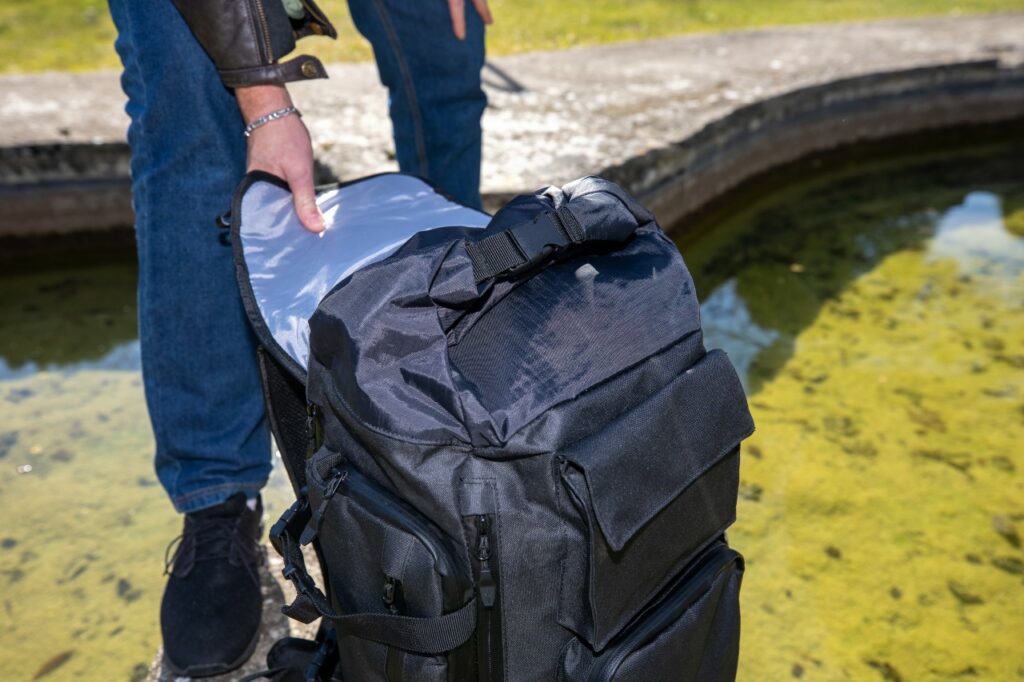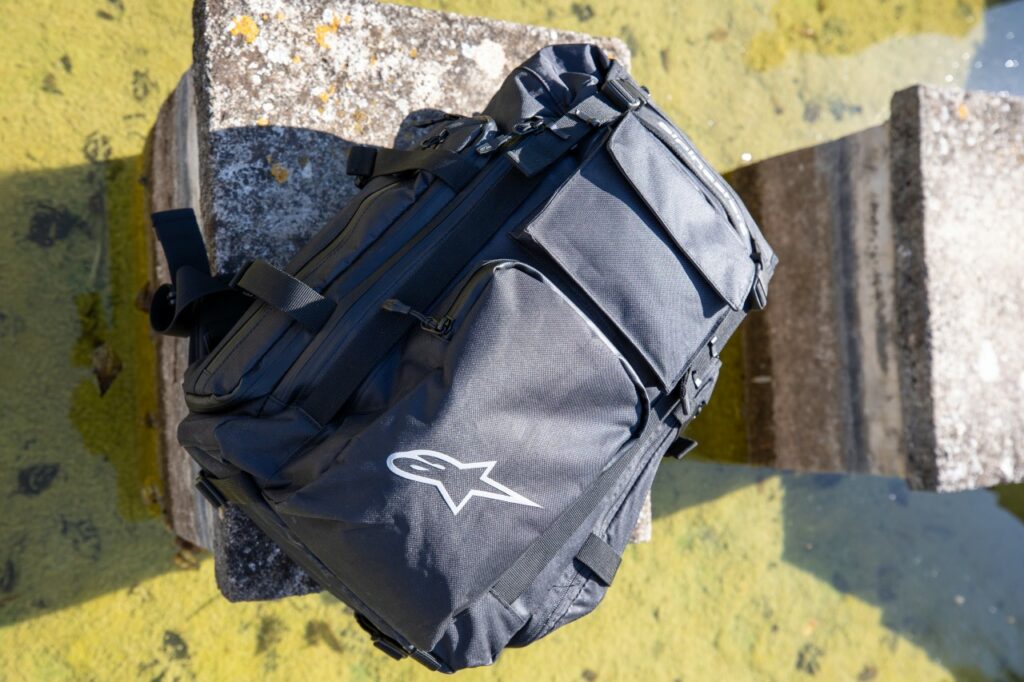 Construction: 
Adjustable harness system for fit, comfort, and load stability.
Large and tall roll top 25-liter the main compartment for quick and easy access, with a removable waterproof liner.
The clever design means the roll top can be closed / connected at the sides of the bag or the top for extra internal volume.
Comes complete with an inner hydration pocket, plus additional hydration carrying capacity in the front mesh pocket thanks to the exit for the hose of an extra hydration bladder.
Key Features:
Large, compressible front compartment allows the bag to be used without having to access the main roll-top compartment.
Clever compression design means that if the front compartment is empty, it will flatten with the compression straps to lay flat against the main compartment.
Compact profile, when empty, expands to huge capacity when the main compartment and 14-liter front compartment are both filled.
Comes with a laptop pocket and organizer inside the front compartment for added practicality.
All straps are finished with easy pull ends for ease of use, with tie-down loops for added security.
Conclusion
It's ideal for daily usage and motorbike vacations or journeys to have a sturdy, roomy, comfy, and waterproof backpack. And this is what we discover with these Alpinestars backpacks. We hope you like our today's blog about Alpinestars Rover Overland Backpack Review.
Visit For More Features and price:-
FAQs
How good is this Alpinestars Rover Overland Backpack?
A big Adventure Touring backpack with a 39-liter capacity has large pockets to carry heavy or bulky things. This bag features a durable material structure and an ergonomic design for the user's comfort. 
Is This Alpinestars Rover Overland Backpack Waterproof?
Yes, the main section of this backpack includes a roll-top and has a replaceable waterproof lining.
Does this Backpack have a
Laptop Compartment?
Yes, the front section of this bag has an organizer and a laptop pocket.
---