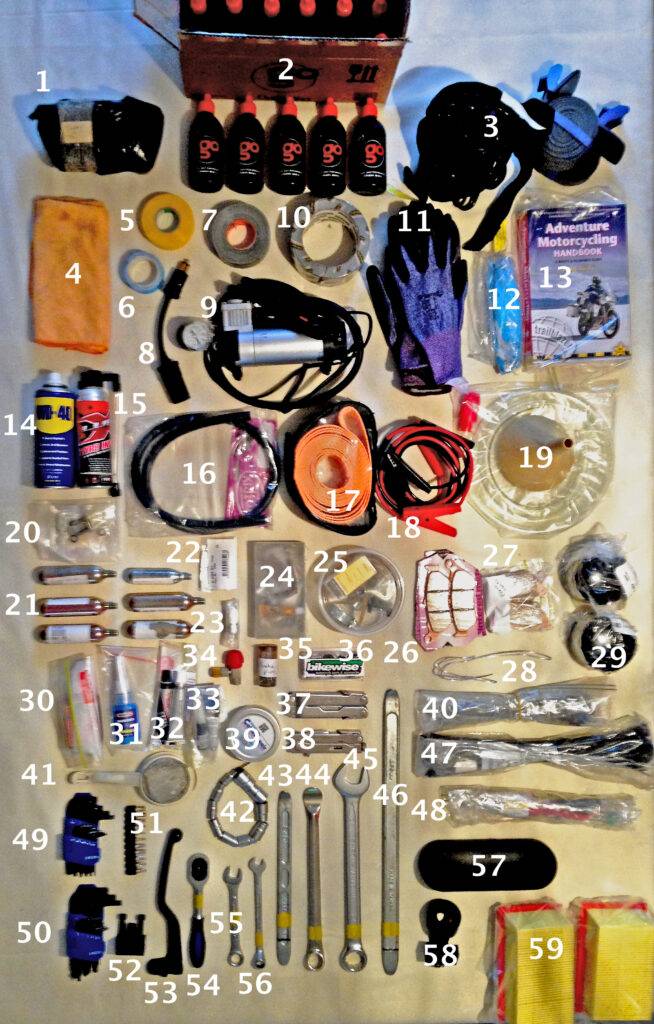 Long rides are meant to be enjoyable and adventurous, but they may quickly become miserable when your bike develops an unexpected problem or malfunctions. And when there is no one nearby to help, the situation worsens. Only your abilities and a combination of ideal tools will save you at that point. So, before heading on a lengthy journey, be prepared for these scenarios and understand how to handle them. To do so, you'll need a thorough understanding of your motorbike, as well as some basic repair procedures and a relevant set of tools and Spares. So, what are the motorcycle tools to carry while touring? We'll tell you right now.
1. Electrical Tape
Electrical tape tools carry for a long-distance ride to repair wiring difficulties, which can also arise on your motorbike. This tool can also repair defective elements such as turn indicators, missing or broken panels, switches, lights, and much more. You may also use the tape to hang or tie anything to your bike.
2. Locking Plier
After the combination wrench, a locking plier is the most excellent tool for tightening or loosening a bolt or nut. It may be adjustable, locked for any bolt size, and used just like a regular wrench. The additional task that a locking plier can accomplish is to hold the components together when we need to tie them together with electric tape or anything else.
3. Multi-bit Screwdriver
Any kind and size of screw, even plus, minus, and Torx, may be handled with a multibit screwdriver. As a result, you can combine this tool carries for the long-distance ride, and its bit mount may also be used as an extension for Allen keys for further pressure.
4. Allen Key and Torx Bits
Nowadays, manufacturers are substituting Allen or Torx bolts and screws, which cannot drive with a standard screwdriver or tool. So, depending on the type of nuts and screws used on your bike, you need to have an appropriate set of Allen keys or Torx bits on hand. The most attractive feature of these tools is their small size, which allows them to be stored simply without sacrificing a significant amount of storage space.
5. Flat Repair Kit
On extended rides motorcycle tools to carry while touring, you should always bring a puncture repair kit with you because punctures are one of the most prevalent problems. You can either avoid or find a solution to specific additional issues. On the other hand, a flat tire has no option other than puncture repair, which can only do with a repairing kit.
6. Flashlight
When riding at night, no tool can rescue you unless you have a source of light. Unfortunately, using your motorcycle's headlight is not a brilliant idea since you won't be able to go in the appropriate direction all of the time. And it will drain the battery. As a result, a flashlight takes on the same value as any other instrument in your bag. If possible, maintain a flashlight that you can wear on your head so that you don't have to hold it while adjusting. You should also keep an additional set of batteries for the flashlight on hand.
7. Multi-Tool
A multi-tool may come in handy in a variety of scenarios, whether or not you're riding a motorbike. It has tweezers, a knife, a can opener, a bottle opener, a screwdriver, wire cutters, a leather punch, clippers, and a nail file, among other things. As a result, taking it on lengthy rides becomes a must.
Read Also: How to Choose Best Intercom System/Bluetooth
Look at Our Chart for All types of Things You Need on Touring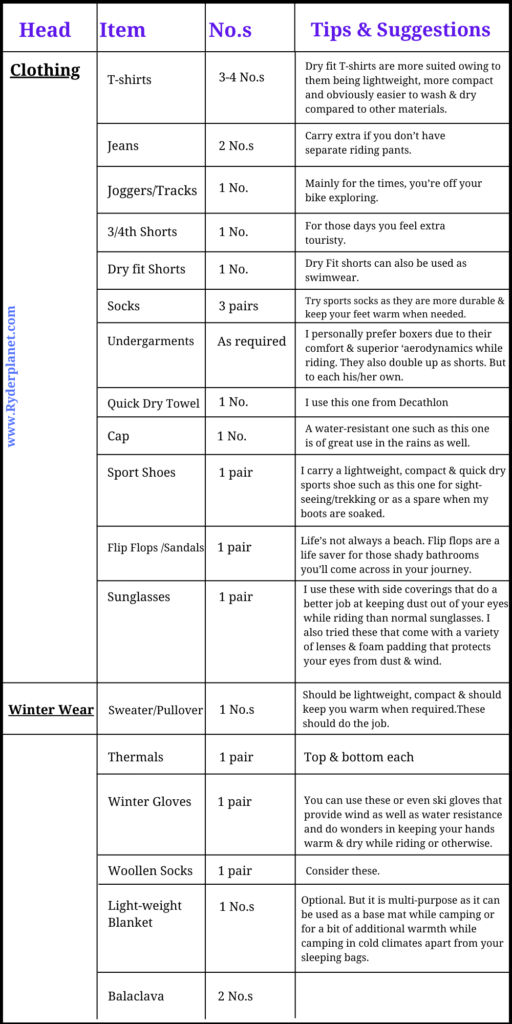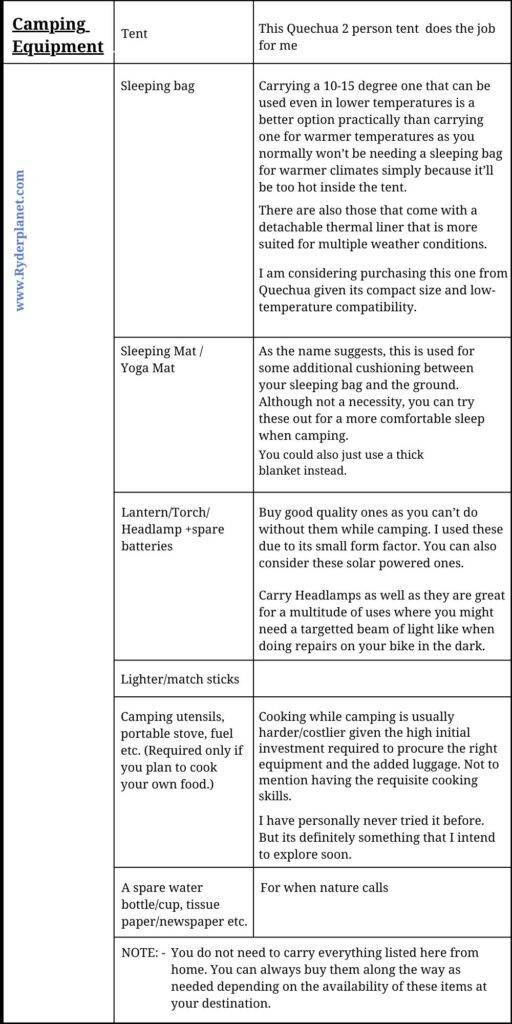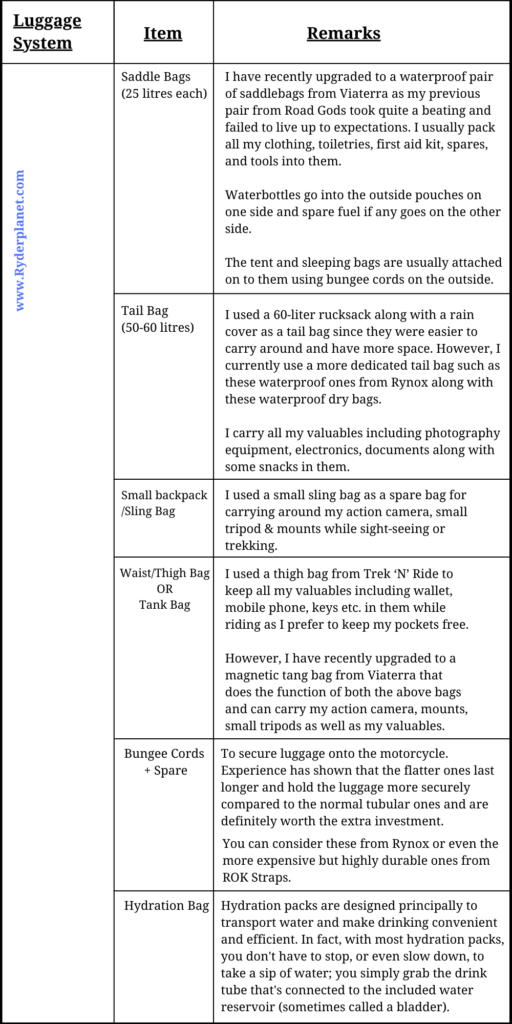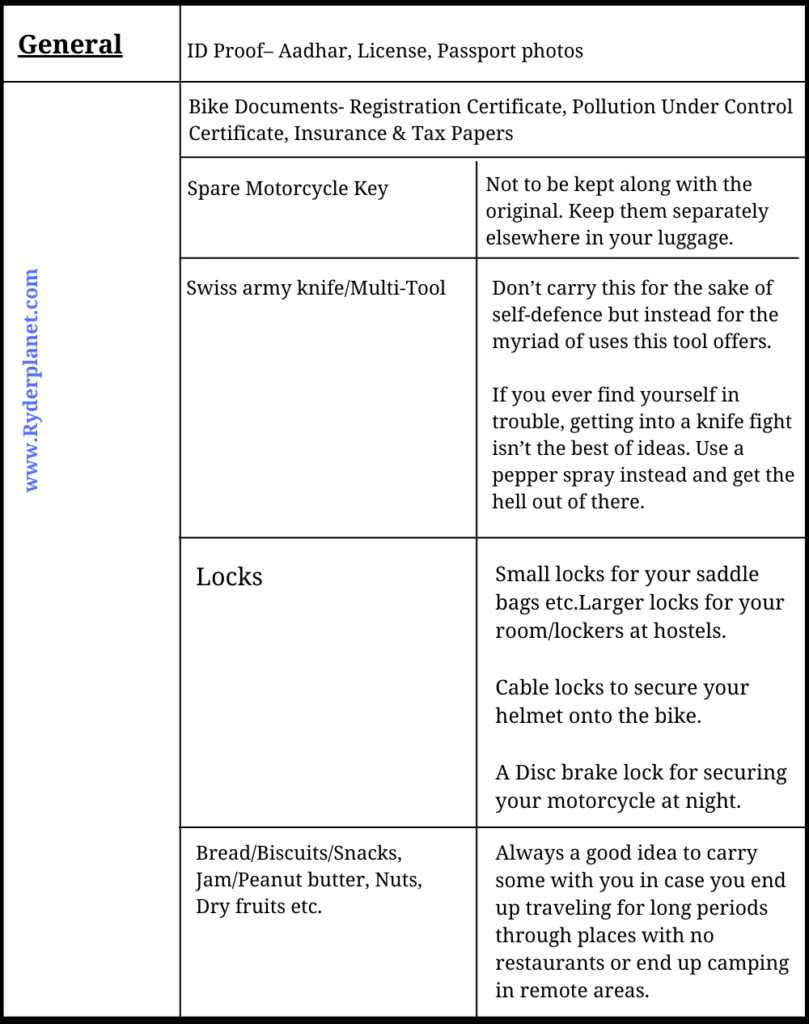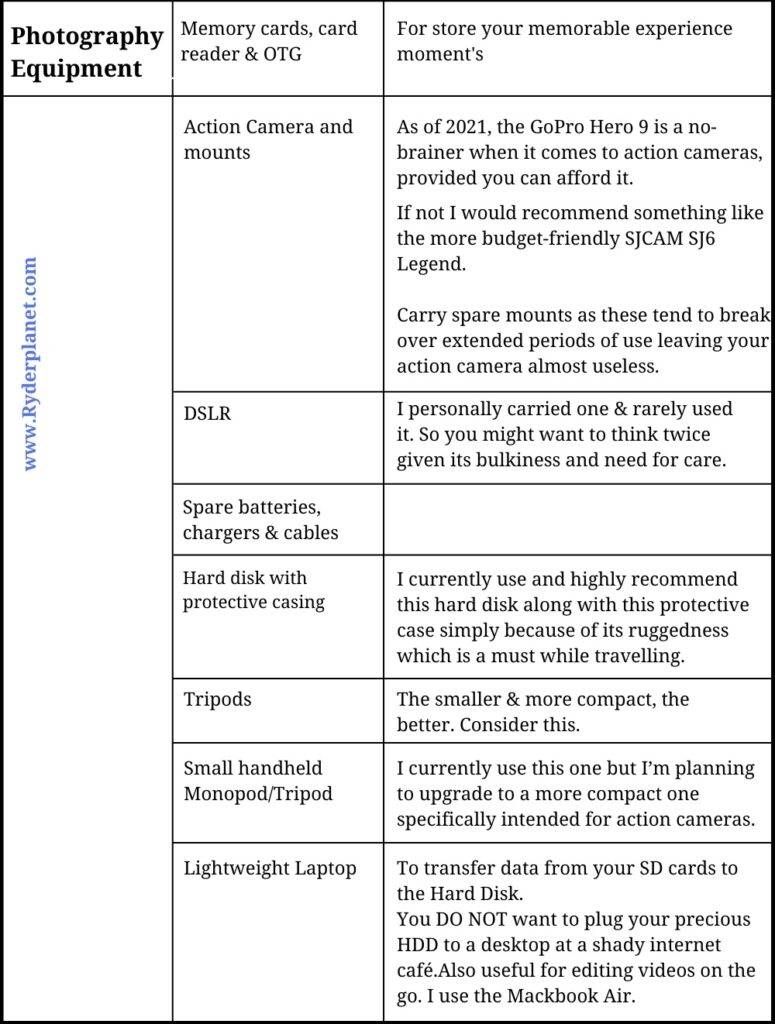 Read Also: Top 10 Best Klim Motorcycle Riding Pants
Conclusion
Most of the above essentials are versatile motorcycle tools to carry while touring. So next time you face a minor problem with your bike, you can quickly fix things on your own!
FAQs
What tools should I bring on a long motorcycle trip?
Electrical Tape, Flat Repair Kit, Flashlight, etc., you shod carry while touring.
How do you pack a touring motorcycle?
You don't need lots of things for your adventure tour. Usually, all you need is two shirts, two pairs of pants, a couple of socks and underwear, and one pair of shoes.
Why do bikers wear backpacks?
A backpack offers you a quick and easy way to carry your essential tools when riding your bike.