If you're looking for the most excellent motorbike sat nav available, you'll want to keep reading Beeline Moto Navigation System Review. Compared to a conventional motorcycle route planner, the Beeline Moto Sat Nav device adopts an entirely different strategy. In contrast to the products offered by the other market leaders, Beeline's innovative tool is easy to use, unobtrusive, and far less expensive.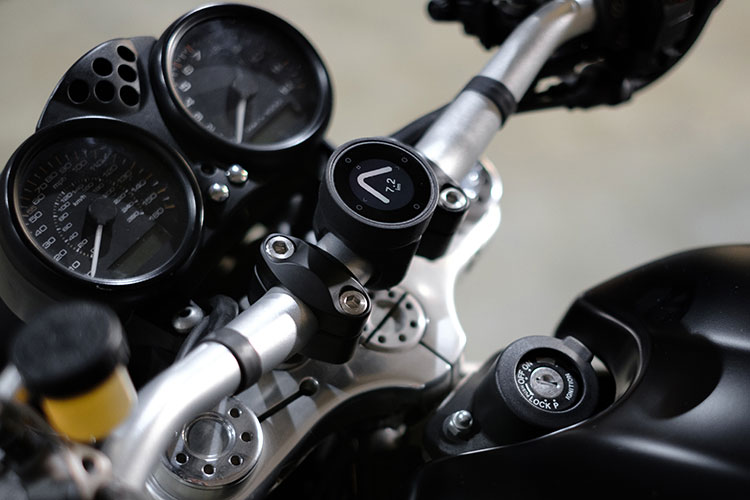 Read Also: Kriega Trail9 Adventure Backpack Review
Beeline Moto Navigation System Review – Details
How It Works
The free Beeline app helps you plan routes, which the Beeline Moto navigation device follows. You may play with it right away by downloading it from Google Play or the App Store.
The application will simplify route planning more than any previous Sat nav you have used.
There are no cables to connect to your bike, and your phone may be safely tucked away in your inside pocket because the Beeline Moto device is battery-operated and communicates to your phone via Bluetooth.
The Beeline app itself uses Google maps. Thus it will function for free anywhere Google has mapped it. After buying your sat nav, you will no longer need to pay for map updates.
GPX files from Motorcycle Diaries and other websites can be imported into the app.
Beeline Moto Navigation Options
Route Mode
The motorcyclist who rides for fun is the target market for the Beeline Moto Navigation device. The Beeline Moto keeps things basic and straightforward, contrasting to your typical motorbike sat nav like Garmin or TomTom.
The navigation system's information is limited to what is necessary, ensuring minimal distraction.
You have an arrow indicating in the direction you should go, two dots on either side showing you where to turn next, a countdown informing you when to turn next, and a progress bar showing you how far you've come and how far you still have to go.
You should use route mode to get somewhere instead of just going for a ride. Like any other Sat Nav, it leads you to turn by turn. Simply put, it simply does its function.
Compass Mode
The compass mode on the Beeline Moto device, however, is where it excels. The freedom we get when we ride for fun and enjoyment on two wheels accounts for a big portion of that high.
The Beeline Moto navigation system's compass mode enables us to maintain this independence while guiding us toward our ultimate destination.
The Beeline device becomes an even more straightforward display while in riding compass mode. You only have a compass that always points in the direction of your destination (rather than the North).
Beeline Moto Display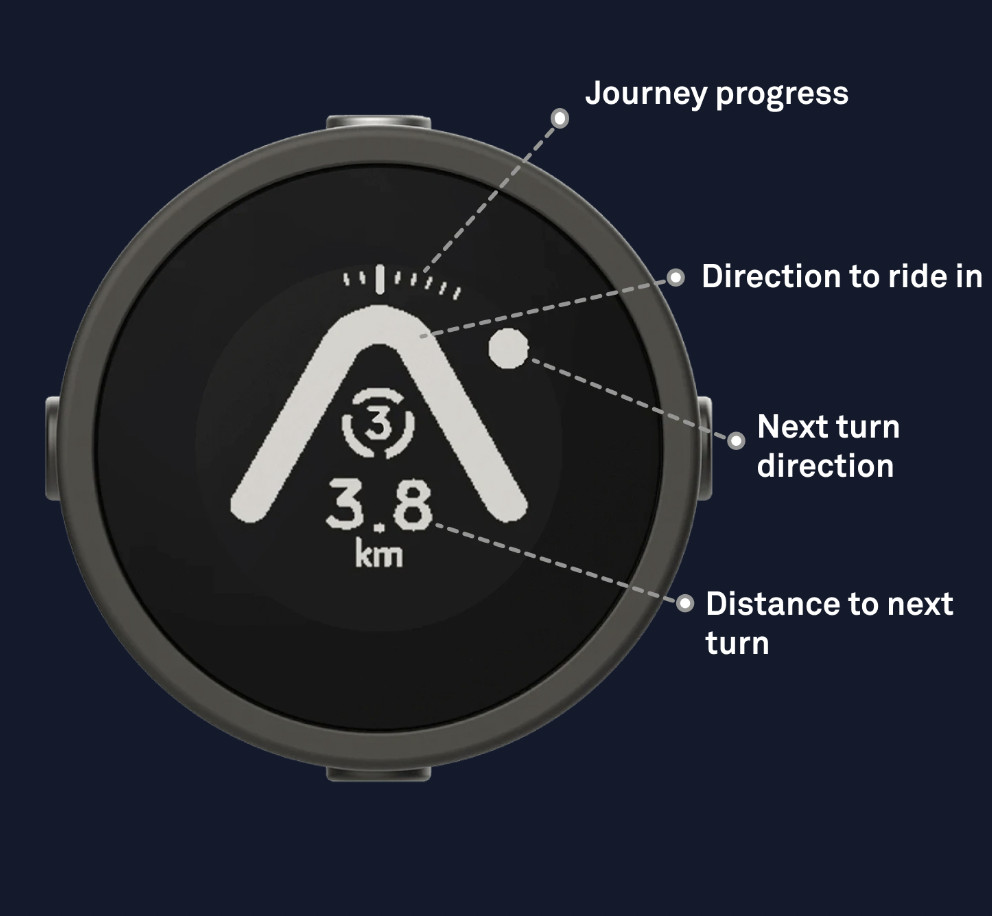 Given that its screen is barely 1″ wide. This implies that, unlike a full-featured GPS, you cannot see the road ahead.
However, they were able to fit a lot of important information onto such a small screen.
A big overall direction arrow, a small dot indicating the direction of the following turn, and a numerical display indicating the separation from the following turn are all present.
Information about junctions is displayed in the center of the screen. The roundabout exit number is displayed. It displays information about the lane or fork for lane approaches.
The progress of the total trip is shown via a little indicator at the top.
Waterproofing
The Beeline is shockproof and has an IP67 rating, the maximum level of waterproofing.
Battery Life / Power
The Beeline's trump card is its battery life, which is charged using a USB charging mount. You won't ever have to worry about battery life on a lengthy trip thanks to the incredible 30 hours of ride time.
The device's standby power is also excellent; after being left on for several months in a drawer, it still retained 85% of its battery.
Additionally fast, a full charge can be achieved in just an hour.
What's in the Box
Beeline Moto unit
Charger
Modular mount
Sticky pad for modular mount
Allen key to adjust the modular mount
Elastic strap mount
Elastic straps for above (comes with three sizes, two not shown in photo)
Quick start guide
Beeline Moto Navigation System Pros and Cons
Pros:
Works anywhere in the world
No wiring required
30-hour battery life
Fully shock and waterproof
Universal mounts included
Cons:
Smartphone still required
Slow turn cues and unreliable routing in poor signal areas
Visual only—no audio alerts
Conclusion
Let's face it: Seeing the route on a GPS map can be incredibly comforting, especially if you're a rider who enjoys off-road adventure biking or scampers around country roads.
You appear to have more time to appreciate your surroundings and ride because you spend less time charging, mounting, and looking at it.
We hope we've covered all the basics and given you enough information on Beeline Moto Navigation System Review to help you determine whether the Beeline Moto is the best Sat Nav for you, or at the least, some thoughts to consider.
FAQs
Does Beeline Moto use phone data?
No, your Beeline Moto will continue functioning even if you turn off your phone's data after planning your route via the Beeline app.
Does the Beeline Moto work in India?
Anywhere in the world, the Beeline Moto is functional. You're fine to go if your route is on Google Maps, which more than 90% of the global roads are.
Is the Beeline Moto waterproof?
It has an IP67 rating, is waterproof, shockproof, and has been built to withstand anything your motorbike journey may offer.