Action Camera Have Evolved Over Time, Adapting To The Trends That People Would Like To See In A Compact Form Factor.
Nowadays, There Are Action Cameras That Can Perform Everything That A Full-fledged Dslr Can Do And Then Some, Albeit In A Trimmed Down Quality.
Choosing The Right One For The Job May Be A Hassle In Today's Saturated Market, But We're Here To Help!
This Article Presents You With The Sorted List Of The Best Ten Action Cameras Available In The Indian Market At Present. Read Along To Find Out More!
Looking To Shop For An Action Camera For Your Next Adventure? You've Come To The Proper Place – We've Tested All The Newest Ones, From Gopros To The Dji Osmo Action And Even 360-degree Models, To Bring You This List Of The Most Effective Action Cameras You Can Buy.
| | | |
| --- | --- | --- |
| 1. | GoPro Hero 9 Black | Overall Best Pick |
| 2. | DJI Osmo Action | Runner-up Pick |
| 3. | Sony FDR – X3000 | Best Build Quality |
| 4. | Insta 360 One R | Best Value For Money |
| 5. | Xmate Stunt Pro | Best Budget Action Camera |
Your Smartphone Might Now Be Able To Shoot Some Impressive Video, But An Action Camera Can Still Be A Great Investment For A Few Reasons. Firstly, They Tend To Be More Rugged And Waterproof Than Most Phones, Which Means You Can Take Them To Places That Your iPhone Or Android Ally Wouldn't Dare Tread.
Thanks To A Wide Range Of Accessories, They Can Also Be Attached To Helmets, Surfboards, Cars And Other Objects
Read Also: Best Riding Jacket
1. GoPro Hero 9 Black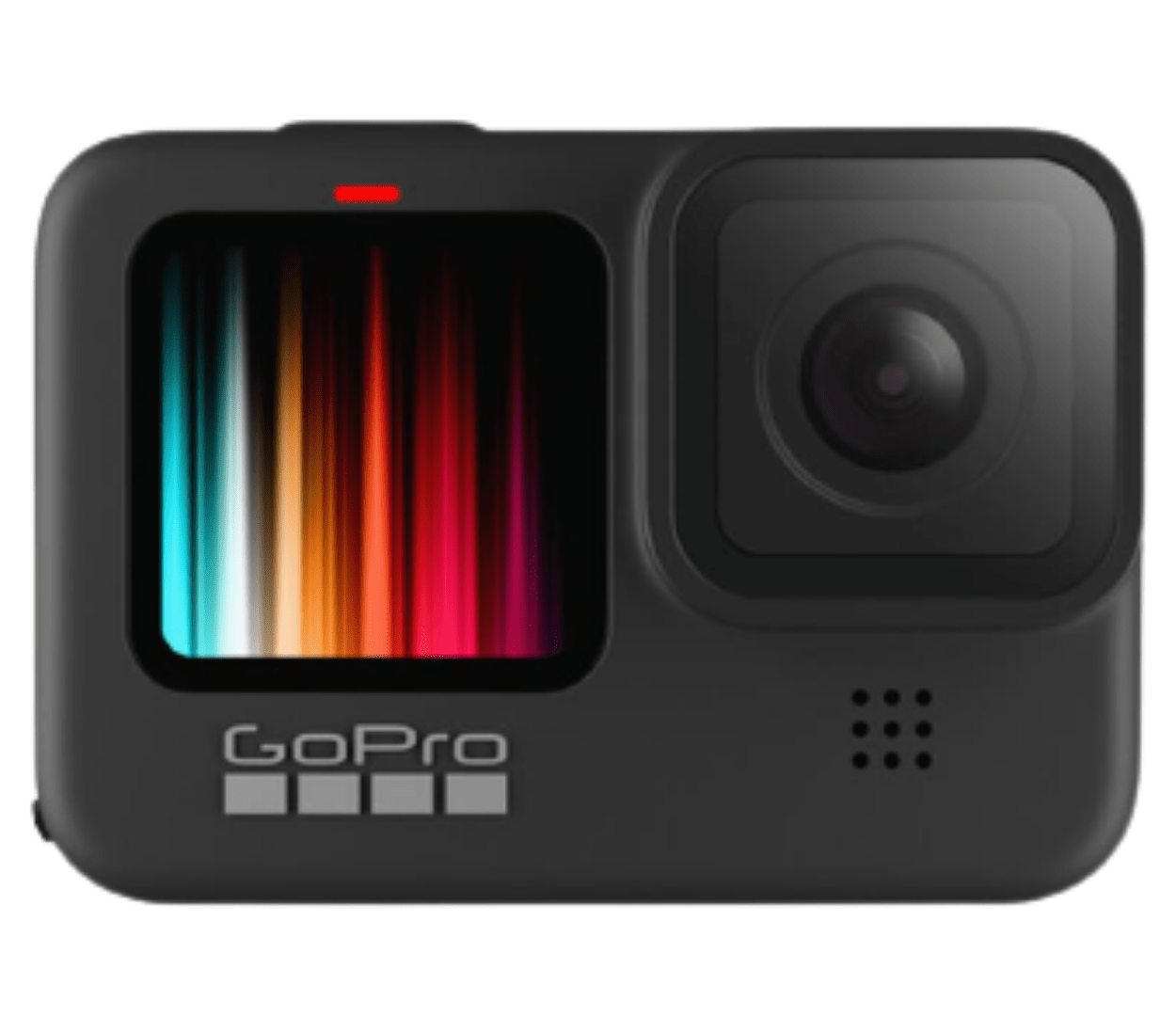 Buy From Original Site click here
Beyond Next Level.
Built-In Mounting with Folding Fingers | HERO9 Black Mods Compatibility
Mod It Out.
3.5mm Audio Mic Input with Media Mod for HERO 9 Black or Pro 3.5 Mic Adapter | RAW Audio Capture (.wav Format)
Wi-Fi + Bluetooth® | GPS Enabled | Connects to GoPro App | Auto Offload to Phone
Digital Lenses
Now It's Easier To Get The Best View Of Whatever You're Doing. Tap Through Four Lenses: Narrow, Distortion-free Linear, Wide, And Superview.
Timewarp 2.0
Get That Surreal Timewarp Effect You Love—now With Automatic Speed Selection. Or Just Tap To Speed It Up Or Slow It Down.
Superphoto + Improved Hdr
Crank Up The Contrast, Kill The Blur, And Shred. The Revamped Algorithm Delivers Badass Action Shots With Detail You Never Thought Possible.
Liveburst
Liveburst Mode Captures 1.5 Seconds Before And After You Hit The Shutter—so You Can Pick The Perfect Shot From 90 Still Images. Or, Share A 3-second 4k Video Clip. Ah, Choice.
Night Lapse Video
Harness That Nighttime Magic In 4k, 2.7k, 1440p, Or 1080p, And Watch The Scene Come Alive With Epic Detail.
Rugged + Waterproof
When You Wanna Play Rough, Hero8 Black Is Always Game. Plus, It's Completely Waterproof Down To 33ft (10m).
GoPro App
Capture. Edit. Share. Repeat. The GoPro App Automatically Creates Awesome Edits And Makes It Easy To Share Them With The World
Battery Life
The GoPro Hero 9 Black Has A 1220mah Battery Powering Its Internals.
With This Battery, You'll Be Able To Record 4k Videos At 60fps For Around An Hour.
Judgment
Hero 9 Black Is The Most Advanced GoPro Yet.
With Industry-leading Features Like Hyper Smooth Image Stabilization And Live Video Streaming, This Device Packs All The Features That A Content Creator Deserves.
Pros Cons
Robust Build Quality Average Battery Life
Streamlined Ergonomic Design Does Not Support Lens Protective Cover Replacements
8x Slo-mo
2. Dji Osmo Action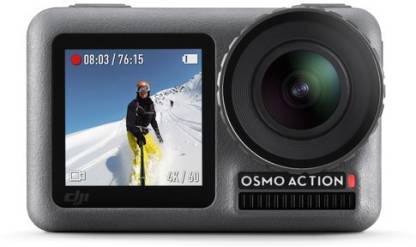 Buy From Original Site Click Here
It's Here! The Action Camera Competitor To Sony Fd And Gopros Series Cameras From Dji Has Hit The Shelves Recently.
The DJI Osmo Action May Be A Go Pro Like Compact Action Camera On Steroids With Several Tricks Under Its Sleeves To Impress You.
Live The Action
Whether You Want To Record Your World From Behind A Lens Or Be The Star Of The Show, Osmo Action's Dual Screens Allow You To Capture It All With The Touch Of A Button. A Vivid Front Screen Lets You Frame Yourself Effortlessly In Any Setting, While The Back Screen Delivers A Crystal-clear, Hyper-responsive Display. This Durable, Versatile Action Camera Is Jam-packed With Advanced Technology That Lets You Spend Less Time Worrying About Equipment And More Time Living The Action.
Made To Move
After Years Of Providing Advanced, Reliable Stabilization Technology To Filmmakers Around The Globe, Dji Has Gone One Step Further. Rocksteady Combines Eis With Complex Algorithms, Delivering Stable, Shake-free Footage No Matter How Heavy The Action Gets.
More Dynamic Detail With HDR Video
Dramatically Enhance The Dynamic Range Of Your Footage When Recording With Hdr Video. This Shooting Mode Delivers Natural Transitions Between Light And Dark Areas, Capturing Rich Details That Are Often Lost In Environments With Complex Lighting.
Sensor Details
The DJI Osmo Action Camera Features A ½.3 Inch 12mp Cmos Sensor With An Iso Range Between 100-3200.
This Sensor Is Capable Of Recording 4k Videos At 60fps And 1080p Videos At A Whopping 240fps Without Any Issues.
The Pictures And Videos Turn Out To Be Crisp And Clear With Vivid And Accurate Colours.
Another Important Feature Worth Mentioning Is Rocksteady Stabilization Technology. This Feature Lets You Capture Smooth Gimbal-Like Footage Without The Need To Invest In An Actual Gimbal.
This Works Very Well And Offers Butter Smooth Videos Similar To That Of Gopro Hero 7.
Battery Life
The DJI Osmo Action Camera Can Shoot Full Hd Videos Comfortably Over An Hour And A Half At A Single Charge.
With Some Sort Of Proprietary Fast Charging Technology, This Battery Gets Charged Fairly Quick From Empty To Full Within One And A Half Hours.
Judgment
If You Are A Dji Fanboy And Want An Action Camera That Performs On Par With The Likes Of Gopro Hero 7, Osmo Action Will Fit The Bill Perfectly.
Pros Cons
Solid Build Quality Expensive
Dual Display
Type C Charging Port
3. Sony Fdr-x3000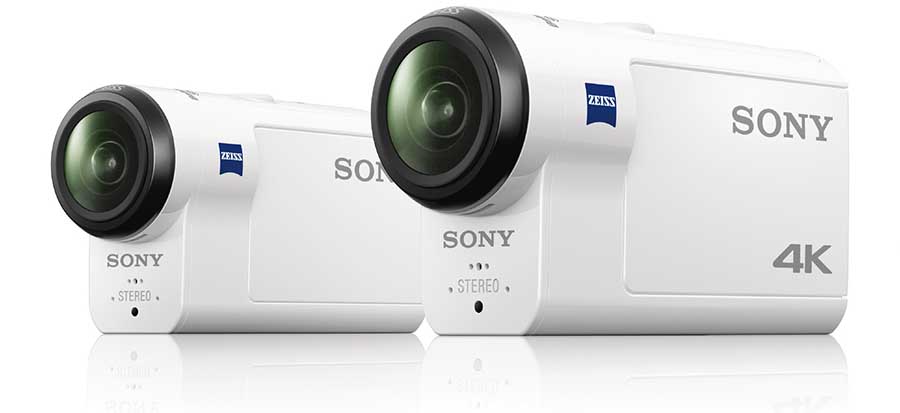 Buy From Original Site click here
Balanced Optical Steadyshot™
Gimbal Mechanism Inside
Sony's Balanced Optical Steadyshot™ Is A Unique Stabiliser With A Gimbal Mechanism That Is About 13 Times More Effective Than Other Optical Systems1. Capture Smooth, Professional-looking Images, Even At Full Zoom Or While Running With No Need For Bulky External Gimbals.
Ingenuity Inside
Sony's Proprietary Balanced Optical Steadyshot Features A Unique Gimbal Mechanism And An Algorithm To Counteract Camera Shake By Manipulating The Entire Lens Unit And Image Sensor, Delivering Stunningly Stable Images.
Mechanical Structure
Integrated Lens And Image Sensor Motion
Sony Has Developed A Powerful Yet Quiet Mechanism For Balanced Optical Steadyshot. Two Compact, Energy-efficient Motors Manipulate The Entire Lens Unit And Image Sensor Vertically And Horizontally, Powerfully Correcting Camera-shake Blur Of Pitch And Yaw Axes While A Sophisticated Algorithm Compensates For Blur Caused By Camera Shake In Roll Axis.
Sensor Details
The Sony FDR X3000 Features The Coveted Exmor R Cmos 8.2mp Sensor. Known For Its Low Light Sensitivity And Improved Image Clarity, This Is One Of The Best Action Camera Sensors Available In The Indian Market. This Outstanding Quality Sensor Is Supplemented By The Bionz X Image Processing Unit That Renders Superior Details In No Time.
This Action Camera Can Record 4k Videos Up To 30fps And Full Hd At A Maximum Of 60fps. There Is Also A Slow-motion Capability At A Decent 120fps. The Images And Videos Appear Clean, Crisp, And Close To The Natural Colours.
Battery Life
1100mah Battery Inside The Sony Fdr X3000 Lasts For About An Hour Of Continuous Video Recording In 4k. This Is To Be Expected As The Device Is Quite A Juice Hungry With The Powerful Sensor And The Optical Image Stabilization Motors.
Judgment
If You Don't Mind The Budget, Sony FDR X3000 Is An Excellent Sports Action Camera For Recording Your Memories Or Shooting Excellent Quality Wide-angle Photos On The Go.
The Optical Image Stabilization Is A Major Feature That Will Save You Money From Buying An Expensive Gimbal To Achieve Cinematic Quality Smooth Shots.
Pros Cons
Solid Build Quality Cumbersome Menu Interaction
Sony Exmor R Sensor Expensive
Unique Camcorder Design
4. Insta 360 One R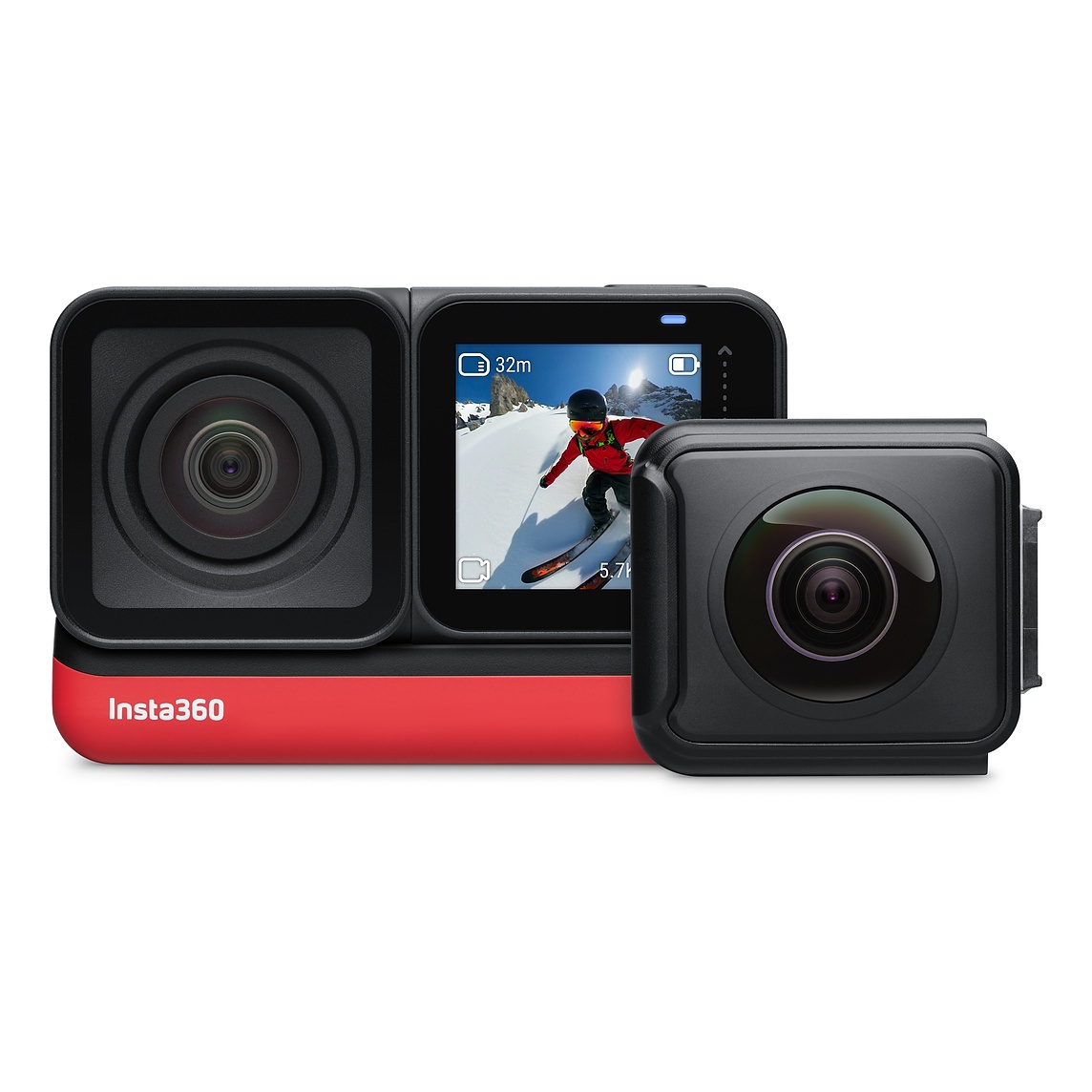 Buy From Original Site click here
Reframed In A Tap.
More Living. Less Editing.
No Stitching. No Waiting. Just Start Your Edit.
Mini Masterpieces.
Two Ways To Shoot.
One R Twin Edition Transforms On The Fly From A 360 Cam To A 4k 60fps Wide-angle Shooter. You'll Always Have The Right Tool To Capture The Action.
All Pixels Are Not Created Equal. The Dual-lens 360 Mod Raises The Bar With Super 5.7k Resolution, Leveraging H.265 Encoding, Advanced Image Processing And An Ai-powered Finishing Algorithm To Preserve Detail And Make Your Footage Pop
Flowstate Stabilization
The Smoothest. Now Smoother.
Flowstate Achieves Gimbal-like Stabilization Without The Gimbal. Thanks To A New Scene-detection Algorithm, Your Footage Stays Clear And Steady Even In Low Light.
Invisible Selfie Stick
No Drone? No Problem.
One R's Invisible Selfie Stick Feature Lets You Capture Easy Aerial Angles And Unique Third-person Perspectives With A Flick Of The Wrist While Using The Dual-lens 360 Mod.
Bullet Time 2.0 Blow Minds.
Bullet Time Shots Put You At The Heart Of The Action. Automatic Horizon Leveling And Smart Speed-ramping Make Them Easier Than Ever.
Point To Track + Deep Track
Follow Cam. On-Demand.
Select Your Subject With A Tap Or A Voice Command When Shooting In 360. One R's Ai-powered Tracking Algorithm Keeps It Locked In Center-frame. Even When Obstacles Break Your Line Of Sight, Deep Track Picks Up The Shot As Soon As Your Subject Reappears
Judgment
The Insta360 One R May Be A Unique Action Camera That Gives Comparatively Good Value In Comparison To Non-modular Rivals Just Like The Gopro Hero 8 Black And Gopro Max. Neither Its Standard 4k Footage Or 360-degree Video Are A Match For Those Cameras, While Its Small Screen And Software Issues Also Make It Less User-friendly. But The Modular Design May Be A Success And Provides You The Pliability Of Adding Further Modules, Just Like The One-inch Edition. If You're Prepared To Simply Accept Its Foibles And Compromises, It Is A Good Option For Those That Want To Dabble In Both 4k And 360-degree Video.
Pros Cons
It's Two (Or Three) Cameras In One Sub-GoPro Image Processing
Solid 4k And 360-degree Image Quality Very Small Screen
Largely Successful Modular Design Significant Bugs At Launch
5. Xmate Stunt Pro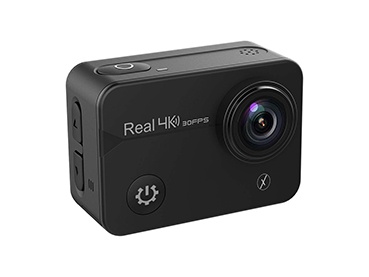 Buy From Original Site click here
Technical Details:
Xmate Stunt Pro Action Camera Supports Multiple Recording Formats 4k/2.7k/1440p/1080p/720p, Supports Mp4 Recording Format, And Also Supports Multiple Photo Shooting Modes – Single Shot And Snapper
With A Waterproof Casing, Allow You To Film 40m Underwater Scene. 2" Hd Tft Lcd Touch Screen Display Makes Xmate Stunt Pro Action Camera Easy To Operate And Handy To Shoot
Ultra-wide Angle Fish-eye Lens Provides An Unbelievable Viewing Angle Of 170-degrees. With A 2.4g Remote Control, You Can Snap Or Record Without Holding The Action Camera In Your Hand
Detachable 1350mah Battery For Easy Replacement And Help Extend The Product Lifespan; Record Videos While Charging Hd 16 Mp Wide-angle Camera; On A Full Charge, You Can Shoot For 120min Non-stop
Supports Micro Sd Card Memory Expandable Up To 128GB, Max. (Sd Card Not Included); By Using This Action Camera, You Can Shoot Breathtaking Video And Photographs The Next Time You Head Out For Adventure
Xmate Stunt Pro Action Camera Features Multiple Features Like Driving Mode, Time-lapse, Burst Photo, Loop Recording, Built-in Mic & Speaker, Mobile App Support, USB 2.0, & Hdmi (Support 4k Output)
Battery Life
The Xmate Stunt Pro Camera Is Powered By A 1350mah Removable Battery Which The Company Advertises To Last For 2 Hours Of Continuous Recording.
However, Take This Number With A Pinch Of Salt And Expect Anywhere Around 90-100 Minutes Of Recording Time On A Single Charge.
This Battery Is Charged Via The Traditional Micro Usb And It Takes 2-2.5 Hours To Completely Juice Up From Zero To Hundred.
Judgment
The Xmate Stunt Pro Is A Feature-packed Action Camera Capable Of Recording 4k Videos At 30fps.
The 16mp Sensor Inside Is Quite Capable Of Delivering Good Quality Visuals And Images For The Price.
Pros Cons
Robust Build Quality Grainy Shots In Night Light
2-inch Touchscreen Lcd
Electronic Image Stabilization
What is the best action camera in 2021
GoPro Hero 9 Black
DJI Osmo Action
Sony FDR – X3000
Insta 360 One R  
Xmate Stunt Pro
What's the best GoPro camera to buy?
Hero 9 Black Is The Most Advanced GoPro Yet