It is a different kind of high while riding a motorcycle. motorcycle gloves come with the protection you need all the time. You need to make sure that professional riders have the right safety gear when looking at anywhere and the terrain. However, often among them do not take safety equipment. It's important to be on top of your game when it comes to driving on the road in terms of safety and security. Accidents are unpredictable, but there is a risk of serious collisions and traffic accidents if left untreated.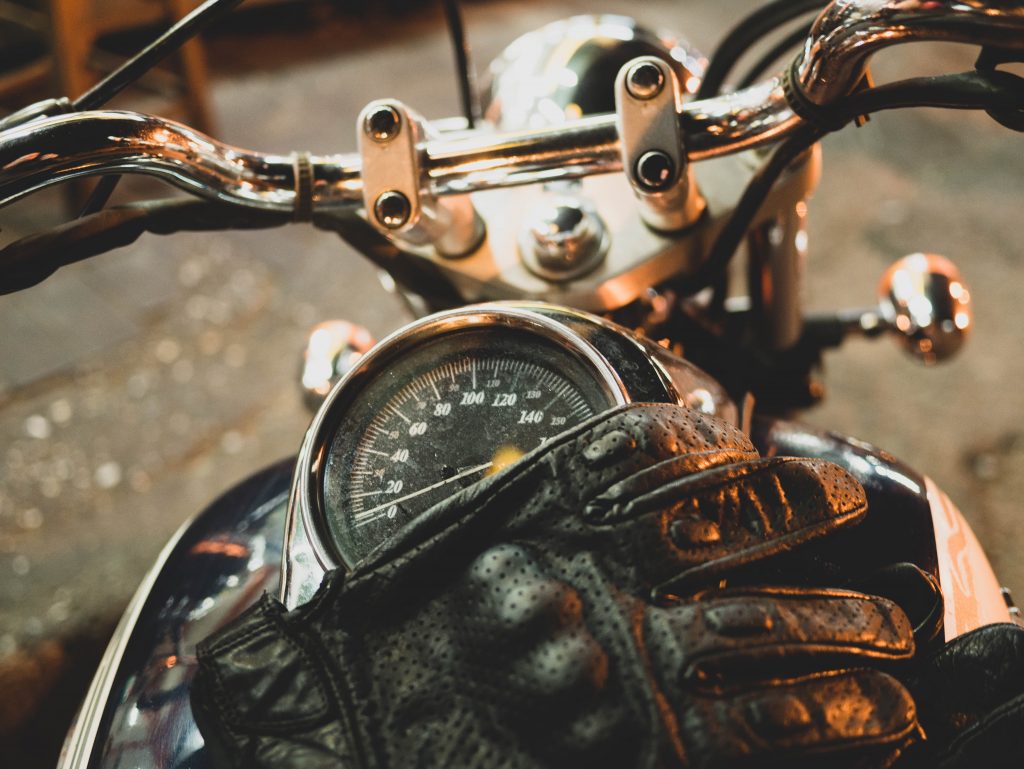 With advanced technology, motorcycle gloves are equipped with advanced features such as touch sensors that allow you to connect a smartphone or tablet while riding. The modern design is attractive and provides a better grip. At the moment, gloves are a pleasure to walk on, keep your hands safe and in bad weather. It will be one of the best and most effective motorcycle gloves for riders in 2020. if you want to know about the best riding jackets that can look stylish with your gloves please read our jacket review blog
7 Best Motorcycle Gloves:
Brand – Rynox
size available – S, M, L, XL, 2XL
colours available – Green, Red, Bule.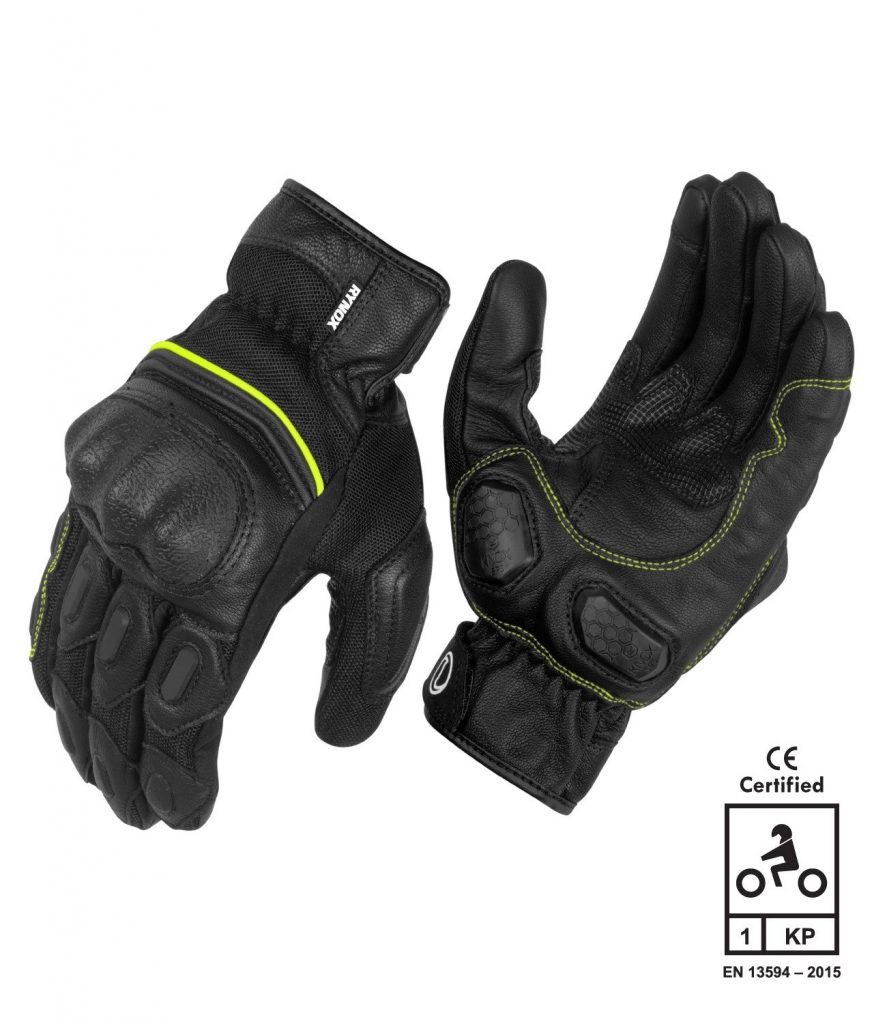 The go-to gloves for the go-anywhere explorer, now come with CE certification!
Complete CE Certified Protection
Not just the protectors, the entire Tornado Pro 3 glove is CE certified to standard EN13594:2015. This CE certification includes 15 different tests and the gloves are verified to have:
Impact resistance: Residual force < 9kN (Kilonewtons)
Abrasion resistance: Slide time ≥ 4s (Seconds)
Cut resistance: On palm ≥ 1.2N (Newtons)
Tear strength: On palm ≥ 25N and back hand ≥ 18N (Newtons)
Seam strength: Main seams ≥ 6N/mm (Newtons per Millimeters)
Impact Protection
Scaphoid Bone: KNOX® patented Sport SPS (Scaphoid Protection System) includes two specially developed sliders attached to the palm to enable the gloves to slide smoothly on contact with the ground, instead of gripping the impact surface and subsequently reducing hyper-extension of the wrist and potential scaphoid injuries.
Knuckle: Impact-On (South Korea) HERATROM polyurethane knuckle protectors with HD foam backing
Fingertips: HD foam inserts
Finger Joints: TPU tabs
Abrasion Protection
Heavy Duty Durable Chassis: made from premium soft full-grain leather
Reinforced Protection: leather panels at abrasion zones
SureGrip Palm: High-grip contoured Amara panel with silicon detailing, for complete ride control
Comfort
Fit: Cuff length, comfort fit
Zero Wear In Required: Pre-curved fingers
Fit Modulation: Girth adjusters on wrist
Ventilation: Lightweight and sturdy 3D mesh panels on fingers and wrist
More Features
Ease of Access: Touch screen friendly TapFingertips™ on the index fingers
Click here for purchase these awesome gloves by Rynox
---
2. KNOX TECH STYLE Motorcycle GLOVES
Brand – knox
size available – M, L, XL.
colours available – Black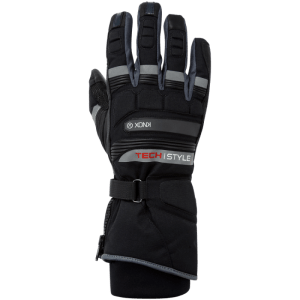 Techstyle winter motorcycle gloves feature Knox's patented scaphoid protection system (SPS) to prevent the grip effect that occurs when the palm of your skin comes into contact with the road, reducing the risk of overload. The ultra-durable Cordura fabric combined with goatskin palms increases strength and durability.
It is designed with a soft neoprene strap that can hold the glove under the jacket cover. 3M is reflective for vision in night riding. Silicone insertion at the brake/clutch ends for a good grip.
Click here for purchase these extra safety gloves by Knox
---
Brand – REV'IT!
size available = S – XYL
colours available – Sand Grey, Light Grey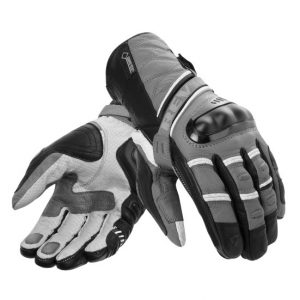 Ready for your next adventure. Ready for all weather.
Dominator GTKS gloves are designed to drive around the world. They are ready for any weather condition you may encounter, thanks to GORE-TEKS® gloves with Gore grip technology, which ensure your hands stay warm when it's cold and drier when you sweat. The outer lining is made of different types of leather and is chosen according to the levels of safety and comfort they provide. In addition to the rigid protectors on the thumb, fingers, and palm, these gloves are equipped with double protectors that are perforated to allow air to enter the gloves, keeping your hands cool and comfortable.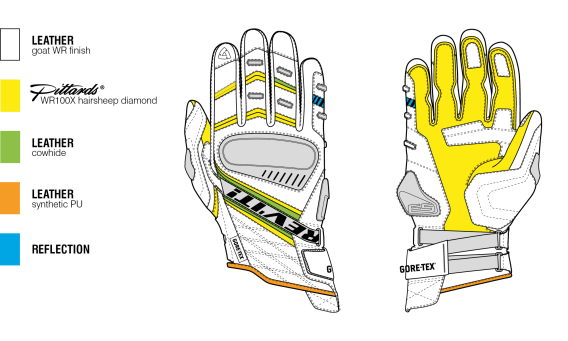 wrist and cuff adjustment system
This adjustment system allows for a perfect tailored fit making sure the gloves stay in place and fits like a second skin. The adjustment strap starts at the pinky side of the glove and goes all the way around the backhand and the wrist.
outside stitching
The PWR | yarn stitching is positioned on the outside of the glove, eliminating any potential pressure points at the seams, and giving these gloves the ultimate sensitivity every racer demands.
Features-
PU injected finger knuckles
PWR|yarn
TPU hard-shell palm slider
TPU hard-shell thumb protector
ventilated dual comp protector
Click here to purchase this GLOVES DOMINATOR GTX
---
Brand – Biking botherhood(bbg)
size available = S – 2XL
colours available – Black, Red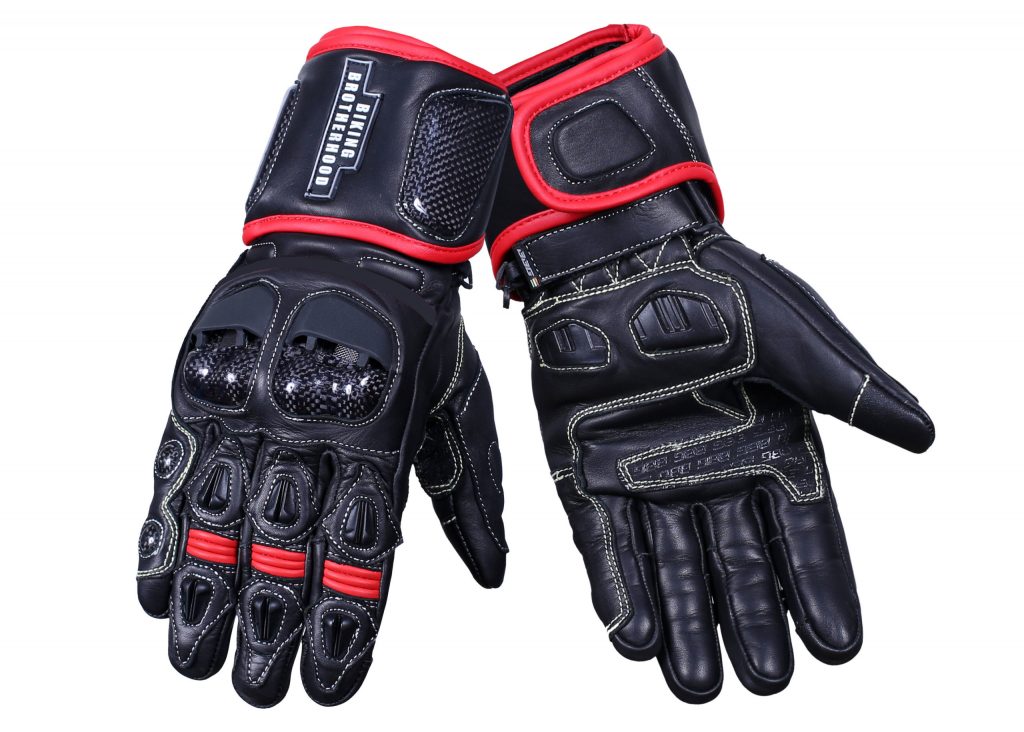 The full Gauntlet glove is made of high-quality leather, very resistant to scratches, and protects against infection. These Race Spec gloves offer a high level of protection, mobility, and comfort. With a pre-installed fingerprint and double velcro covers, this glove offers a high level of protection so it can move and roll at high speed.
Features-
Upgraded Version to latest International Quality standards
Premium grade leather construction is durable and offers excellent abrasion resistance.
Carbolex protector on the palm.
Carbon knuckle protectors.
Carbon protection on fingers.
Ergonomically positioned Silicone reinforcement on Palms for extra protection & gripping.
Inner playboy lining
Double Velcro cuff closure with shock-absorbing Carbon padding in the wrist area.
Extra grippy protection on palm and little finger
Pre-shaped, anatomical finger design and internal seams for comfort and exceptional feel.
Dedicated Carbon protection on Wrist areas Impact zones for complete safety offering Race Specs.
Click here to purchase these BGG Full gauntlet gloves.
---
Brand – Royal Enfield
size available = S – XL
colours available – Mossgreen, Vintage Black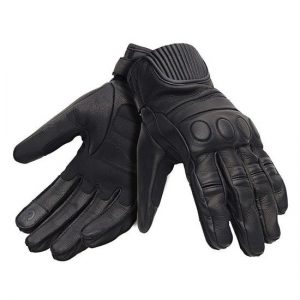 PRODUCT HIGHLIGHTS:
Construction: Made from highly abrasion-resistant genuine leather
Fit: Cuff length, Street fit.
Impact Protection: High-density foam protectors at knuckles
Palm Protection: High-density foam inserts on palms to protect the crucial scaphoid bone, and on the dorsal side (back of the hand).
ERGONOMIC FEATURES
Ease of Access: Elasticated entry port.
Pre-curved fingers for a better fit.
Adjustable velcro tab at cuff for a secure fit.
WASH & CARE INSTRUCTIONS
Clean the gloves using a damp cloth and do not use hot water.
Remove difficult stains by using neutral soap or a special leather or textile cleaner.
Store gloves in a dry and well-ventilated place.
1 unit includes a pair.
Click here to purchase these Royal Enfield ROCKER GLOVES.
---
Brand – Macna
size available = S – XL
colours available – White & Fluorescent yellow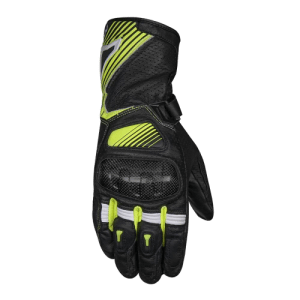 The Lord of Streets, customized for the warriors on Street.
Features:
Premium full-grain leather. Soft and supple yet durable.
Pre-curved motorcycle-riding specific design.
R.I.S.C Carbon-fibre finished knuckle protector & Palm Protector for additional protection.
TPR Finger Protection for additional protection.
Double layer on joints for lasting durability.
Three-way straps for secure and firm fastening and fit.
ERGO Thumb and Touch Tip for using mobile even when gloved.
C.E Certified Gloves
* Not designed for use in the rain.
Click here to purchase these MACNA Motorcycle Gloves.
---
Brand – Zeus
size available = S – 2XL
colours available – Green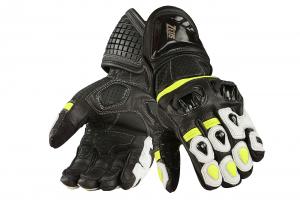 You can see why Zeus X-Tremo is better than the rest when it comes to body armor. The Zeus X-Tremo combines the best and simplest setup with a notch high resolution. The safety of the grenades in your hand is secure and face-to-face and is designed to rebel against aggression. High features of integration.
FEATURES:
Full-grain Hi-Fit cowhide leather 0.8 mm thick
Areas in perforated leather
Cowhide palm with Clarino reinforcements
Reinforced lining for maximum abrasion and heat resistance
Double reinforced stitching
The double stitching on key areas
Reinforcements on the side and over pinkie finger
Carbon fiber type TPU shields on the knuckles. Solid large TPU molded protection panel on the wrist
Special construction on the shield area for better fitting and higher protection
Knuckle protector with Dumper silicone shock absorber insert
Shock-absorbing padding
VELCRO® brand closures strap for closure on the wrist
Double VELCRO® brand closures on the forearm
Adjustable wrist strap
Click here to purchase these MACNA Motorcycle Gloves.
Final Verdict
Overall, a good grip is very important when riding a bike, especially in summer, when your hands are sweaty, or in winter when you are drowning in the cold. Quality gloves always provide a great grip for riding your bike and for your safety.
Also, you can see our Best Motorcycle Knee Guards For Riders in India blog for more information about the best budget knee guards
Motorcycle gloves have many benefits, so it is important to use them. The main reason we recommend riders to use these gloves is because they protect the unpleasant part of their hands from injuries and accidents. Areas such as bruises and palms can be severely damaged in a traffic accident, so wearing gloves is safe. Gloves also help maintain moisture, making the rolling process easier.
---